He Said, She Said: Plot Twists in the Bangladesh Money Laundering Scam
Mar 23, 2016 &nbsp • &nbsp Cattleya Mariano

He Said, She Said:


Plot Twists in the
Bangladesh Money Laundering Scam


By Cattleya Mariano

The Senate hearings and subsequent interviews on the Bangladesh Bank heist have quickly turned into a game of "He Said, She Said," with witnesses and defending parties issuing contradicting statements about what really happened with the $81 million that was scammed by computer hackers. The case has captured worldwide audiences, with everyone waiting to see how the game will unravel.
While we all want to find out who's really behind the heist, how they pulled it off and why they thought they were going to get away with it (Making a Murder, anyone?), the past few weeks worth of news have brought to light some plot twists that would legally qualify as WTF.
8. Bank Confirms Forgery of All Dollar Accounts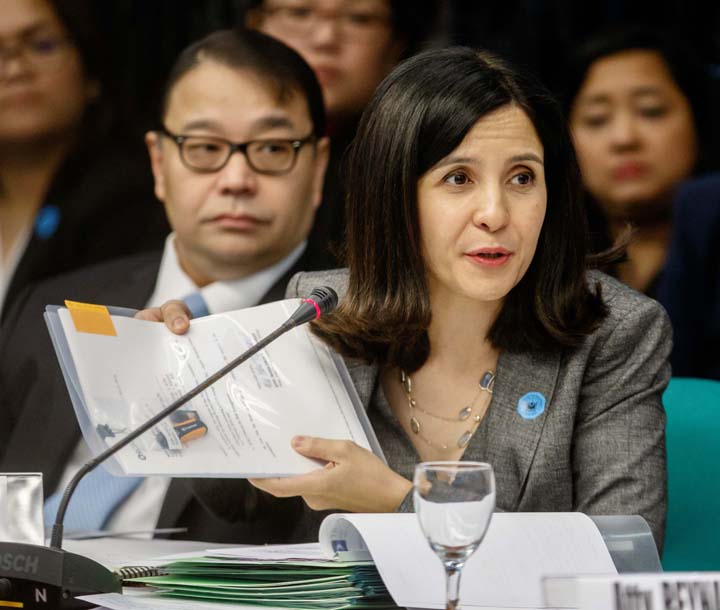 Via mb.com.ph
RCBC, the bank at which the deposits were made, began conducting an internal audit inquiry as early as February 12 to cooperate with officials. They reported that their truth verifier system confirmed William So Go's earlier statements. According to Legal and Regulatory Affairs Head Atty. Maria Celia Fernandez-Estavillo, the signatures used on the allegedly forged dollar and peso accounts did not match the signatures in Go's accounts with their Trinoma branch.
Additionally, bank manager Maia Deguito has admitted that she also opened the five other accounts used to funnel the money at the behest of one of her clients, Kim Wong (see number one). She claims that she verified all the pertinent documents, but investigations have revealed that these documents were also forged.
So now the bank said it has evidence of fraud and forgery, maybe even identity theft–on top of the original crime, money laundering.
7. Alleged Bribes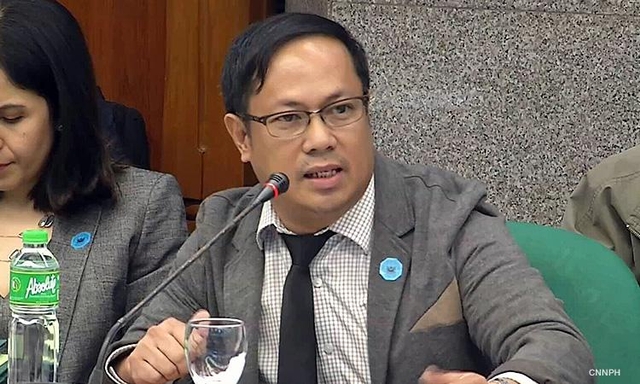 Via cnnphilippines.com
According to former customer service head at the the Jupiter bank branch, Romualdo Agarrado, Deguito offered him P5 million "pang retirement" in exchange for his cooperation and silence regarding the events that took place at the bank.
This isn't the first claim that Deguito has offered a bribe in exchange for "cooperation." William So Go, through his lawyer Ramon Esguerra, also claimed that he twice rebuffed Deguito who dangled first P10 million, then P20 million just to have him close the account.
Bribery to boot, this plot hasn't just thickened, it's turning into a tar pit!
6. Threats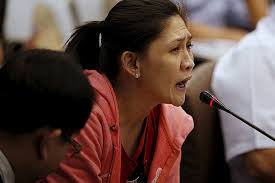 Via abs-cbn.com
Agarrado further claims that Deguito deliberately ignored a hold order issued by the bank's Head Office on the morning of February 9th.  According to him, Deguito refused to stop the release of millions of dollars through the bank as she feared for her life saying, "I would rather do this than me being killed and my family."
At this, Agarrado claimed that he began to feel afraid, a fear which led Agarrado to hold off on coming forward with his testimony.
With the same breath that she claims she was used as a tool, Deguito has also denied that she was threatened or coerced into her actions, which now begs the question—was she threatening Agarrado? If she was under no duress, the dilemma turns into a moral one. Couldn't she have refused to act on what were clearly shady dealings?
And now, this tar pit boils and bubbles with intimidation through murderous threat.
5. Inconsistent Statements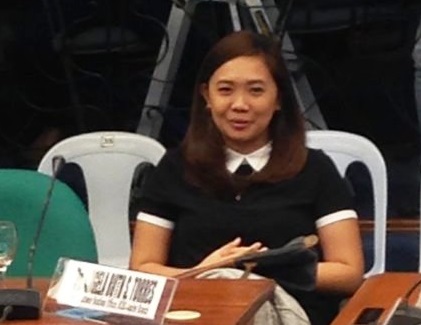 Via DZRHnews.com: Milky Rigonan
Angela Torres, who was the senior customer relations officer of the branch, worked alongside Deguito throughout this period. According to her testimony, she participated in counting the cash amounting to P20million and in handing the money withdrawn on February 5 to William So Go.
Torres' volunteered personal affidavit elaborated that she personally handed withdrawal slips to William So Go, and that she, aided by one Jovy Morales, loaded the P20 million into the back of Go's 'Lexus SUV'. However, Atty. Estavillo, asserts that Torres' affidavit is 'perjured' as it is inconsistent with the testimony of Agarrado and Jupiter branch's own guard logs. The bank will be filing a perjury case against Torres.
With Go and Agarrado testifying under oath at the hearings (not to mention the results of numerous investigations) saying one thing and Torres and Deguito's press releases saying another, why is Deguito's testimony being regarded as "closer to truth"?
Diametrically opposed testimonies. Our tar pit is now spouting the stench of perfidy.
4. Was Deguito "especially picked" for her position?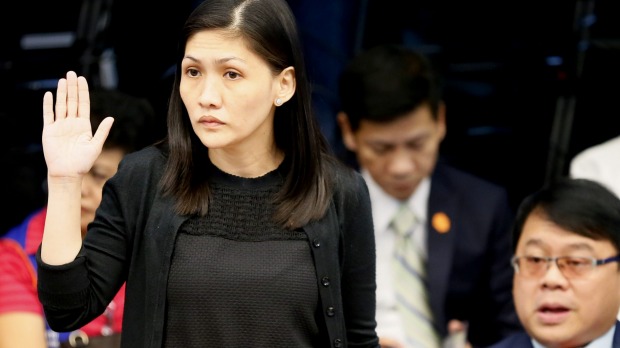 Via voanews.com
Deguito claimed that she had been personally recruited by the bank CEO, Lorenzo Tan. He was present at the senate hearing and strongly refuted this claim almost as soon as Deguito mouthed it.  It was avowed that the CEO takes no part in the bank's hiring process for branch managers. The denial came with this indignant emphasis:  "She's portraying herself that [sic] she's someone special that I brought her in. That didn't happen."
Being neck-deep in all this certainly makes Deguito at least some kind of special now.
3. Allan Penalosa's Testimony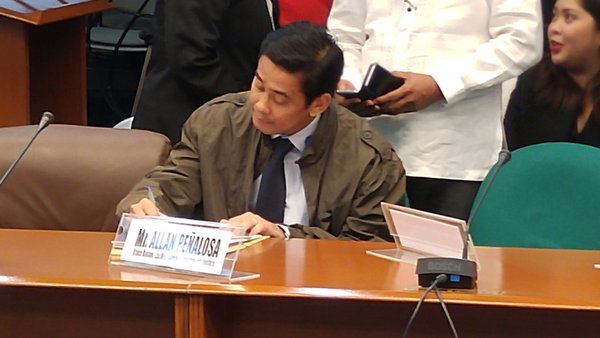 Via scoopnest.com
According to Atty. Estavillo, Allan Penalosa, a former colleague of Deguito from her former bank, was asked by Go to help in rediscounting post-dated checks from his Centurytex account. Unbeknownst to Go, these checks were being funneled into a peso account under his name at the Jupiter branch.  Go's testimony also unveiled Penalosa as the person who arranged the tell-all meeting that he had with Deguito wherein she admitted she had made a mistake and attempted to bribe him into closing said account at the Jupiter branch, although Deguito has yet to confirm or deny that statement.
The question remains, however, as to who opened the account and who signed all the pertinent documents. Penalosa has claimed innocence on the matter, stating that all he knows is that he gives the checks to Deguito—an act which not only reeks of protocol violation, but also abuse of position.
Ah.  The intermediary surfaces, the middle man.  Is this messenger worth shooting, in this case?  Does his "rediscounting" role come with a tarred-and-feathered" costume?
2. Philrem Liable Despite Returning Profit from Remittance
Via abs-cbn.com
Philrem President Salud Bautista said the company is returning the P10.4 million worth of profits it earned from remitting a huge bulk of the stolen $81 million from Bangladesh. The firm promised that it would issue a check to the Bangladeshi government, and that they had no interest in profiting from questionable sources.
Salud extended her apologies, stating that they had not known that the funds had been stolen.  Despite this professed earnestness, Salud may have done Philrem a disservice by admitting that she had relied solely on information provided by Deguito in conducting the transaction.
Philrem may still be held liable for its failure to verify the source of the funds.  Senator Serge Osmena is of the opinion that Philrem may have violated the Know-Your-Customer rule in banking and finance.
When you know you put your foot in your mouth, it's usually too late.
1. Kim Wong and His Role in the Scam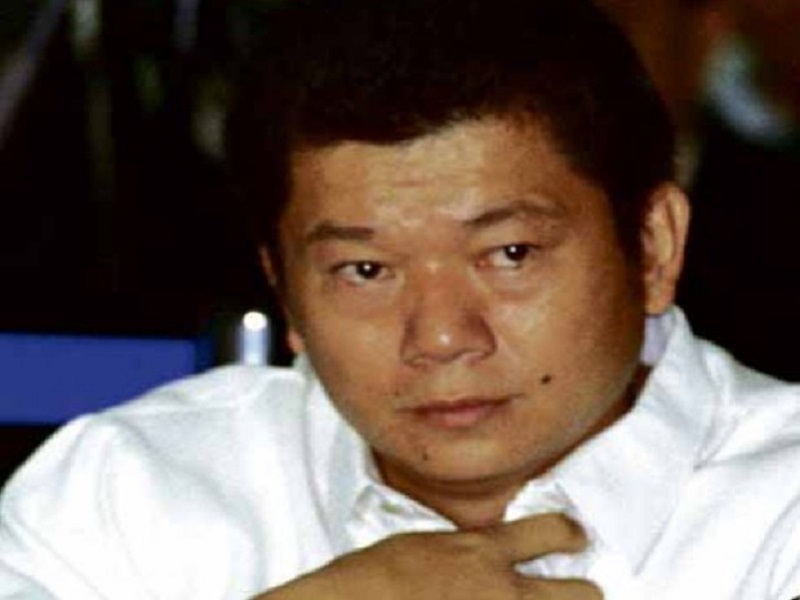 Via inquirer.net
One of the names to stand out from Thursday's executive session was Kim Wong's. It may sound familiar to some, as he was accused in 2001 of being involved in the illegal drug trade and other criminal activities. Later acquitted of all charges, Wong is now a casino junket operator. According to testimonies from Philrem, the amount of at least P600 million and $18m was remitted to Kim Wong based on instructions from Deguito.
Kim Wong, now the suspected mastermind behind the heist, is reportedly back in the Philippines after this trip to Singapore for medical treatment. He is now being charged by the AMLC for money laundering, which will make for another very interesting Senate hearing on March 29.
Can we be blamed for thinking that something's really wong in all this?
What are your thoughts on the Bangladesh Bank heist? Sound off in the Comments Section!