The Filipino spirit of positivity, resilience, and happiness should be celebrated. We are simply a happy, smiling bunch and everywhere you look there's laughter! In the midst of problems and tragedy, we look for something to make us smile and it's truly this characteristic of Filipinos that charm the rest of the world. But although all of us are happy, there are some who rise above the ranks better.
1. The Philippines was ranked 3rd in the world's happiest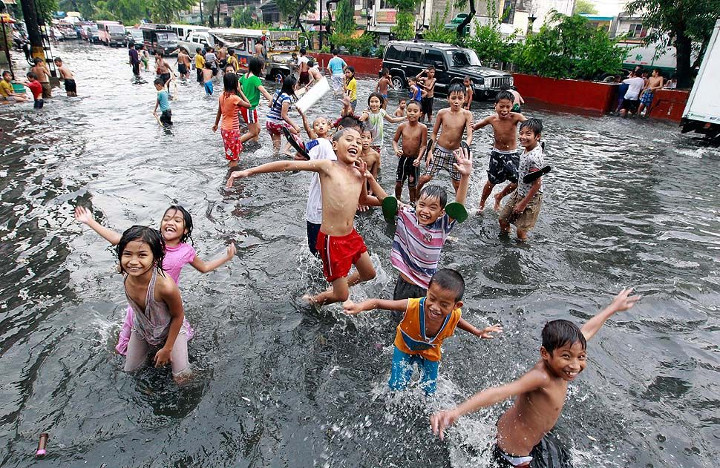 Gallup International was founded in May 1947 and is the oldest and most known global polling organization. During their 41st Annual Global End of Year Survey on Happiness, Hope, and Economic Optimism, Philippines ranked the third happiest country in the world. This was a result of global surveys conducted which revealed that Filipinos exude a positive outlook in life in spite of economic uncertainties and financial upheavals. We are resilient, alright.
2. Even foreigners love our country!
That's it.

Tomorrow I am flying back to Thailand to start heading West (stopping in like 5 more countries) and eventually end up in New York City.

I've been to 45 countries so far, yet I'm amazed by what I discovered here in the Philippines. From the bottom of my heart, thank you.

This past month, I've never worked harder, I've never been more honest, and I've never had more fun in my life. And when you say both "work", "honest", and "fun" in the same sentence, that's how you know you're on the right path. Thanks for helping me realize that. These videos help me as much as they help you!

I'll be back.

LIKE Nas Daily on Facebook.
I am still on Instagram: NasDaily

Posted by Nas Daily on Saturday, February 11, 2017
Filipinos have a powerful and indomitable spirit of positivity. Throw us into a typhoon, we come out smiling, even waving at news cameras and having fun in the flood. This does not mean we treat even calamities as a joke, it just means we choose to be happy despite it all. For Pinoys, laughter and smiles can help you through problematic times. On top of us being hospitable, foreigners love this attitude of Pinoys!
3. The search for the happiest Pinoys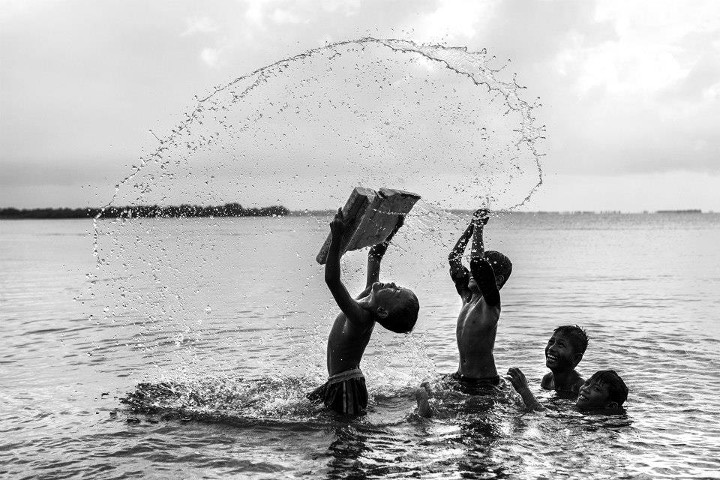 What makes for a happy Pinoy? Is it purely the ability to dazzle everyone around with a beautiful smile? Cebuana Lhuillier, the country's largest microfinancial services company, has been searching for the Happiest Pinoy since 2009. Their goal is to celebrate Pinoy's culture of happiness and resilience, to give honor and recognition to outstanding Filipinos that best represent those values.
Their search has granted them thousands of names of Filipinos who are indeed in varying degrees of happy. There's something so encouraging in knowing that there are literally thousands of Filipinos out there who are living their happy live in poverty, wealth, sickness, health, in foreign land, in provinces, employees, PWDs, elderly, and many more!
Ultimately their search gave them three of the happiest Pinoys.
4. Winston Maxino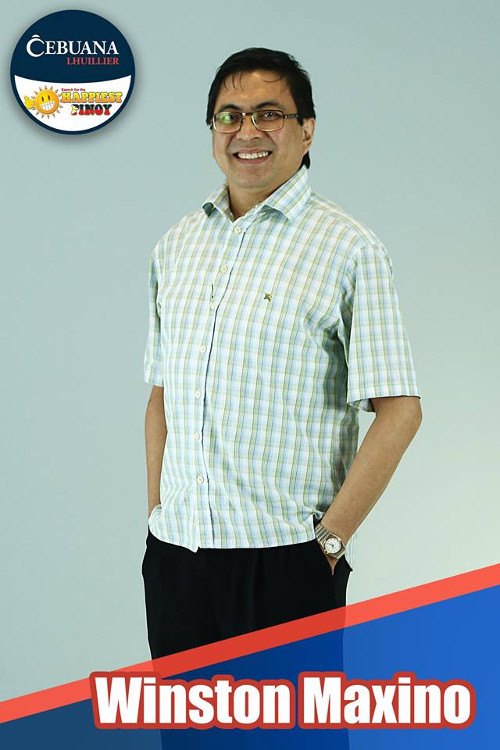 "Life is not about what we have been suffering… but how suffering transforms us into better and happier human beings." (Maxino, 2009)
Winston Maxino is the 2009 Happiest Pinoy winner who was diagnosed with painful Ankylosing spondylitis or chronic inflammatory arthritis that required him to take various medicines and treatments. He also had a daughter with Down's syndrome who was at the time only 4 years old.
He never let his condition stop him from living his life. He chose to live with and manage his sickness and at the same time empower kids with Down's Syndrome by contributing to the Down Syndrome Association.
Winston is the first recipient of the Happiest Pinoy award and a continuous inspiration to all Pinoys.
5. Rommel Arellano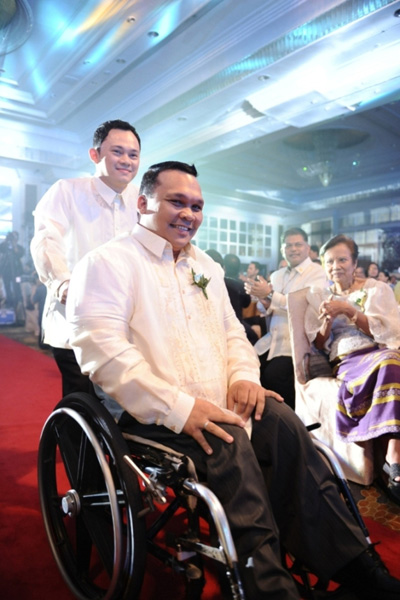 Out of 13,000 people who wanted to claim the title of "Happiest Pinoy" in 2012, Rommel Arellano bested them all and was hailed as the happiest. Born with polio and unable to use his legs since he was a year old, Rommel experienced discrimination and teasing from other kids but he never let it get the better of him.
Despite all of the taunting he received, he chose to see the world through the lenses of a happy and positive man. Being differently abled didn't hinder him from getting education, playing with other kids, or even living a normal life.
Today he is a motivational speaker, resource person, and lecturer. He even became the president of the Persons with Disability Organization in his community.
6. Richardson Navor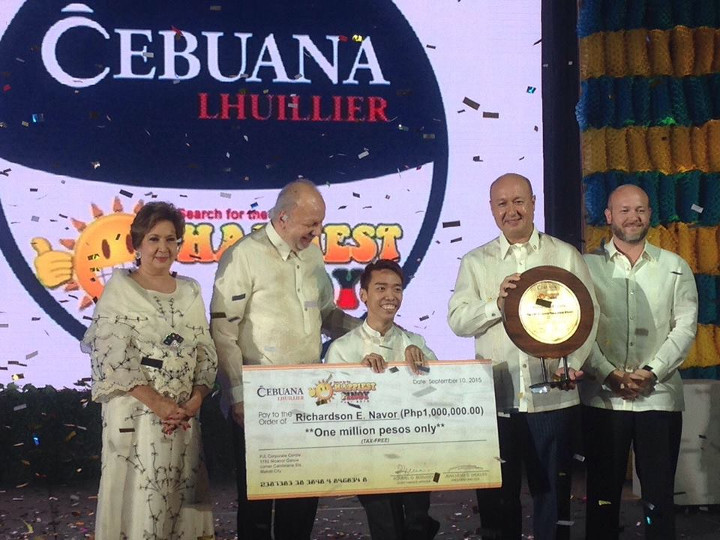 Richardson Navor bested nine other finalists and took home a million Pesos in cash and the title of the "Happiest Pinoy" in 2015.
He is a financial analyst with cerebral palsy who has always had a warm and ready smile to greet anyone. His disability only drove him to use it to inspire and influence other people; it also didn't stop him to achieve his goals. Richardson graduated magna cum laude and received multiple leadership and academic awards.
When he received his cash prize, he vowed that the blessing will not end with him. He has since helped fellow PWDs by buying them wheelchairs and providing for scholarships.
7. What made them happy?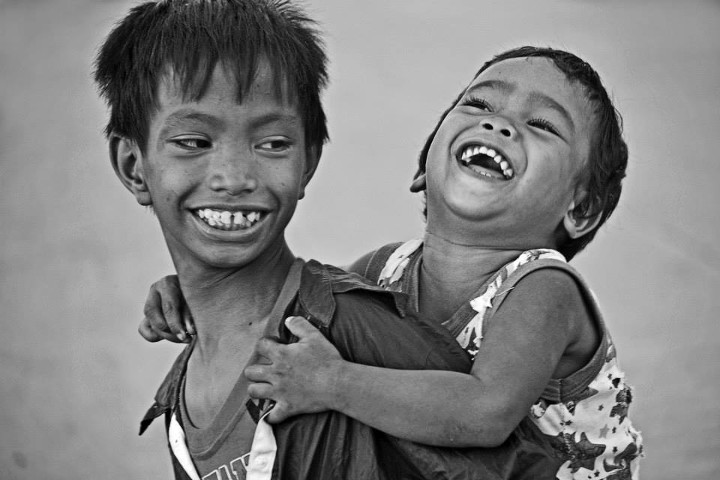 A positive outlook in life is not that hard to achieve if you really have a heart for it. What's easier: to laugh in the face of disease, calamity, and disability or to be angry and curse? It's the latter. But it's the people who do the former are the strongest and happiest in the world.
The three Happiest Pinoys chose to acknowledge their disabilities and to do something with it. If life gives you something you deem as a tragedy, don't let it get to you. Choose to be happy until you are happy in life. Like what Richardson Navor said during the launch of Happiest Pinoy 2018, "Happiness is a way of living, not a choice."
So what's it going to be?
8. Are you a Happy Pinoy?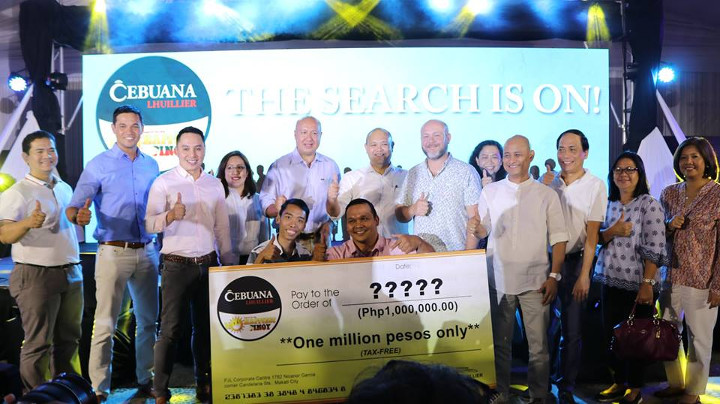 Are you a Happy Pinoy? Do you know somebody who deserves the title '2018 Happiest Pinoy? Cebuana Lhuillier is looking for the next Happiest Pinoy to inspire people for generations!
With a bigger than ever search in the program's 10-year history, the Search for the Happiest Pinoy now covers 10 categories: youth, senior citizens, overseas Filipino workers, lingcod bayan, professionals, manggagawang Pinoy, entrepreneurs, employees, persons with disabilities, and lesbian, gay, bisexual, transgender, and queer community.
This year's Search simply requires interested individuals to choose one of the 10 categories that best applies to them and answer the application form via SMS by texting, via online by logging on to www.happiest-pinoy.com/register.aspx, or via filling out a form in any of Cebuana Lhuillier's 2,200 branches nationwide.
The winner will take home Php 1,000,000 tax free and will be dubbed as the 2018 Happiest Pinoy. Winners for each category will take home Php 50,000 each. The winner will be announced on May 2019 so you have plenty of chances to vote!
For more information on the search, visit the Happiest Pinoy website or follow Happiest Pinoy on Facebook.
Are you the next Happiest Pinoy?