Last Thursday, the Kapisanan ng mga Brodkaster ng Pilipinas (KBP) held a Presidential Forum, the first to feature almost all presidential candidates. After it aired, the internet was abuzz with opinions, quips, and even some shady comments. Surprisingly, one of those alleged 'shady' comments came from a public figure: Dynee Ditan Domagoso, the wife of the presidential aspirant and Manila Mayor Isko Moreno.
Isko's wife posts on Facebook

On her Facebook account, Dynee Ditan Domagoso posted a simple, cryptic text: "Internet nga hindi maayos, bansa pa kaya. Kumbaga sa class reporting, preparedness is the key para 💯 ang grade." As of writing, the post has garnered over 3,000 Haha reactions, nearly 3,000 Angry reactions, nearly 500 Likes, and over 1,800 shares, while the comments sections are restricted to her friends.
Some context
While she didn't name names, many netizens believe that Domagoso was referring to presidential aspirant Leni Robredo. During the KBP Presidential Forum, Robredo's screen noticeably had a much lower resolution than the other candidates, and her audio quality was also quite poor.
Again, our apologies. Maraming lessons learned. We will do better next time.

P.S. Sa hina ng internet, sa landline ko pinapakinggan yung audio.

— Leni Robredo (@lenirobredo) February 4, 2022
Robredo said at the KBP Forum that internet connectivity is one of the areas she will focus on, since a lot of Filipinos now rely on technology:
"Pasensya na Ka Eli matagal na problema makaka-relate ang ating kababayan, ito talaga ang nirereklamo namin for a very long time. Isa ito sa tututukan natin, itong internet connection kailangan maayos sa buong Pilipinas kasi maraming nakasalalay sa technology, lalo na sa probinsya talagang problems."
After the forum, Robredo took to her social media to explain that she borrowed an office near the airport so she could immediately get on a plane and visit areas devastated by Typhoon Odette.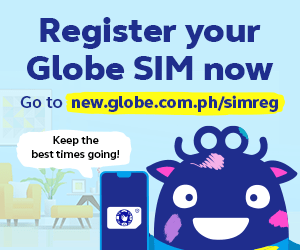 The harsh reality: Internet connection is a national issue
A netizen pointed out that internet connectivity across the country is an issue that affects us all, and Robredo's technical difficulties just put that reality in the spotlight. In this age of remote work and school, the internet is now a necessity, yet many still don't have proper connectivity, especially in the provinces.

Currently, the Philippines has one of the slowest internet speeds in Southeast Asia. But things have improved since the pandemic, and our download speeds have increased from 32.37 megabits per second in February 2021 to 50.26 megabits per second today. However, there are still many places in the country (and, as Robredo's KBP Forum appearance illustrated, even in Metro Manila) where fast and reliable internet is hard to come by. Our internet is also one of the costliest in the world. One 2020 study found that the Philippines ranked 82nd out of 85 countries in terms of internet affordability.
Some have praises
While a few admitted they were frustrated with how they couldn't hear Robredo clearly during the KBP forum, a lot of netizens showed support for how she gracefully handled the technical difficulties, still able to answer the questions thrown at her.
Others pointed out that this showed Robredo's crisis management skills and how she keeps her commitments.

Others have questions
On the other side of the internet, Domagoso got flak for her unprovoked post. Some netizens described her post as "petty" and "shady".


However, there are some netizens who have expressed their support for Domagoso, agreeing with her statement.

And others expressed support
A few have also made efforts to explain to Domagoso what happened with Robredo's camp. In the comment section of the original post, someone shared a screenshot of Robredo's explanation. Domagoso retorted that candidates knew about the forum way ahead, insinuating Robredo's camp had much time to prepare. "Kun gusto may paraan at kun ayaw may dahilan! [sic]" she said.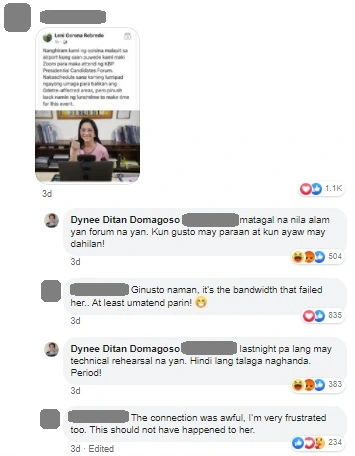 Another netizen — a student this time — wants Domagoso to explain how to prepare good internet connectivity so they could use it upon returning to school.

On "bashers"
Yesterday, in another comment on the original post, Domagoso clapped back at her critics: "Trash talk can only come from the garbage."
She later followed this up with a new post, thanking netizens for allegedly making her famous. "While you are busy attacking me, I'm busy gaining supporters," Domagoso quipped. But her new comments on the issue only attracted more criticism.

Duties
Senatorial candidate David D'Angelo chimed in on the debate, and he has a pretty good point: if it's really VP Leni she is talking about in her post, Domagoso needs to understand that VP Leni is still our vice president before the May elections. The VP has duties to attend to, which require her presence in different places across the nation, especially during this pandemic and in the aftermath of a typhoon.


And let's be real, who in this country can say they haven't had connectivity issues?
Any thoughts?