Almost everyone in Sandwich, the OPM alt rock monster of 20 years, has played DJ sets and loves to spin decks for intimate listening sessions or even the occasional thumping club venue.
Frontman Raimund Marasigan and guitar player Mong Alcaraz are legit remixers themselves, having dug into tracks from Radioactive Sago Project, The Itchyworms, Taken by Cars, and Rivermaya to transform them through their own musical collage.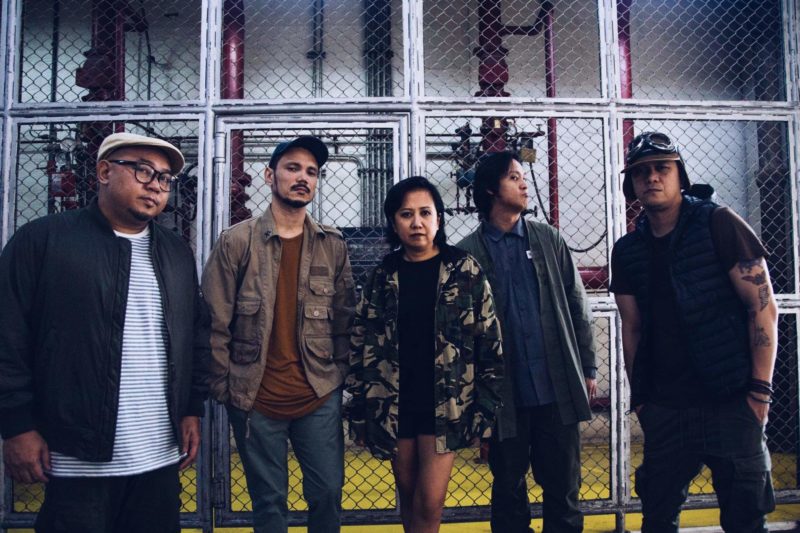 So it was from this kind of standpoint—fueled by an unhappy accident that we'll talk about later—that the band tried its hand at actually embracing the concept of a remix album, something they could perform at club settings.
Space/Spase is 10 remixes of songs from five studio albums. Originally intended to be a live-only hybrid set, it immediately became clear to guitarist and chief remixer, Alcaraz, that this was something that needed a proper anthologizing, release, and hype. To be its own creature that could still fit on the shelf beside the other tall trees of their multi-awarded discography.
Taking the time to indulge their love for vinyl and record-digging, hip-hop breaks, Olongapo funk, house, electronica, and the myriad forms of modern dance music, their record label PolyEast Records was then more than happy to dot the I's and cross the T's in terms of clearing the songs and their copyrights for release.
A true collaborative effort—mostly sans drummer Mike Dizon (for reasons that will become clear later)—the production of the album saw bassist Myrene Academia, guitarist Diego Castillo, Alacaraz, and Marasigan spoiling themselves silly with the sonic richness of these remixes, rethinking old songs, and polishing them to be able to meet other minds and ears in apt settings.
The arena rock grandeur of "2 Trick Pony" has now become an upbeat and fun boppity electronic jig. "Sunburn" now has resonant echoes of Japanese pop and quirky dancefloor frolic. Meanwhile, "Betamax" has been transformed into a funky, elbow-clucking brass tune that would be a great soundtrack to Manila's chaotic commute. But best of all, for me, the road rager "Walang Kadaladala" flowers into a hidden gravitas by way of one of those classic DJ Shadow cut-and-paste pastiches, newly clothed yet still grease-faced and grim.
Last November 21, at the offices of PolyEast Records, the band spoke to 8LIST and took us behind the scenes, through the making and curation of what they call a Club Sandwich Re-Mix Album. In a surprisingly candid atmosphere, they also took the time to dig into how creative surprises can still truly happen to veterans like them, the importance of becoming the best musician one can be as a journey to authenticity, and how they trust each other to guide them to that elusive flow of mighty inspiration.
The Catalyst: The Drummer Got Injured
MIKE DIZON (Drums): It was bad. I injured my shoulder [in 2018]. I would reach to the back seat of the car sometimes and something would audibly crack or even when I would try and put on a polo shirt I would need to do it at an angle and not straight up.
It came to the point that my daughter had pulled the arm during swimming and the doctor said there was now a tear. After the MRI he said, "Well, let's operate." I should have sought out a second opinion because apparently you can still rehab it. It's just age and wear and tear.
How do you bring a rock show to a DJ environment?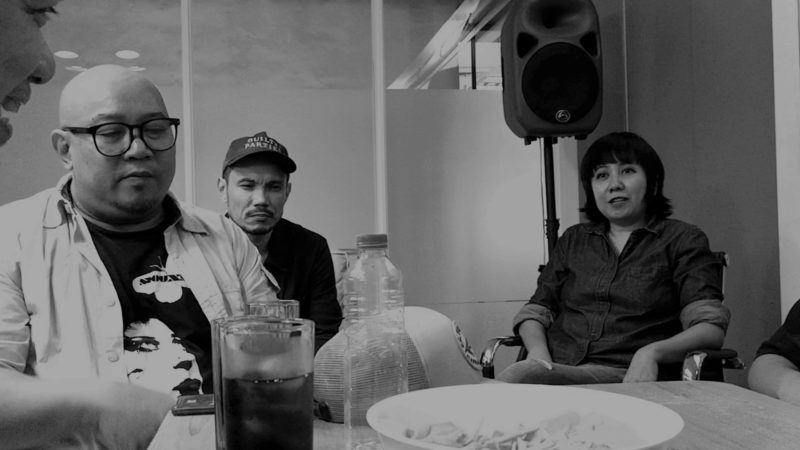 RAIMUND MARASIGAN (Vocals, guitars): We needed a kind of hack to figure out how we could work around Mike's injury. Because everybody in the band DJs, you see. How can we bring this Sandwich rock show to a DJ setting? That's without live drums and amps and guitars?
So of course it's to remix our songs. We sat around and listened to records we liked and sampled stuff. Mong was in charge of assembling everything, after a few months we knew we had enough for an album.
But then the idea of playing all of those live got shelved when Mike started got back like two to three months earlier than expected.  And we were like: are you sure you're ok to play? He even revved down his cymbals and everything else so it would be less stress on his arm.  Then we remembered: Mong, didn't you finish our remix songs? Hey this is a whole set!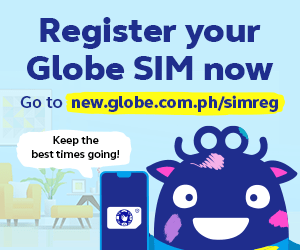 It would have been on Soundcloud
MONG ALCARAZ (Guitars): Actually ang laki ng factor ng support ng PolyEast Records because initially we would just put it out on Soundcloud as a mixtape. For free! So now, we don't need to clear the samples or the copyrights. PolyEast would take care of all of that.
So when they heard it they were excited to release it, since upon closer inspection they own most of the songs anyway. This project at the very start did not fly with the whole band, but then we adjusted though and really got into it.
The remix process was both exciting and scary
DIEGO CASTILLO (Guitars): It's mostly because with the outcome of the remixes you're not so sure. See, when I'm playing on guitar I know that I can do the riff for this song and I know how it'll turn out, since I've been doing this for 21 years. But for this one I was like, "Hey I'm not exactly sure if this is good for this particular thing?"
With guitar you usually know if what you did would be good for that song. Like definitively this is good, this is ugly. So that is both scary and exciting! Though maybe not particularly scary, probably more nervous because there was no pressure for it to really work.
RAIMUND: It was still quite surprising creatively because the intention was different. Now it's out and for everybody. We had a meeting to regroup after Diego got married, we took a break because he had his honeymoon too. We didn't know that this album was ready for a media release push because we were already gearing up for the next EP project. This was over with—these remixes—since last year.
Trust in the group flow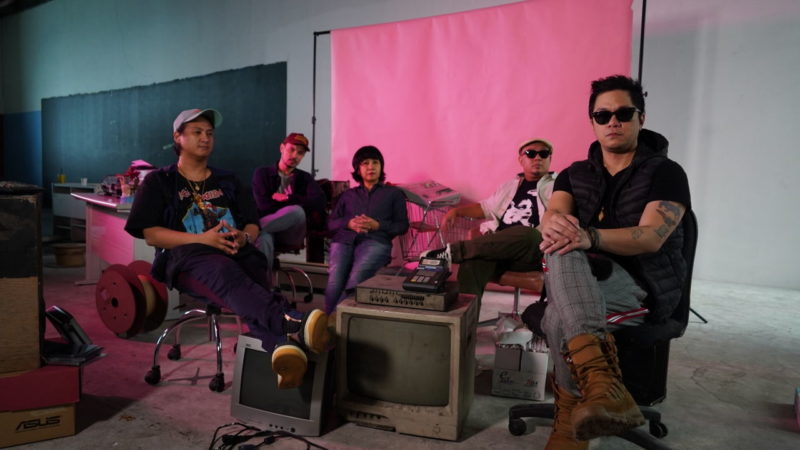 MYRENE ACADEMIA (Bass): I'm only really finding out now how to flow and listen for stuff to come up that are really solutions. But you need to catch it out of the air, from the ether. It will present itself to you and its right there! But recognizing it is the hard part.
DIEGO: Sometimes the great thing about being friends in a band is that you don't even need to verbalize that someone doesn't like it, you can sense it! Conversely maybe there are ideas that are way too advanced for myself. I can't pretend to know it all.
There's plenty of revisionist thinking that when you look back: pangit pala 'tong mga to! And in the past I found some songs ugly but then revise my thinking and go hey, these are good!  Like me, sometimes I can't fully explain what I want to do, they all guide me to it. Mong will say I know what you want to di, this is not it right now, but we'll make it so we get there.
You must be healthy to play rock
MYRENE: My ears, I don't think they're perfect anymore. I certainly don't hear the same levels on both of them. Sometimes I'm just sitting down and then something would go toooooot! Is that tinnitus? And then I wouldn't be able to hear from that ear for a while.
MONG: I had a full body executive check-up last year. I was surprised that my ears were still in perfect condition.
DIEGO: I have ringing in my ears sometimes when I go to sleep. But I think for me it's also because I've been DJ-ing for the past 12 years and super lakas ako mag monitor. Yeah, it hurts. Then I queue my songs and then it comes on with just the sudden volume I go waaaah!
RAIMUND: We generally try to stay healthy because you cannot play a rock set if you're sick or exhausted.
Creative authenticity is important
MYRENE: We try not to be jaded. So we can still appreciate the creative surprises that come our way. But arguably it is an effort to be interested in everything all the time.
RAIMUND: I think music and art have to be honest to begin with. So we agree to always say what we think to each other, this way we're honest, to ourselves and our band mates.
MYRENE: When I write something it's more like "I really like this, I hope someone else likes it, too." I hope the band likes it. Because that's primary: the rest of the band must like it so we can all work on it.  Also we trust each other implicitly. Like when Mike says "maybe there's another way we could do that, maybe like this?" then we'd give it a legitimate shot, because he might be hearing something different.  Sometimes you don't know exactly what it is but your instinct is there's really something wrong. You can't put your finger on it yet.
MIKE: The ultimate bottom line of it all, the main reason for being honest, is that if you record something that you really didn't like in the first place but hadn't spoken up about it, then you're committed to that forever. That's why.
Clarity may come in the interstitial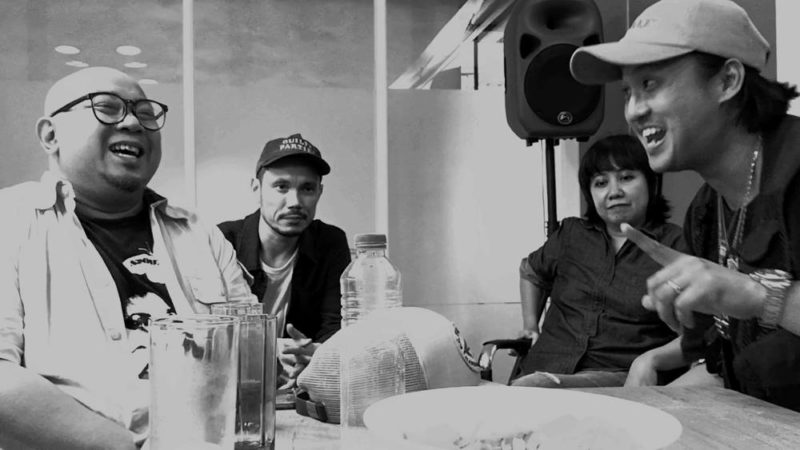 RAIMUND: Yesterday we were recording the last song for the forthcoming new album. We were all going: this still doesn't feel right, after weeks of playing it. So we—the guitar players—were trying to solve it melodically and harmonically.
Two-and-a-half hours later we took a break, then Mike played something different. That in return triggered that we also play something different. So it was a groove problem, rather than a melodic or harmonic issue!
See, we take a lot of breaks during rehearsal. Mas matalas kasi ang taenga mo if you're not holding an instrument. During the break Diego said, "Have you heard the new Tarsius song?" So we listened to it and our Diego pointed out that the other Diego [Mapa] maybe had the right idea. Mike seconded it and said "let's try that groove!" But still nobody listened. Hindi namin siya pinapansin.
So Mike plays the beat during the rehearsal take and in 5 minutes the song is done! The whole band just started flowing. It was almost completely different from the original one. The only thing that survived were the melody, the key, and the lyrics.
We're big basketball fans and we trust each other so we consider those moves like no-look passes. You have to trust that the other guy is going to be there at the right moment. There will be clarity. Have faith in it.
The album SPACE/SPASE is now out digitally via Spotify, Apple Music and Deezer.