I have fond memories of DC Comics' Vertigo imprint. Launched 26 years ago, its gritty and edgy titles were the first comic books to give me a sense of the larger picture that stories told in this medium could go beyond juvenile narratives and spandex-clad characters, things I cared little about.
Among those first tall trees in the 1990s were Preacher by Garth Ennis and Steve Dillon, Hellblazer from Alan Moore's Swamp Thing, The Extremist by Peter Milligan and Ted McKeever, and of course The Sandman series that made Neil Gaiman a household name.
Though initially only publishing horror and fantasy genres, the books under Vertigo had very adult themes and ideas. Meaning they weren't just smarter but also operated like they were R-rated movies and thus free to contain explicit violence, depictions of drug use and abuse, nudity and sex scenes, plenty of cursing and tackling of taboo subjects. Things that might be hard to chew for the garden variety of superhero comics readers.
But that was then. Last June 21, DC comics announced that they were going to put the "Vertigo Publishing Imprint to be Sunset at the End of the Year." Translation? After numerous revampings and relaunches, Vertigo is now officially canceled.
Some small mercy is that there's a grace period for creators to be given a chance to wrap up their in-series storylines before January 2020. But Chief Creative Officer of DC Comics Jim Lee was adamant that "No books are being cancelled or going away" and that it's all just a move to "rebrand all content under the singular DC imprint." DC Publisher Dan DiDio doubled down on Lee's defense o the move, saying it was to "bring greater clarity to the DC brand."
Under the new imprint banners, the three labels are as follows:
DC Kids will focus on readers ages 8-12 and offer content created specifically for the middle-grade reader
The main DC titles, focusing on ages 13+, will primarily be the current DC universe of characters
And DC Black Label will focus on content appropriate for readers 17 and older
Which means that most of the Vertigo titles that will make the transition would fall under its Black Label.
Vertigo's founding editor Karen Berger, responsible for recruiting most of the original talents had tweeted in response to the announced shuttering of the imprint by saying that "Corporate thinking & creative risk-taking don't mix.DC nixing Vertigo was a longtime coming. But hey, we changed the game & we had a blast doing it!"
As we bid farewell to Vertigo and its golden years, here's some of our picks of the bloodiest, most violent, and very adult titles that still haven't crossed over to in an adaptation on TV, movie, or streaming platform.
WE3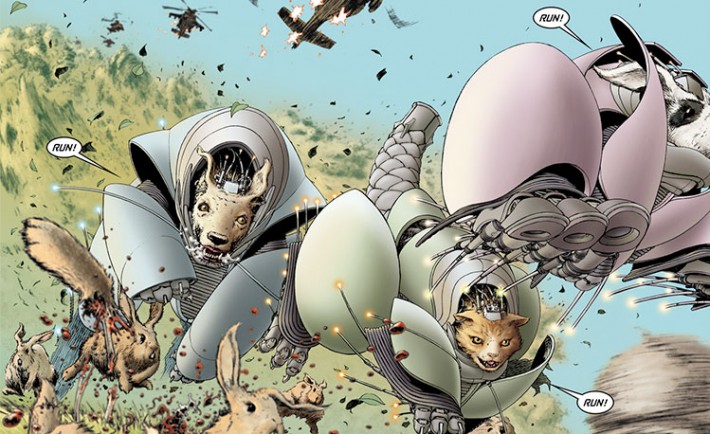 Made by Grant Morrison and Frank Quietly, this three-issue mini-series of weaponized animals made by military black science is like an upturned Disney movie. Sure the animals were once cuties since they're a rabbit, cat and dog, but under the pens of Morrison and Quietly, it's almost impossible to not get tugged at the heart strings when reading this as the creatures (apparently prototypes that have now been made obsolete and must be decommissioned, read: killed) simply want to escape their military pursuers go "home." Equal parts mass destruction and anthropomorphized emotiveness, one of the most fucked up scenes here was when a scientist forced an android mouse with a drill for his head to kill another mouse with his new uh noggin.
GET JIRO

This alterna-Earth monstrosity where cuisine and food are the driving forces of civilization may have sprung from the depraved chef's mind of Anthony Bourdain (RIP, sir), but it's Langdon Foss's beautiful and detailed illustrations in a very vintage meets sci-fi comics style that brings it to life. See, in the future, chefs are like the masters of the universe, able to command not only culinary forces but armed militias as well, like gangsters except with better palates. In this world of chef eat chef is a rogue sushi chef named Jiro, a clandestine master who's only wish is to be left to practice his skills in peace and serve his patrons. Replete with bloody gang warfare fought via common kitchen implements and discussions on how to cook the best kind of pot au feu, it's the kind of sacred and profane marriage that Bourdain's fiction has become known for. Also check out the equally savage prequel Blood and Sushi.
PRIDE OF BAGHDAD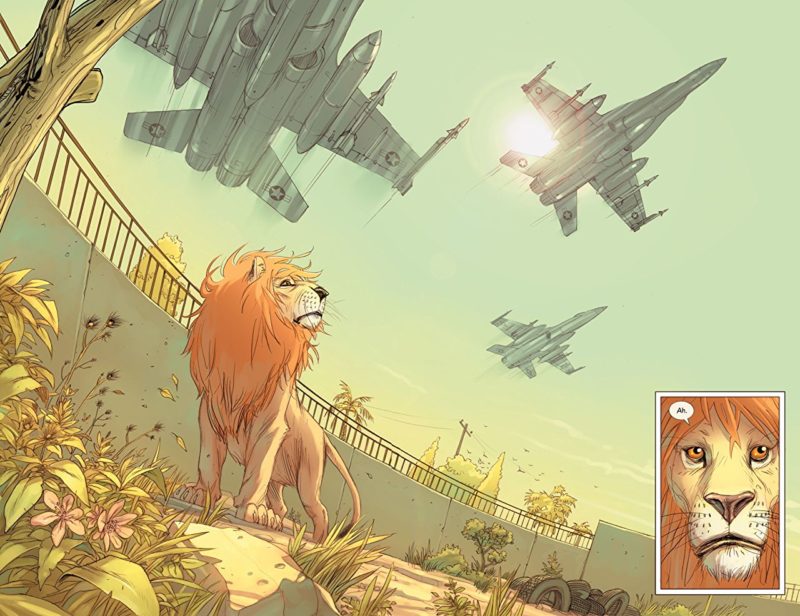 Brian K. Vaughan would later become known for his sci-fi epic Y: The Last Man, but this early work with art from Niko Henrichon has plenty of the horrors of war, albeit in the metaphor of animals. Four lions are set free to discover the horrors of war and the price of freedom when, during the earliest days of the US war against Iraq, the Baghdad zoo is destroyed during a bombing. The four lions—Zill, Noor, Ali, and Safa—escape with the other animals and their journey finds them in the capital city.
It's easy to find political and race commentary in the story arcs but in the shades of Orwellian storytelling likes the core of familial bonds capsulated by the idea of the pride. It's also unsurprisingly full of the horrors of war, like when Safa, the elder female lion of our titular pride, is attacked and raped by a pack of three male lions, who all take their turn. Just brutal.
AMERICAN VAMPIRE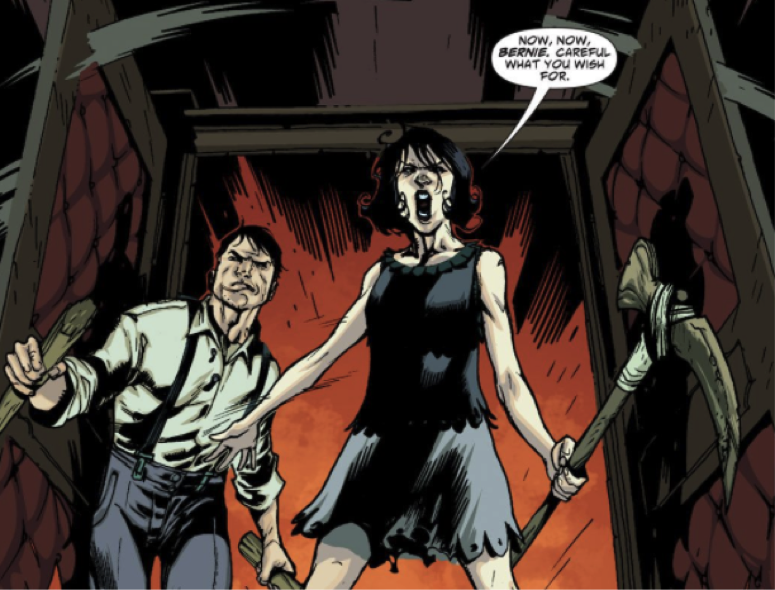 Scott Snyder and Stephen King shared writing credits on the first few stories of this bloodsucking romp through the Wild West and onwards. Though it's about a lot of things, the main story arc revolves around the new evolutionary strain of the New World's American vampire bloodline, with the 1880s Wild West outlaw named Skinner Sweet as the first of that clan who had a very different weakness from the classic Dracula vampire (vulnerable during certain moon phases but unaffected by sunlight).
When King left the writing chores Snyder acquitted himself well and his stories follow Sweet's descendants, like 1920s actress Pearl Jones, trying to make it big in Hollywood, and the forces that hunt them, like The Vassals of the Morning Star. It's a blood-spattered, artery-rupturing romp of inter vampire-species conflicts throughout US history.
It's also one of the few Vertigo series that, according to Snyder at least, would definitely continue under DC's Black Label imprint.
100 BULLETS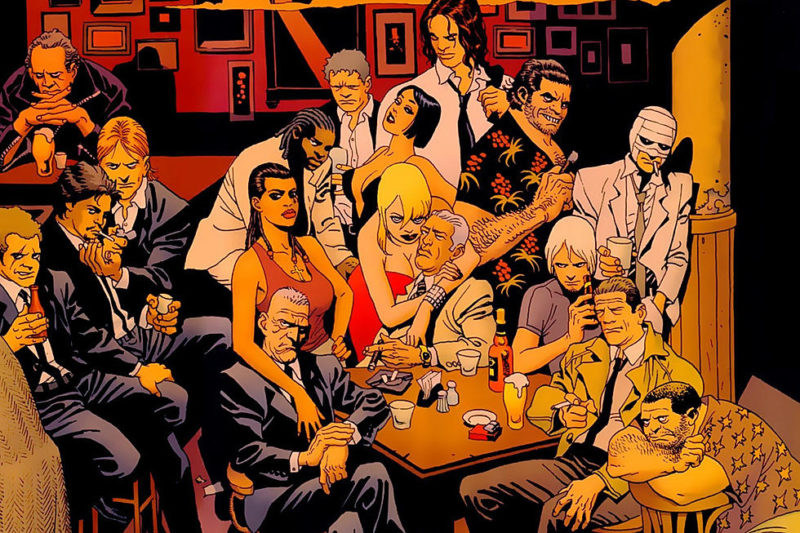 Brian Azzarello's saga about justice being offered to victims with an untraceable gun and 100 bullets was compelling enough to build the sub imprint of Vertigo Crime. And its 100 issues (yeah, how poetic, ey?) of gun-fu, crime, and CQB goodness is layered with secret societies and conspiracy theories that make for a fascinating and totally violent read.  How gory? Just find that scene early on in issue 5 where Ms. Dietrich shoots Dolan, and we can see her visible through the hole in Dolan's head. Ferocious and damn satisfying.
NORTHLANDERS

Now that History Channel's Vikings have taken turn for the absurd and head-scratching, I think it's high time to take another look at Brian Wood's series that's highly intelligent and deeply imbued with Odin's breadth and Thor's intensity. Though the series was cancelled way back in April 2012, it's that kind of classic Vertigo series that fused intimate storytelling with the compelling sweep of history, tracing how the northmen found the British Isles and instantly saw lush lands to conquer and plunder. That the fractured Saxon kingdoms were barely organized enough to mount a resistance helped greatly but Wood never cops out and tells us how going Viking and berserk became forgotten as pagan beliefs were gradually subsumed into traditions of Christianity that eventually led to the feudal dark ages culture of war. One of my favorites, how can you go wrong with axe-wielding Vikings and pagan orgies?
SCALPED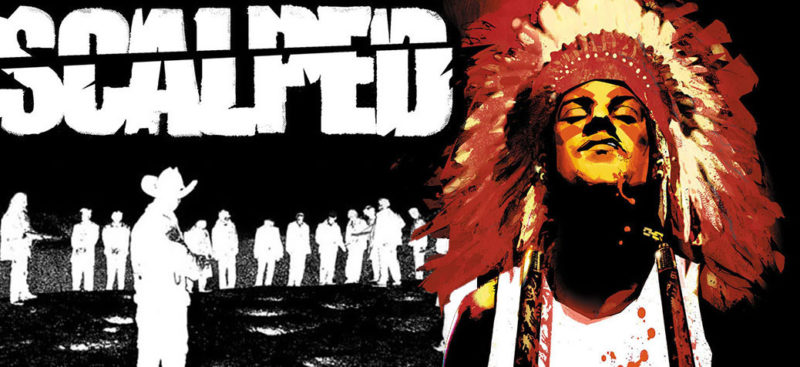 Jason Aaron and R.M. Guéra's undercover noir oeuvre deserves way more credit for being a narrative tour de force than its current under-the-radar status gives it.
Former brawling, no-future teen Dashiell Bad Horse was once a native son of the South Dakota reservation Prairie Rose but he's since left for saner pastures. One day, he comes back, but as an undercover FBI agent with a mission to bring down Lincoln Red Crow, the corrupt criminal overlord who owns the land and who also happens to be his uncle.
As a series full of complex and layered commentary on organized crime, rampant poverty, drug addiction, alcoholism, and the racial legacy of the Native Americans, Aaron's neo-Western is just like Agent Bad Horse: nunchuck-swinging, hard-drinking, curse-offering, bad motherfucker who'd bed down with murderers and thieves with a bottle of bourbon in one hand and a rifle in the other like the Wild West never left. For the best of uber-violence, watch out for the character Mr. Brass of the Hmongs.  I wish I could synopsize this down to just a "Cowboys versus Indians" crime tale but it really is an Indians versus everyone (including themselves).
There was news about this series getting a TV adaptation (they say production started around the same time as Constantine did for NBC) under WGN America but that was a while back, around 2017, so don't hold your breath.
DMZ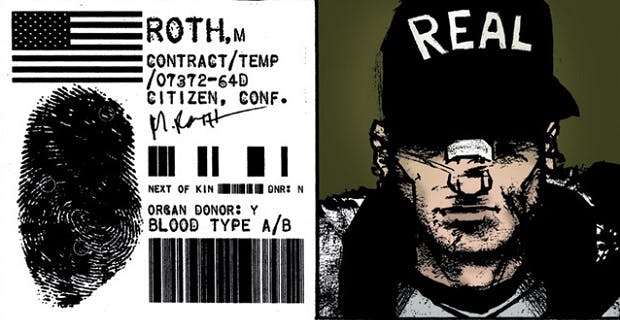 With all the violence and division in the US nowadays, Brian Wood's 2005 series is eerily relevant since it's about a second Civil War. Manhattan has become the titular demilitarized zone (DMZ, hey) between the United States and the Free States Of America. Caught in the crossfire is journalist Matty Roth, who finds himself reluctantly (and then eventually, joyously) embedded in the wartime New York, meeting the colorful residents of the DMZ who live in an uneasy limbo between two powerful factions.
Full of social and political insights and commentary, let's not forget that a civil war is one of the dirtiest and most visceral kinds of conflict there is and neither Wood nor his illustrating cohorts pull back on the violence—just like crossing a New York street made doubly dangerous with snipers and turf battles on almost every corner. It's pretty mind-blowing stuff.
A TV series was reportedly in the works with a done deal around 2014, with a pilot even said to be in production, but it's likely that project has tanked since no news of it has so far surfaced.
What were your favorite Vertigo titles? Tell us below!