One of the most heated issues that happened over the weekend involved multi-awarded Filipino novelist F. Sionil Jose saying journalist Maria Ressa did not deserve the prestigious Nobel Peace Prize awarded to her. Mix that in with scathing comments left by netizens who refused to let his rants slide and you've got yourself a proper fiasco. What exactly happened?
It starts with Maria Ressa's Nobel Peace Prize Award
BREAKING NEWS:
The Norwegian Nobel Committee has decided to award the 2021 Nobel Peace Prize to Maria Ressa and Dmitry Muratov for their efforts to safeguard freedom of expression, which is a precondition for democracy and lasting peace.#NobelPrize #NobelPeacePrize pic.twitter.com/KHeGG9YOTT

— The Nobel Prize (@NobelPrize) October 8, 2021
On Oct. 8, journalist Maria Ressa was awarded the prestigious Nobel Peace Prize for 2021, the Philippines' first. She shared the award with Dmitry Muratov "for their courageous fight for freedom of expression in the Philippines and Russia." Ressa, who is also the CEO and co-founder of Rappler, the online news site for investigative journalism, is the first Filipino who will join the ranks of other laureates in the likes of Martin Luther King Jr., Mother Teresa, Barack Obama, and more.
#NobelPrize laureate Maria Ressa uses freedom of expression to expose abuse of power, use of violence and growing authoritarianism in her native country, the Philippines. In 2012, she co-founded Rappler, @rapplerdotcom, a digital media company for investigative journalism. pic.twitter.com/C8W8NBqY7T

— The Nobel Prize (@NobelPrize) October 8, 2021
However, this historical event earned mixed reactions from Filipinos. While many expressed their joy and congratulated Ressa, there are some who believe she is ill-deserving.
F. Sionil Jose pens personal opinion on Maria Ressa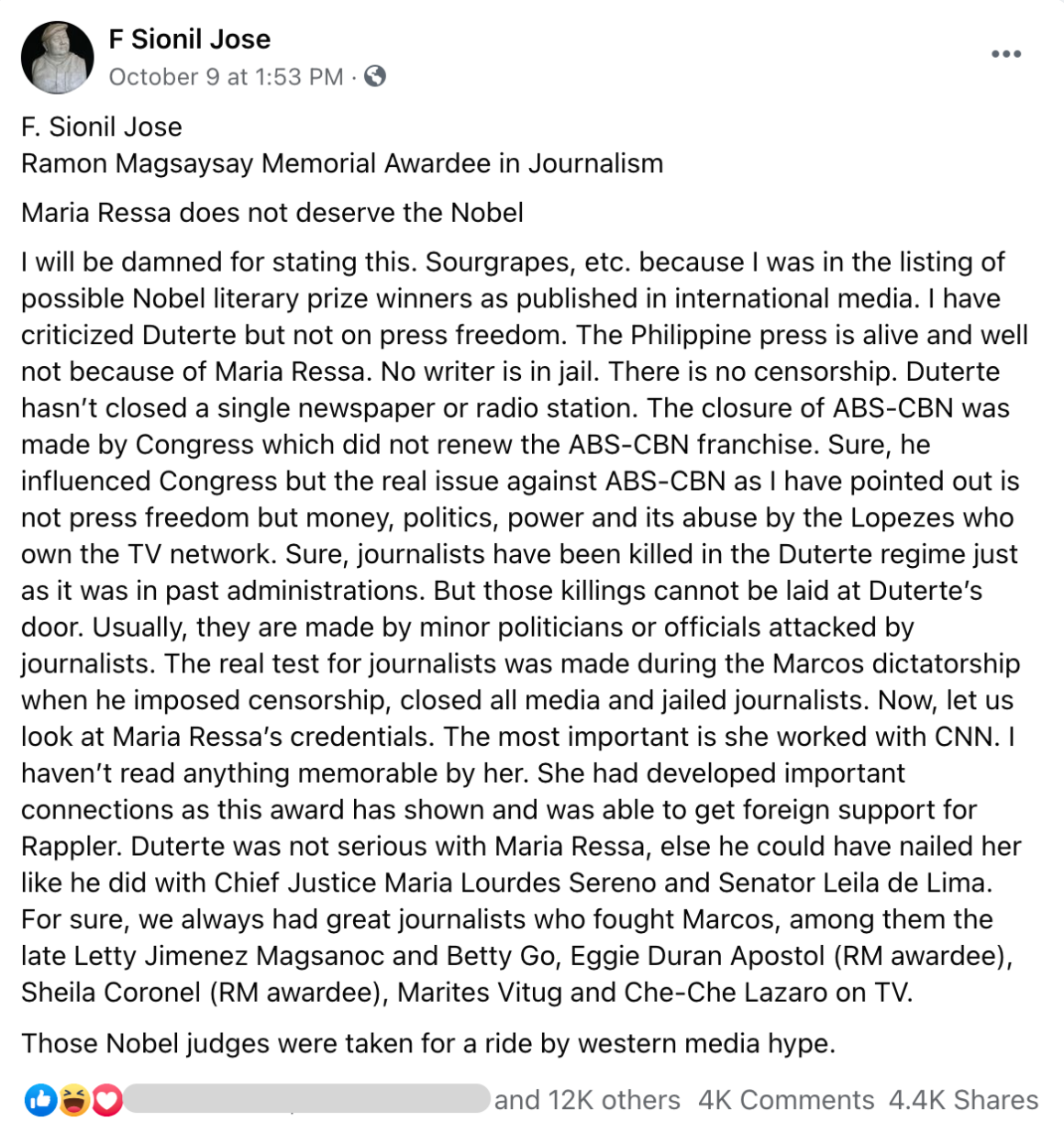 Filipino writer F. Sionil Jose is part of the latter. He took to social media to air his grievances toward the journalist Nobel laureate. Jose, a Ramon Magsaysay Memorial Awardee in Journalism, cited a few points why he felt Ressa was undeserving. He stressed that contrary to her demand for freedom of expression in journalism, the Philippine press is actually "alive and well."
He pointed out three things: there are "no writers in jail, there is no censorship," and that the ABS-CBN shutdown "is not press freedom but money, politics, power and its abuse by the Lopezes who owns the TV network."
The 96-year-old writer then went on to downplay the fact that journalists are killed in every administration, including the present one. "But those killings cannot be laid at Duterte's door. Usually, they are made by minor politicians or officials attacked by journalists."
"The real test for journalists was made during the Marcos dictatorship when he imposed censorship, closed all media and jailed journalists," he added.
Who is F. Sionil Jose anyway?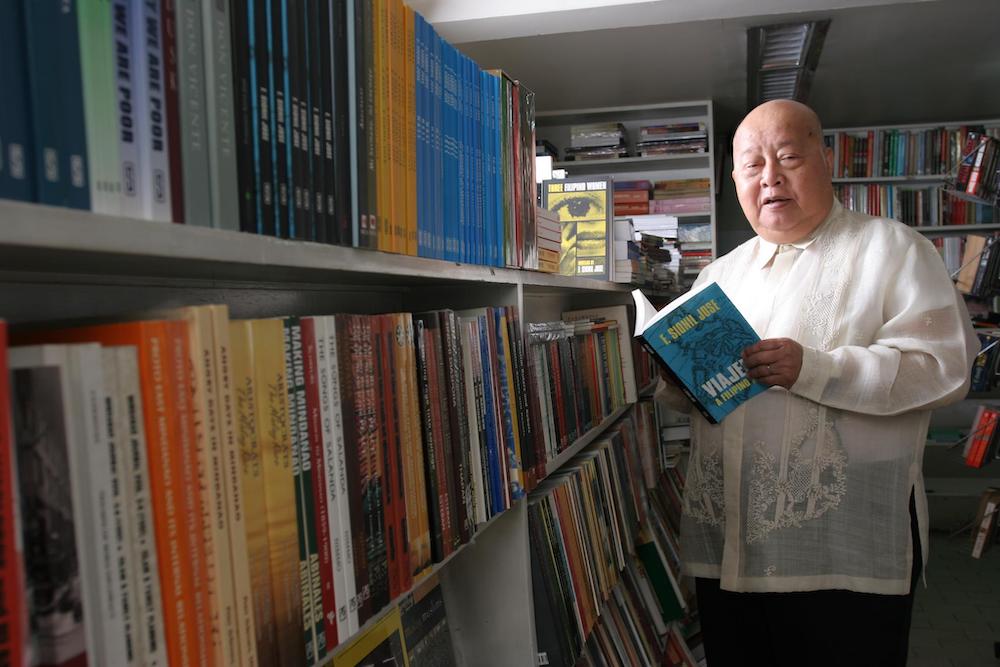 And why is he so irked? Well, Francisco Sionil Jose is a veteran writer, a National Artist for Literature, and a five-time Palanca awardee. In school, you may have been required to read some of his works, which range from novels, short stories, plays, and essays. His most notable work is The Rosales Saga, a fictional five-novel series spanning centuries of Philippine history. Jose is considered the most widely-read Filipino author in the English language. His works have been translated into 28 languages.
In the same Facebook post, Jose also acknowledged that he "was in the listing of possible Nobel literary prize winners as published in international media." In fact, he has been for quite some time. In a 2013 article, he wrote about his decades-long desire to be a Nobel laureate. Jose shared that the award has always evaded him even though has been nominated and even prophesied to win. Year in, year out he waits for a call from Sweden every first week of October but "none came," he laments.
"The truth is I have stopped dreaming of the Prize for sometime now," Jose writes. "By doing so I can attend to my chores without being anaesthetized by dreaming."
He gets flak from the internet
Many flooded Jose's comments section to drop their own opinion. "Imagine being a National Artist for Literature but you're stuck with writing a Facebook rant because you didn't get a Nobel (again)… embarrassing," one comment read.
Another comment went straight to the point and stated that the writer might be hinting that he is better than Ressa.
"Sir, your post again proves that you are still one of the country's greatest fiction writers," said another.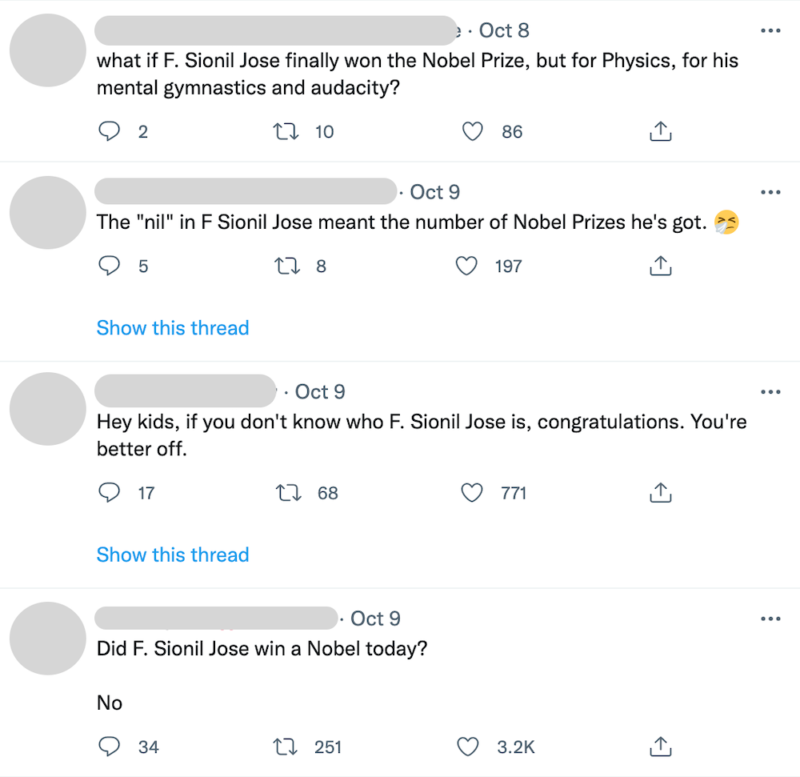 Even Howie Severino couldn't resist
Jose's post did not please some Filipinos. As of writing, it has gathered 12k reactions, 4k comments, and 4.4k shares. Personalities and netizens flooded the comments to berate the writer for his "Facebook rant." Among them all, journalist Howie Severino's comments had the most reactions. He "[inflicted] 3rd degree burns," as one netizen put it.
"My opinion as a reader- I've read your books and I've read Maria's books. She's a much better writer," Severino starts. "Your books are hard to finish. Your dialogue is stilted and unrealistic. Even your columns contain little to no insight. But I like your bookstore."
F. Sionil Jose's own organization distanced itself from him
The Philippine Center of International PEN (Poets, Playwrights, Editors, Essayists, Novelists) even issued a statement clarifying that Jose's post was purely his personal opinion, and that they don't share the same views as their founder. In fact, the group decried Ressa's conviction of cyber libel back in 2020.
"One cannot deny that press freedom and human rights have been under attack in the Philippines under the government of Rodrigo Duterte," the post went on to oppose Jose's points. "ABS-CBN has been denied a renewal of its broadcast franchise and forced to close down as a network by the House of Representatives whose leadership is controlled Mr. Duterte and his political coalition. As of 2020, 19 journalists have been killed under his watch, mostly by suspected state agents, according to the Center for Media Freedom and Responsibility."
But some people are defending him too
However, not everyone thinks the writer's post is a manifestation of bitterness. Some Filipinos respect Jose's opinions and even said that the Nobel Peace Prize committed a mistake before.





Even Severino wasn't safe from criticism. One netizen expressed their displeasure at Severino's response saying that his comment was a "low blow, unprincipled and unfair" action for a journalist.
Despite all this, F. Sionil Jose "forgives" his critics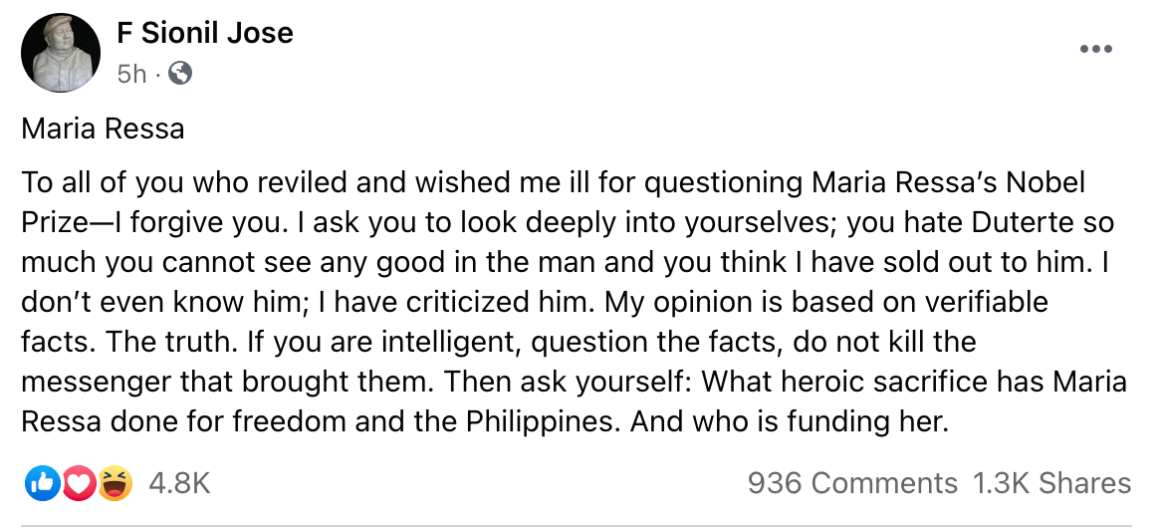 After seeing the traction and backlash his original rant made online, Jose took to Facebook yet again to address everyone. "To all of you who reviled and wished me ill for questioning Maria Ressa's Nobel Prize—I forgive you," his post began. "I ask you to look deeply into yourselves; you hate Duterte so much you cannot see any good in the man and you think I have sold out to him."
He also asked everyone to "question the facts." "The facts" being what Ressa has done for the freedom and the Philippines and who is funding her.
As of writing, this new post has garnered 4.8k reactions, 936 comments, and 1.3k shares.
What do you think of F. Sionil Jose's Facebook posts?
Check us out on Facebook, Instagram, Twitter, and YouTube, and be the first to know about the latest news and coolest trends!