The Oxford English Dictionary (OED) is a definitive record of the English language that began recording words in 1857. It traces the origins of language while adapting to 21st-century trends. Case in point, the Oxford English Dictionary recently added 26 Korean words to its latest edition (daebak!). It only makes sense since the whole world has been hit with everything K for the past decade: K-drama, K-pop, K-beauty, K-food, K-style. There's no doubt South Korea's pop culture is a force to be reckoned with.
OED's statement referenced South Korean director Bong Joon-ho's historical feat with Parasite as the first non-English-language film to win Best Picture at the Oscars. K-pop titans BTS and Blackpink have also taken the world by storm along with a handful of other groups with strong followings. K-drama? By now everyone knows the series Crash Landing on You and Squid Game. The examples could go on!
Check out the Korean words added to the Oxford English Dictionary and test your knowledge if you know all of them.
Manhwa
Japan has mangas, China has manhuas, and Korea has manhwas. It's a genre of South Korean graphic novels and comic books traditionally published in black and white. In the digital age, manhwa is replaced by webtoons, digital comics in full color. A number of manhwas got adapted into successful K-dramas. There's Cheese in the Trap (2016), True Beauty (2020), What's Wrong With Secretary Kim (2018), and Sweet Home (2020).
Hallyu
Hallyu simply means the "Korean Wave" or the global phenomenon in South Korean pop culture from movies, series, music, food, beauty, and everything in between. There's no denying it has hit the world hard, we know we Filipinos have. Hallyu is the reason why OED is adding words to the dictionary after all.
What's So Wrong About Liking Korean Culture?
What's So Wrong About Liking Korean Culture?
Kyzia Maramara | Nov 25, 2020
Samgyeopsal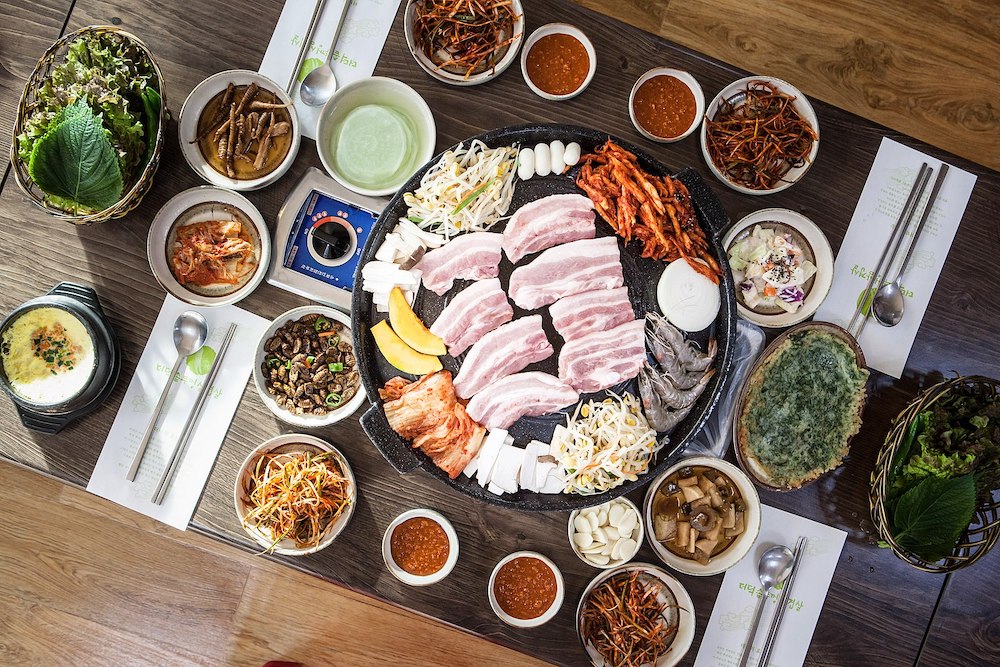 Of course, you know what samgyeopsal is. You've craved this meal a thousand times over, even more intensely in the middle of a pandemic. Samgyeopsal is a Korean dish of thinly sliced pork belly served raw and cooked on a tabletop grill. It's best eaten wrapped in lettuce and paired with tons of Korean side dishes — kimchi (fermented vegetables), gamja jorim (braised potatoes), eomuk bokkeum (fish cakes), and more. Because Filipinos crave it, there are dozens of restaurants in Manila that can deliver samgyeopsal to your door whenever you want.
Introducing Baked Samgyup, the New Talk of the Town — Here's Where to Order
Introducing Baked Samgyup, the New Talk of the Town — Here's Where to Order
Meryl Medel | Jul 25, 2020
Chimaek
Chimaek is a Korean word that combines the chi- from chikin which means fried chicken and maek- from maekju which means beer. The 2014 K-drama My Love From the Star contributed to the global craving for fried chicken and beer. Jun Ji Hyun, the lead star, was shown constantly snacking on chimaek. We bet you can just imagine having one now, right?
Mukbang
This Korean word is another entry related to food. Mukbang became popular in 2013. It's a video that features people laying out a feast in front of the camera and eating all in one sitting. Sometimes mukbang videos involve the content creator sharing stories but the most popular ones are the ASMR versions. You'll hear a content creator chow on 20 fried chicken legs, five burgers, two boxes of large fries, and more. It's oddly satisfying (we can live vicariously through them) but it does make some of us worry about their kidneys.
Aegyo
The OED refers to aegyo as "a certain kind of cuteness or charm considered characteristically Korean, similar to the Japanese word kawaii." To perfectly illustrate that, think of South Korean actor Park Seo Joon in that one scene for his 2017 drama Fight For My Way. He tried to duplicate his co-star Kim Ji Won's aegyo which resulted in a cute but cringe moment.
Actor Janus del Prado Gets Flak After Saying That P-Pop Is Just a 'Photocopy' of K-Pop
Actor Janus del Prado Gets Flak After Saying That P-Pop Is Just a 'Photocopy' of K-Pop
Kyzia Maramara | Feb 02, 2021
Skinship
This Korean word is a combination of two English words — skin and kinship. Skinship is an expression of affection shown through "touching or close physical contact" between lovers, family, and friends. You'll often see K-pop stans gush over their favorite K-pop idols displaying skinship by hugging or staying close to each other.
Oppa, noona, unni
View this post on Instagram
You probably don't need a dictionary to know what these words are. Oppa is a Korean word used by a female speaker to address her older brother, close older male friend, or boyfriend. The opposite, noona, is used by a male speaker for his older sister, older female friend, or older girlfriend. Unnie is used by a female speaker to call an older sister or an older female friend.
However, in recent years, OED notes that the use of oppa has changed to refer to any attractive South Korean man. Think Lee Min Ho, Hyun Bin, and Kim Seon Ho.
Are all those words familiar to you? If they are then the Korean wave is real and alive! Here are the other Korean words added to the latest update of the Oxford English Dictionary:
K- (as in Korean)
Trot
K-drama
Korean wave
Banchan
Bulgogi
Dongchimi
Galbi
Japchae
Kimbap
Kimchi
Hanbok
Tang Soo Do
Hangul
Kono
Sijo
Taekwondo
Daebak
PC bang
Fighting
Check us out on Facebook, Instagram, Twitter, and YouTube, and be the first to know about the latest news and coolest trends!