As a remake and update on the Arthurian legend for children of Generation Z, this movie is determined to bring back the fascination with magic, royalty, and the old values of chivalry. That feeling we got when we saw classics like The Sword in the Stone (1963) and Excalibur (1981) on grainy Beta and VHS.
On this one, young British nerd Alex thinks he's just another ordinary bullied schoolboy until he stumbles on the mythical Excalibur. Legends say, whoever pulls the sword from the stone is the once and future king.
Facing a return of the evil forces of the enchantress Morganna, Alex must unite his friends and enemies into a band of knights. With the help of legendary wizard Merlin, now taking on 2 forms—one aged, the other a hipster millennial—they must come together or face ruination of all Britain, then the world.
At turns inspiring, comic, and serious, here are 8 facts in the making of the movie and how they made it relevant for contemporary audiences.
Young Merlin's actor did a total immersion to prepare for his role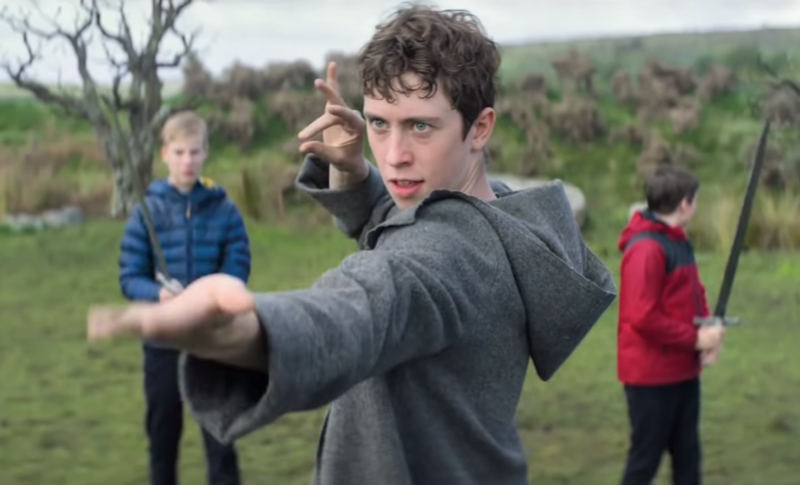 Angus Imrie, the actor who plays the youthful version of the wizard Merlin, decided to complete the 20-mile walk that the young knights undertake in the movie as part of his preparation for the role. He started from Bodmin Moor and ended up in Tintagel, camping alone on the moor overnight so that he could start walking as soon as the sun came up.
Imrie spent all day walking without a map and finally arrived in Tintagel, where he discovered Merlin's Cave and went for a swim in the sea.
"I wanted to get a sense of the landscape, because it's so important for Arthurian legend," said Imrie. "Tintagel and Cornwall, I think. When we filmed it, I really sensed this kind of pagan, ancient land."
Director Joe Cornish was fascinated with Arthurian legend since he was a child

Writer-director Joe Cornish wrote the story and screenplay for Marvel's Ant-Man as well as The Adventures of Tintin for Steven Spielberg and Peter Jackson, so he has mad Hollywood cred. But since he was a child, when he saw John Boorman's Excalibur in 1982 and Steven Spielberg's E.T, both had a big impact on inspiring him to the beginnings of his idea for a film about an ordinary boy who discovers The Sword in the Stone.
"All through my teenage years I drew a little cartoon on my school books of the sword Excalibur coming out of a bathtub—the juxtaposition of the domestic and the modern with the ancient myth," Cornish said.
Lady Kaye and the actor who plays her share a strong connection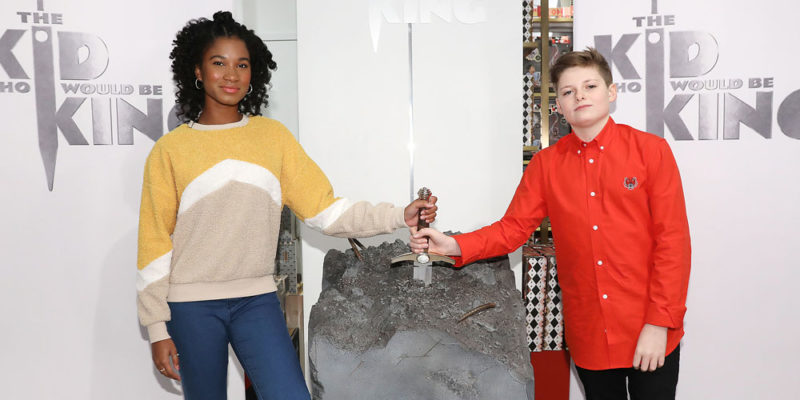 Rhianna Dorris is the talented young actress who plays a black girl who becomes Lady Kaye in the movie. She has a screen presence that's self-assured and confident. Even when she doesn't say anything, she has a very strong connection with the camera and her character as well.
"Kaye was this strong female, very blunt and straightforward, but really she's just a normal teenage girl," said Dorris. "She doesn't really care about what you have to say in a conversation, she just says what she says, and walks away. She's got a lot of attitude."
Embrace the legend in your own way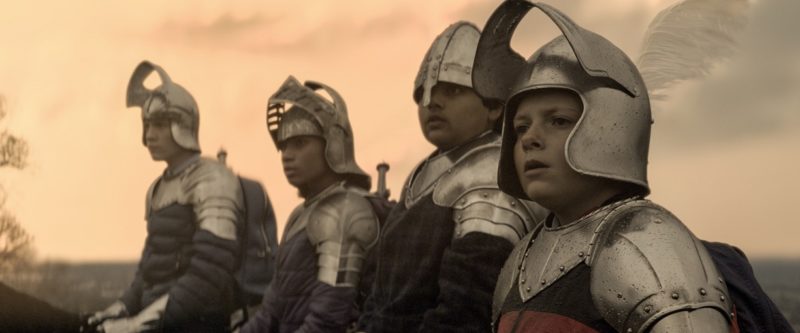 "The idea behind this movie is that myths and legends like the story of King Arthur don't have a huge amount of basis in historical fact,' said director Joe Cornish.
"They're written and rewritten to suit the needs of the time, and in fact, it's important that different generations rewrite legends anew for themselves. So when I wrote this script, that was at the forefront of my mind, that I could take what I wanted from existing mythology and use it in the way that I wanted—because that's what Mallory did, that's what French poets did, that's what everybody who followed has done with the Arthurian legend—it's there for all of us to interpret in our own way."
Bedders won his role with a monologue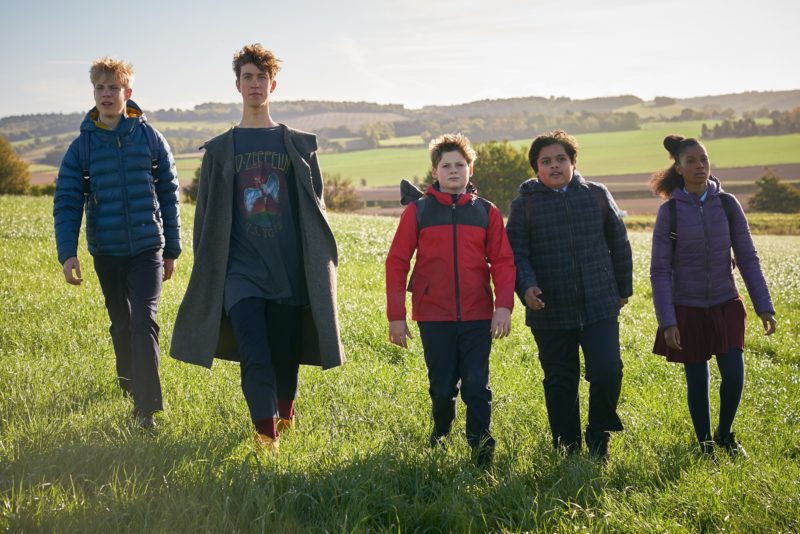 The British-Indian Bedders, Alex's best friend, is based on Sir Bedivere of legend, one of King Arthur's most loyal knights.
Bedders is completely earnest, whereas Alex is full of doubts and quite cynical, that kid that clings onto childhood when all his friends are turning their backs on that and heading into adulthood.. Bedders still believes in all the fantasies and legends of childhood fiction, and yearns for them to be real. When they actually become real, he's both thrilled and terrified.
But to cement his taking the role, the young actor Dean Chaumoo (who had zero prior acting credentials) nailed his audition after delivering an emotional and exceptional monologue from Stand by Me. His performance was so intense that everyone in the audition room broke down in tears. Victory for Bedivere!
Sir Patrick Stewart was excited to play a new Merlin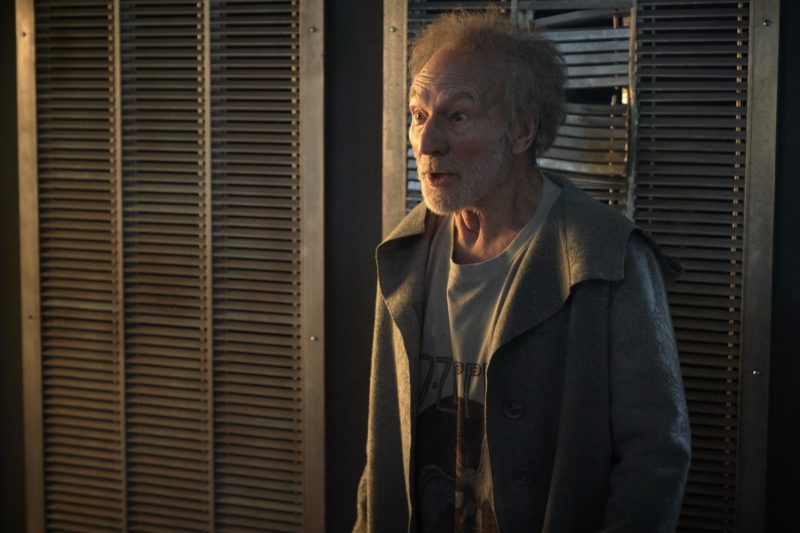 Captain Picard and Professor X himself takes on the role of Aged Merlin, here.
"I think I was drawn to Mallory's book for the same reason that I was drawn to Shakespeare when I was a teenager. When I was sent the script, I was immediately intrigued by the whole notion of transferring what is usually looked on as a medieval piece, into modern day, and that the great legendary heroes of the Arthurian stories were children, who are tasked by the young Merlin to take over and challenge the powers of darkness, which are threatening to wreck the United Kingdom," Stewart recalled.
Rebecca Ferguson signed on as Morganna with no script read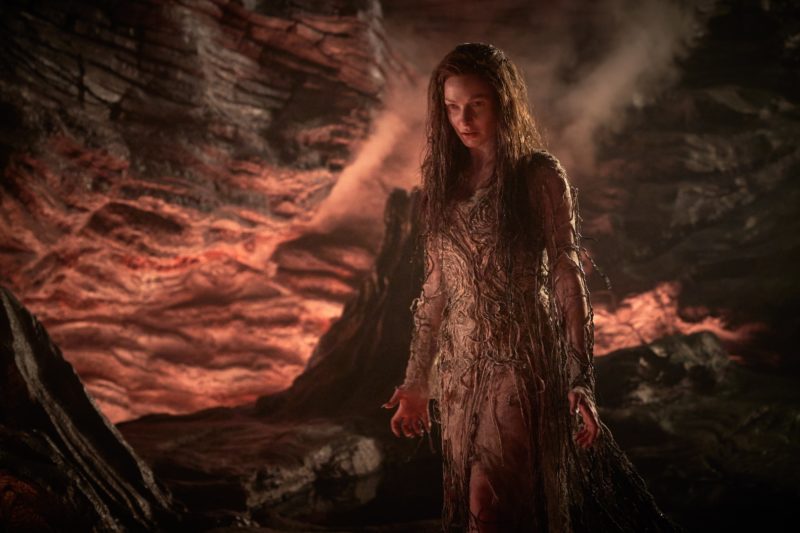 The great Ilsa Faust was shooting Mission Impossible: Fallout when Simon Pegg suggested her to director Joe Cornish for the role of evil enchantress Morganna Le Fay.
"I didn't have time to read the script before I met up with Joe at a little café," said Ferguson. "We sat down, and he went through the entire script for an hour-and-a-half, mimicking, doing all the voices for all the characters, sometimes standing up and portraying the entire film, and finally I looked at him and said, 'I haven't read the script. You have me.'  Literally, I signed onto it there and then, with no contract and having not read the script."
From there on Ferguson relished the role that involved her putting on elaborate prosthetics and transforming into crazy creatures, breathing fire and flying, and fighting an army of kids.
The magic does not go away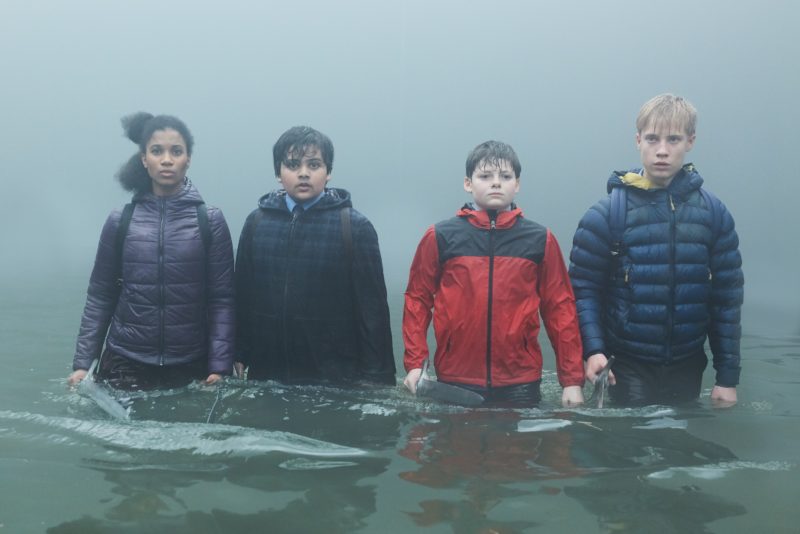 The magic in this movie isn't the sort of sparkly, spectacular, escapist wowza magic we're used to seeing in fantasy films.
Instead of romanticized ancient spell books and magic wands, in the words of director Joe Cornish, "our magic is much more physical and practical. When something transforms in our movie you can really feel it. When our Merlin performs magic, it's by intricate combinations of hand movements that create a physical impact on the characters and environment nearby."
"The Kid Who Would Be King" opens in Philippine theaters on January 23.