Bayanihan in Science: How Pinoys Are Contributing to the Fight Against COVID-19
Mar 25, 2020 &nbsp • &nbsp Meryl Medel
Amid the chaos brought about by the Coronavirus Disease (COVID-19) outbreak and the limitations set by the Enhanced Community Quarantine (ECQ), Pinoys have shown their wit and intelligence in dealing with the situation, whether it comes out in the form of entertaining memes online, multiple donation drives, trending hashtags and petitions, or probably most importantly, effective innovations. From licensed scientists to everyday people, many of our fellow Pinoys have risen up to create uniquely Filipino inventions and join our frontliners in the fight against COVID-19.
COVID-19 Testing Kit
A collaboration among University of the Philippines–National Institutes of Health (UP–NIH), Philippine Genome Center, and The Manila HealthTek Inc., the GenAmplify Corona Virus Disease-2019 rRT PCR Detection Kit, the official name of the locally made COVID-19 testing kit, became possible after extensive research and testing of UP scientists led by microbiology and biotechnology expert Dr. Raul Destura.
Compared to foreign test kits which yield results only after three tests and six hours later, this locally made kit takes only one nasal or throat swab and one to two hours waiting time before there are results. While foreign kits may cost up to PHP 8,500, GenAmplify costs only about PHP 1,320 per test.
As of writing, GenAmplify has been approved for field testing by the Food and Drug Administration (FDA) and must yield satisfactory results before it can be released commercially.
SaniTents
Another initiative led by UP students and alumni, SaniTents began when a team of industrial designers, chemists, and engineers from the College of Fine Arts, College of Science, and College of Engineering of UP Diliman came together (through the Overheard at UP Facebook group!) to create an affordable, open-source sanitation tent design that anyone can build in order to further minimize the spread of COVID-19.
Because the design is an open source one, anyone can access (and maybe even, if needed, modify) it without repercussions. And with materials that are readily available in local hardware shops, the SaniTent is easily buildable anywhere, especially in crowded establishments, from hospitals and government offices to public transportation stops and supermarkets.
All working from home, the SaniTents team has now grown to dozens of members, including volunteers from other UP campuses, as well as from University of San Carlos and Ateneo de Manila University.
CabinIITZ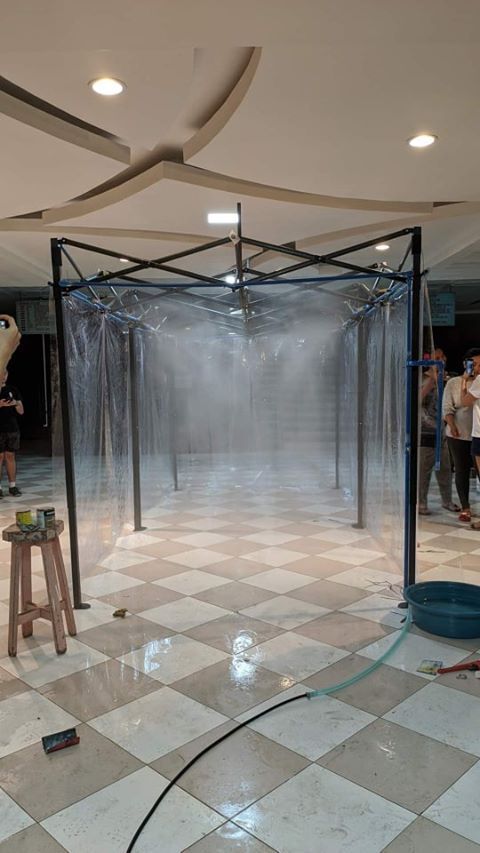 Inspired by the mobile sterilization chamber developed by Vietnam's Ministry of Health and Hanoi University of Technology, a group of researchers from Mindanao State University–Iligan Institute of Technology (MSU–IIT) has also developed CabinIITZ, an affordable disinfection cabin that can be used particularly by frontliners in sanitizing and disinfecting. With materials that can be easily sourced, the current design of the cabin is estimated to be less than PHP 50,000. Another 'portable' design is also being developed, according to the team.
FASSSTER
Meanwhile, in Ateneo de Manila University in partnership with the Department of Health (DOH) and the Department of Science and Technology–Philippine Council for Health Research and Development (DOST–PCHRD), a team of engineers and researchers have developed an app that can help DOH predict the duration of the COVID-19 outbreak by modeling disease spreads in the country and using data from DOH and other third-party organizations.
FASSSTER, which stands for the really long title Feasibility Analysis of Syndromic Surveillance Using a Spatio-Temporal Epidemiological Modeler for Early Detection of Diseases, was developed to create a bank of data sources to better trace the spread of diseases now and in the future.
WeTrace
Similarly, in Cebu, IT expert Eddie Ybañez has developed WeTrace, a community tracker app that can help DOH easily trace people who may have come into contact with persons under monitoring or investigation (PUMs or PUIs) for COVID-19. People need only download the app into their mobile phones, and through the phone, WeTrace may be able to track the location of a user to generate patient mapping.
For those worried about data privacy, the developer has assured that no personal information will be stored as there is no required registration. Each mobile phone will have an assigned QR code, which will then be used to map the locations a user has visited and contribute to the patient mapping.
Turbo Kool
Inventor Gary Vasquez has brought his already-existing Misty Kool, a mist-dispensing tool that sprays ultra-fine microns of water to cool off (and now disinfect) any area, into the fight against COVID-19. Additionally, Vasquez also offered two of his Turbo Kools, a remote-controlled, elevated dust suppression control system" that can capture fine particles and bring them to the ground.
Reusable Face Masks
DOST–Philippine Textile Research Institute (DOST–PTRI) in cooperation with the Taytay local government and the private sector is working to produce reusable face masks for our frontliners. The RWR (Reusable, Washable, and Rewearable) face masks will make use of DOST–PTRI's textile water-repellent finishing technology that can add another layer of protection against viruses and bacteria. The face masks are estimated to be reusable up to 50 times, and DOST–PTRI is currently producing about 500,000 face masks to answer the high demand.
DIY Face Shields
While many of the innovations above are mostly straight from the lab, it doesn't mean the ordinary Filipino is slacking off. In fact, you yourself can probably even help.
Circulating online are videos and posts by both medical professionals and those who aren't — particularly videos and posts of DIY face shields. With the extreme shortage of face masks, Filipino frontliners have been forced to resort to being creative with their protective gear. Many health workers have improvised to create these reusable face shields made of polylactic acid (PLA).
Now, from med students and medical professionals themselves to 3D printing pros and surfing clubs, fellow citizens are calling for volunteers who have access to supplies or to 3D printers in order to produce these face shield frames. Anyone who can help are encouraged to join this 3D Printing for a Cause PH Facebook group, where medical institutions and organizations can directly request for supplies.
If you don't have the capability or materials to do any of these, maybe you can contribute by donating cash or supplies. Know other ways to help? Let us know below.