Following the death of her handmaiden Missandei, Daenerys goes on the warpath against Cersei Lannister and the people of King's Landing. When the dust clears, who will be left to claim the Iron Throne?
THE STORY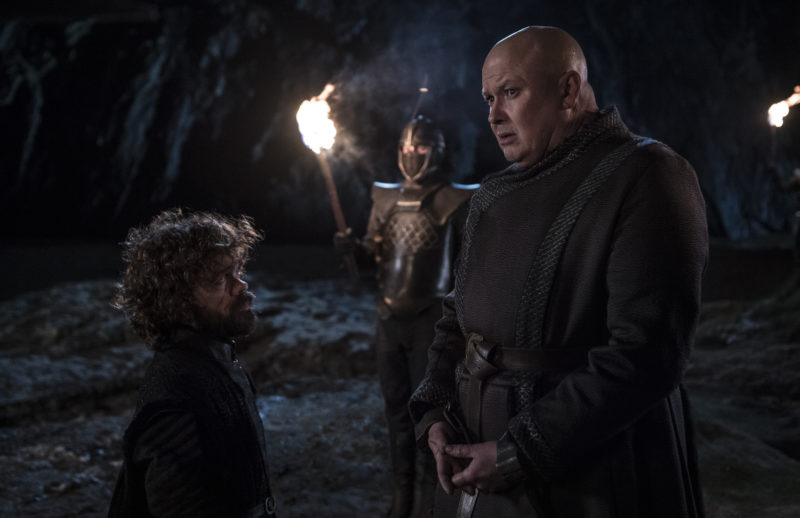 "The Bells" opens with Varys spreading the word on Jon Snow's heritage while simultaneously failing in his attempts to poison Daenerys. When Varys tries to woo Jon over to his side, he is ratted out to Daenerys by Tyrion, resulting in the eunuch's execution by dragon fire. As Dany and Jon's forces prepare to lay siege to King's Landing, Arya and The Hound make their way to the Red Keep on missions of vengeance, while Jaime risks everything in hopes of talking sense into his sister. In a last-ditch effort to spare innocent life, Tyrion begs the Dragon Queen to show mercy should the people signal their surrender by the ringing of the city's bells. Unfortunately, as the day wears on, Dany will reveal herself to be in a less than merciful mood.
THE MAN WHO KNEW TOO MUCH

Throughout the series' run, Varys' has been a fan-favorite character for his pragmatism and ability to stay alive through his mastery of information. Since the beginning of Season 8, Varys been the lone voice of reason; with Tyrion committing one blunder after another, Jon being more clueless than ever, and Dany reduced to an irrational wreck, Varys has been consistent in having Westeros' best interests at heart. Unfortunately, the character becomes the latest victim of the producers' drive to wrap everything up in as little time as possible. How else to explain the veteran spymaster making the rookie mistake of discussing treason out in the open, where Tyrion catches him in the act?
Incredibly, the implications of Varys' information having come from Tyrion in the first place never occur to the diminutive Lannister when he makes his report to Dany. While Dany takes the time to call Tyrion out on his hypocrisy, she somehow neglects to punish him for his insolence. On the one hand, it speaks well of Dany to have sniffed Tyrion out immediately, but on the other, it's insane that she didn't do anything to make him pay for it. At any rate, R.I.P. Varys – you deserved better, and so did we.
Unfortunately, as with episode 4 before it, the worst-hit this week was once again Daenerys.
QUEEN OF THE ASHES
There is no shortage of self-appointed internet pundits who will point to Dany's vision in Season 2 as adequate foreshadowing of the latest episode's carnage, and they would be justified in stating that seeds were definitely planted. However, this in no way absolves the writers or producers from actually showing any growth on those seeds until (literally) the last three episodes.
"But what about every other instance of Dany losing her temper and/or resorting to dragon fire?" the so-called experts might say, and that's somewhat fair – Dany does tend to favor immolation in solving her problems. But here's the thing: whether it was the Khals refusing her claim to leadership, or the masters of Slaver's Bay, or even poor Sam Tarly's kin, Dany has never, in the history of the show, used violence against someone who wasn't directly opposing her – everyone she's killed or had killed was someone standing between her and her goals. Every single one had a purpose, every single one had a justification.
Even the 163 slave owners she had executed were killed in retaliation for the 163 children they had crucified back when she was gaining a reputation as the Breaker of Chains. Granted, Daenerys has always had a temper –one could even say she was downright unstable without the counsel of Jorah or Tyrion to keep her in check– but the Dany of seasons 1-7 would never have murdered scores of people who did nothing against her on a demented whim.
While the contrived deaths of Jorah and Missandei were clearly conceived to justify this heel turn, their occurrence so late in the game flies in the face of everything that's come before. Perhaps if Dany reaching her breaking point had been conveyed across a season or two, rather than the last three episodes(?!), one could get a better sense of her "madness", but, as it stands, it's the sort of character reversal better suited to the WWE than Game of Thrones.
DISASTER PORN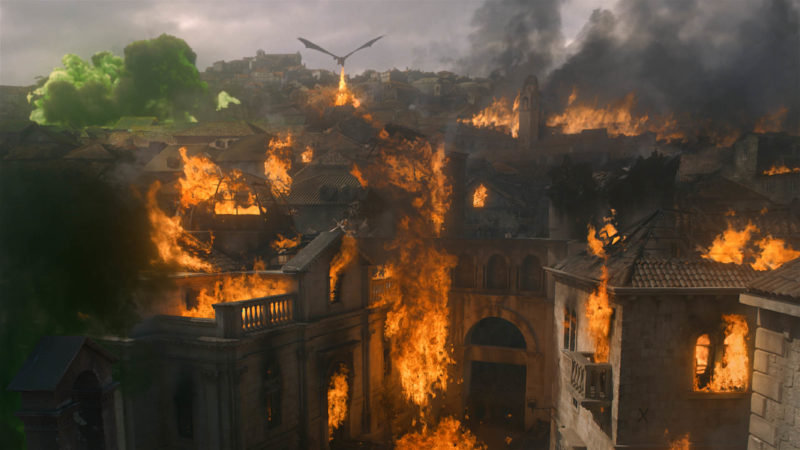 In this episode, we finally get the much-awaited Final War to determine the fate of Westeros, and in terms of sheer visual spectacle, cinematography, and technical accomplishment, the episode delivers in spades. Sadly, it fails in much the same areas as the rest of Season 8, with anemic character motivations, lapses in logic, and spectacle claiming dominance over narrative coherence.
Multiple scenes of mass destruction and collateral damage notwithstanding, the episode's devotion to excess is perhaps best exemplified by the fight between The Hound and his brother, The Mountain. With the Red Keep crumbling all around them, the city below in flames, and a dragon circling overhead, the two engage in a one-on-one fight best described as WrestleMania by way of Michael Bay. Sure, this fight was definitely a long time coming, and we love The Hound, but without any build up or anticipationn over the last couple of seasons, who would have thought the biggest fight of the penultimate episode would go to these two?
A GIRL IS NO ONE, DOES NOTHING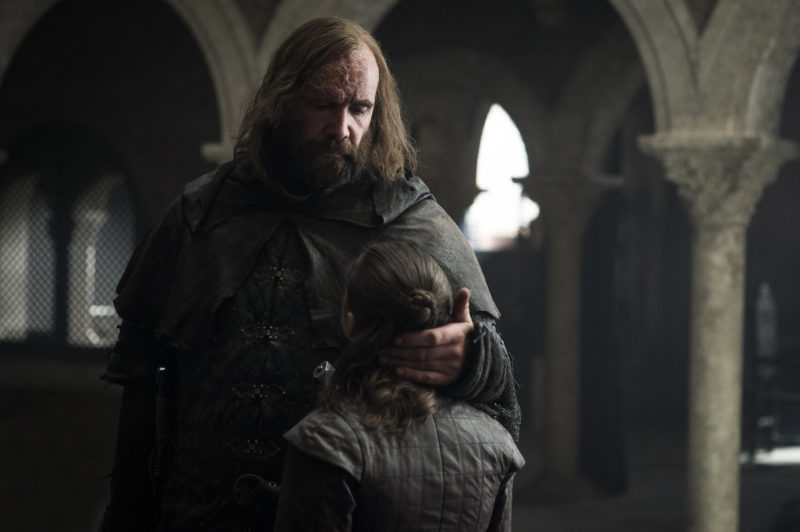 After years of preparation, suffering, and sacrifice, trained assassin Arya Stark is mere steps from her goal of ending Cersei Lannister, when some well-placed words from The Hound convince her to abandon her mission…wait, what?
Considering the body count she's racked up so far, it seems highly unlikely that Arya could be talked into sparing any consideration for what's left of her innocence, yet this is precisely what happens here. After everything this character has been through, even the threat of certain death wouldn't have swayed her; given that Arya's been training literally half her life to take Cersei down, that she could be persuaded into giving it at the absolute last second isn't so much unbelievable as it is ridiculous.
THE NON-BATTLE OF KING'S LANDING
Remember when instances of dragon fire were a big deal on this show? When the very word, "dracarys," inspired fear and awe in equal measure? Remember how absolutely epic it was when Dany took out the Lannisters' gold caravan last season? Yeah, well, forget all that, because it's now it's just a deus ex machina to do away with pesky plot obstructions. Iron Fleet? Toast. Golden Company? Well done. Lannister Army? Extra crispy. Good grief, if it was this easy to take on all those forces with just one dragon, then why in the name of the Many-Faced God didn't Dany just do it last week instead of sacrificing her entire navy (and Rhaegal!) to plot contrivance? Why did the producers waste time, effort, and money, into making the scorpions out to be such a threat, only to do away with them in such short order?
Why does one even bother looking for logic and reason when the writers clearly have no interest in such things?
THE TWINS EFFECT

Ok, so the Battle of King's Landing was a bust, with the much-hyped Golden Company failing to kill even a single man before being reduced to so much ash, but surely the baddest baddie in all of Westeros, Cersei Lannister, wasn't going to out like a chump, right?
Wrong.
Cersei loses whatever dignity her character had left after bedding Euron Greyjoy, with the writers reducing her to an indecisive recluse more content to watch her city burn than admit she had perhaps made a mistake. How far Cersei has fallen from her status as one of the greatest villains in the history of television is perhaps best exemplified by her awkward-as-all-hell shuffle offscreen right before the brothers Clegane begin their apocalyptic grudge match.
Her cringe-worthy exit is followed by her running into Jaime, who doesn't fare much better in this scenario. While he did enjoy (yet another) excellent farewell with Tyrion, the mere fact that he's in the Red Keep at all robs Jaime of years of character growth (as exemplified by his knighting of Brienne of Tarth in Episode 2). Because honestly, why would he waste time talking sense into his sister, when he left her back at the end of Season 7 precisely because he knew she couldn't be reasoned with?
But even that isn't as idiotic as Jaime's duel to the death with Euron Greyjoy, who manages to wash ashore at precisely the right time and place to challenge the Kingslayer to mortal combat. Poorly shot, and sloppily edited, this fight is the only bit of the episode that isn't a visual treat. It does make one wonder about the producers' priorities though, when the Night King went out with less of a fanfare than Euron freakin' Greyjoy.
Thus, with all of that out of the way, the episode ends the Lannister twins in the most anticlimactic manner possible: stumbling about in the dark, in tears, as a pile of rocks falls on them. No moment of comeuppance, no display of defiance, just…rocks.
THE BOTTOM LINE
Now, it can be argued that the time for character-building has passed, and the producers have every right to use the final episodes as a sort of victory lap built on pay-offs and fanservice. But when the characters in question are acting contrary to how we've come to know them across seven previous seasons, one has to question just why this season was made in this manner, and, more importantly, for whom?
Who had anything to gain from speeding towards the finish line of TV's biggest show? Certainly not HBO, who reportedly offered the producers 10 episodes to finish off Season 8, only to be turned down. Certainly not the cast, who are reportedly unhappy with the way their swan song's been going. And most certainly not the fans, who deserve far, far better than we've been getting.
Whatever the reason, there's only the finale left to this season, and precious little to instil confidence in anyone that the producers will be able to stick the landing on what was once television's finest ongoing story. In any case, by next week, it will all be over, and when all is said and done, we will still have Breaking Bad.
Need to catch up? Check out our dissections of Episode 1, Episode 2, Episode 3, and Episode 4, for all you need to know about this season of Game of Thrones.