New year, new you. But does it necessarily mean new rules?
What happened?!
2018 EXPECTATION:
DUA LIPA COLLABS WITH PAUL KLEIN.

2018 REALITY:
DUA LIPA BROKE UP WITH PAUL KLEIN AND GETS BACK WITH HER EX.

This is so heartbreaking 💔

— VMiguel Gonzales (@VMiguelG) January 22, 2018
Unless you've been living under a rock, you've probably heard about the news that LANY front man Paul Klein and Dua Lipa allegedly broke up. We say alleged because we hope they didn't. There is no official statement yet but Dua has posted broken hearted quotes on her Instagram stories. See below the posts saved by fans:
The IG stories seem to be giving us a hint on the couple's current status and fans don't like it. According to the tabloid The Sun, Dua is already back in contact with her chef and model ex-boyfriend Isaac Carew.
Wait, what?!
Hold up one second!
Dua and Paul (left columns), Dua and Isaac (right columns)
Isaac Carew and Dua Lipa dated for a year and a half when they broke up in 2017. Dua released her hit song New Rules a few months later and had an army of girls line up behind her ready to stone their exes should they so much as text them "Hello."
New Rules is a song about making real effort to not get swayed by an ex whom you've had an unhealthy relationship with and who wants you back. It involves (1) not picking up the phone, (2) not letting him in, and (3) not being his friend. There are just some people who can't take their own advice.
Apparently Dua broke the rules, nay, the commandments. And now the leader of the pack has to eat the whole song up! Not cool Dua, not cool!
But what really happened?
According to The Sun, a music source said that Paul and Dua had good times together but things "really didn't work out."
There hasn't been an official statement from both parties. All we know is that they rang in the new year at the same time but a mere three weeks later, this happens and the hearts of fans everywhere are bleeding.
Dua is set to release a new album which she is currently writing in Jamaica and Los Angeles. The source said she's positive about the situation and is pouring her emotions on the album. Would we perhaps hear bits and pieces of her fall out with Paul?
The internet went wild, of course
On the night of January 22, news finally spread worldwide and the tags 'Paul Klein,' 'Dua Lipa,' 'New Rules,' and 'LANY' were trending on Twitter. Everybody was so confused!
duA LIPA JUST CAME BACK TO HER EX OK I'M READY FOR LANY'S UPCOMING SONGS SLAP ME HARD PAUL KLEIN

— kim (@kimfajardont) January 22, 2018
Gagu Paul Klein and Dua Lipa broke up then Dua Lipa started dating her ex again. Guess you can say she
"Picked up the phone"
Hahahaha new rules mah ass.

— Reese Withoutherspoon (@Theresesaurus) January 22, 2018
AYAN TEH KAGAGAHAN MO! Charot pic.twitter.com/qc4t5JSekS

— LA Imani Rowe (@ArchLorraine) January 22, 2018
July 2017: Dua Lipa released New Rules

January 2018: Dua Lipa splits w/ boyfried Paul and gets back w/ ex Isaac

Dua Lipa on her song: pic.twitter.com/FUuoXKB1vb

— IgiBoy (@theluigibernabe) January 22, 2018
Uhm. Where have we seen this scenario before?
"Dua Lipa splits with her boyfriend and is back in contact with her ex boyfriend"

Selena: WELCOME TO THE CLUB pic.twitter.com/38UmKHtpfW

— J H O A N A (@jhoxnxmxzing) January 22, 2018
The situation is looking a lot like Selena/Bieber you know? Selena and the Biebs broke up and she dated other guys but guess what, she wasn't done loving him so all the other guys were just rebounds. Casualties. Poor Pauly baby then.
And yet their Instagram is still peppered with photos of the two of them
There's no denying that Dua and Paul are the type of couple who like to make it public. Their fans will definitely miss their Instagram posts and social media flirting with each other. And while the posts are still up, let's take a trip down the sweet, sweet road of Instagram memory lane. (In screenshots so we have receipts)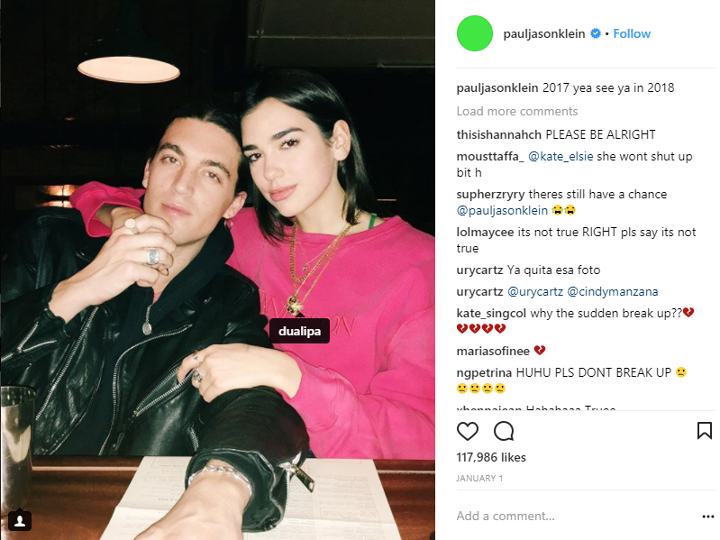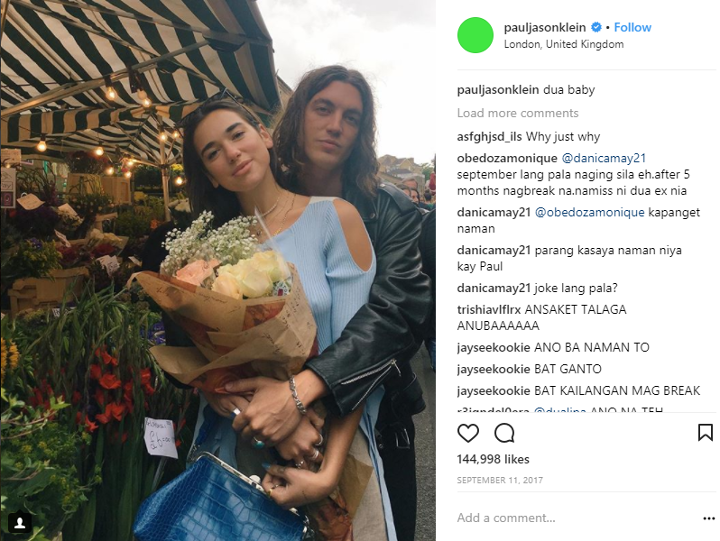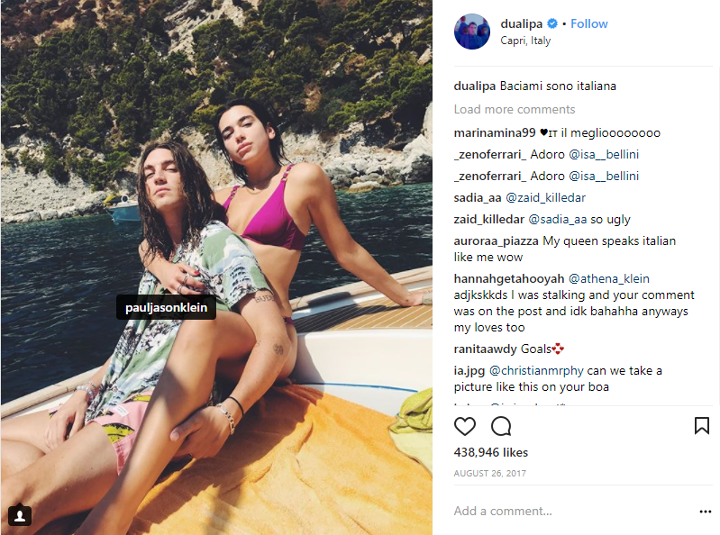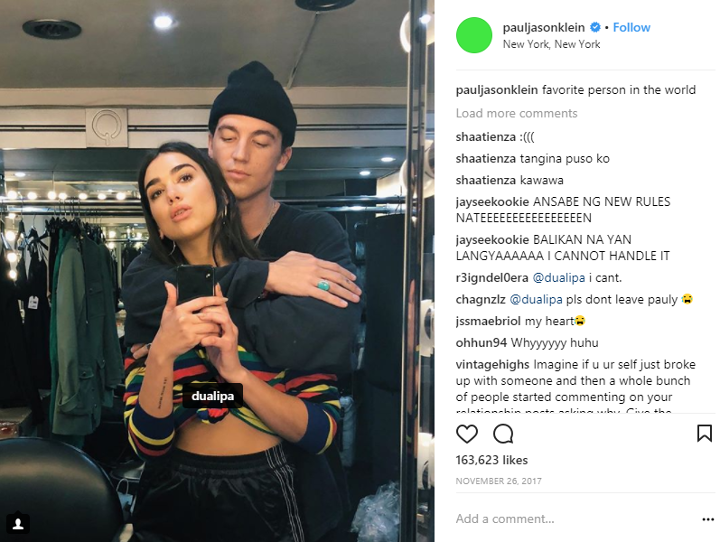 Maybe it's better if you save the photos too, somebody might decide to delete them.
If it's too good to be true, it probably isn't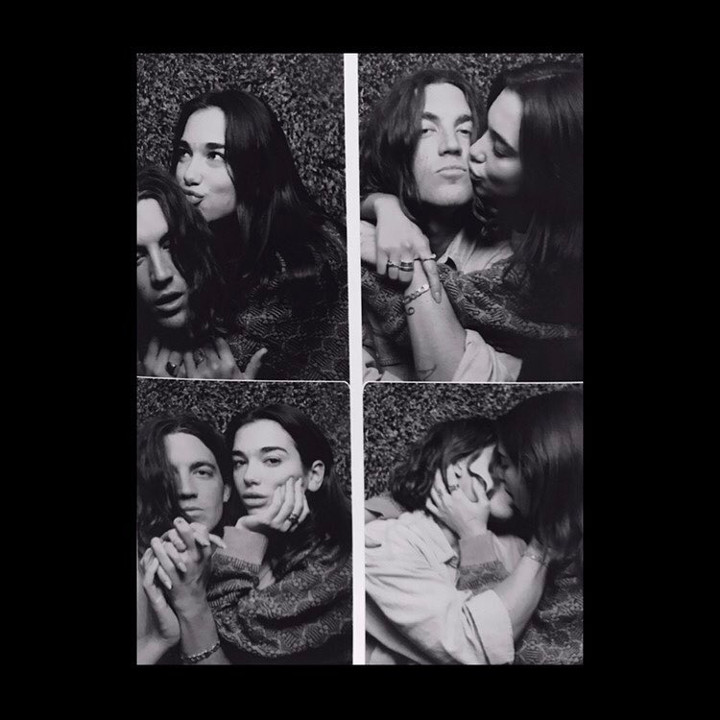 Or in this case, it probably won't last.
They were a perfect musical power couple: Dua has been taking the music world by storm – her latest single IDGAF has garnered 35 million views in 24 hours. Paul has also been making waves as the front man of rock band LANY – their Philippine concert was extended to two days due to sold out tickets! It's too good to be true that this couple will be allowed to be together and hand in hand excel in the music industry. Life doesn't work like that, I guess.
But even though it turned out sad, we're still waiting for more music from the respective artists. Would they pull a Taylor Swift and shade each other in their songs or would we at least get a glimpse of what happened through meaningful lyrics?
But maybe you'll still believe in love
In case you forgot, Ed Sheeran just got engaged and, ehem, Jacob Sartorius and Millie Bobbie Brown are exploring the world of young love. Love isn't dead just because Dua Lipa decided to break her precious New Rules.
What do you think about the break up? Share it with us!