Based on the beloved 1992 film of the same name from Disney's early-nineties renaissance, Aladdin has had the deck stacked against it from Day 1: With the original standing tall as one of Disney's all-time greats thanks to catchy songs, a solid narrative, and a show-stopping performance from the legendary Robin Williams (What Dreams May Come), it seemed a long shot that anyone could hope to recapture the magic that made Aladdin so memorable.
So how does the newest Disney remake hold up?
CLASSICS, REPACKAGED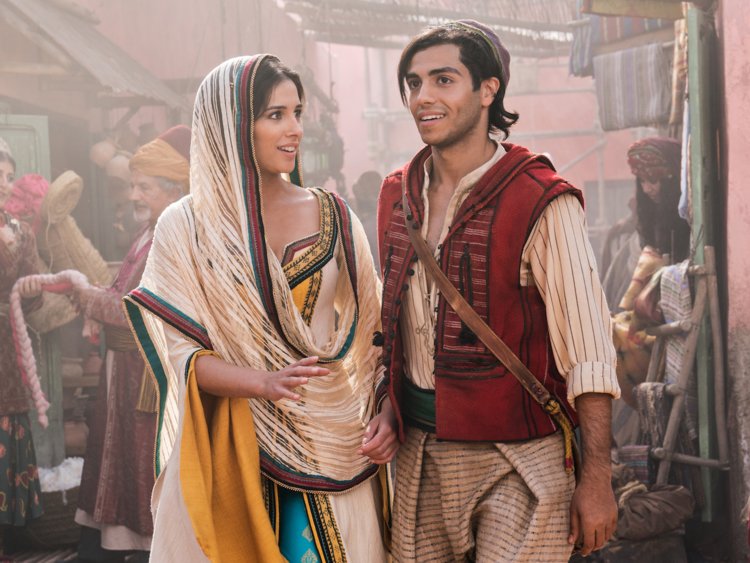 With a blockbuster budget, big name stars, and a story well-known to nearly everyone stepping into the cinema, Walt Disney Studios' first attempt at mining their animated catalog for live action remakes was a blockbuster hit. However, critics questioned the point behind such remakes, asking if they had any reason to exist other than to please Disney shareholders with surefire hits powered almost entirely on audience nostalgia. The year was 1996, that first film was 101 Dalmatians, and the star in question, was Glenn Close, exuding demented brilliance as Cruella De Vil.
While the success of 101 Dalmatians would spawn a sequel (the creatively-titled 102 Dalmatians), it would be a decade before Disney returned to the live-action remake well, with 2010's Alice in Wonderland. Despite being a retelling of the original books by Lewis Caroll (rather than a do-over of the 1951 animation), the film was seen as a lavish, yet empty, endeavor. Negative critical reception notwithstanding, the film went on to gross over a billion dollars worldwide, opening the floodgates for more remakes – quality be damned.
With Aladdin, the studio presents their latest attempt to not reinvent the wheel (with regard to what came before), while also including just enough new touches to justify the enterprise.
ARABIAN NIGHTS
The film tells the story of Aladdin (Mena Massoud, of TV's Jack Ryan), a young thief whose life has been spent living on the streets of Agrabah. While strolling said streets with his pet monkey Abu (Frank Welker, reprising his role from the original), Aladdin meets and falls in love with a young handmaiden, who, unbeknownst to him, is actually the Sultan's daughter, Princess Jasmine (Power Rangers' Naomi Scott, looking uncannily like a young Sarah Michelle Gellar) in disguise. Aladdin's attempts at romance are interrupted when he is enlisted by the kingdom's Royal Vizier, Jafar (Marwan Kenzari, Murder on the Orient Express) to recover an old oil lamp from an enchanted cavern. As Aladdin discovers the secret of Jafar's ambitions and the untold power contained in the lamp, he will also learn about the importance of being true to one's self.
WISHFUL THINKING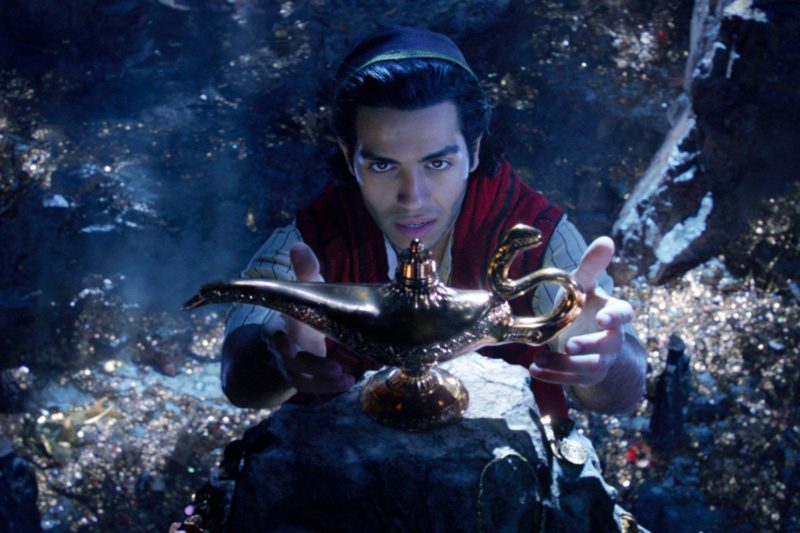 To look at the new Aladdin without comparing it to the original would be an exercise in futility, as the new film lifts, borrows, and recreates nearly every major sequence from its predecessor. While not as blatantly copied from its source as the live action Beauty and the Beast (2017), whatever originality or style director Guy Ritchie (Sherlock Holmes, Snatch) may have contributed to the project is nowhere to be found. Ritchie's trademark frenetic action and flashy camera moves are set aside in favor of almost-slavish recreations of the original's signature sequences.
This can be seen as a direct result of audience reactions to films like Maleficent (2014), which strayed so far from Sleeping Beauty (1959) as to be unrecognizable, or The Jungle Book (2016), which featured only two of the 1967 original's beloved songs. From Beauty and the Beast onwards, any pretense towards reimagining the classics was seemingly abandoned in favor of big-budget re-enactment.
Indeed, the film is at its most successful when it tries to veer away from what we knew going in, but how much of this can be done without just making an original movie to begin with is definitely up for debate.
Fortunately, the Aladdin remake has Will Smith.
FRIEND LIKE ME
With the shadow of Williams' iconic performance looming over the entire production, early publicity materials did little to quell concerns over Smith's suitability as Aladdin's blue benefactor. Those concerns were exacerbated by the truly lackluster nature of the "Prince Ali" snippet posted online, which seemed to lack any of the verve or energy of the original.
Fortunately for everyone who thought Smith would be the film's single-biggest problem can breathe a sigh of relief, because he is just flat-out great in this. The 2019 Genie is charming, hilarious, and engaging in a way that is quintessentially Smith, smartly avoiding the pitfall of attempting to emulate or impersonate Williams. Smith may just essentially be playing a variation on the good guy persona that made him an A-list star, but its return here (after years of dramatic roles) reminds us just why said persona was so effective in the first place.
PRINCE ALI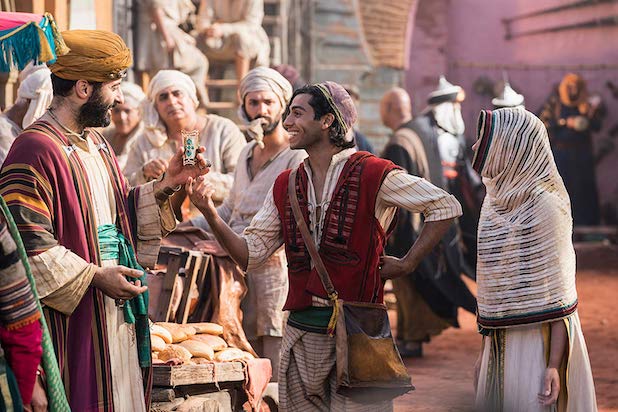 In comparing live action with animation, animation wins out in nearly every case, for the mere fact that expecting humans to act like cartoon characters –especially ones like Robin Williams' hyperactive Genie– is just asking for trouble. Just check out the early "One Jump Ahead" sequence, where Aladdin nimbly outruns, jumps, and flips his way through the marketplace to evade capture. Massoud's vocals are on-point, but he just can't pull off the effortless derring-do and charm of his animated counterpart.
Where Massoud does excel, however, is portraying Aladdin's painfully awkward attempts to win Jasmine's heart, with Smith essentially having to play a magical Hitch (2005) to the lovestruck lad. And did we mention this Aladdin can dance? Massoud gets to show off his moves during a palace banquet, showing a confidence that one wishes his overall portrayal possessed.

A WHOLE NEW WORLD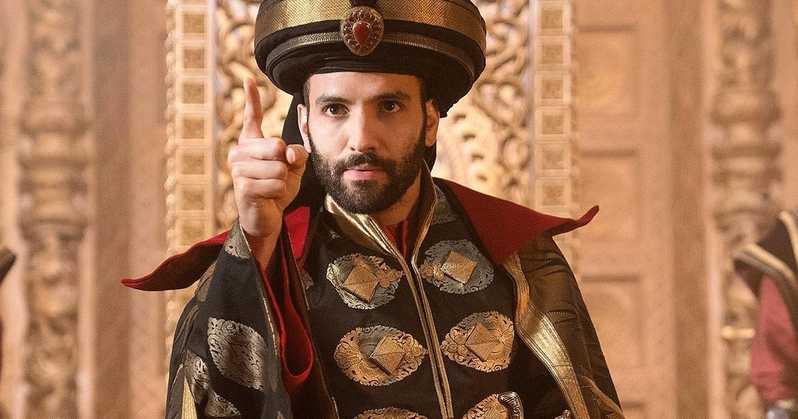 Aside from the expected scene recreations, there is much new material here – some good, some bad, but all of it fascinating in terms of what the filmmakers are trying to accomplish. The most successful of the new stuff is pretty much anything involving Genie and Jasmine's handmaiden Dalya (Saturday Night Live's Nassim Pedrad). Both of them steal the show whenever they're on-screen, injecting much-needed levity to the proceedings. Massoud isn't a bad actor per se, it's just that his lack of charisma is less bothersome when you're busy enjoying Smith and Pedrad's shenanigans.
Infinitely less successful is the attempt to make Jafar a twisted reflection of Aladdin. Sorry, but it's going to take more than young casting and making the character a former street rat to make us think this is in any way a definitive live-action Jafar, much less a credible threat. Almost completely devoid of menace, Kenzari comes across like a petulant sidekick, rather than the masterful villain of the original. You know you're in trouble when the bad guy's animated parrot (Alan Tudyk, A Knight's Tale) is scarier than he is.
ONE JUMP AHEAD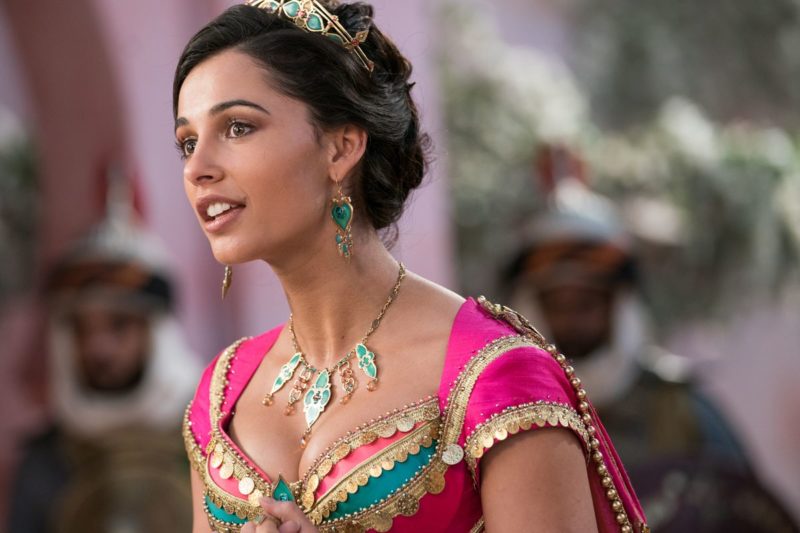 A pleasant surprise was the film's presentation of Jasmine as an actual active character in the film; unlike the original princess who only wished to marry for love, this Jasmine wants nothing less than the best for her people, training her entire life in order to rule them effectively. Of course, as women aren't allowed to rule in whatever time period Aladdin takes place in, this results in multiple arguments with her father on prescribed roles and expectations based on gender.
For her part, Scott is well-cast, embodying a convincing inner strength and ethical core that make her character's emotions believable. A late-in-the-game musical number (courtesy of La La Land lyricists Benj Pasek and Justin Paul) may be a bit on the nose in the same way as the female Avengers' Endgame group shot, but Scott gives it her all with vocals and actions that do her animated predecessor proud.
THE BOTTOM LINE
Like Massoud's performance, what starts off somewhat cringe-worthy soon blossoms into full blown entertainment once the film veers off into the unexpected. Not all of the changes or additions to the classic material are successful, but the ones that work, such as Aladdin and the Genie's romantic shenanigans, work well in bringing something new to the table.
With regards to remakes, Aladdin isn't as by-the-numbers as Beauty and the Beast, nor is it as brilliantly determined to stand apart as The Jungle Book. As it stands, Will Smith will win audiences over, but when it comes to return trips to this version of Agrabah, the animated version beats it by a mile. Perhaps if the film had been more willing to be its own person –rather than what everybody expected of it– it could have been something truly magical.
At least we have funny Will Smith back.
What do you think of this remake? Tell us below!