8 Must-See, Can't-Miss Acts For Fringe Manila 2015
Feb 11, 2015 &nbsp • &nbsp Tim Henares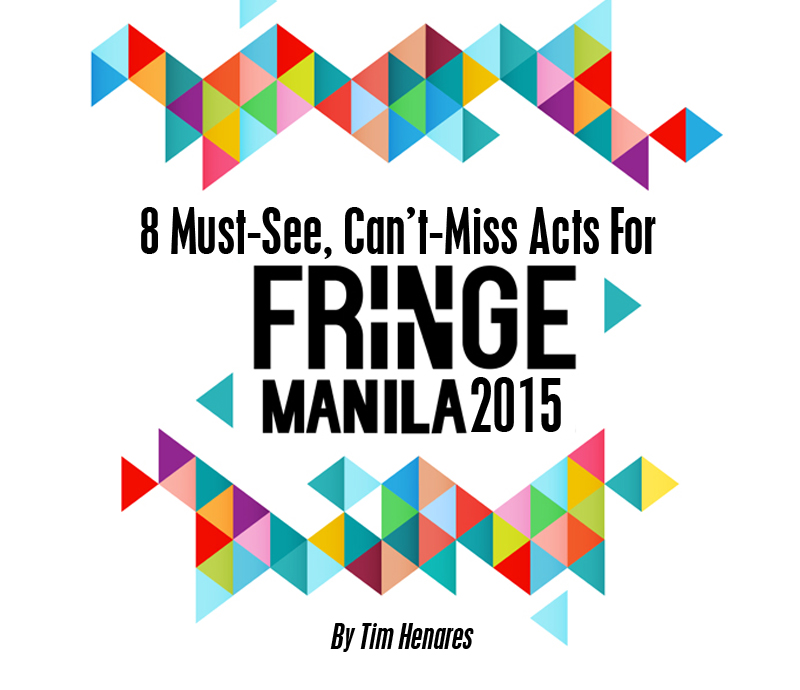 Everyone loves going to the club or listening to  a live band. For the most part, the night scene in Manila is composed of  90% this kind of entertainment. The rest would be what you call the "fringe" entertainment, such as poetry reading, erotica, standup comedy, adult-oriented magic, and improv theatre.
From this Thursday, February 12, all the way to March 1, Fringe Manila 2015 puts all these acts together, thrusting them into center stage as a perfectly good alternative to all the mainstream types of entertainment the Manila nightlife already has in abundance. This is pretty much the largest art festival in the world, making its way to the Philippines with our very own acts!
There are currently nearly a hundred different acts lined up for the entirety of the festival. Here are just some of the 8 that you really can't afford to miss.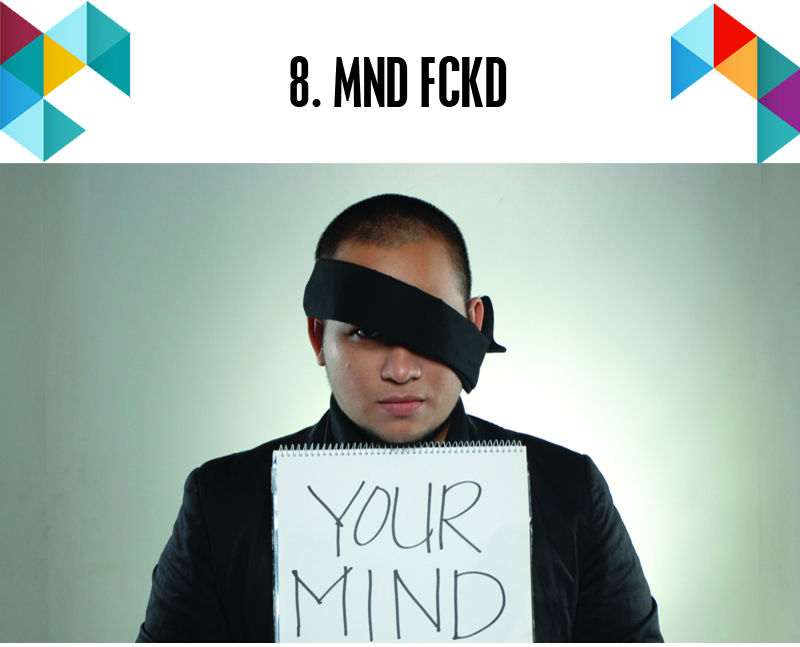 Genre: Stage/Parlour Mentalism
Time And Date: February 16, Monday, 10:00 PM
Venue: Sev's Cafe, Basement, Legaspi Towers 300, 2600, Roxas Boulevard, corner Ocampo Street, Malate, Manila
Ticket Prices: 150 PhP
If you've never seen live mentalism before, you are in for a treat. The Mental Assassin himself, Justin Pinon, takes you on a journey of the mind. Be astounded as he predicts the impossible, manipulates your very thoughts, and shows you why the art of mentalism is the closest thing to real magic you could ever possibly experience!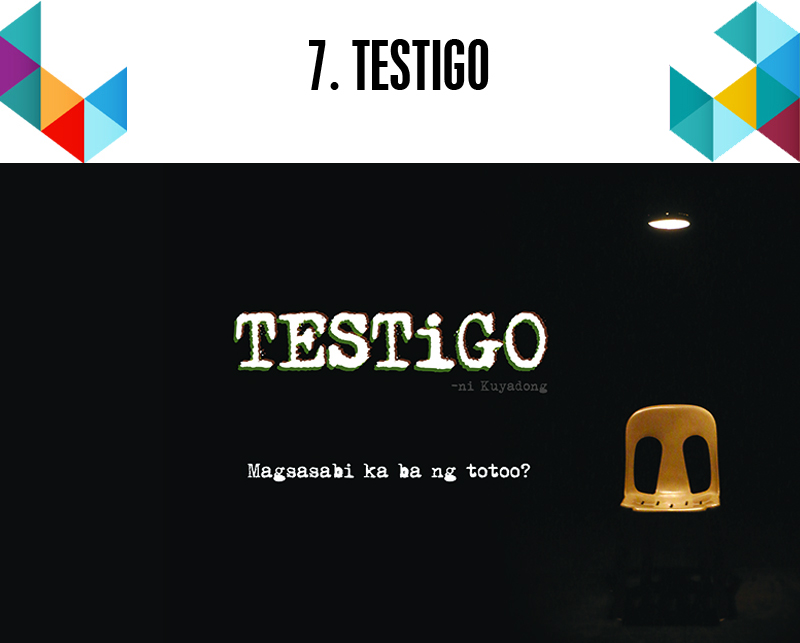 Genre: Theatre
Date And Time: February 18 to 21, 8:00 PM
Venue: SDA "Black Box Theatre," 6th Floor, SDA Building, College of Saint Benilde, 950 Ocampo Street, Malate, Manila
Ticket Prices: 250 PhP
There's just something irresistible about the premise of an interrogation room for people craving something gripping and dramatic. Whether it be the tense battle of wits between Batman and the Joker in "The Dark Knight," or the sheer sexual tension in the air for the "Basic Instinct" one, there's always a kind of reverence and fear for the setting itself. This Dulaang Elyu presentation is something you have to see for yourself!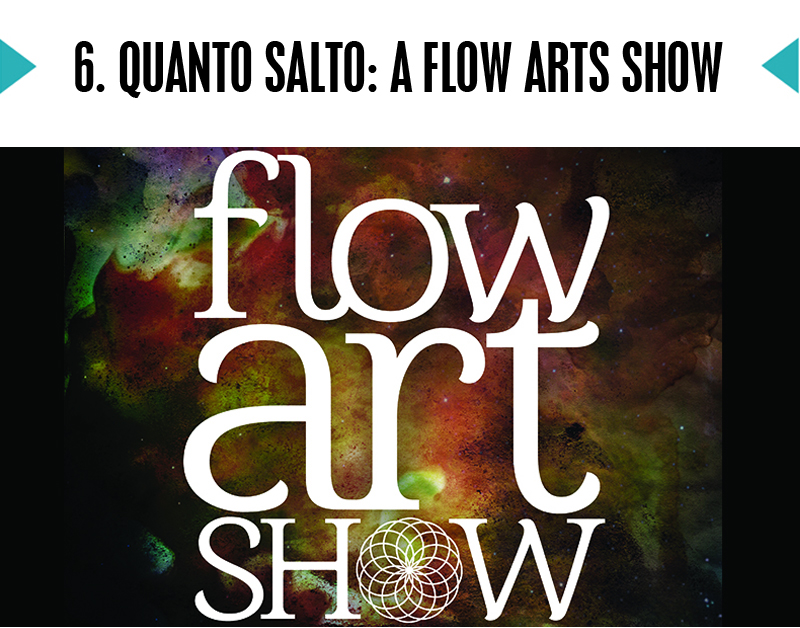 Genre: Flow Arts
Date: February 21, Saturday, 8:30 PM
Venue: Tanghalang Huseng Batute, CCP Studio Theatre, CCP Complex, Roxas Boulevard, Pasay City
Ticket Prices: 463.50 PhP
Flow Arts, in a nutshell covers a wide range of acts including poi, staves, hoops, contact juggling, and so much more, pretty much embodying the expression "poetry in motion." If you ever wanted to see the closest thing the Philippines has to Cirque De Soleil right now, then you've come to the right place!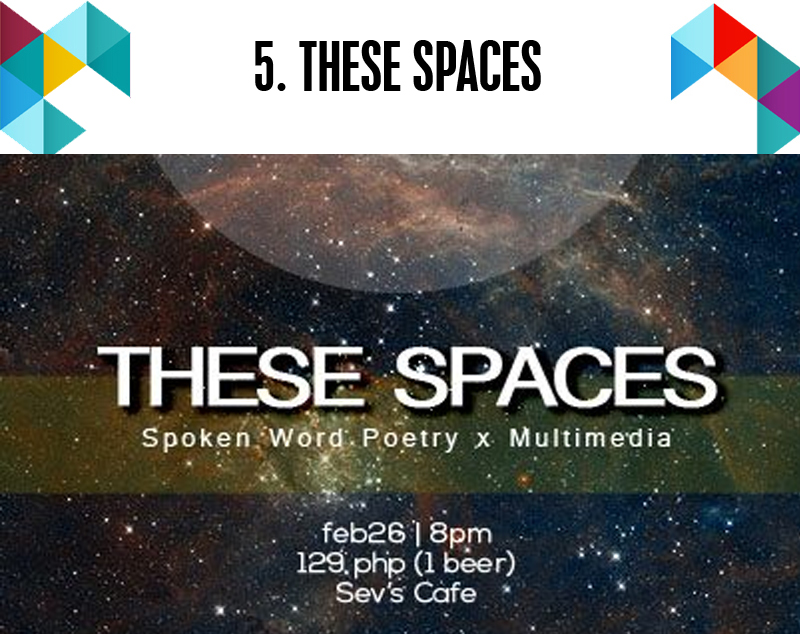 Genre: Open Art Exhibit
Date: February 26, Thursday, 7:00 PM
Venue: Sev's Cafe
Ticket Prices: 129 PhP
It's not just any art exhibit, but one that makes room for 8 (how appropriate!) different exhibits from aspiring artists who want to show what they have. We still have no idea what to expect. Will these 8 pieces of art include paintings? Sculptures? Multimedia art? Installation art? Junk art? Drop on in and find out for yourself!
Genre: Theatre
Date: February 19 (6:00 PM), February 20 (8:00 PM), February 21 (5:00 PM), and February 22  (4:00 PM)
Venue: Black Box Theatre, CSB
Ticket Prices: 200 PhP
The Louisian Theatre Ensemble brings to you four short one-act plays all about people wanting change, but never doing anything to actually effect that kind of change. Sort of like all those people who keep whining about the government on Twitter and Facebook, right?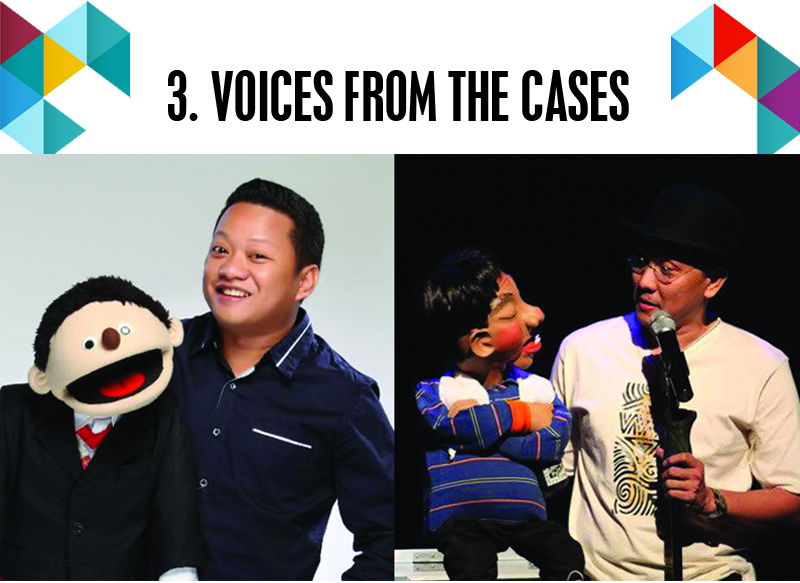 Genre: Ventriloquism, Mentalism, and Comedy
Date: February 13, Friday, 8:00 PM and 10:30 PM
Venue: Sev's Cafe
Ticket Prices: 150 PhP
Two of the best ventriloquists in the entire country, Ruther Urquia and Ony Carcamo, are set to take everyone for a wild and hilarious ride, aided by their puppets, who tend to be a lot smarter than some of our elected officials. Of course, opening for them are standup comedian Rene Cruz, Jr., and 8List's very own regular contributor, Comedy Mentalist Kel Fabie. A single show with this level of variety is pretty rare even within the Fringe festival itself.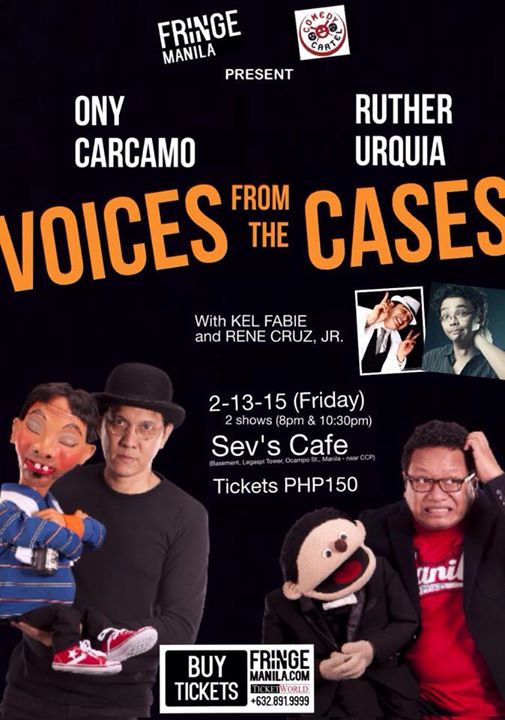 Genre: Erotica Reading
Date: February 28, Saturday, 10:30 PM
Venue: Sev's Cafe
Ticket Prices: 100 PhP
Deus Sex Machina features some of the best, horniest, most frustrated, and most underpaid writers ever deliver live readings of erotica for audiences. Guaranteed to do anything but turn you on, Deus Sex Machina takes the absurdity of our hangups with sex and turns it into sheer hilarity as they don't bother with social norms and political correctness for just one night. All the raunch and salaciousness in a (surprisingly) safe, clean environment!
If you ask nicely, they might even tell you where the hashtags #SuckItSupremo and #FingerParade came from!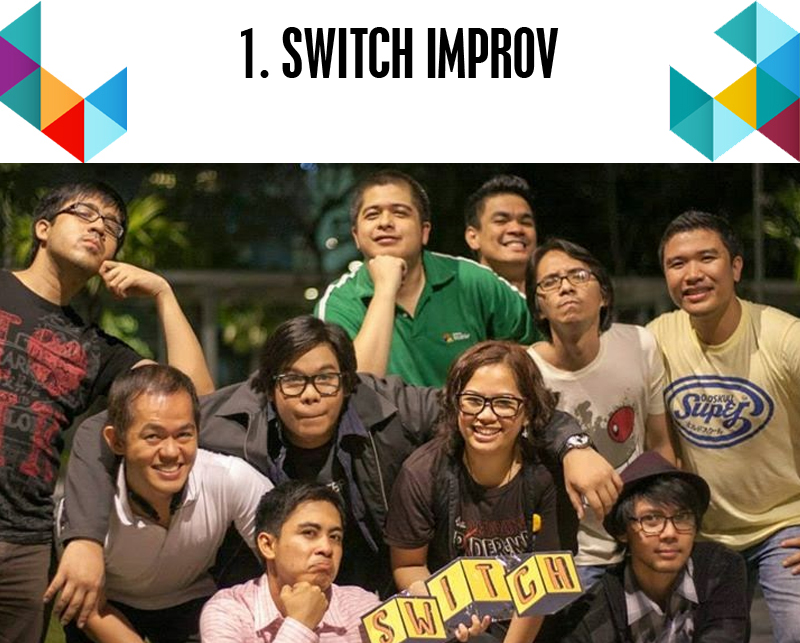 Genre: Improvisational Theatre
Date: February 12, Thursday, 8:00 PM and 10:00 PM
Venue: Sev's Cafe
Ticket Prices: 150 PhP
While most of us have probably only heard of improv through Drew Carey's "Whose Line Is It Anyway?" the wacky world of theatre improv transcends comedy bits, and draws just as much from its theatre roots as it does from its improvised nature. Switch Improv, the group formed in 2012 out of Silly People Improv Theatre's (SPIT) rookie nights, seeks to entertain people by delivering all the feels in one night. Laughter. Tears. Shock. Horror.
Expect the kind of rapid-fire entertainment you get from improv, then proceed to be wowed as they create a one-act play right before your very eyes, with little more inspiration than a word or two. No scripts. No preparation. No holds barred.