Aside from Christmas gifts and the much-awaited holiday season, one of the things most of us eagerly look forward to at the end of the year is Spotify Wrapped, or the summary of a Spotify user's listening habits from the past year. Most users are able to predict their Spotify Wrapped results, including their top artists and songs. And by the first week of December, your social media feed is probably inundated with the Spotify Wrapped of your friends and acquaintances.
But sometimes, you just can't proudly share their Wrapped, because the results aren't exactly what you expect. Instead of their predicted top artists and top songs, these netizens got a few mix-ups due to sharing their Spotify accounts. Here are some of this year's Spotify Wrapped plot twists we've spotted online:
Swiftie turned retro OPM fan

OPM OGs Ariel Rivera and Rey Valera won over global pop darling Taylor Swift in this Swiftie's Spotify Wrapped. "Yung nag-eexpect ka na si [Taylor] top artist mo pero joint account pala kayo ng mama mo," Grace Marie Tamala wrote when sharing her post in a local Facebook group for Taylor Swift. Funnily enough, her top songs didn't have any of Taylor's and her genre ended up being OPM. Thanks, ma?
This person's sister
HAHAHAHAHAHHAHAHAHAHAHAHAHAHAHHAHAHAHAHAHAHAHAHHAHAHAHAHAHAHAHHAA di makapagstory ng spotify wrapped sister ko kasi top 2 niya si imelda papin 😭😭😭😭 shinare niya kasi kay lola yung acc niya sakit na ng tyan ko gago

— pami ; (@hosh1maoy) November 30, 2022

Twitter user @hosh1maoy couldn't help but laugh upon hearing about their sister's Spotify Wrapped results. Amid their sister's favorite K-pop groups, Filipino songstress Imelda Papin made it to her top artists list. This is probably how confused Spotify was with her account:
HAHAHAHAHHAHAHAHAHA TANGINA MAY NAKITA AKO PUTANGINA NINYO TALAGA PAGDATING SA KALOKOHAN "KUNG LILIGAYA KA SA DARLING NG IBA" PAKAGAGO NIYO 😭😭😭

— pami ; (@hosh1maoy) November 30, 2022
Glitch Mode ni Mr. DJ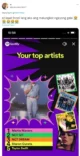 This Czennie-Swiftie had two classic OPM artists in between NCT and Taytay. "Balutin mo ako sa hiwaga ng iyong pag mamahal hot sauce gipi dip that eh," user @bubuczennie127 even joked.
PAGTAPOS MAG GLITCH MODE NAG MR DJ HAHAHAHAHAHAHAHAHHAHAHAHAHAHAHAHHAHAHAHHAHAHHAHAHAHAHAHAHAH AYOKO NA

— ´ sela (@HEEN00T) November 30, 2022
Oldies but goodies

User @potatrolled24 said their Spotify account was used for team building; hence, these oldies but goodies in their Wrapped results. But our question is: how long was this team building that Air Supply made it to the Top 2 spot?
Sunbaenim
isang bichi naneun solo nga dyan jamie kim

— saur (@pinksaur) December 1, 2022

User @soooyeah_'s Spotify Wrapped playlist is probably so confused, going from singing praises to killing this love. At least her top songs are dominated by her favorite artist.
Collab time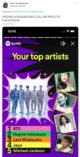 While user @lilminmin0309 was able to protect their Top 1 artist, the rest of their Top 5 wasn't as safe. Collab na lang? Maybe this way, we can put the Philippines back on the BTS map.
Mabuting anak, apo, at nanay
The newest love language: sharing Spotify accounts. That's just how much these users love their family.
Lagi akong naka offline mode para magparaya sa tatay kong laging "alexa, play freddie aguilar" 😭😭😭 pic.twitter.com/vTKX5lyX2O

— faye🥀 SAW LOUIS (@hazzfur) December 1, 2022
OMG SAME, LOLA RATIOED THE FUCK OUT OF ME https://t.co/4H6VXFSOex pic.twitter.com/ZvbVLylB35

— næthan (taemin military wife) (@waaackeeeen) November 30, 2022
I don't feel that bad anymore sa top songs ko. HAHAHAHA Having a daughter na disney princess!

Speaking of SB19, Christmas na! Ligaya by SB19 na! https://t.co/y9H0qW5r86 pic.twitter.com/Ygmm47ixq1

— Ria Eala | 🍓|📼🌱🥀🐺🌙| 🇵🇭🇶🇦 | ʏᴘ ⁹¹⁷⁶ (@eala_ria) December 1, 2022
Marked safe
If there's one lesson we can all get from these Spotify Wrapped mix-ups, it's this: get a Family Plan on Spotify.
Thank goodness for family plan XD https://t.co/fAQLpUkvu2

— Therene (@itsTherene) December 2, 2022
Follow us on Facebook, Twitter, Instagram, Tiktok, and Youtube for the l8est entertaining, useful, and informative lists!