Godzilla II: Monster Smackdown
May 31, 2019 &nbsp • &nbsp Mikhail Lecaros
With a release timed to coincide with the character's 65th anniversary, Godzilla II: King of the Monsters is the 32nd live action Godzilla film (35th, if one counts the three animated Godzilla films released from 2017-2018). Promotional material has been impressive, with trailers teasing a film primed to undo the sins of its 2014 predecessor. Where that film displayed a mindboggling determination to keep its titular monster from having any substantial screen-time or impact, Godzilla II is here to make things right. You want monster on monster action? Untold amounts of property damage? Inconsequential humans pretending that they matter?  Well, you've come to the right place.
THE LEGACY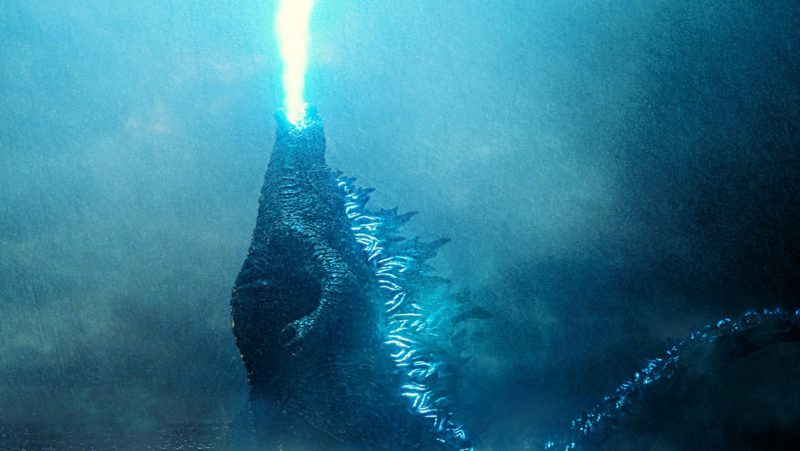 With over six decades of city-stomping and monster-fighting under his belt, it is easy to forget Godzilla's 1954 debut was crafted as a cautionary tale on the devastating power or nuclear weapons. Released less than ten years after the American decimations of Nagasaki and Hiroshima, the film was a potent reminder of man's  recklessness and tendency towards technological-based hubris. While later entries would vacillate between spectacle and camp before veering back to straight-up disaster flick (and back again), the character has remained one of Japan's enduring pop culture icons.
THE STORY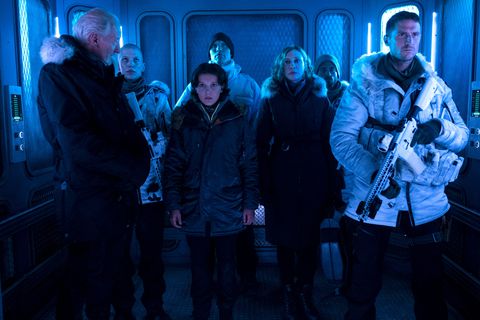 When Monarch scientist Dr. Emma Russel (Vera Farmiga, The Conjuring) goes rogue with Colonel Alan Jonah (Charles Dance, Game of Thrones) to unleash kaiju hell on the Earth in an attempt to purify it, it falls to Dr. Serizawa (Ken Watanabe, Detective Pikachu) and his team of experts to stop them. As giant creatures wreak havoc across the planet, Monarch will learn that their most powerful asset could very well be the kaiju that destroyed San Francisco five years ago: Godzilla.
THE REMAKE MILL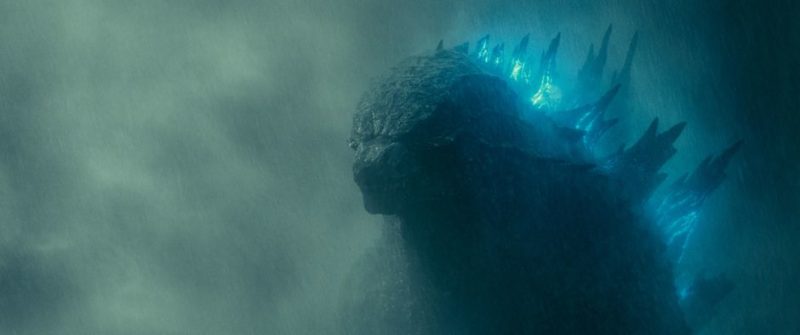 With a blockbuster budget, big name stars (including Breaking Bad's Bryan Cranston and Avengers Endgame's Elizabeth Olsen), and state-of-the art effects, 2014's Godzilla marked Hollywood's second attempt at tackling Japan's favorite kaiju. The first, in 1998, from Independence Day (1996) creators Dean Devlin and Roland Emmerich (Stargate) was an unmitigated disaster, leading Japan to reboot their own film series in order to kill its memory.
16 years later, Hollywood was allowed to try again; as directed by Gareth Edwards (Star Wars: Rogue One), the 2014 reboot had everything it needed to succeed, but made the mistake of assuming that people going into a Godzilla movie actually gave a damn about the human characters. Exacerbating matters was Edwards going out of his way to avoid showcasing the title creature or his grudge match against the film's generic villain monsters (called "MUTO").
GOING ALL-IN ON GODZILLA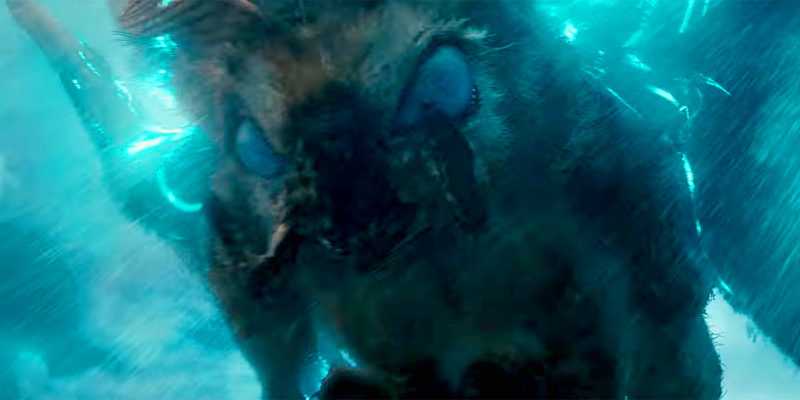 With remakes, reboots, sequels, and franchises being churned out by the truckload, this is one film that justifies its existence by getting pretty much everything right that the previous one got wrong. As opposed to Edwards' seeming shame at being associated with the classic films, director Michael Dougherty (Krampus) embraces Godzilla's roots, sprinkling nods to past franchise entries all throughout, including judicious use of the classic Godzilla theme, a certain weapon of mass destruction, and the mystical properties of a certain creature's powdery remains. If you've ever loved Godzilla, or anything associated with him, this film is sure to strike a chord.
MONSTERS WITH CHARACTER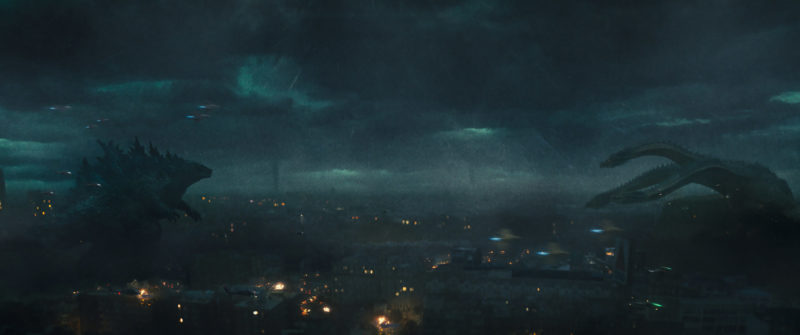 With the 2014 reboot proving divisive (at best) due to its teasing approach to giant monster mayhem, King of the Monsters loses no time in letting audiences know what they're in for. Not since the first Pacific Rim have we been treated to giant monster destruction porn of this quality, and this writer is all for it. Beloved memories of men in costumes stomping on plywood cities notwithstanding, this flick pulls out all the tops in its often breathtaking depictions of Godzilla, King Ghidorah, Rodan, and, yes, even Mothra.
Moving with perceptible weight and presence, each CGI monster was crafted in partnership with the geniuses at Legacy Effects, an offshoot of Stan Winston Studios, which was responsible for the practical creature effects in films such as Aliens (1986),  Terminator 2 (1991), and Jurassic Park, as well as the physical armor worn by Robert Downey, Jr. as Iron Man (2006). In tasking physical effects artists to lend their expertise to CGI creations, each creature sports a unique personality and move set to destroy (or save) humanity as they see fit. Take our word for it and watch this on the biggest screen you can!
MYTH AND MONSTERS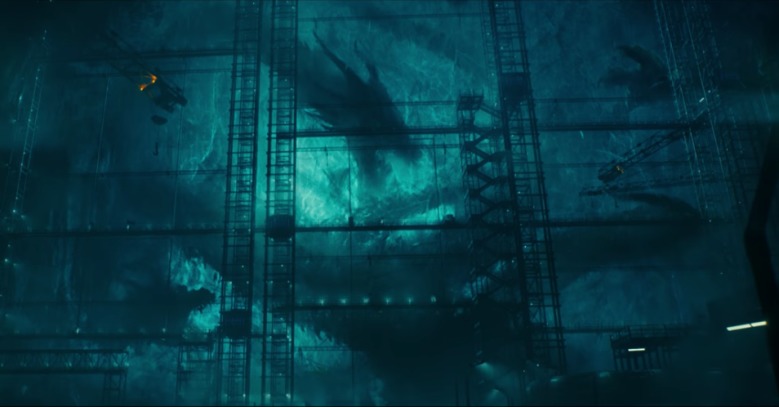 As awe-inspiring as the kaiju encounters are in this film –with some entering downright iconic territory via an absolutely artful blend of sound and image– the monsters' mystique is diminished somewhat by these films' continued insistence on giving them identifiable motivations. Ascribing roles such as "ancient guardian" or "alien invader" to giant monsters is one thing, but it gets beyond ridiculous when supposedly intelligent characters bet their species' entire existence on hopes that having giant destructive monsters around will somehow restore the Earth to a pristine state.
Perhaps if they had something other than cave paintings and legends to go on, these theories would hold water, but as it stands, it just comes across like Hollywood screenwriters overcompensating to explain something that never needed explaining. Of course, more than one Japanese Godzilla production has tried its hand at explaining the hows and whys of kaiju, but these justifications never ultimately mattered, because nobody's here to watch puny humans explaining things anyway.
HUMAN DISTRACTIONS

In as much as King of the Monsters displays fealty to the films that came before, one area that director Dougherty captures all-too-faithfully is the insignificance of the human characters to the proceedings. Varmiga, Kyle Chandler (TV's Friday Night Lights), and Millie Bobby Brown (Netflix's Stranger Things) do their best as a dysfunctional family, but their sparsely-written drama is infinitely less entertaining than watching the kaiju do their thing.
Watanabe returns as Monarch head Dr. Serizawa , spouting grave proclamations like his life depended on it, though he really doesn't have anything here as instantly iconic as the last film's, "Let them fight". Watanabe is backed up by series newcomers Zhang Zi Yi (Crouching Tiger, Hidden Dragon) as mythologist Dr Chen, Bradley Whitford (The West Wing) as a scientist best described as Rick and Morty's Rick come to life, and Thomas Middleditch (TV's Silicon Valley) as Monarch's (what else) neurotic Director of Technology. Finally, we have O'Shea Jackson (Straight Outta Compton) as a soldier whose only purpose is to spew unfunny one-liners.
All told, the members of team Monarch are entirely uninteresting, with little to do beyond watching computer screens and reacting to the mayhem happening around them. While nobody watches these things to hear humans chat, the film nevertheless spends an interminable amount of time acting like we do.
THE BOTTOM LINE
Like Kong: Skull Island before it, King of the Monsters is blockbuster-grade B-movie silliness with tons of monster mayhem and destruction, fronted by cardboard humans we couldn't care less about and whose scenes you can't wait to end. in short? Hollywood finally made a proper Godzilla movie.
Hail to the king!
What are your thoughts on this movie? Tell us below!