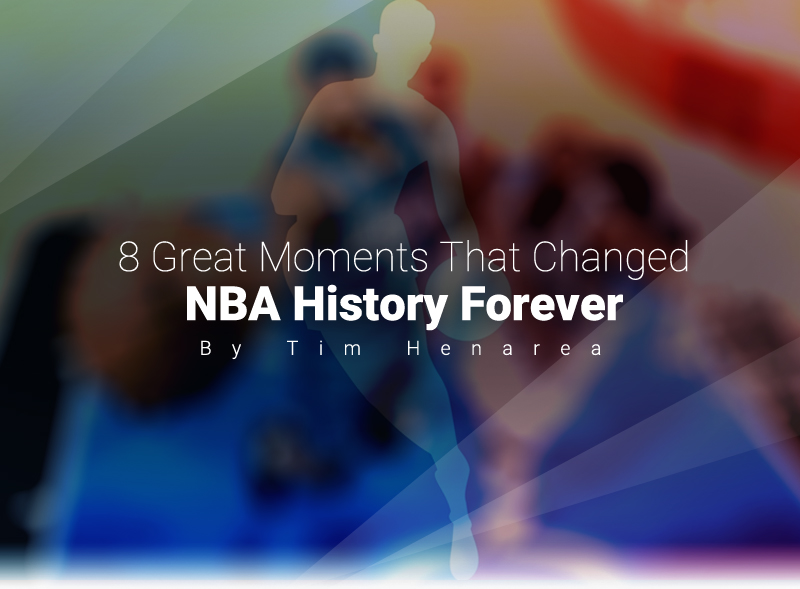 History was made last month when the Black Mamba surpassed His Airness in the NBA All-Time Scoring list. This, in itself, is a surreal NBA moment, considering Kobe and MJ have been compared for most of Kobe's career, and they have been widely touted as two of the best to ever play the game. Kobe Bryant's scoring milestone essentially makes him the third most prolific scorer in the NBA of all time.
Who else should be kept in mind for the game? We have a few more memorable NBA moments in recent memory to help us out. And of course, we'll start with the Black Mamba himself.

Everyone knows and remembers the 100-point night scored by Wilt Chamberlain, but how many of us actually saw that game? Well, Kobe Bryant's 81-point performance against the Raptors in 2006 is the second-best scoring night in NBA history, and nearly all of us have seen it happen. Could the 100-point mark ever be broken in the future? Only time can tell, but the likelihood of it happening is pretty low.

It was Game 6 of the Finals between the Bulls and the Jazz. With time running down, the Jazz leading by one, and the game on the line, Michael Jordan drives, crosses over, and noticeably pushes off the man guarding him, Bryon Russell, and makes the game-winning shot with 5 seconds to go. No foul was called. This game, not without its share of controversies, marked the end of the Bulls dynasty as Jordan retired a second time, and never returned as a part of the Bulls.

Just last November, Dirk Nowitzki surpassed Hakeem "The Dream" Olajuwon's scoring record of 26,496 points. This is noteworthy because Dirk Nowitzki now has the highest career scoring total for a foreign-born player of all time. (Incidentally, this season also marked the point where Kobe Bryant surpassed Michael Jordan on the all-time scoring list.)
Dirk Nowitzki's record is a landmark achievement that can revolutionize the NBA. He didn't only cement Euro basketball's place on the map, but he also set the bar for hybrid players as the big man who is a natural inside threat and deadly option from the perimeter.


There were plenty of highly-anticipated NBA debuts, but perhaps one of the best in the modern age would have to be last year's first game by Michael Carter Williams, who went with 22 points, seven rebounds, 12 assists, and nine steals against the defending champions at the time, the Miami Heat. That's just three boards and one steal away from a quadruple double, which hasn't been accomplished since David Robinson in 1994. The only blatantly better NBA debut was probably Wilt Chamberlain's, who did 43 points, 28 rebounds. Anyone else in the modern age would at most, put up a double-double involving 30 points and 15 rebounds, including LeBron James.
Let's put it in this perspective: if MCW achieved a quadruple double in his debut game, he could have retired on the spot, and we'd still be talking about him two decades from now.

Perhaps a milestone of how the current NBA era has turned into less of a single-superstar game and more of a band of superstars coming together, LeBron James's drawn-out and overdramatic decision to move from Cleveland to Miami to join Dwyane Wade and Chris Bosh in hopes of winning championships was definitely unforgettable. Sure, we had that time when Garnett, Pierce, and Allen came together in Boston, but the sheer level of coverage and hype involving LeBron's move has really led to the notion that for a team to even be in championship contender, they need to hoard superstars more than just playing basketball.
Then again, maybe we could just be overlooking the other times in history when this happened. Just ask Chamberlain, West, and Baylor.

The most dominant basketball team of all time—and no, don't try telling me that the 2012 Team USA could have beaten them. A good matchup? Sure. But to win a 7-game series, with nobody but Tyson Chandler even remotely capable of defending the 4's and 5's of the Dream Team? This isn't even a debate.
Formed in 1992 when Olympic rules prohibiting pro players from playing were jettisoned (prior to the Barcelona squad, the US basketball teams sent to the Olympics were all collegiate), the floodgates were opened, allowing the NBA's greatest (and Christian Laettner) to come in and stomp all over the competition. Twelve of the Dream Team's 13 players were Hall of Famers, including Michael Jordan, Magic Johnson, Larry Bird, Karl Malone, Charles Barkley and Patrick Ewing—they are considered to be one of, if not the greatest team ever assembled.
Of course, the creation of the Dream Team spurred many of the other countries to compete aggressively; enough to ensure that an NBA-led US team winning all of the international competitions would no longer be a foregone conclusion. At least, not if the Gasol brothers have anything to say about it.

Only one man in the history of the NBA has managed to capture NBA titles in three different decades with the same team: Tim Duncan. Despite being 38 years of age, it would seem that Spurs coach Greg Popovich is spiking his team's Gatorade with youth serum, because nobody in the league is underestimating "The Big Fundamental" this season, age be damned. Whether or not Kawhi Leonard is the future of the franchise, the present is still Tim Duncan.
With a total of five NBA titles ('99, '03, '05, '07, '14), Tim Duncan, just like Kobe Bryant, is just one away from hitting the gold standard of six rings set by Jordan. Unlike Kobe, though, Duncan's teammates don't suck. But there's no moment more surreal than… Oops! Isn't it frustrating when you don't get to see all the action? Don't feel too bad because now, you can enjoy great NBA moments through the Special Edition Tattoo Home Plan 1299 with NBA LEAGUE PASS. Visit http://tattoo.globe.com.ph/products/home-broadband.html or call 730-1010 to find out how.