The holiday season means reunions, parties, vacation trips, and a whole bunch of photos. It's frustrating when you want to look back and just end up with grainy, irritatingly pixelated pictures. If you don't want to lug around a heavy DSLR camera (who does?), the new Huawei nova 5T could be just the thing. Handy and convenient, it's a smartphone that works just like a DSLR, with five lenses.
Yes, you read that right. Five lenses. We won't go into the nitty-gritty of which lens does what, but what you need to remember is that each of these five lenses allows you a variety of DSLR-like results in your photos. From a wide-angle lens to a high-definition selfie camera, the versatile Huawei nova 5T has got you covered.
Gr8 lighting

You had a great time partying the night away, but your photos are so dark you can barely remember what happened. But what if your phone can give you lighting comparable to a DSLR camera? Huawei nova 5T's ISO sensitivity is just like a DSLR's — which means you can get a clear photo no matter what time of day. No more I-can't-see-a-damn-thing-in-this-photo moments.
Going so wiiiiiiiide

Have you ever had to step back so many times just to capture everything when you want to take group shots? Or even landscape photos? A normal lens just can't do the job right, which sucks. You won't have to worry about that when you have the Super Wide Angle Camera of the Huawei nova 5T. Plus, everything becomes grander when you give it that dramatic wide-angle flare.
Ultra close-up shots
There are absolutely tiny worlds that your eye simply can't capture, not even when you shove your face in the dirt. But with the help of Huawei nova 5T's Super Macro Lens, you can discover new worlds of beauty in ultra high-definition quality. Just put your phone 4 centimeters away from your subject and you're good to go.
Stunning portraits 

You won't have to look further to capture your profile pictures. The bokeh camera allows your Huawei nova 5T to focus on your subject and put all attention on them. It's easy to navigate and come out with amazing bokeh effects, so that your subject can stand out naturally. Your portraits will definitely be the envy of your social media followers.
Stable videos
Capturing moving subjects on video isn't easy. More often than not, your subject could get so blurry you end up chucking the vid in the digital bin. And we don't blame you, because we do that, too—with other phones, that is. Because with the Huawei nova 5T's main AI camera, you can say goodbye to that blurry mess. We only have steady and smooth videography in this nova 5T house.
Quality selfies only

Many top-of-the-line phones have decent rear cameras, but have a grainy AF front camera that makes selfies look like they were taken on a dinky digicam from a decade ago. And it becomes more irritating because it's a camera you often use. But when you have a front camera almost as good as your rear camera? Problem solved and selfies saved! And that's exactly what Huawei nova 5T's front camera will give you.
Superb OS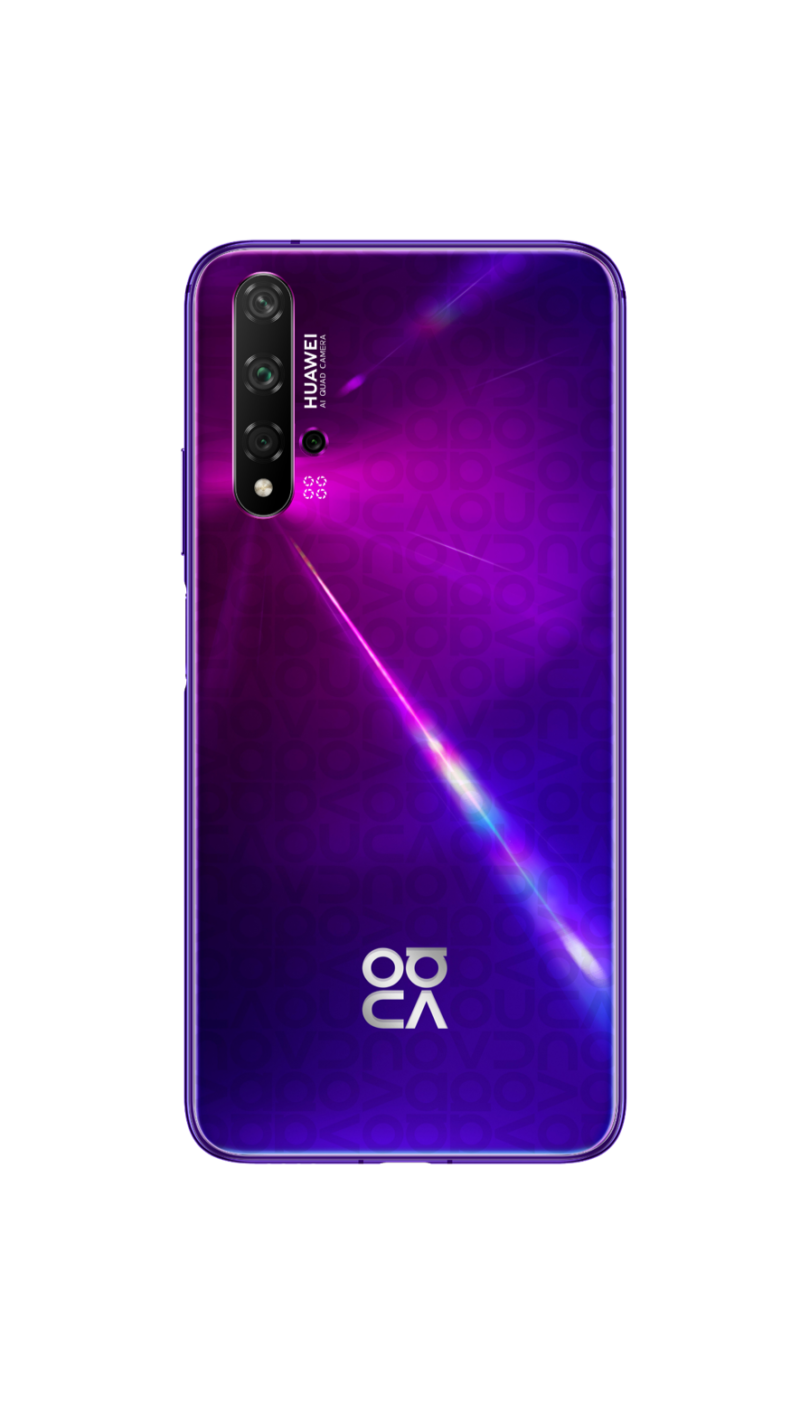 More than simply being cameras-in-one-single-device, the new Huawei nova 5T boasts an operating system (OS) that can keep up with whatever you need. Its 8 GB RAM can run all the applications use by accelerating operations, while the 128 GB storage means you can store so much data, ranging from songs to movies and photos, right at your fingertips.
Its OS is so superb that it can keep up with Top 20+ hot games, providing you with a better and more stable gaming experience. The Huawei nova 5T also has a lower power consumption while still delivering an amazing gaming performance, so you can just rest easy and keep playing for hours on end. Just like what you've always dreamed of.
Pretty and handy

You can get your own Huawei nova 5T in three different colors — classic Black, Midsummer Purple, and Crush Blue — all with a 3D holographic effect. If your phone ends up in the depths of your bag, you don't need to worry because of this eye-catching reflective finish.
And having all five cameras plus an OS that can keep up even with your gaming needs in one single smartphone? So easy to bring anytime, anywhere — perfect for all those reunions this holiday season and for travelling all year round.
Already convinced? But worried about your budget? No worries! Huawei has you covered.
From November 30, 2019 to January 5, 2020, you can get the Huawei nova 5T for the discounted price of PHP 17,990. You will save PHP 1,000 off the suggested retail price and get a free CM510 speaker worth PHP 990.
And that's not all! When you purchase the Huawei nova 5T, P30 series, or Mate 30 series, you can even get a PHP 2,000 discount off the new Huawei Freebuds 3.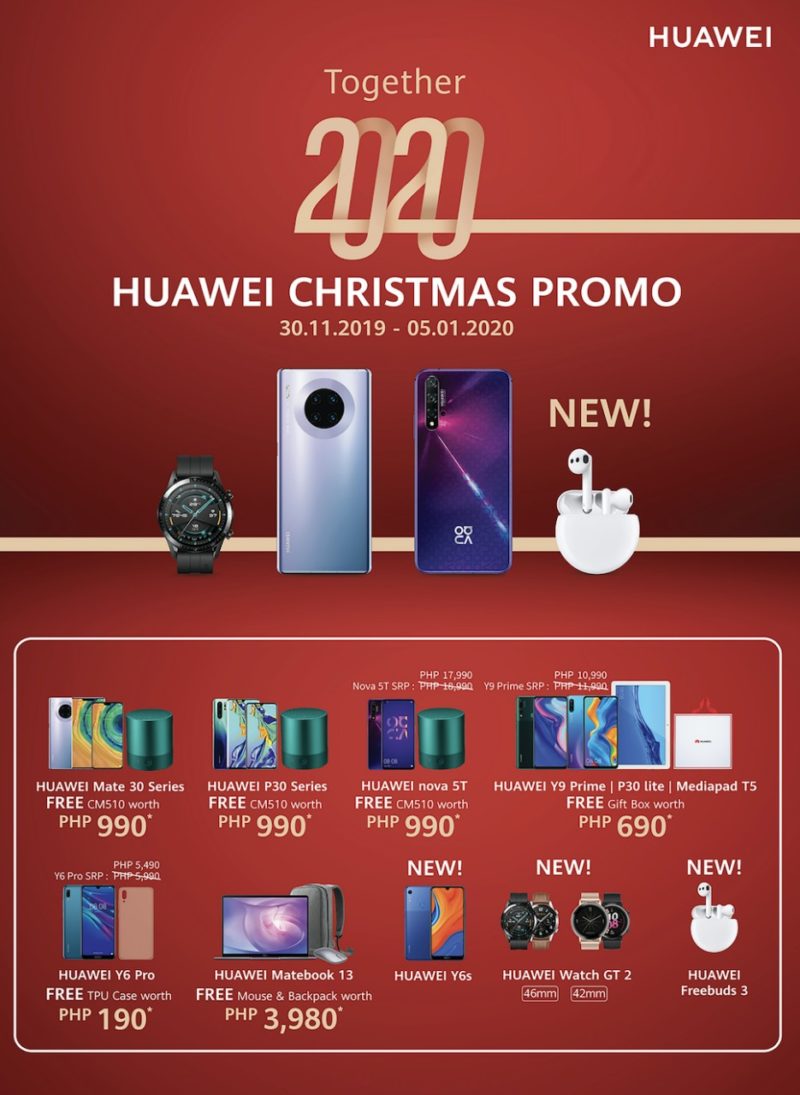 So what are you waiting for? Head to the nearest Huawei outlet store and grab yours now! 
To learn more about its specs, visit the official Huawei website.