Healthy Celebrity Breakups That Prove Not All Relationships Have to End Horribly
Jun 21, 2022 &nbsp • &nbsp Kyzia Maramara
From all the bad breakup news we've been seeing for the past few years, it's no wonder some people keep lamenting "losing their faith in true love." When a celebrity couple splits up, many can't help but assume there was some kind of cheating involved because most of the time there is. But there are a few couples that prove "healthy breakups" among actors and actresses aren't a myth. It's equally as heartbreaking as bad breakups but at least we know the ex-couple honored the time they spent learning through each other. Here are a few ex-couples you might learn a thing or two from:
Maureen Wroblewitz and Juan Karlos Labajo
View this post on Instagram
Singer Juan Karlos Labajo and model Maureen Wroblewitz confirmed their breakup last June 10 through separate social media posts. The Miss Universe PH 2021 runner-up posted a sentimental quote on Instagram and captioned it with "Some things come to an end and that's okay. But now it's time for us to grow on our own." Meanwhile, the "Buwan" singer, in a now-deleted Instagram post, confirmed that they are now "magka-ibigan na ngayo'y matalik na magkaibigan.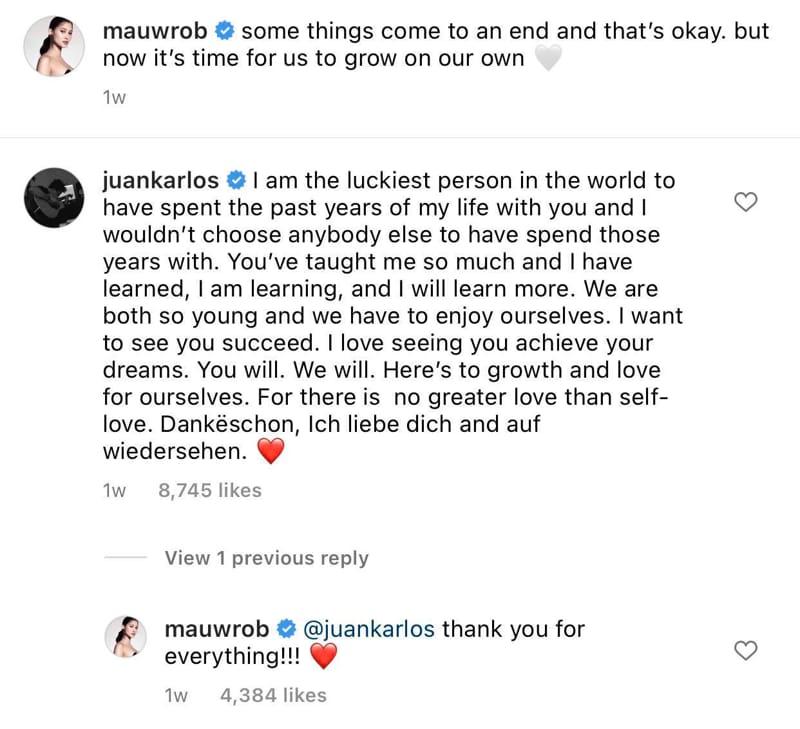 Labajo even left a lengthy comment under Wroblewitz's post thanking her for the years they spent together. "I am the luckiest person in the world to have spent the past years of my life with you and I wouldn't choose anybody else to have spent those years with," he wrote. Labajo also expressed support for his ex-girlfriend's future endeavors.
8 Celebrity Breakups That Shocked, Scandalized, and Broke Our Hearts in 2021
8 Celebrity Breakups That Shocked, Scandalized, and Broke Our Hearts in 2021
Bianca Katipunan | Dec 27, 2021
Nadine Lustre and James Reid
View this post on Instagram
Even though Nadine Lustre and James Reid broke up in January 2020, many fans are still hoping they find their way back into each other's arms. But that seems unlikely seeing as Lustre is now dating someone and Reid seems content with running his own record label, Careless. The ex-couple dated for almost four years before calling it quits, even selling the house in Quezon City they bought together. Thankfully, there doesn't seem to be any bad blood between the two. There was never any unfollowing on social media or even deleting of Instagram posts. Lustre is still part of Careless with the label even expertly handling her online concert last October.
View this post on Instagram
Kylie Versoza and Jake Cuenca
View this post on Instagram
Not all celebrity breakups are filled with whispers of a third party or rumors of cheating. Some are simply because the relationship has run its course and the two mature adults who were part of it recognize that they need to part ways. After three years of dating, model Kylie Versoza and actor Jake Cuenca confirmed their split. In a lengthy Instagram post, Cuenca thanked his ex-girlfriend for making the past 3 years of his life "the best."
"I'm still so proud of us because we didn't want to break up in anger we both wanted to be able to look back on our relationship with no bitterness no anger and no regrets only the good memories. Certainly, that's what I will be holding on to," said the actor. "I will still be here to support you because In so many ways I feel part of your journey and I will always pray for your success."
Alodia Gosiengfiao and Wil Dasovich
View this post on Instagram
Content creator Wil Dasovich and cosplayer Alodia Gosiengfiao ended their three-year relationship on good terms. Gosiengfiao confirmed the breakup with a short Facebook post: "We tried to work things out many times but some things are not meant to be." She clarified this statement the next day during a gaming stream saying that they honestly weren't compatible as a couple.
"Yung sentiment ko lang is 'sayang.' That's all. Again, things happen for a reason. I trust that gut feeling na may better plan for the both of us. 'Yon lang naiisip ko," she said.
Dasovich on the other hand said that he would never delete traces of his ex-girlfriend on social media since those were "some of his best videos" and "cherished experiences." "Even without the romantic relationship, we're such good friends," said Dasovich.
Janine Gutierrez and Rayver Cruz

Actress Janine Gutierrez and actor Rayver Cruz broke up in late 2021 after four years of dating. Both parties did not clarify the reason behind their split but they stressed that there was no third party involved. Gutierrez even expressed support for Cruz's rumored relationship with actress-singer Julie Anne San Jose. The Marry Me, Marry You actress stressed that she only wants happiness for her ex-boyfriend and that she's always "gonna care about him."
Which other healthy celebrity breakups should we add to this list? 
Check us out on Facebook, Instagram, Twitter, TikTok, and YouTube, to be the first to know about the latest news and coolest trends!