Our favorite weekend healing ritual just wrapped up last weekend. If you're anything like us, you're probably still not ready to say goodbye to Yoon Hye Jin (Shin Min Ah), Hong Du Sik (Kim Seon Ho), and the rest of Gongjin. So for now, let's savor the words of wisdom they left us. When we first started watching Hometown Cha Cha Cha, we thought it was just another K-drama, but there's no denying that it's full of life lessons each one of us should heed. Here are some of the best quotes from Hometown Cha Cha Cha so far.
What is love?

Take it from Hye Jin's bestie and assistant, Pyo Mi Seon (Gong Min Jeung), love isn't about weighing things. This nugget of wisdom was hurled at Hye Jin when she was comparing her achievements to Du Sik's to justify how they wouldn't be right for each other. Mi Seon kindly called her friend out by saying that love shouldn't be looking at someone's looks, achievements, or social standing. It's all about the heart and the connection you feel.
8 Ways 'Hometown Cha Cha Cha' Brings Warmth And Comfort To Our Weekends
8 Ways 'Hometown Cha Cha Cha' Brings Warmth And Comfort To Our Weekends
Andy Flores | Sep 17, 2021
Welcome the rain
Of course, Du Sik is totally the type to dance under the rain, it's a testament to his carefree and easy-going attitude. But Hye Jin's reluctance showed how she was wound tight at the beginning, afraid to loosen up and have a bit of fun. Du Sik just wanted to teach her (and us) that life is full of surprises and we should accept each one with open arms.
Difficult for one person

Yeo Hwa-Jeong (Lee Bong-Ryun) shared words of wisdom that helped Hye Jin gain perspective. We're all fighting different battles, some unknown by anyone but us. Hye Jin learned that while she might be the type to open up quickly, Du Sik needed more time before he feels comfortable disclosing his darkest secrets. This particular line applies to all relationships and to every person you meet. Just like how the Gongjin residents each have struggles of their own explored throughout the series. Du Sik also said a similar line that perfectly complements Hwa-Jeong's wisdom:

All the 'Start-Up' Parallels and References We've Found *So Far* in 'Hometown Cha-Cha-Cha'
All the 'Start-Up' Parallels and References We've Found *So Far* in 'Hometown Cha-Cha-Cha'
Meryl Medel | Sep 15, 2021
Life is short
Halmeoni Gam Ri (Kim Young-Ok) is, of course, a great source of wisdom. "Life may seem long, but it really isn't. Throw away unnecessary thoughts and be honest with yourself," she chides Du Sik who was struggling with his overwhelming and unspoken feelings for Hye Jin. And like with most of the quotes from
Hometown Cha Cha Cha
, this one is applicable to any situation in life. Dilly dallying about leaving work when you really want to? Be honest with yourself. Want to try out something new? Go ahead! Life is short.
It's okay to get lost every now and then

When we first met producer Ji Seong-Hyeon (Lee Sang-Yi), he was just a guy who sucked at directions. But it's part of the fun in living, he says. Just like how Du Sik is carefree, Ji PD also looks at life with the same attitude. Sometimes a bit too much go-with-the-flow that he misses the chance to confess his feelings. But he's right: "It's okay to get lost or take the long route every now and then. Every time that happened, life took me on an interesting side."
Love 'Hometown Cha Cha Cha'? These Other K-Dramas Have the Same Peaceful and Healing Vibes Too
Love 'Hometown Cha Cha Cha'? These Other K-Dramas Have the Same Peaceful and Healing Vibes Too
Kyzia Maramara | Sep 23, 2021
Life isn't a mathematical problem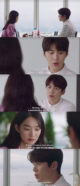 Du Sik spills yet another truth for the viewers. It comes when he's gently reprimanding the headstrong and prideful Hye Jin that money and social position doesn't always define success. "You're so narrow-minded," he begins, looking so handsome in white and sitting in a seaside restaurant. "Money and success aren't the only valuable things in life. Happiness, self-contentment, world peace, love… Anyway, life isn't a mathematical situation. It doesn't have a clear answer. There's no right answer either. You're just given a problem and it's up to you how you solve it."
On apologizing
Hye Jin went through so many awkward and painful situations before she finally grew out of her prejudice. And Du Sik was there to help her be the better version of herself. After she did something embarrassing that estranged her from the rest of the Gongjin crew, Du Sik encouraged her to apologize saying  "If you can't pick up spilled milk, you should at least apologize to them for spilling the milk, rather than avoiding them." It's a good way to say own up to your mistakes.
Being a good parent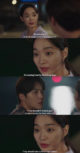 Hye Jin lost her mother to an illness when she was younger. Du Sik lost his parents and grandfather too. She knows what it feels like to see a loved one in pain which is why she rebukes Gam Ri who didn't want to get her teeth checked because it was "too expensive." Once again, Hometown Cha Cha Cha proved it's a warm reminder for all relationships out there, not just romantic ones.
Bonus: On snacks and gossiping

Jo Nam-Suk (Cha Chung-hwa) is Gongjin's resident Marites. Her superpower is being at the right place during questionable times (e.g. when Hye Jin was leaving Du Sik's house after accidentally spending the night). You might find her addiction to gossiping annoying but once you realize it's a love language, you'll begin to enjoy her character. But was she lying though? Snacks do taste best when paired with tea, just not the kind you drink.
What are your favorite Hometown Cha Cha Cha quotes so far?
Check us out on Facebook, Instagram, Twitter, and YouTube, and be the first to know about the latest news and coolest trends!