Most people are confined to their houses right now because of the Enhanced Community Quarantine (ECQ). But many, especially frontline health workers, are risking their lives everyday to save others. And while you may be stuck at home, that doesn't mean you can't do anything to help the country fight against the threat of COVID-19. Here are the simple yet impactful ways you can help against the COVID-19 outbreak in the Philippines.
Pay for someone's PPE daily set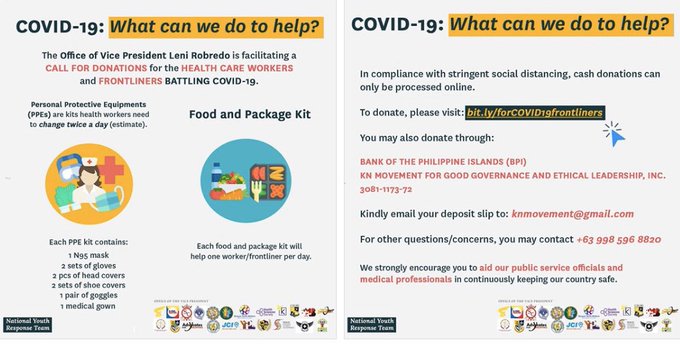 One of the easiest ways you can help from the safety of your home is through cash donation, especially if you have extra funds on hand. If you're looking for a donation drive, the Kaya Natin! Movement, in coordination with the Office of the Vice President, has organized a fundraising campaign to provide personal protective equipment (PPE) and food packs for our health workers. A PPE set contains one N95 mask, one gown, two sets of gloves, two pieces of head covers, two sets of shoe covers, and one pair of goggles, while food packs will sustain one health worker per day. Want to donate? Go here.
Health workers need more supplies and you can donate
A list of legitimate healthcare causes and organizations combating the covid crisis in the Philippines – Read up, Share, Donate!https://t.co/93n5i4iJc6 pic.twitter.com/ArsL84QEmO

— Andrew Panopio (@kickthecandrew) March 17, 2020
If you're looking for other ways to help, there's definitely more. Many hospitals are calling for help due to the severe lack and high demand of medical and protective supplies. People and organizations alike are setting up several donation drives, where you can send both cash and supplies. Twitter user @kickthecandrew compiled a list of legitimate donation drives here.
Our flagship tertiary hospital, the Philippine General Hospital, is in need of help due to shortage of personal protective equipment (PPE)! Don't hesitate to donate! Help our health workers. 😊 pic.twitter.com/8TTBwvZhJV

— Kevin Ona (@kibinona) March 14, 2020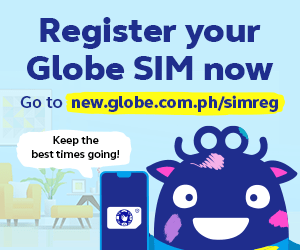 Don't hoard basic necessities
We've said it before, but we'll say it again. No to panic-buying! Any excess supplies you take for yourself are supplies another person is denied. You don't need thirty bottles of alcohol if you're only staying at home. Wash your hands properly and regularly instead. Hospitals, health workers, and immunocompromised people need those things more than ever right now.
Donate to communities in need
‼️ COVID-19 ‼️

WHERE TO DONATE?
WHO NEEDS HELP?
WHAT TO DONATE?
(A thread)

Hi! I will be putting the information/link where you can send your donations for our health workers, frontliners, local workers, and other people who are in need, under this tweet.

Thank you ✨

— #OustDuterte (@lnah__) March 17, 2020
Many communities are suffering from the ECQ, especially the informal workers who rely on their day-to-day earnings for basic necessities. Several small groups and organizations, as well as a few celebrities like Bela Padilla, have started raising funds to provide basic necessities to informal workers and their families and many more.
See more donation drives in the tweet threads.
HOW WE CAN HELP – a thread of COVID-19 INITIATIVES

Compiled all these initiatives we can contribute to. Also posted on my FB page.

Pls reply if you know other initiatives.

1/n pic.twitter.com/U5BCPoVPw1

— Engr. Raketera (@EngrRaketera) March 17, 2020
Volunteer if you're able
If you can't offer cash donations or supplies, maybe you can offer your skills and services. The Research Institute for Tropical Medicine (RITM), the branch of the Department of Health primarily responsible for COVID-19 testing, is looking for volunteers for their communications office in a bid to curb the spread of misinformation. Other people are organizing small teams to develop things like an online screening system to determine if one is in need of medical attention or not. Even something as simple as offering your help to your local government to pack and distribute basic necessities and hygiene kits.
Offer a ride, if you can afford it
Since all mass public transportation has been suspended, many health workers are finding it difficult to go to their hospitals and clinics. While the Department of Transportation and the OVP have provided several free shuttle services, these are probably not enough.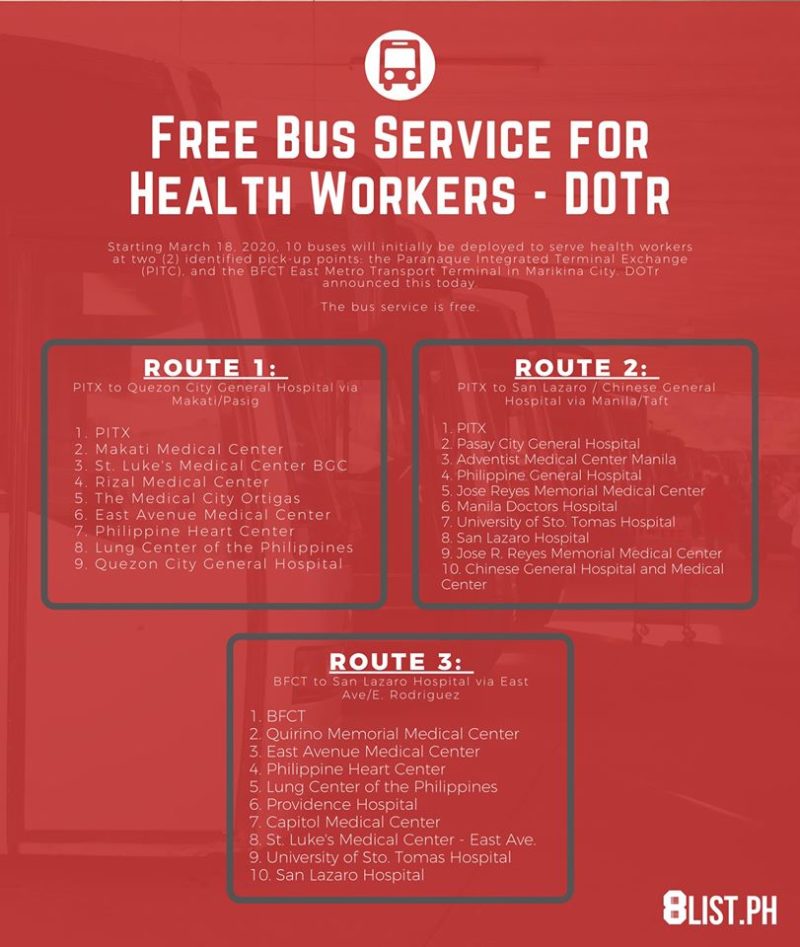 If you're an owner of a private vehicle and you have the capacity to move around the city, offer rides to our frontliners. They badly need it, and we should help out as much as we can.
Practice social distancing
You're probably tired of hearing this, but you, your family, your friends, all the people you know should practice social distancing. It's actually really important. Because if all communities follow this protocol, it would reduce the spread of the virus by a significant amount.
Think before you share
If you really can't go out and you're just at home, scrolling through your feed and seeing all those horrific news, you should really, really, reaaaaally think before you share. Please. Don't spread misinformation. Fact check. Make sure your information is legit and true before you click that share button. That's the barest minimum you can do to help the country fight against the threat of COVID-19. 
Think of other ways you can help? Share them with us below.