8 Events Surrounding the Iglesia ni Cristo Crisis
Jul 24, 2015 &nbsp • &nbsp Koko Campiglio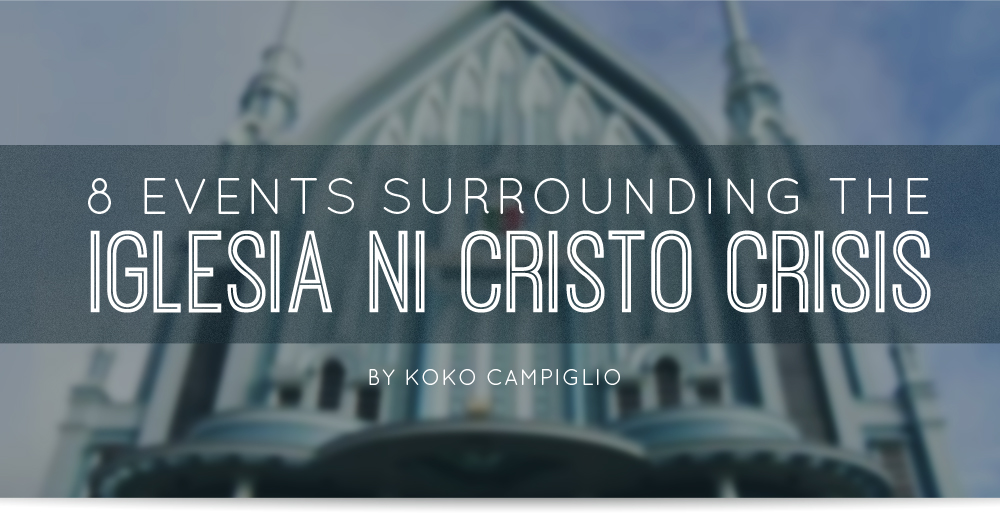 July 23, 2015 was a busy day for Iglesia ni Cristo, particularly their ranking members.
It was on this when the executive minister of the INC, Eduardo Manalo, made an announcement to expel his own mother and brother (Tenny and Felix Nathaniel "Angel" Manalo), following the two exposing a supposed death threat against them in a Youtube video.
Eduardo is the son of Erano "Erdy" Manalo, former executive minister, who passed away in 2009.
While this was happening, an unidentified person (or hand) flashed a series of makeshift placards from the window of an INC building at 36 Tandang Sora, Quezon City. One of them said "Tulong, hostage kami." (Help, we are hostages.)
Over the next few hours, followers came the address to declare their support for the two who claim to have been abducted.
It ended with a standoff with the police and Angel finally talking to the media.
Here is all there is to know about the events that led to the "crisis":
8. The Silent No More Manifesto
Friday, July 17, 2015 — A manifesto about the supposed evil plot to abduct, subjugate, and eliminate the family of the deceased former executive minister of the INC was posted on a website run by an Antonio Ramirez Ebangelista.
The plot was claimed to have been ordered by the wife of Eduardo, Babylyn Ventura Manalo.
7. The Plea for Help
Wednesday evening, July 22, 2015 — A certain David Romero uploaded a video of Angel Manalo's plea for help on Youtube.
In the short video, Angel declared that their lives are in danger and implored the help and protection of the members of their congregation. His plea was followed by an audio recording of his mother, Tenny,  who asked for help not just for themselves but also ministers that they claim have been abducted by the church.
6. The Expulsion of Tenny and Angel
Thursday morning, July 23, 2015 — Eduardo, the head of the powerful church, decided to expel his brother and mother from INC
The announcement was made by General Evangelist Bienvenido Santiago at a press conference.
"Masakit man sa loob ng Kapatid na Eduardo Manalo ay ipinasya nila na itiwalag yung mga lumilikha ng mga pagkakabaha-bahagi sa Iglesia. Kaya sa mga pagsambang isasagawa ng Iglesia ni Cristo, simula sa araw na ito ay ipaaalam iyon sa lahat ng kapatid," Santiago said.
(While this is painful for Brother Eduardo Manalo, they decided to expel those creating divisions in the Church. In the worship services of the Iglesia ni Cristo starting today, we will be announcing this to our brethren.)
5. The Mysterious Messages
Thursday morning, July 23, 2015 — An unidentified person held out makeshift placards on the window of one of the houses in the INC compound. Numerous cards were flashed over the course of the day.
4. The Vigil
Thursday afternoon, July 23, 2015—Less than a dozen concerned members of the congregation stage a vigil outside the building where the expelled Manalos were supposedly held captive.
The supporters were seen wearing white ribbons as a symbol of their support. They weren't allowed into the compound and had to resort to throwing food over the wall just to get it to the detainees.
The vigil would continue all the way.
3. The Police Arrive
Thursday evening, July 23, 2015—Police arrive at the Tandang Sora compound to verify the claims of Angel and Tenny's abduction.
They arrived around 11pm but weren't able to enter due to it being a private residence.
They would later announce that abduction has been officially ruled out based on their observation and the later appearance of Angel Manalo
2. The House Arrest of Isaias Samson Jr.
Thursday evening, July 23, 2015 —Suspended minister Isaias Samson Jr. announced at a press conference that he and his family were detained in their own house.
Samson was  suspended and removed from his position as editor-in-chief of INC's official publication Pasugo after he was accused of writing anti-INC articles on the site Iglesia Ni Cristo, Silent No More as Antonio Ramirez Ebangelista.
He denied involvement with the site or any of its articles but claimed that he was vocal about his disapproval of the supposed widespread corruption within the congregation.
Samson, his wife and only son were detained on Friday, July 17. They somewhat easily escaped in the early hours of July 23 by telling the guards that they wanted to go to church. His son then drove them out of their townhouse until they realized that they weren't being followed anymore.
Another site with the same layout as Ebangelista's website has surfaced, calling itself theThis Blog is Now Silent. No More. IGLESIA NI CRISTO Remains!!! mocking the site that Samson was accused of running.
The INC Spokesperson Edwil Zabala has denied that Samson was placed under house arrest, but has admitted to his and his family's expulsion due to disobedience and refusal to submit.
1. Angel Manalo Finally Appears
Midnight, July 24, 2015—after hiding out the whole day, Angel opens a window in the compound's gate to issue a statement.
He claims that there is rampant corruption in the church. Issues that didn't exist during the tenure of his father and grandfather.
Angel also denied the alleged abduction. It would be safe to point out that he offered no explanation for the media aversion and according to him the abduction claims were made by a child as a joke.
Iglesia ni Cristo celebrates its 101st anniversary on Monday, July 27, 2015. How will these events affect the celebration? Will there be major changes implemented or announcements made on that day because of what happened?