In Case You Doubted it: Yes, 'Spider-man: Far From Home' is Awesome
Jul 6, 2019 &nbsp • &nbsp Mikhail Lecaros
After years of his movie rights being in the hands of Sony, popular Marvel Comics hero Spider-Man made his way to the Marvel Cinematic Universe (MCU) courtesy of a profit-sharing deal with Disney. First appearing in Captain America: Civil War as played by British actor Tom Holland (In the Heart of the Sea), the hero would headline his own film with Spider-Man: Homecoming, a light-hearted romp that, while not going into the familiar origin story, was fairly conventional in its portrayal of the beloved wall-crawler.
With Spider-Man: Far From Home, the first MCU film to come after the universe-altering events of Avengers: Endgame, the challenge fell upon Holland and Homecoming's director Jon Watts to deliver a satisfying follow-up while charting a course for the films to follow.
So how do they do?
THE STORY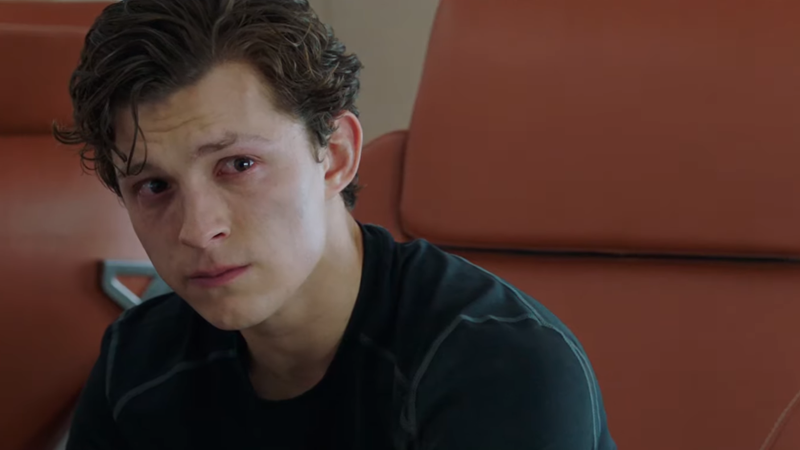 Between being bitten by a radioactive spider, gaining its proportional strength and agility, earning his stripes as a superhero alongside the Avengers, dying on an alien world (before being resurrected five years later), and watching his mentor die, Peter Parker's high school life has been anything but uneventful. With the experiences of the last few months weighing on him, Peter is looking forward to indulging in decidedly normal teenage concerns on the eve of his school's summer trip to Europe.
When a new hero, quickly dubbed, "Mysterio" (Jake Gyllenhaal, Brokeback Mountain), appears on the scene, Peter feels he can give his Spider-Man identity a rest and have a shot at a normal life. Naturally, fate has other plans for the wall-crawler, and when circumstances demand it, he will have to step up and show the world just what this Spider-Man is made of.
CONTINUITY AND BEYOND

The script by Chris McKenna (Jumanji: Welcome to the Jungle) picks up where Avengers: Endgame left off, directly referencing that film's events while judiciously pushing the Spider-Man series (and overall MCU) in a direction that doesn't (directly) involve Tony Stark. Taken as epilogue or a continuation, the film pulls off both tasks admirably, effectively bookending the Infinity Saga, but never losing sight of its function as a Spider-Man adventure.
Clearly emboldened by their previous success and fans' embracing of Holland in the lead role, the team behind Far From Home takes more risks this time around. Where Homecoming played things relatively safe, the sequel boldly takes Peter and his friends in largely unexpected directions while updating the 50-year old characters and concepts for modern audiences.
REALITY BITES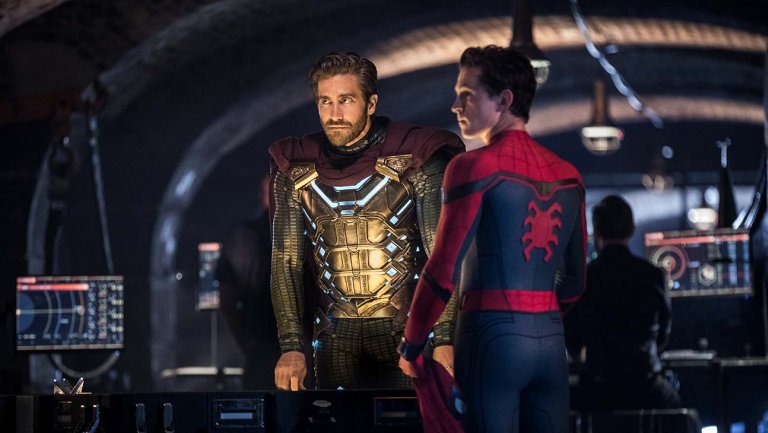 The main conceit this time is the boundary between reality and illusion, as expressed through Spidey's existential guilt shaping how he perceives the world. At this point in his career, Peter's danger-warning "spider sense" is in its nascent stages, making it all the more inconvenient for him as he repeatedly discovers, the hard way, that pretty much nothing is as it seems.
What does remain a constant is Peter's rock-solid moral center, and good thing, too; in a movie featuring elemental monsters, superspies, and a dude with a fishbowl for a helmet, Holland is the glue holding everything together. Whether he's processing the death of Tony Stark or figuring out how to tell MJ how he feels about her; Holland anchors the film with his character's humanity.
STATE OF CONTROL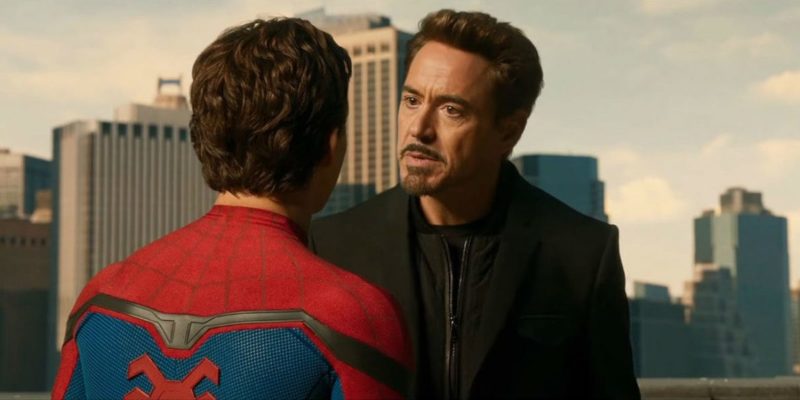 Early on, Nick Fury (Samuel L. Jackson, Star Wars) entrusts Tony Stark's Infinity War glasses to Peter, complete with a note designating the young hero as Iron Man's successor. Stark being Stark, the glasses turn out to be the control interface for E.D.I.T.H. (the acronym is priceless), an advanced global surveillance and defense platform, complete with voice-activated artificial intelligence. This plot point is perfectly in step with the MCU's overall characterization of Stark as an obsessive whose compulsion to maintain control over the world around him directly caused the events of Age of Ultron and Civil War. This is a guy who built his wife her own suit of armor for their anniversary, after all.
DADDY ISSUES
While presented as a father figure in Homecoming and Infinity War, Stark was never an ideal role model—a fact that this film makes abundantly clear more than once—and his wish for Parker to be better than him rings louder now that he's gone. Building on the assumption that Holland's Peter adheres to the character's traditional power-based sense of responsibility, Far From Home adds a wrinkle to his moral core—Uncle Ben's murder may have inspired him to follow the path of a hero, but it is Stark's belief in him that motivates him to stick with it.
SPIDER-MAN AND HIS AMAZING FRIENDS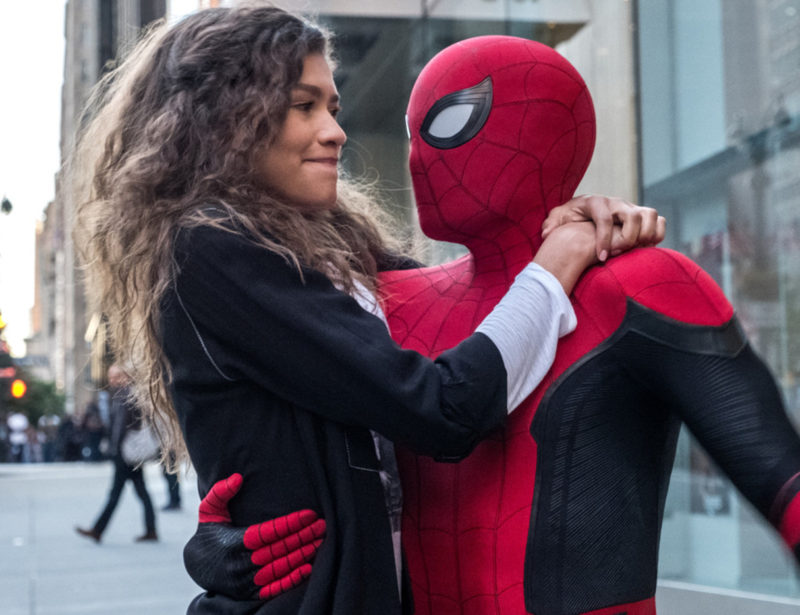 The supporting cast gets a lot more to do this time out, with humorous situations emerging from the numerous countries they visit. Interestingly, other than the fact that they went to Washington in the last film, and New York has been done to death in these movies, there really isn't any reason that Far From Home couldn't have taken place anywhere within the United States. The strain to show familiar characters in unfamiliar surroundings (Venice, Prague, Berlin, London) begins to show around the third country that these science high school students find themselves in, with barely a throwaway line to question who's paying for all their additional stops (one has to wonder what SHIELD's travel budget looks like).
Of the supporting cast, Zendaya (The Greatest Showman) continues to be the standout, deftly slinging pointed snark while losing none of her inherent likability. It isn't hard to see what someone like Peter (or any of the boys on the trip) would find attractive about her, but the film remembers to make sure that we see what she likes in Peter as well. As with most of the reveals in this film, the clues are there if you know where to look, and repeat viewings will reward fans who do that sort of thing.
THE CAMEO TO END ALL CAMEOS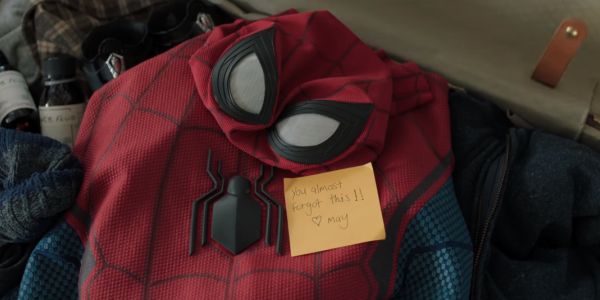 Endgame may have featured Stan Lee's final MCU cameo, and, as fun as it was to spot the irascible creator in these films, Far From Home delivers what may be the Single. Greatest. Cameo. Ever. To say more would be to spoil it, so you'll just have to go out and see the thing—heck, I saw it two days ago, and I'm still not over it!  But suffice it to say, if ever you needed proof that the gods of comic book casting smile on the MCU, THIS. IS. IT.
THE BOTTOM LINE
For as many deviations as Far From Home takes from the classic comics' stories, the film is, without hyperbole, the finest, truest big screen representation of Peter Parker and his world since 2004's Spider-Man 2. With the latter widely considered as one of the best comic book movies ever made, the former earns its lofty standing by taking what we know of the friendly neighborhood wall-crawler and leveraging it in ways that make it feel fresh and exciting. Far From Home isn't just amazing, it's spectacular, delivering a resounding declaration that, with Endgame now solidly in the rearview mirror, the MCU is far from over.
What are your expectations from this movie? Tell us below!