These days, the heat index (or the measure that takes into account both temperature and humidity) in the Philippines is hitting dangerous highs, reaching more than 40 degrees in some areas in the country. With these heat index levels, you could actually experience heat cramps and heat exhaustion. In some cases, people actually faint from the heat. That's why it's all the more important to keep yourself hydrated. Better yet, keep hydrated with cold water to help your body stay cool and refreshed. It could be difficult keeping your water cool when the temperatures are too high, but with the use of an insulated tumbler, you won't have to worry so much. Insulated tumblers are double-walled containers that can keep hot drinks hot and cold drinks cold, and here's where you can get them.
Klean Kanteen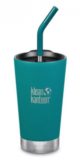 Price: PHP 1,650
Klean Kanteen is one of the most well-known tumbler brands — and for good reason. Their Climate Lock feature allows you to keep your drink either hot for up to 4 hours or cool and iced for up to 20 hours. This particular insulated tumbler comes with a straw and a splash-resistant lid so you can be assured you won't waste a drop. Get yours here.
Hydro Flask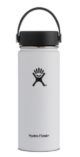 Price: PHP 1,253 (currently discounted from PHP 1,790)
Another popular brand, Hydro Flask's wide-mouth insulated tumbler is easy to carry around, while it keeps your drinks hot or cold for hours on end (maybe even a day!). You can also opt to get a handy straw lid to occasionally change things up. Get yours here.
SM Accessories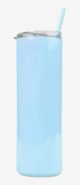 Price: PHP 399
SM Accessories's insulated tumbler is perfect for the no-frills type of person with its plain and minimalist design. You can use the straw that comes with it, or just drink straight from the cup. It's available in white, light blue, and copper. Get yours here.
Hydr8

Price: PHP 999 (currently discounted from PHP 1,999)
Made with 18/8 food-grade stainless steel, Hydr8's insulated bottles come in all sorts of colors and sizes. You can get their tumblers with capacities ranging from 12 to 64 ounces and in colors of all shades like royal blue, rose pink, and lilac. Get yours on Shopee or Lazada.
Luxlife
Price: PHP 1,185
This white-and-gold marble-patterned insulated tumbler from Lux Life can make you feel a little luxurious even when you're just drinking water. It comes with a reusable bag you can store it in when you're on the go. Get yours here.
Wyld Cup

Price: PHP 699
The Wyld Cup is self-dubbed as the "Official Party Cup." While it was designed to keep your beer and other alcoholic beverages cool, it could work just as well with water and other nonalcoholic drinks to keep you refreshed all day long. Get yours here. 
Kujaku
Price: PHP 1,200
Kujaku is a Japanese brand under Peacock Vacuum Bottle Company Ltd., which has more than 60 years of experience in the vacuum bottle industry and is well-loved all around the world. You can be assured that this 350-mL insulated tumbler is made with materials tested to conform to the Japanese Food Sanitation Act and can keep your drink cool or hot for hours. The Amo style comes in white, yellow, blue, or pink. Get yours on Shopee or Lazada.
QuiFit

Price: PHP 1,888 (currently discounted from PHP 5,000)
Are you the type of person who needs to drink a lot of water every hour? Or are you the type who needs to be reminded to actually drink? Whatever your answer is, this huuuge insulated tumbler from QuiFit should work perfectly for you. It can hold up to 2 liters and keep all that liquid cool and refreshing for hours with its thermal insulation feature. This tumbler also has cute reminders and time markers for you to hydrate regularly. Get yours here.
Which insulated tumbler do you use? Share them with us!