Everyone has opinions on the driving incident involving Jake Cuenca that happened over the weekend. Some were accusing the actor of trying to run away from the law after he hit a police vehicle and immediately fled the scene. And yet some were disappointed at the police personnel involved who decided to shoot his vehicle but ended up injuring a civilian. Now everyone' asking: Are police allowed to fire first and at unarmed civilians? What actually happened?
Jake Cuenca's driving incident
Actor Jake Cuenca was arrested at around 9 p.m. on Saturday after his SUV hit a police vehicle in Mandaluyong City. | @manueltupas

— The Philippine Star (@PhilippineStar) October 10, 2021
Around 9 PM last Oct. 9, actor Jake Cuenca got involved in a road accident which escalated into a car chase and then a shoot out. The actor's vehicle allegedly bumped into the car of a police officer in Mandaluyong City and instead of staying to inspect the damage, he immediately fled the scene. When the police caught up to him in Pasig City, they attempted to stop his vehicle by shooting at the tires. Unfortunately, the stray bullets hit a Grab driver.
Cuenca was brought to the station and charged with reckless imprudence. He was released from the precinct in early Sunday morning.
PNP: A teleserye shootout
Philippine National Police (PNP) chief Gen. Guillermo Eleazar vowed that the actor will face the consequences of his rash actions. In a statement he made on Monday, Eleazar called Cuenca out for disrespecting police officers. "[L]et us not forget why this incident happened in the first place: May isang motorista na imbes na humingi ng paumanhin at panagutan ang kanyang pagkakamali ay gumawa ng eksenang pang-teleserye at pampelikula," the PNP chief said.
"Sa iyong ginawa, titiyakin ko na mananagot ka sa pambabastos mo hindi lang sa mga pulis kundi sa batas at sa kawalan mo ng disiplina sa sarili," he added.
Officers under restrictive custody
PNP Chief Guillermo Eleazar vows disciplinary actions following police chase involving actor Jake Cuenca and Grab driver who was hit by a stray bullet. Here's what happened: https://t.co/L6nMACpafP pic.twitter.com/wcLXQKtKFQ

— CNN Philippines (@cnnphilippines) October 11, 2021
Eleazar also assured the public that those involved in the incident are now "under restrictive custody while the investigation is being conducted." Proper disciplinary and corrective measures will be imposed after the investigation, he said. As for the injured Grab driver, 43-year-old delivery rider Eleazar Maritinito was immediately brought to Rizal Medical Center to get treatment. PNP said that they will shoulder all medical needs and extend financial help.
Chased by men in civilian clothes?
LOOK: SOCO operatives inspect the impounded vehicle of actor Jake Cuenca after it hit a police car in Mandaluyong last night.

Instead of stopping, he allegedly rammed through a steel barrier and ran through a police checkpoint.

📸 Carmelo Dado, Fred Esponilla/CNN Philippines pic.twitter.com/HK0O7kyDbm

— CNN Philippines (@cnnphilippines) October 10, 2021
So why did Cuenca run away? Cuenca's father said in an interview that his son fled the scene "out of fear," he didn't know that those chasing him were police since they were in civilian clothes. Why weren't they in uniform? It turns out the policemen Cuenca hit were just wrapping up an anti-narcotics operation in Mandaluyong City.
Was he drunk?
View this post on Instagram
Many assumed Cuenca's hit and run was caused by drunk driving. Initial reports said that after he hit the police car, he also rammed into a barrier. Eastern Police District director Brig. Gen. Matthew Baccay said that they were yet to get their hands on the actor's medical report to confirm so they couldn't say if he was intoxicated. His impounded vehicle didn't have drugs or liquor in it.
Paulo Avelino defends his friend
I wouldn't stop for anyone shooting my vehicle wearing civilian clothes. Pass through a checkpoint? Hinarang ba? If someone was shooting me it's either I shoot back or run for my life. Wrong place wrong time. https://t.co/H89ATNZwqQ

— Paulo Avelino (@mepauloavelino) October 10, 2021
Actor Paulo Avelino came to his friend's rescue albeit online. He defended Cuenca's decision to flee the scene saying that he too wouldn't stop for someone in civilian clothing who's shooting at his vehicle. "If someone was shooting me it's either I shoot back or run for my life. Wrong place wrong time," he added.
One netizen wanted to confirm if Cuenca was drunk driving. Avelino replied that his friend is sober although he might have drunk a bit. He also added that Cuenca was just on his way to Avelino's house to visit him since the latter recently recovered from COVID.
Drunk? No. Nakainom? Maybe. Nakasagasa ba? Nakasakit ng tao? Hindi. Walang malay na nagmamaneho papunta dito sa punyeta kong bahay dahil kaka-recover ko lang sa covid. https://t.co/vSFrRHhfFq

— Paulo Avelino (@mepauloavelino) October 10, 2021
In a separate tweet, Avelino advised everyone to "get their facts straight and know the truth before they post."
So who's right and who's wrong?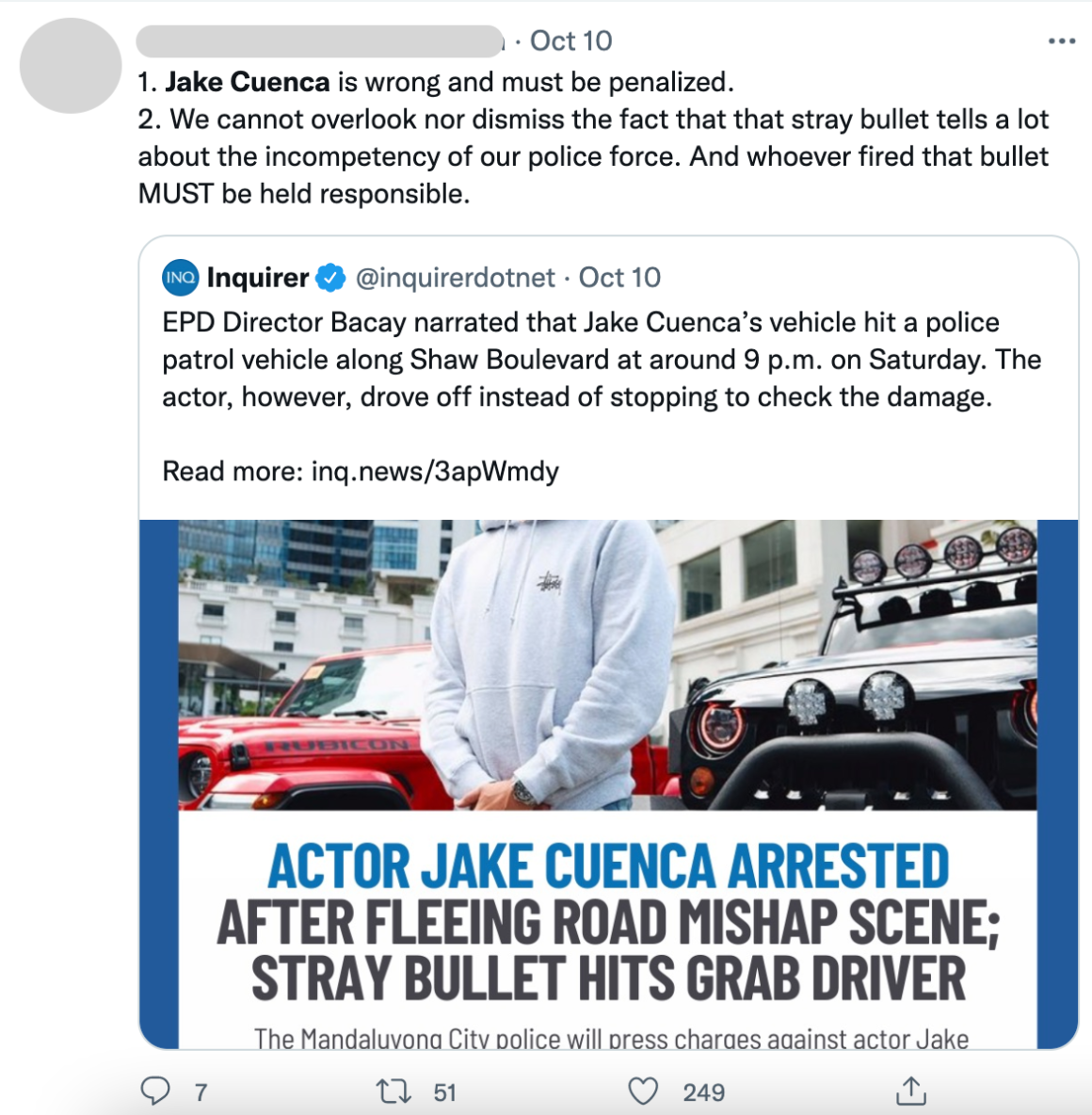 Netizens expressed their own opinions on the incident. On social media, Jake Cuenca's name trended with mixed reactions after the issue slowly spread. Some point out that they would be scared too if civilians in a private vehicle suddenly pulled out guns and chased their cars.
The policemen involved who immediately shot bullets and endangering civilians disappointed netizens. "Can police shoot at unarmed citizens??? Were they supposed to shoot?" one netizen tweeted.


Baccay did say that the officers involved were most likely on an adrenaline rush after the drug sting where they recovered marijuana.

While they chastise the police online, netizens hold Cuenca accountable for his actions too. "Jake has to face his violation as he hits the police car, but chasing and firing is another story," read one Facebook comment.


What's Jake Cuenca's statement?
TV PATROL EXCLUSIVE: Jake Cuenca explains his side of the story after the reported chase with anti-narcotics operatives in Mandaluyong City last October 9. Full details tonight on @TVPatrol pic.twitter.com/aCS7n1gIHa

— MJ Felipe (@mjfelipe) October 12, 2021
As of writing, Cuenca hasn't publicly acknowledged the incident. However, the actor will be on the news tonight to explain his side of the story.
Check us out on Facebook, Instagram, Twitter, and YouTube, and be the first to know about the latest news and coolest trends!