John Wick: Chapter 3 – The Wrath of Baba Yaga
May 23, 2019 &nbsp • &nbsp Mikhail Lecaros
The ageless Keanu Reeves (The Matrix, Bill & Ted) returns as the title character in John Wick: Chapter 3 – Parabellum. First introduced in 2014's John Wick, the film was a surprise hit, praised for its tightly choreographed action, cinematography, and darkly comic sensibilities. Now, with the third entry currently scoring at the box office, how does Reeves' new signature character hold up?
THE STORY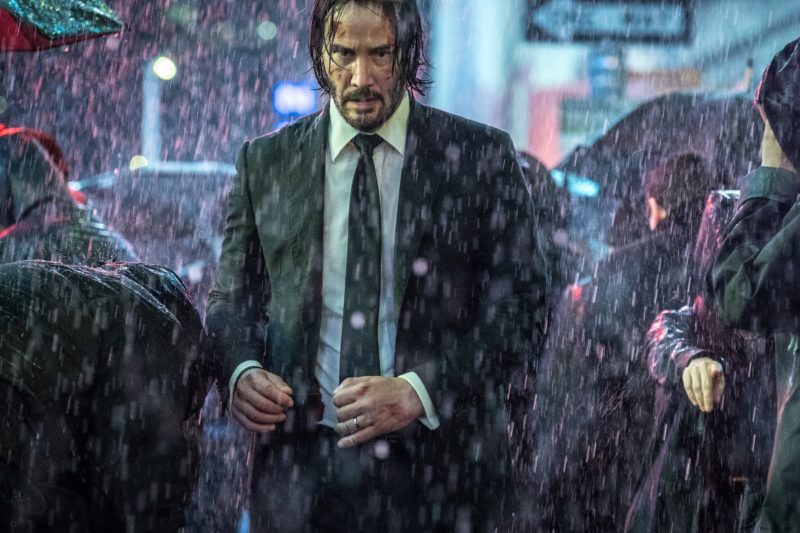 When last we saw super assassin John Wick, he was on the run, his life forfeit for having violated the rules of the High Table. The film opens with John's one-hour grace period coming to an end, forcing the retired hitman to use all his remaining resources to escape from New York (while dodging seemingly every killer in the world along the way).
Meanwhile, John's previous allies are being made to answer to the High Table's Adjudicator (Asia Kate Dillon, of TV's Billions) for their roles in the hitman's last adventure. With The Adjudicator's rulings being carried out by the deadly Zero (Mark Decascos, Crying Freeman), John will have his hands full if he wants to get out alive. Fortunately, John has hitherto unseen allies, as he finds that he isn't the only one standing against his former masters.
MAN ON THE RUN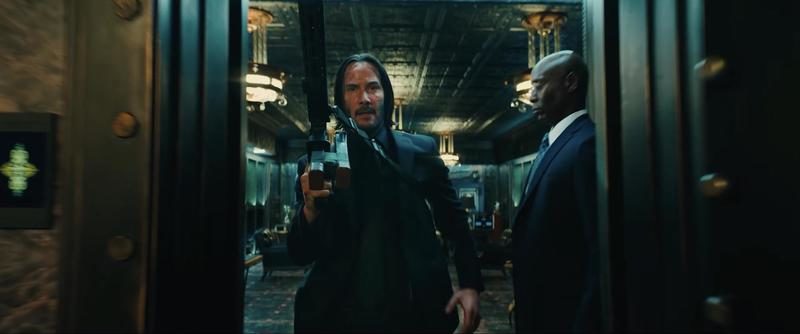 Parabellum wastes no time, opening with John on the run from the previous film's ex-communicado directive. From New York to Casablanca to the swank confines of The Continental Hotel, Reeves is in peak form as the unstoppable hitman. How long he will continue to operate at this level, given his age (he's 54!?), is anyone's guess, but he's gone on the record as saying he'll keep making these movies for as long as people come out to see them.
The script has four credited writers, but it honestly doesn't matter – nobody goes into a John Wick movie looking for complexity of plot or memorable dialogue. This time around, the character is even more stripped down than usual, with John's previous anguish (from the first film) and sense of obligation (tortured) nowhere to be found; here, John is more of a cypher than he's ever been, dispatching foes left, right and center with lethal efficiency. Make no mistake, this is still the role the man was born to play, but one longs for the previous films' actually giving Reeves reasons to use more than one facial expression.
ZERO TOLERANCE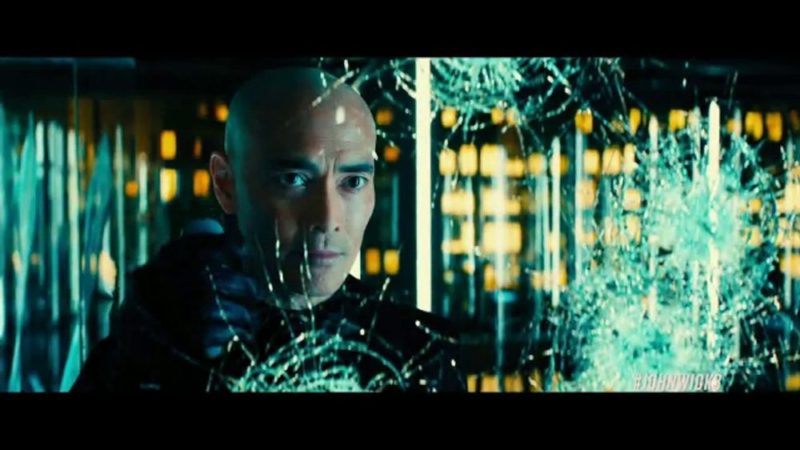 If you only know Mark Dacascos from his role as the host of TV's Iron Chef, one humbly recommends you check out Crying Freeman (1995) and Brotherhood of the Wolf (2001) to check out his action movie credentials. A mainstay of low budget, direct-to-video martial arts flicks for years, Dacascos is one of those fantastically gifted action performers who just never seemed to catch a break. Indeed, the last time Dacascos was in anything approaching a Hollywood blockbuster, it was the godawful Jet Li-DMX vehicle Cradle 2 the Grave (2003), and the less said about that, the better.
In Parabellum, Dacascos as Zero is introduced in his cover identity as a sushi chef, when he is approached by the Adjudicator to carry out her orders. Amusingly, Zero is also one of John Wick's  biggest fans, and when he finally sees his idol in action, the look of awe and respect on the man's face speaks volumes, as does his decision to let his students soften the guy up before joining the fight.
When John and Zero finally face off, the fight is swift and brutal. Even if the outcome is never actually in doubt, Dacascos gives his all in selling the mano y mano nature of the confrontation. And, when the inevitable finally occurs, Zero receives the greatest compliment of his remaining life in the form of John Wick's taciturn approval.
THE LORE OF THE HIGH TABLE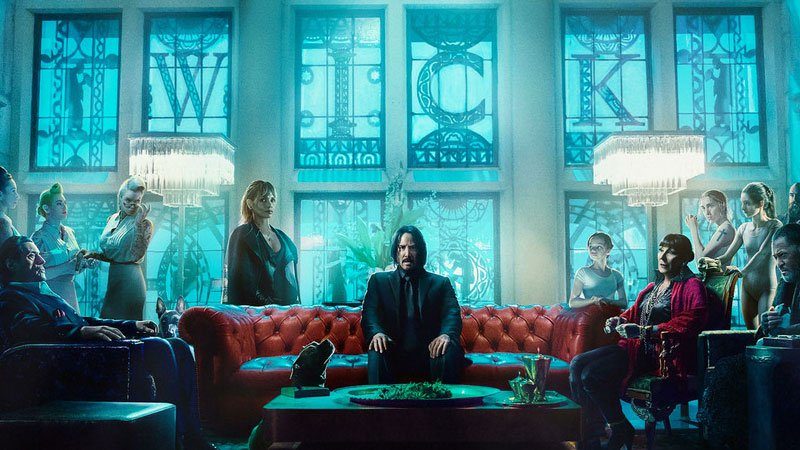 Something that elevated the first two films in the series was the inclusion of an entire underworld infrastructure that implied an entire world of lore that we were only scratching the surface of. Aside from watching Keanu dispatch foes like so many annoyances, hints at the nature of the High Table, the assassins' code of conduct, and even the services offered to them made for fantastic bits of world-building.
Parabellum fleshes out more of the lore by introducing Jerome Flynn (Game of Thrones' Bronn) as Berrada, the manufacturer of the High Table's signature gold currency. Flynn isn't exactly stretching his acting muscles here, playing the self-centered and somewhat flamboyant Barrada as a variation of his GoT character, complete with an eye on the bottom line.
The biggest surprise this time around is the introduction of the head of the High Table (Wonder Woman's Saïd Taghmaoui ), who apparently has nothing else to do with his time other than sitting in the middle of the Moroccan dessert, waiting for people to pass out in his camp's general direction. Ridiculous as that is, the means by which he and John arrive at something resembling an accord is as fascinating as anything else we've already been shown.
A VISIT TO THE ALMA MATTER?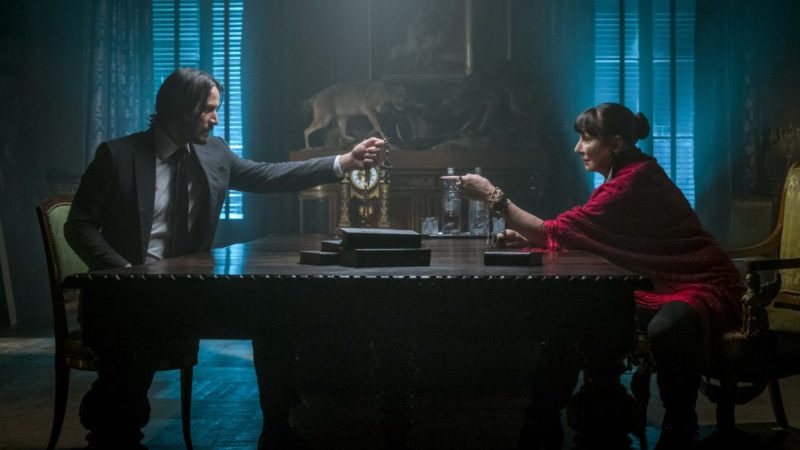 Despite being ex-communicado, John is still able to call in favors from people who owe him one (however unwillingly). These include the mysterious Director (Anjelica Huston, The Addams Family) and Sofia (Halle Berry, X-Men), an assassin-turned manager of The Continental's Casablanca branch. Sadly, Huston doesn't get all that much screen time, but what little she does get hints at our (anti-)hero's origins, with the Director's ballet students sporting the same tattoos that we saw on John's back way back in Part 1.
From what we see of the ballet school, students dedicate about as much time training in combat as they do the finer arts, and it isn't too hard to imagine a future series entry spending more time within its walls. While whether or not Keanu can pull off ballet tights is another matter entirely, the ballet school adds yet another layer of texture to the assassin's world.
 MOTHER OF DOGS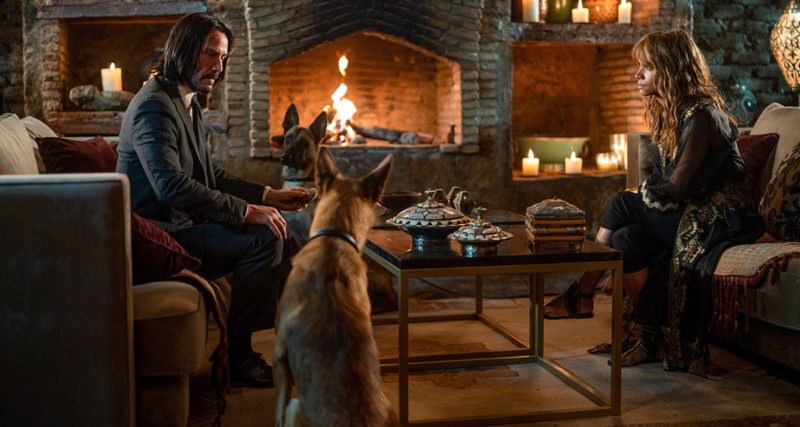 Faring well in her first major role in ages is Halle Berry (Swordfish, X-Men) as Sofia, who is the very definition of a reluctant companion to John. Despite making it abundantly clear from the outset that she wants nothing to do with the errant hitman, John uses a High Table Marker to call in a blood debt, the same sort of obligation that got him into this situation in the first place.
As a retired killer herself, Sofia is no slouch at the series' signature gun-fu, taking out baddies just as well as John (if not better). Awesome as Sofia is, though, special mention must go to her dogs, who come replete with their own special set of skills. Indeed, the canines pretty much steal the show during a pivotal action sequence, where their kill count comes to rival that of John and Sofia's. Given the series' history with dogs, it's incredibly satisfying to see them represented in this way.
 GUNS – LOTS OF GUNS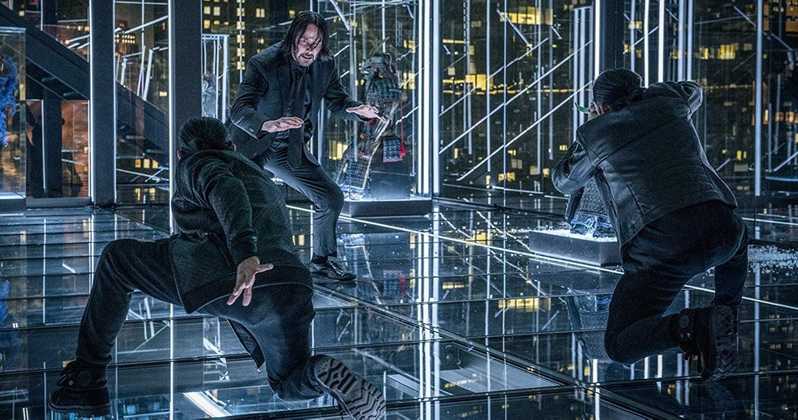 Parabellum's action is as hyper-stylized as ever, incorporating everything from leather belts to horse stables into the mayhem. Director Chad Stahelski (who was Reeves' stunt double in The Matrix) has lost none of his ability to come up with inventive screen homicides, and it shows: The film starts strong, with John taking out an opponent with a library book, followed by a hilarious scene in an antique weapon shop, and topped off with a bone-crushing motorcycle chase before stopping to take a breath for plot purposes.
It is only in the film's final act that the action begins to dull the senses, not due to a lack of quality, but an over-abundance of it. If there is an upper limit to the number of ways one can watch somebody gun-fu'd to death in a single film, John Wick: Chapter 3 achieves it, stomps on it, and proceeds to shoot more henchmen in the neck for good measure. This is a pity, as Zero's final students are portrayed by The Raid's (2011) Indonesian badasses Yayan Ruhian Cecep and Arif Rahman. Like their master, they are fans of John's work, and, following some wry observations, are more than game to see if they can take him on. The confrontation takes place in a beautifully designed room consisting almost entirely of glass, and if one wasn't so exhausted by all the killing that came before it, I probably would have had more fun with it, but this does not, in any way, take away from the sequence's brilliance.
THE BOTTOM LINE
When John Wick 2 ended, it had a note of urgency to it – with one hour to get out of New York City, audiences couldn't wait to see how John would get out of his latest predicament. Sure, a lot of his grief was of his own making (from refusing to pay back a debt he owed) but the guy he killed was a total douche, so we understood where he was coming from.
By the time we get to the end of Parabellum, the final seconds are less about urgency and more about swagger. Forget closing the book on John's wife and dog; franchises need to endure, and sequels teased with minimum subtlety. If that's what you came in looking for, more power to you – the next installment is set to come out in 2021. Where the end of Part 2 derived anticipation from John's precarious situation, Part 3 ends with Baba Yaga in full-bore revenge mode.
John's wife would be horrified.
What do you think of this movie? Tell us below!