All eyes are on the new queen Beatrice Luigi Gomez, but we can't deny that the Top 5 of Miss Universe Philippines 2021 are all strong contenders for the crown. Their supporters definitely agree. Case in point: 1st runner-up Maureen Wroblewitz, a crowd favorite from the very beginning. And her biggest fan is none other than her boyfriend: singer-songwriter Juan Karlos Labajo. He rarely posts on social media, but during Wroblewitz's MUP candidacy, he was all in. Just look at how supportive (and hilarious) Juan Karlos is for GF Maureen:
Notice me senpai
View this post on Instagram
"Please vote for her, so she will notice me," he captioned. It's a legit notice-me-senpai post. Is Juan Karlos Ms. Pangasinan's boyfriend or fanboy? We're seeing both here. We definitely love supportive SOs!
Pa-mine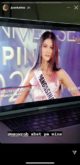 Juan Karlos says mine please, no grab, no steal. Understandable, because it's Maureen Wroblewitz we're talking about. You can definitely hear him hollering his support in the background audio of his Instagram story.
LF: My GF
Funnily enough, during the candidates' dance segment, he briefly lost sight of his girlfriend after the camera changed, but he still found her quickly. "Teka, nasaan na ba siya?" Then he continues hollering like nothing happened.
Ms. Pangasinan Fanclub President
Here is part 2 of boyfriend or fanboy: Mr. Juan Karlos posting supportive posts about Ms. Pangasinan like she wasn't his girlfriend. He's definitely the president of Ms. Pangasinan Fanclub.
Pick-up lines
Juan Karlos has baon. Does he use these kinds of pick-up lines when he's with his girlfriend? So whipped, it's so cute! Ikot-ikot lang, Maureen, sa iyo din umiikot mundo ni BF. You've definitely got him wrapped around your finger. (Sana all!)
But he's def so supportive
View this post on Instagram
Juan Karlos might make his posts sound funny, but he's definitely supportive of his girlfriend — and not just in his posts. He's always got her back. Exhibit A: Maureen admitted her boyfriend hates social media, but he takes her photos anyway.
And he could also be pa-kilig
View this post on Instagram
"Nawa'y makamit mo ang lahat ng iyong mga pangarap, aking maliwanag na bituin!" Those words paired with a sweet photo of his girlfriend . . . We can help but swoon! (But he also can't help but be cutesy and teasing: "Hay ang swerte mo talaga sakin. . . . Cute mo talaga gigil ako sayo."
Miss Universe in JK's heart
Ms. Pangasinan may not have won the crown, but she definitely won the heart of Juan Karlos Labajo. "Ikaw pa rin ang Ms Universe ko." He's sooo in love!
Bonus: He makes her laugh, any way he can. Sana all talaga.
Follow us on Facebook, Twitter, Instagram, Tiktok, and Youtube for the l8est entertaining, useful, and informative lists!