8 Sara Bareilles Songs for the Unloved
May 18, 2015 &nbsp • &nbsp Juan Miguel Severo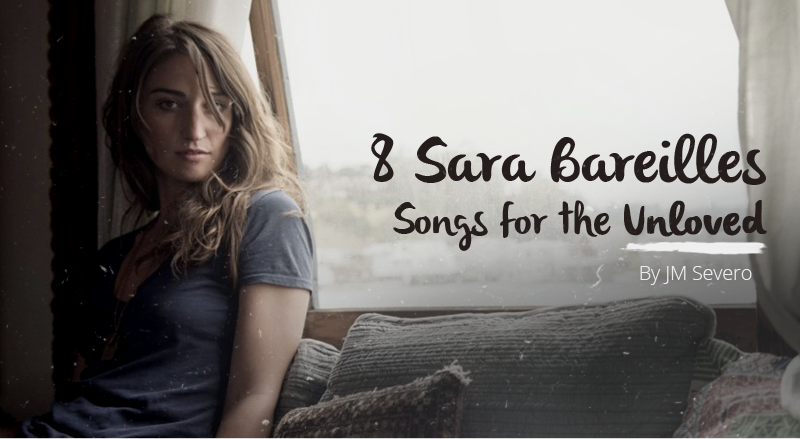 Let's talk about unrequited love.
I see you're still reading this and I'm not surprised, really, because it turns out the universal experience next to being in love is not being loved back. Admit it—we all have our own versions of the story. We all have something to contribute to the discussion (besides "Ang sakit, ****"). We've all been that person who was all too willing to say yes without even having to hear them ask the question. If you're one of the very few who has never experienced this global tragedy, who has always had the wonderful gift called reciprocation, well, congratulations, ikinaganda mo 'yan at may oras ka rin.
I'm sure it's another one of those things that you once cried over during videoke nights with your friends, and if you're not done yet with the grieving period, or still hoping to turn the tables and make things work, take this list as a reminder that singing Roselle Nava hits, as effective as catharsis as it is, is not the only musical remedy out there. No, Taylor Swift and Adele songs have already been played too many times, and they write more about their exes, anyway. Here's an artist who sings about not just her exes but those who didn't become hers to begin with. Here's one you might have overlooked for quite a while now: Sara Bareilles.
No, she's not just that woman who sang the truly empowering Brave or that catchy tune years ago, Love Song. Ladies and gentlemen, this is an artist who knows pain in a Lord-ba't-'di-mo-pa-'ko-kunin-para-tapos-na way. So I've decided to make you a list of her songs written especially about unrequited love, put them in an order apt for the roller-coaster feeling of being in love and wanting to end it all, and here's to hoping it accompanies you through these dark times.
(PSA: STAY AWAY FROM SHARP OBJECTS.)


Here in these deep city lights/Girl could get lost tonight/I'm finding every reason to be gone/ There's nothing here to hold on to./Could I hold on to you?
Let's start with a general state of loneliness. Suddenly it strikes you: you are alone. You ache for a place to belong. Or maybe another person you can be lost with. You know a place isn't a person, yes, but you're lost in the city and you somehow found yourself walking in the middle of the cold night, watching people go about their lives with other people they seem to care about. So it hits you. Nobody loves you. Umiwas ka sa blade. You meet someone who seems just as lonely. Yay, there's hope! Loljk, nope!
Killer lines: "These boys only listen to me when I sing."

He's taken and leaving/but I keep believing/that he's gonna come round soon
Welcome, Optimist! Welcome to the land of make-believe called One Day He'll Notice Me! In this world, you will meet Paul: Ang Lalaking Pa-fall. In this world you will see the best of the situation. In this world, you will see the best of him. Sure, he hasn't realized it yet. Sure, he's been broadcasting mixed signals. Sure, he is in a relationship now(!?!), but we were taught about the power of positive thinking! You don't have his hand or anyone's hand to hold anyway, so think positively na lang! Right!?! RIGHT!?!
Killer lines: "I miss you like you were mine."

My heart breaks in a heartbeat/and you storm me when you come and go/the taste of something sweet should've warned me 'bout the undertow/Oh, I couldn't find a better man to let me go
You were vulnerable and now you're in an even more dangerous situation. You recognize what it is; you have been in one of these before. Maybe you got too distracted by his charm that you missed all the DANGER signs. Again. You aimed to make a landing in his arms but it's too late when you realized you were falling into a trap instead. Now it's too late and you've found yourself in murky waters, in too deep. Do you like it? A little, because you haven't felt this alive in a long time!
But all the kilig aside, you know that the real struggle is about to begin.
Killer lines: "Why wear my heart on my sleeve when it looks so good in your hand?" "'Little girl, I don't know why you stay.' If I had a feather for every time Daddy said that I could fly away."

I would die to make you mine/bleed me dry each and every time/but I don't mind, I don't mind/I would come back a thousand times
It's starting to really hurt now, isn't it? You're starting to feel helpless, aren't you? But no, you're not the type to give up. At least, not just yet. If you love someone you fight for a chance to be with him, you say. He is worth languishing for. He is worth the effort and the waiting. So you tell yourself to just hold on. You tell yourself not to let the darkness of the situation eat you up. Maybe eventually he'll find the light and choose you. What if he suddenly figures out it's you that he needs? Don't you want to be there for him when he finally comes through?
And so you stay, silently waiting by the sidelines, despite what the odds are telling you. You endure the pain of not being seen. You refuse to withdraw because you believe he's worth staying for, so much that you forget you deserve more than scraps of his attention.
Killer lines: "Nothing could be worse than the risk of losing what I don't have now."

She is bright lights and cityscapes/And landslides and masquerades/And she'll take all you ever have/But I'm gonna love you
It has come to this.
You see somebody else love him and you're convinced you can do a better job. It frustrates you because you know he deserves so much more that what he's been getting and you are so willing to give that – if he'd only let you. It's a silent kind of pain this time, but the yearning to be with him is louder than ever. This is the part where you call your friends and ask them to hit you over the head because you really need a good dose of reality. Yes, you will listen to their well-meaning counsel, but the heart is an involuntary muscle, so they say, and you are one hard-headed idiot whose only crime is not knowing when to let go. So good luck. And you're welcome.
Killer lines: "I'm gonna love you 'til you start looking back. I'm gonna love you so right I wouldn't need a second chance."

Leave unsaid, unspoken/Eyes wide shut, unopened/You and me, always between the lines
I bet you're tired at this point. Do you love him? Yes. Do you think it's enough? Not anymore.
You begin to see clearly. You begin to care for your own heart. Choosing to be okay with being on the losing end of an impossible equation is not doing you any good. You start to realize how much you've been making excuses for him, and you know that for your sake you have to stop.
But there's no off switch to this.
Killer lines: "Too late, two choices: to stay or leave. Mine was so easy to uncover. He'd already left with the other." "I tell myself all the words he surely meant to say. I'll talk until the conversation doesn't stay on. 'Wait for me, I'm almost ready' when he meant let go."

Something always brings me back to you/It never takes too long
You fail despite your efforts.
There are days when you don't even think of him or associate him to things you both like or places you've been to. However, there are days that you wake up with a text message and you feel your new world crumbling like a stack of Jenga. You have to start from scratch again. You check your chat history and revisit the wounds that are once again made fresh. You look at photos of him online. You try to recall the gestures of kindness you mistook to be displays of affection. You do it all until you grow sick and tired of the habit, and yourself.
You begin again.
Killer lines: "You're neither friend nor foe though I can't seem to let you go. The one thing that I still know is that you're keeping me down."

I'll be alright, just not tonight but someday
Let's finish on a positive note.
The first step in solving a problem, they say, is acknowledging that there is one. Here is where you finally take that step. You know this is going to be hard and you don't expect yourself to sail through it gracefully, but you know you can come out of it alive. Soon enough. You know the universe is not the only one to blame here; you made your own decisions, after all. You are finally embracing the fact that the love has failed but you also know it's not the end of the world for you.
Killer lines: "And I'm not the girl that I intend to be I dare you, darling, just you wait and see/But this time not for you but just for me"
You know you have to stop living in that quagmire and now is pretty much a time as good as any to begin, right? So go eat that bucket of ice cream in your fridge. Call your friends for a night out. Go to a karaoke bar and scream you'll be alright someday. Dance! Do what you want because you are single and are most entitled to do so. Sure, you were never together, but that doesn't make your pain any less valid. That doesn't make the love any less valid.
You have loved. Now, by all means, live. Share your feels in the comments, please.