Who wasn't moved by the recent viral story of the son of a tricycle driver and vendor who got accepted into 30 universities abroad? It's the kind of story Pinoys love — young people defying all odds to achieve their dreams and wave our flag on the international stage. But while thousands rejoice in this young student's alleged feats, others can't help but think something doesn't add up.
However, 8List has received confirmation from one of the universities that Julian Martir did, indeed, get accepted. Here's what we know.
UPDATE (5/24/23): 8List has received confirmation from two more universities.
An undergraduate and his inspiring story
Early this May, local news outlets started sharing the story of Julian Martir, a 20-year-old student graduate of Negros Occidental High School who allegedly got accepted into at least 30 universities in the United Kingdom and the United States. Interviews with him have revealed that his offered scholarships collectively amount to around P106 million.
This student's incredible feat swept everyone away. On Facebook, a PhilSTAR Life post about him garnered 16.6k reactions with thousands in the comments section sharing his joy. Many congratulated his parents and expressed how proud they are that a Filipino has, once again, showed the whole world how intelligent we are.
In an interview, the student said he is even thinking of "attending universities in Australia, such as the University of Sydney and the University of Queensland, while being waitlisted on a priority list at Connecticut College."
Netizens Are Scandalized After Woman Fakes College Credentials — But Is the Harassment Justified?
Netizens Are Scandalized After Woman Fakes College Credentials — But Is the Harassment Justified?
Alex Alvarez | Aug 03, 2021
How did he "climb" to the top?
In the same interview, the student revealed how he managed to get allegedly accepted into 30 universities abroad. He claims he had to take a gap year, study the undergraduate admission process abroad, and write around 100 application essays.
Eventually, he stumbled on a WhatsApp group where he received guidance from college admissions experts.
But it wasn't long before the internet started casting doubts at his story's authenticity.
Inspired by the Avengers

A few days ago, News5 aired an exclusive interview with the student. He was asked why he wanted a "double course" in mathematics and science: "I want to be a quantum scientist po kasi makikita mo 'yan sa mga Avengers po," said the student.
"Gusto kong i-build yung biomechanics prototype po para magagamit ko siya sa glasses po na pwede tayong maka-communicate sa mga animals po," he adds. "Kasi yung glasses na 'yan parang inadvance ko yung technology, parang 'yung tinatawag natin na super computers po."
This interview had a few netizens raising their eyebrows. After all, it's not every day you hear of a supposed genius who claims he's inspired by a superhero movie.

"Bro is spewing words he heard from Marvel movies," one netizen reacted to the interview. "This is why you shouldn't take superhero movies seriously!"
"So fake and unserious. Avenger Julian Martir's ability is reality warping. Scarlet Witch is shaking," said another.
Negros Occidental High School principal is waiting for solid proof

In an interview with DZRH, Donna Bella Atosaga, Assistant Principal for Senior High School at Negros Occidental High School, said that they are still verifying the student's claims. She did, however, confirm that the student came to them last year to ask for a letter of recommendation. But they hadn't heard from him since.
"Kung totoo man 'yan, we'll be happy for him pero we are still verifying yung mga claims niya," said Atosaga who described the student as "diligent."
Asked why she needed to verify, the assistant principal said she read comments online accusing the student of faking his credentials.
"May mga comments na nababasa ako bashing him and telling na i-fact check yan. So parang, hindi namin pwede i-confirm ang isang bagay na hindi naman talaga kami sure," she said.
"Nagta-try kami na i-e-mail 'yung mga nabanggit na universities sa US and sa Europe kung totoo nga na siya ay nabigyan ng scholarship," she adds. "Hanggat wala kaming nahahawakang dokumento na nagpapatunay, hindi kami mag-coconfirm."
The internet gets increasingly suspicious
While many were happy for the student, some netizens couldn't help but doubt his story. After all, if even the Assistant Principal of his school needed proof from the alleged universities, something fishy must be afoot.
Many also questioned the financial side of it all.
"How did he raise money for TOEFL and 30+ applications? The article should probably clarify that for other aspiring students since that's not a small amount of money," read one comment on Facebook.
"Curious how the funding was obtained for 30 US university admission/application fees. I know that for our own kids, I limited their applications to five institutions max, only because the application fees are costly," said another.
Netizens criticize the media

"PH media got LOLd by Julian Martir in real time. Man's not passing any international scholarships be [serious]," said one netizen on Twitter.
The GMA News article that featured his story has since been deleted. The Philippine Star also deleted their tweet linking to the story.
Meanwhile, ABS-CBN's ANCX got to talk to the student regarding the issue. He claims he has been a target of cyberbullying for a while now and that his teachers didn't know of it. He also insisted that his acceptance letters weren't fake.
Fact-checking
In an effort to verify Martir's admission status, 8List took the initiative to reach out to all 30 universities that Martir had listed. Understandably, most of the universities declined to disclose information, citing their privacy policies. However, the team has received confirmation from three universities — Alfred University, the University of Arizona, and Johnson & Wales University — that Martir was, indeed, accepted for the upcoming academic year.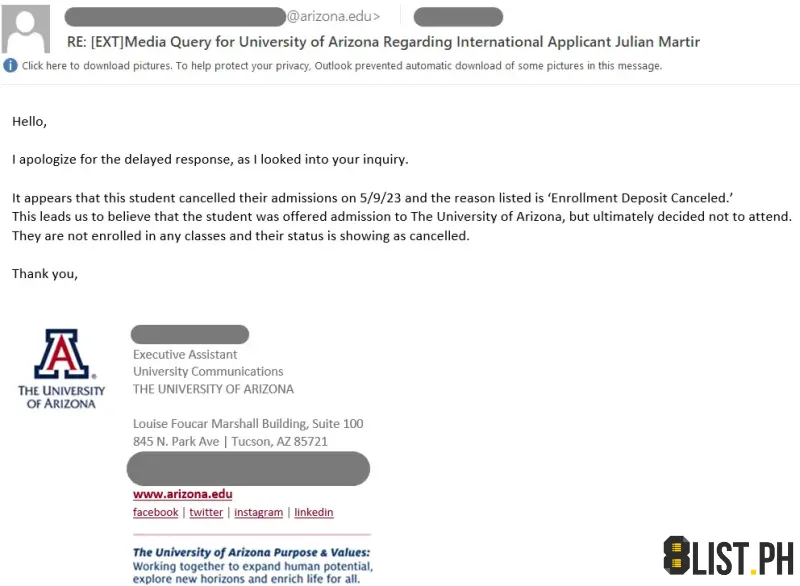 PSA: Don't believe everything you see on social media
To be clear: We don't know if Julian Martir's story is 100% legit.
Although there may be some aspects of Julian Martir's story that appear questionable or do not add up, it is critical that we do not publicly denounce anyone unless we have all the facts in order.
Social media and online platforms have been known to act as echo chambers, where people tend to amplify unsubstantiated information and spread rumors without giving others the benefit of the doubt. This can lead to a destructive cycle of hate and mistrust that ultimately harms innocent individuals and communities.
Let's all be responsible netizens.
What do you think about this Negros Occidental student and his story? Share your thoughts with us in the comments!
Check us out on Facebook, Instagram, Twitter, TikTok, and YouTube, to be the first to know about the latest news and coolest trends!