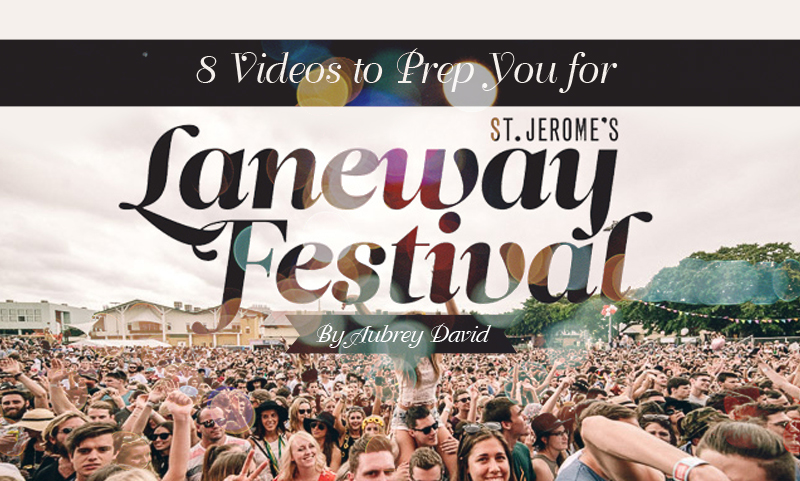 Only one more week to go before Laneway Festival 2105!
Here's a playlist of 8 songs that could make time go a little faster for all of you who will be singing and dancing your hearts out on January 24, 2015. Because most of you may already know the bigger names (St. Vincent, Future Islands, FKA Twigs, all of which we've featured here), we're mostly focusing on the local and up-and-coming artists with this one. These are all live, too, so you'll be able to get a feel of what's in store for you on Saturday next week!
Most of the info here could be found on St. Jerome's Laneway Festival website, as well as Laneway 2015 app, which is available for free in Android and iOs (very useful for attendees, as it contains schedule, event info, news, and event maps).

Making a Laneway comeback is Australian psych rock group Pond, which is composed of members from bands like Tama Impala, The Growl, and The Silents. Laneway 2015 audiences will be glad to know that their lates album "Man, It Feels Like Space Again," will be released on the eve of the festival, so there will most likely be new and exciting music in store for the crowd. Click here for more Pond music.

A four-piece, indie rock/electro band from Malaysia that have shared stages with acts like The Chemical Brothers and The Wombats. Check out their YouTube page for more tracks!

This one's another band from Malaysia that is slowly making waves locally and internationally. Pastel Lite–composed of vocalist Eff Hakim and multi-instrumentalist Mohd Faliq–plays experimental music, and has received nods from various media such as Esquire and Time Out. More of their music here.

Laneway 2015 attendees might have already heard that Lykke Li will not make it to the festival due to health reasons. Her replacement will be award-winning English electronic producer/musician Jon Hopkins. Some of his long list of collaborations include work with Coldplay, Purity Ring, and Brian Eno. More of his videos and music here.
This American singer-songwriter was nominated for awards like the Sound of 2014 by the BBC and the MTV Brand New Nominee last year. Her debut studio album "Goddess" has received numerous praises–Rolling Stone, for instance, said that the album "confirms a beguiling, diaristic voice that echoes avant-pop forebears (Aaliyah, Fiona Apple, Kate Bush) and a taste for gloomy, synth-centric productions." Check out more great performances here.

Hanging Up The Moon is Singaporean Sean Lam's (of Concave Scream) solo project. "The Biggest Lie In The World," his second release, used collaboration with musicians Dean Aziz (also from Concave Scream), Leslie Low (The Observatory) and Victor Low (Affixen). A third album is reportedly in the works. Get more announcements from him here.

This dream/electronic pop duo Weish and Din from Singapore draws influences from acts like Frou Frou, Alt-J, Thom Yorke, and Boards of Canada. In case you were wondering, the band name is pronounced as "dot jif"–this could come in handy for all the praises you'll most likely have for them after their Laneway set. Check out more of the live, chill music here.

Royal Blood, which is made up of bassist/singer Mike Kerr and drummer Ben Thatcher, is only two years old, but have already received a lot of great feedback from rock stars that have been around for decades. In an interview with NME, Foo Fighters frontman Dave Grohl said that he was"so excited to see a band that was heavy, had riffs, had songs, and could really perform, and an audience that was genuinely excited to watch them play." Royal Blood have toured with Arctic Monkeys, and will be on the road with Foo Fighters this year. Get some amazing rock and roll music here.
Are you going to Laneway 2015? Who are you most excited to see?  Share your favorite artists on the comments section below!