The animated adaptation for the Filipino award-winning classic comic Trese finally landed on Netflix last June 11. The six-episode series follows the story of young Alexandra Trese who battles supernatural criminals and brushes with Philippine mythological creatures in the City of Manila. As much as the animation style was applauded online, there were mixed feelings for the Tagalog dubbing. Many Pinoys weren't satisfied with how Filipino-American actress and model Liza Soberano voiced the heroine.
Not everyone liked the Tagalog dub for Trese
Isn't this the first time that Alexandra Trese spoke outside of the comic book? This is the first time that people heard her voice. So how did some people conclude that Liza Soberano did it wrong or Trese doesn't sound like this or like that? #TreseOnNetflix #TabiTabiPo

— Jong ⚖ 🇵🇭 🆙️ 🐺 (@attyjong) June 12, 2021
Pinoys are a tough crowd to please. We always seem to have something to say about everything. The latest in our long list of Things to Complain About is how Liza Soberano voiced Alexandra Trese in the series. Many Pinoys weren't a fan of how she delivered her lines because, at times, her distinct accent would slip through the Tagalog words. Some commented that her "monotone" delivery of the lines sounded as if she was reading from a script (well, she was) — she could've added more emotion to her voice. And so launched an internet debate on whether or not Liza was fit for the role.
QUIZ: Which 'Trese' Character Are You?
QUIZ: Which 'Trese' Character Are You?
Meryl Medel | Jun 15, 2021
Surpise: Many Pinoys think Liza was not fit for the role as Alexandra Trese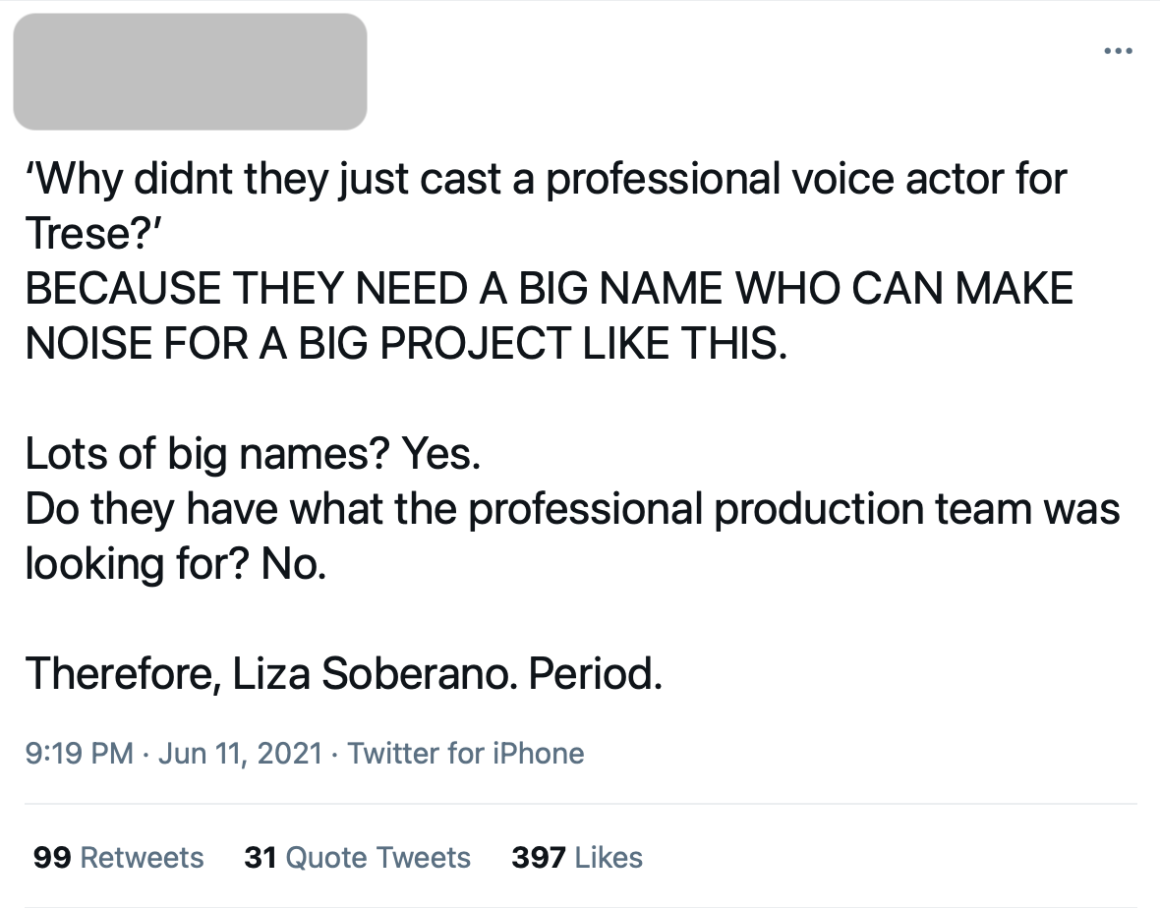 When it comes to acting, Liza is arguably one of the best in her generation with a range that has only gotten better with time. But many think that's exactly why she wasn't fit to give Alexandra Trese her voice — Liza is a big-name actress, yes, but Trese's character needed a professional voice actress. Liza is used to expressing emotions through her face; we don't need to hear her cry or laugh, we just need to see her do these things and we feel what she wants us to feel. Voice acting is different because you have to act through your voice alone, and this is where many think the actress fell short.
Comments say the casting should've gone to professional voice actors instead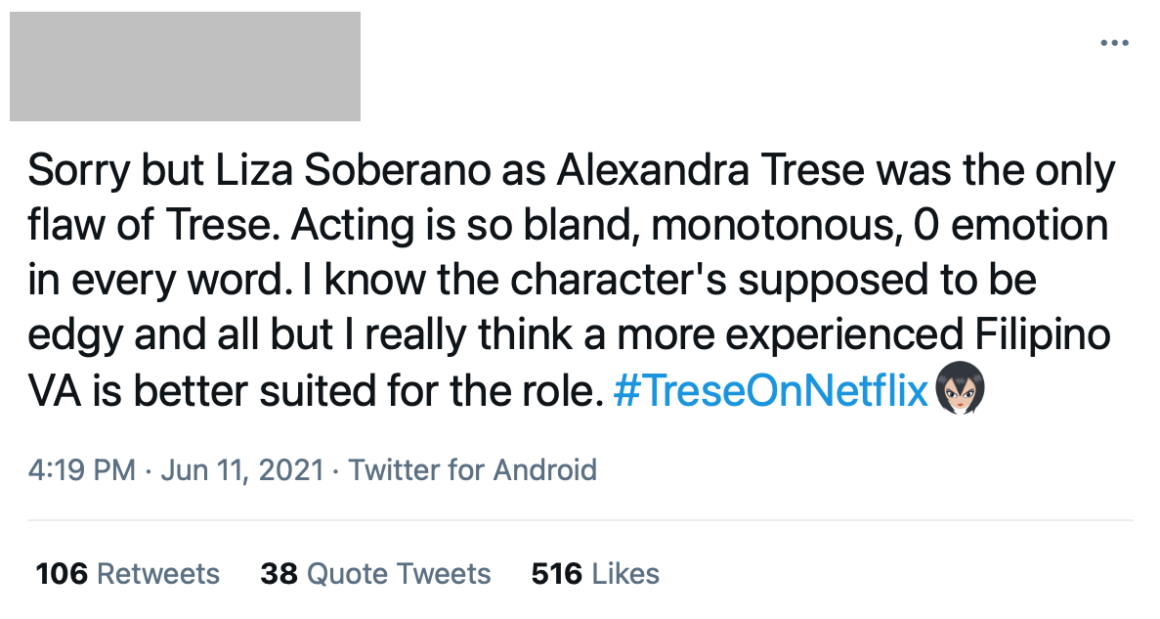 One post on Facebook talked about how amateur voice artists had to voice side characters first before getting the big roles but Liza didn't have to do that. "She skipped to the lead role just because she's a celebrity," said the post.
No one is going to deny the fact that Liza was chosen because she is already a big name not just locally but also internationally. She herself said she was offered the role. Trese executive producer and screenwriter Tanya Yuson said in an interview that they had a shortlist of people talented enough to pull off Alexandra's character. Eventually, Liza was chosen not only for her popularity that did carry some weight but ultimately for "her natural ability to deliver the role."
Trese co-creator Budjette Tan spills some tea on Netflix's adaptation of the comics | #8MinutesWith
Trese co-creator Budjette Tan spills some tea on Netflix's adaptation of the comics | #8MinutesWith
Kel Fabie | Jun 14, 2021
Professional voice talent Inka Magnaye thinks Liza did okay
First note: Liza Soberano's voice is perfect for the character. It's got a great balance of youthfulness and grim. A bit more exaggeration could have added more dimension, even an exaggeration of a deadpan delivery (think Daria). But other than that, I'm liking it so far!

— Inka Magnaye (@inkamagnaye) June 13, 2021
Though random Pinoys netizens thought Trese should've been voiced by someone else, professional voice talent Inka Magnaye thought otherwise.
"First note: Liza Soberano's voice is perfect for the character. It's got a great balance of youthfulness and grim," Inka tweeted last June 13, as she watched the first few episodes of the series. Inka, a former radio DJ and an in-flight voice-over artist for Philippine Airlines, further commented that Liza "ISN'T monotonous."
I was just talking to an actor friend of mine about almost exactly this. You can be a great actor when it comes to your physicality—your face and body perfectly conveying the necessary feeling, but sometimes the voice acting can fall short bc people can see ur face anyway.

— Inka Magnaye (@inkamagnaye) June 13, 2021
"She has dynamics in her delivery. However, she DOES tend to deliver her lines in almost the exact same cadence, and people confuse that with monotony," Inka adds.
The voice talent also thinks that it could've been fixed with better voice direction. "Whoever was directing her during the recording sessions could have guided her a little more to explore different deliveries," said Inka.
Inka did praise American actress Shay Mitchell's voice in the English dub complimenting the actress on the different nuances of her delivery. "I like how Shay Mitchell does the deadpan badass delivery! Deadpan blase, deadpan annoyed, deadpan snarky. The little nuances are so satisfying."
the character for sure! She just needed to lean into the other aspects of how to deliver other lines a biiiiit more ☺️

— Inka Magnaye (@inkamagnaye) June 13, 2021
Overall, Inka thought Liza got "the essence of the character" but she just needs more practice in her delivery. Things to note for Season 2, perhaps?
"Watching it in another language defeats the purpose of having a Filipino animation"
A viral post also went around social media of "The best way to watch Trese" and it showed a Netflix screen ticking the Japanese audio with English subtitles. The comments section of the meme were flooded with everyone's opinions on the best way to watch the series. While some said they're remaining faithful to original Filipino content by watching with Tagalog audio, some chose English or Japanese. The thing is, if you really can't stand the Tagalog dub, feel free to switch audios. It doesn't make you any less of a Filipino, it's just personal preference. Just make sure you do it without bringing down the show's other talents.
How did Liza prepare for her dubbing?
View this post on Instagram
For Liza, the journey to giving Alexandra Trese life through her voice was both nerve-wracking and exciting. It was a step outside her comfort zone. She mentioned in an interview that she was "very hesitant and scared" to try out voice acting because she "didn't want to fail anyone."
From the start, the show's director, Jay Oliva, gave Liza and her voice coach pegs for voice acting. Oliva told them that Alexandra should sound like Batman — stoic, deadpan, deep. Liza worked on lowering her voice register to sound authoritative and to match with Alexandra's mature, serious nature. The actress also attended voice coaching sessions and made sure to speak only in Tagalog for two weeks prior to recording.
"My biggest takeaway is voice acting is so hard, that is why I have such huge respect for voice actors now," Liza shared in an interview.
You can watch more about Liza's preparation for Trese and the Filipino comics' journey from page to screen in Trese After Dark special on Netflix.
Into the Dark: A *SPOILER-FREE* Deep Dive into 'Trese' Season One
Into the Dark: A *SPOILER-FREE* Deep Dive into 'Trese' Season One
Mikhail Lecaros | Jun 11, 2021
Still, Liza did great
I can't believe Trese is about to premier ☺️ This is my first time watching it in it's entirety too 💀💀

— Liza Soberano (@lizasoberano) June 10, 2021
Let the haters and criticizers say what they want to say. Sure, Liza's dubbing wasn't 100% perfect, but overall, it was still an enjoyable watch. Filipino dubs vary in quality so some are worse than others, but Trese was in the better-quality end of that spectrum.
Weirdly, I love Trese's Filipino dub over the Japanese one. Liza Soberano nailed this. Hard.

— blue marlin 🐟🐟🐟 (@bluemarvin07) June 11, 2021
Sure, Liza's accent was still there and Alexandra Trese sounds like Liza but it's nothing practice and more direction can't fix. Remember, this is her first stint into voice acting. And if her career as an actress proves anything, it's that ya girl only gets better in time.
Bottom line: It's still a win for Filipino culture
Constructive criticism of the show is great since its showrunners can use it to make future seasons better, but let's not turn to personal attacks here. At the end of the day, Trese might pave the way for other Filipino comics and stories to have a global platform. Whether or not you think Liza was fit for the role, the fact of the matter is that an original Filipino story about our folklore still made it to a global audience and that's a huge win for us.
Go watch Trese on Netflix if you haven't yet!
Check us out on Facebook and Instagram and be the first to know about the latest news and coolest trends!