Down Fury Road with 'Mad Max'
May 14, 2015 &nbsp • &nbsp Karl R. De Mesa
Look around you, stranger, for there is nothing as far as the eye can see: only the Wasteland.
It's the year 2060 and we're continuing the adventures of one "Mad" Max Rockatansky (Tom Hardy), the same character played by Mel Gibson in a trilogy of movies from the 1980s; "Mad Max", "Mad Max 2: The Road Warrior", and "Mad Max: Beyond Thunderdome."


This fourth instalment has been 30 years in the making and is still directed by the same guy, visionary action icon George Miller. This time around, the post-apocalypse is atrociously short on resources and exceedingly picturesque in its bareness; the downfall of civilization is not named but everything points to a series of ecological super calamities that have affected the globe and turned everything into desolation.


We are dropped right into the mise en scene of Max's capture, himself a former highway patrolman haunted by the death of his family in the early days of societal collapse. Max is plagued by the guilt of being unable to save his family, and said ghostly hallucinations of his guilt take on sudden and unannounced intense appearances by a child, an elderly black man, and a woman. Max is pretty much bonkers; ergo the moniker.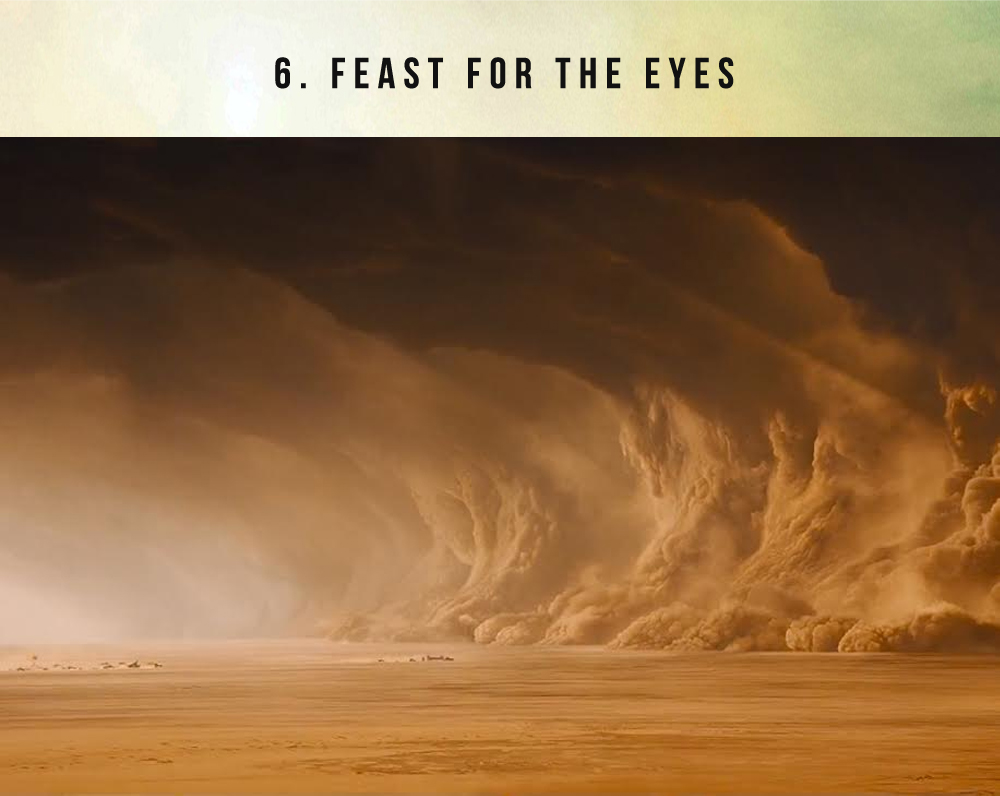 Through excellent color grading, George Miller's new iteration of the wasteland and its bloodthirsty inhabitants take on stunning hues and shades. Seriously, this is a literal feast for the eyes even before all the razzle dazzle action starts.


This is the magnificent backdrop where Max eventually meets Imperator Furiosa (Charlize Theron, sporting a military near-skinhead and an amputated left forearm), one of the generals in the clan of the Warlords that presently has dominion over most of the Wasteland's scant resources. Furiosa is attempting to cross the desert, having spirited a group of beautiful young girls away; all wives of the Warlord King, Immortan Joe–one of whom (Rosie Huntington-Whiteley as the aptly named Splendid Angharad) is all too obviously pregnant with Joe's child.
Naturally, the King wants his wives back; they're fertile and beautiful and can breed the next generation of the human race, malleable enough to be raised in Joe's fascist image. So, he sends out his fanatical army of pale, skinhead War Boys to take down Furiosa and take back his wives without harming them.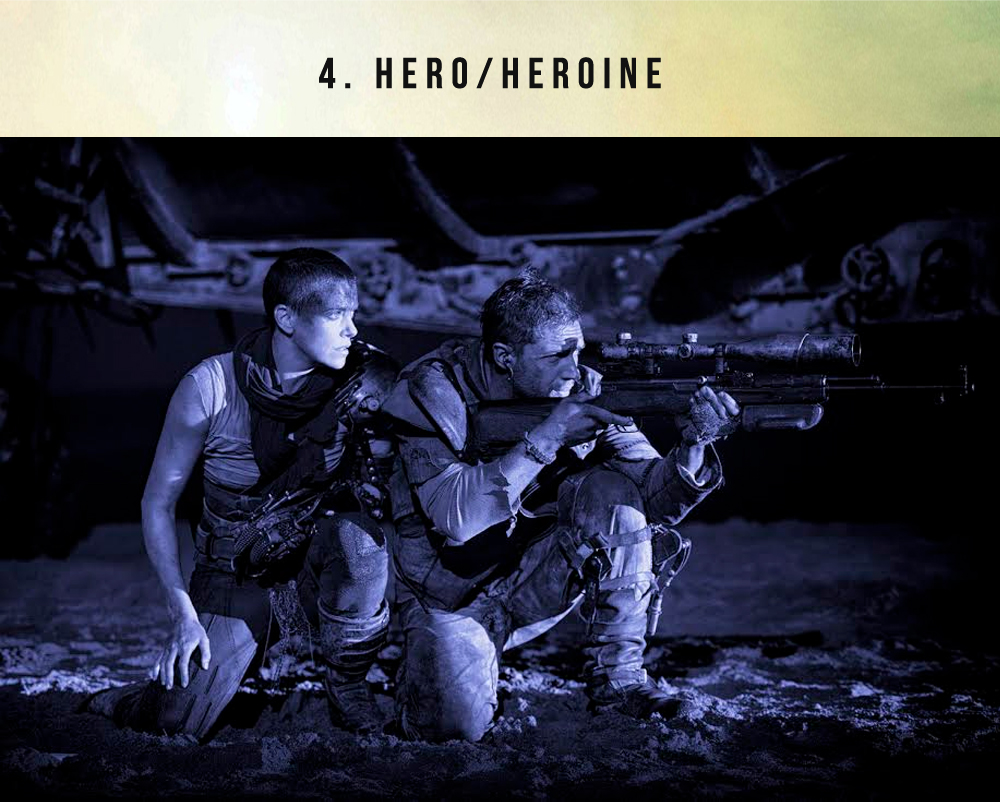 This isn't Max's story as much as it is Furiosa's. Max is a cross between a fool and an unlucky victim here, most of his motivation throughout the movie is simply to escape and survive. Consider: during his captivity, Max was tattooed and turned into a "blood bank" for the War Boys who need constant plasma to survive an unnamed debilitating affliction that weakens organs and renders skin bursting with bulbous pustules. He was brought along because the War Boy Nux (Nicholas Hoult with a V8 engine tattooed on his chest), needs his blood bank with him during the mission to retake Joe's wives.
It's only midway through the narrative that Max is forced to help out and eventually adopts Furiosa and the brides' mission as his own. Good thing he's a pretty okay shot and an even better brawler. He's also as tough as they come and has very useful knowledge of the Wasteland.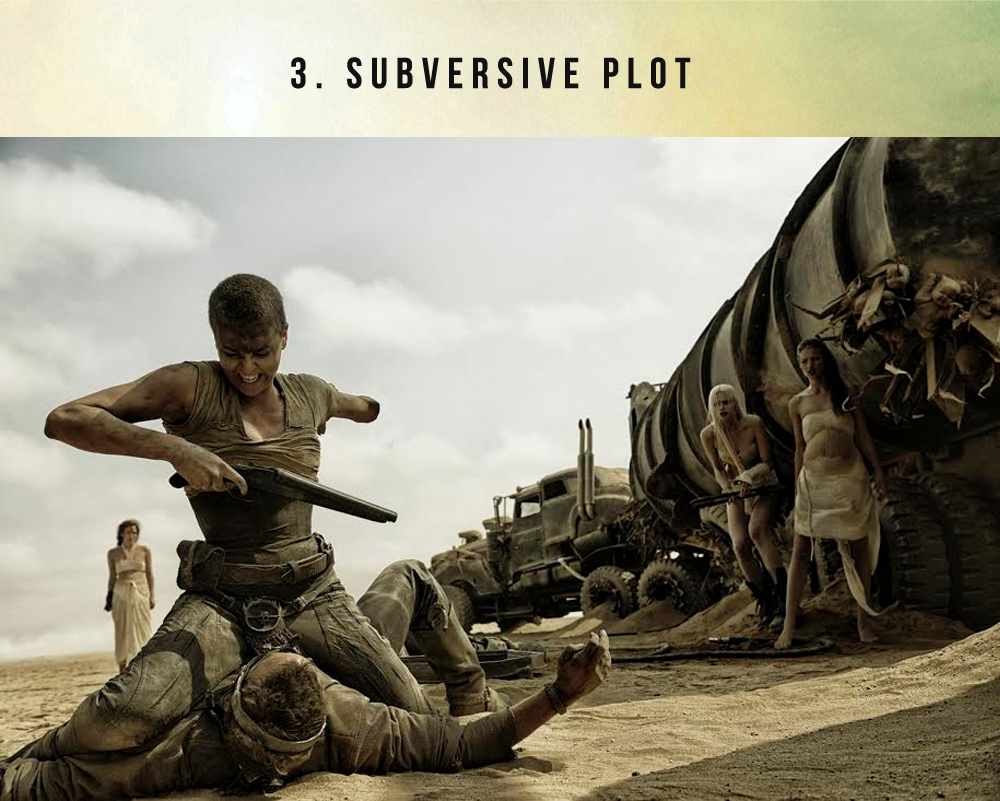 In an interview with io9.com Hardy himself fessed up to this feckless nature of Max: "Max is kind of like a dog. Things just happen to him, and he sort of has to get through it. . . I always thought of him like that and Wile E. Coyote. Because ultimately, it's a bit of a sad story with Max; he just wants to go home, and he gets dragged into other people's drama. And he tries not to connect with them, and then when he does, awful stuff happens." Credit Tom Hardy's open face and top grade thespian physicality for making us root for somebody who's essentially a kaladkarin.
So the storyline is as threadbare as can be, but that's not a bad thing at all. It does however rely on timing and surprise (even those action movie tropes are subverted and tweaked) to keep you captivated. Miller knows how to keep audiences on the edge of their seats (I mean that literally here) with old school movie magic helped along with as little CGI as possible. What you're here for, really, is to breathe in and behold the action. And it is glorious.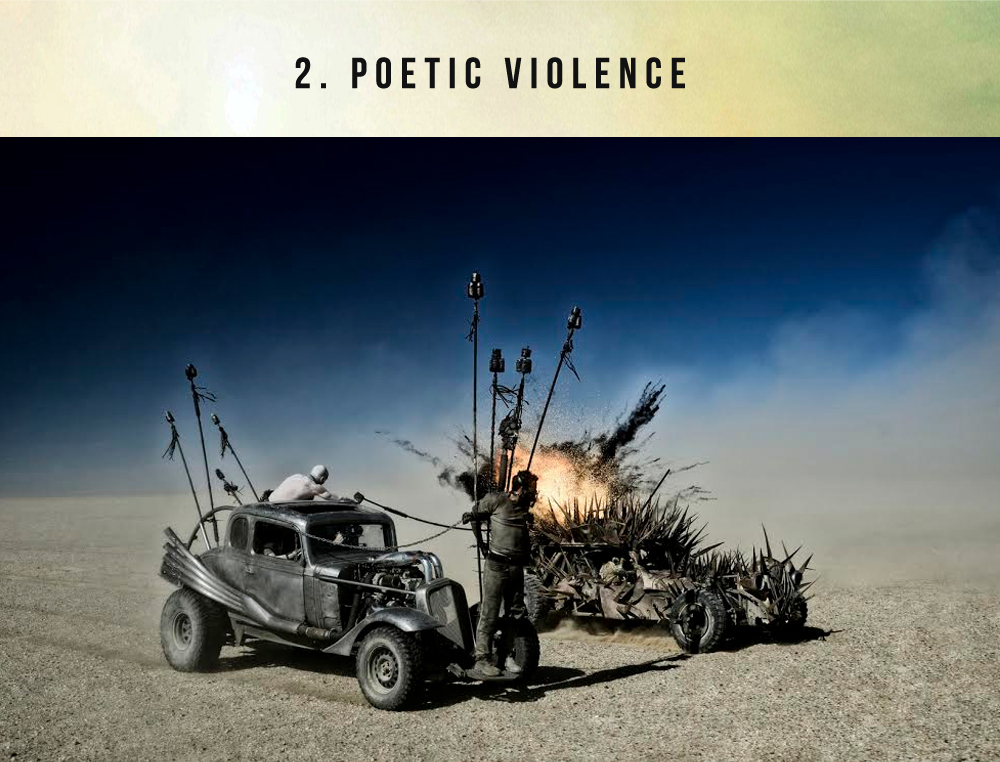 A variety of combat-outfitted cars engage in dog fights on desert sands, War Boys and other clans toss spears into engines and summon explosions, pneumatically-carved berserkers high on the Chrome drug leap from tall poles and swing like mad apes from one moving car to the next, everybody engages in fistfights. "Fury Road" is an exposition of poetic violence so riveting and, at times, so brutal you can only gasp and cringe. Expect blood, expect balletic and dextrous displays of martial prowess, expect your eyes to pop with gorgeous cinematography displaying some of the most beautiful scenes of viciousness that tops even director George Miller's previous "Mad Max" archives.


Theron said in the same io9 interview that the movie was "one big scene" storyboarded to the smallest detail and choreography. She declared: "I think the hardest thing for us, as actors, to get our heads around, was that the movie really was one big scene. Usually you have scenes and this was one big scene. So we shot one big scene for 138 days." There you go.
If you don't like this, then you are not a fan of action movies. You don't enjoy this one with your head, you only need your guts and your eyes; it bypasses your cerebral nature to entice and cajole that primal part in you which revels in the sight of tyrants getting beaten down and bullies undone by their own aggression.
You won't miss Mel Gibson at all. Though for my part I will now binge-watch the previous three movies.
All photos courtesy of Warner Bros. Pictures.