8 Old School Video Game Arcades across the Metro
May 14, 2015 &nbsp • &nbsp Janus Dosequis Harvey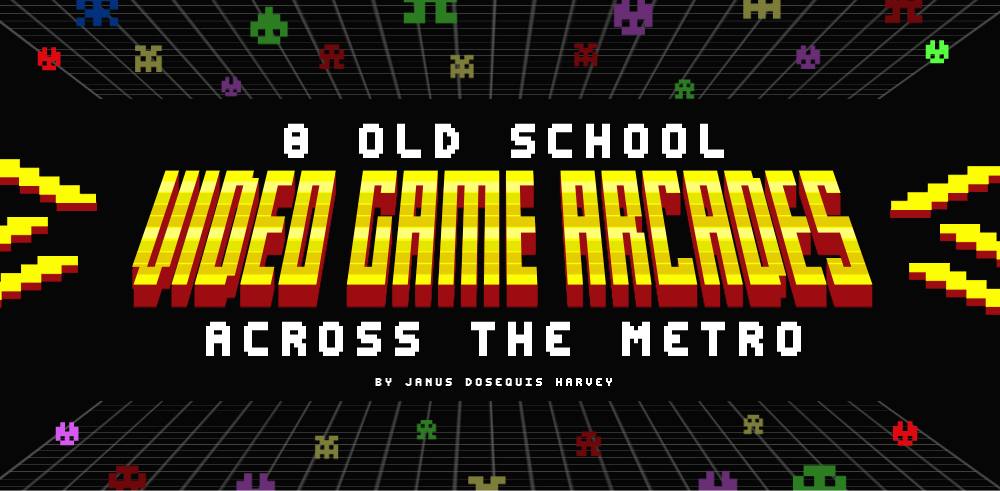 I loved video game arcades. Lemme correct myself: I still love video game arcades to this very day. I realize how it's a dying industry in America, but here in the Philippines, there's something very fun about going to a Timezone, waiting in line, swiping my card, and playing games I actually have at home on my XBox or PlayStation.
That said, the video game arcade has definitely evolved over the years. One just needs to remember that before we had all these Timezones, and before Worlds Of Fun dominated everything else, we also had…

I'm sure the older people would tell you about the Good Earth arcade in Avenida, but for those in our general age range, the arcade that started it all was Rino's.
Unique Selling Point: My fondest memory of Rino's is that their tokens were priced at three Pesos each, and for the most part, tokens today are priced at either five or six Pesos. Furthermore, they were sized in a way that when the new one Peso coins came out, Rino's had a bit of a problem because the new coins were just as big as their tokens. Whoops.


Located at the top of Shangri-La mall, Whimsyland was one of those arcades that really stuck out because Shangri-La was, at the time, trying to be this amazing one-stop place for unique attractions: Laser Tag, a Ripley's museum, Quantum X, and yes, Whimsyland.
Unique Selling Point: Aside from being flanked by a bunch of different attractions nobody else at the time had, Whimsyland probably ruled the roost in bilking kids via ticket-based games. It wasn't easy to win a prize from them. At all. One of the spiritual successors of Whimsyland (insofar as it was an arcade at the top of Shangri-La), Quantum Powerstation, was probably the first arcade to introduce prepaid cards instead of tokens – even before Timezone came along.

Located in, well, Fiesta Carnival, the arcade here was never known for being well-maintained. Despite that, a lot of people visited it in its dying gasps.
Unique Selling Point: What part of "Fiesta Carnival" do you miss? This was Glico's before Glico's was a thing, with the added benefit of rust and lackadaisical security measures. Also, word has it that the first bootlegged Street Fighter II: Rainbow Edition machines cropped up from here. You know the ones: the ones that allowed you to fill the screen with Sonic Booms and Hadoukens nonstop.

The SM foodcourt in Makati was the unofficial home to some of the best players of Marvel vs Capcom 2 based in the South. Given how ill-managed the machines were in Festival Supermall, this was the place to be.
Unique Selling Point: Before Worlds of Fun took over, and before the arcade disappeared altogether due to renovation, the top players of Marvel vs Capcom 2 would converge here. You weren't anyone in the fighting game scene.


Now home to Buffet 101, Game Masters in Galleria was an ambitious two-story arcade. It had it all, and definitely offered a great space for arcade gamers.
Unique Selling Point: Aside from having two stories, this was where the Ateneo High students would meet La Salle Greenhills students to settle disputes via Street Fighter – or actual street fights, if it came to that.


Now aptly replaced by Timezone, Time-Out was one of the longest holdouts of the '90s to early '00s era of arcades, until it finally went the way of the dinosaur. At present, there's really only Timezone and Worlds of Fun as go-to arcade places. Anything else today is flatly irrelevant.
Unique Selling Point: They kept a Marvel Superheroes unit long after the game became outdated. It was fun to try doing Spider-Man's infinite combo in that game long after everyone else had decided that he was terrible thanks to his Marvel vs Capcom 2 incarnation.


I have fond memories of this place (mostly because I used to play Mortal Kombat here) and without any knowledge of the commands, I could only hope to get a match in The Pit so I could uppercut my opponent off the bridge as a "Fatality" of sorts. This was love.
Unique Selling Point: Two things: the Dragon Coaster and the Crazy Bus. Remember that back then, Enchanted Kingdom wasn't even a thing yet, so we had to get our non-Christmas season fix for carnival rides from Glico's. Unless we had no regard for our well-being and decided to go to Fiesta Carnival, that is.


This is the grand-daddy of arcades back in the day. While Gamestuff is now a console repair shop in Theater Mall (still the same owners, by the way), they used to be a thriving arcade that had games ahead of every other arcade in the Metro. Mortal Kombat 3? Killer Instinct II? Marvel Superheroes? They had all of them first!
Unique Selling Point: Not only did they have games ahead of everybody else, they even sold strategy guides (well, photocopies of them) for their games, so at least the people playing there wouldn't just be button-mashing their way to defeat.
Which were your favorite arcades back then? Let's reminisce together!