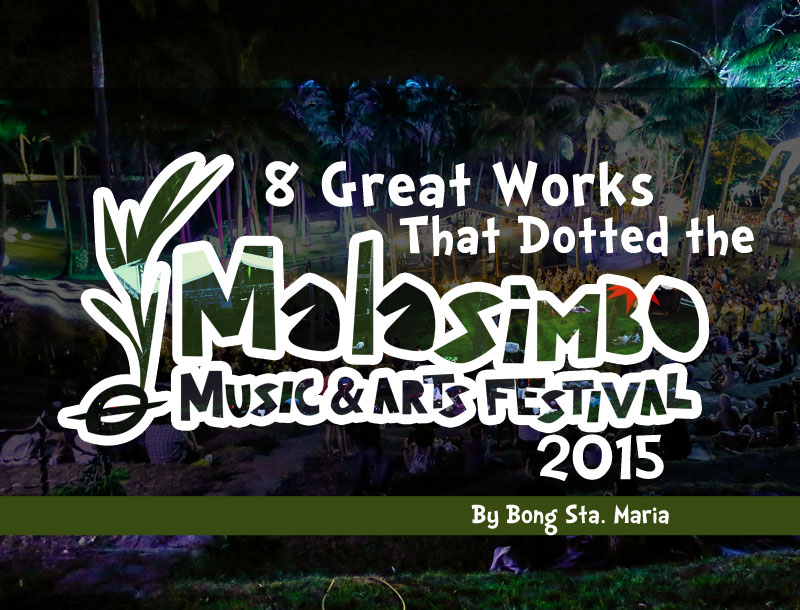 Whether permanent of degradable, loud or discreet, phantasmagoric or natural, interactive or silent, the works have a synergy with the mountain, the landscape, the wind, the ocean, or the festival's creative energy.
In Malasimbo, the visual arts get as much attention as the music. So far, this is the only Filipino festival that has this setup. The Sculpture Garden, which shares the same space as the Malasimbo Amphitheater, is a wide space of venue that could really not be more perfect: the grounds serving as canvas of over 40 artists, creating a world that easily lets you forget of outside constant that you briefly left behind.
Here are 8 installations, performances, sculptures, and other art forms that happened in this year's festival, and some things felt while standing in their midst.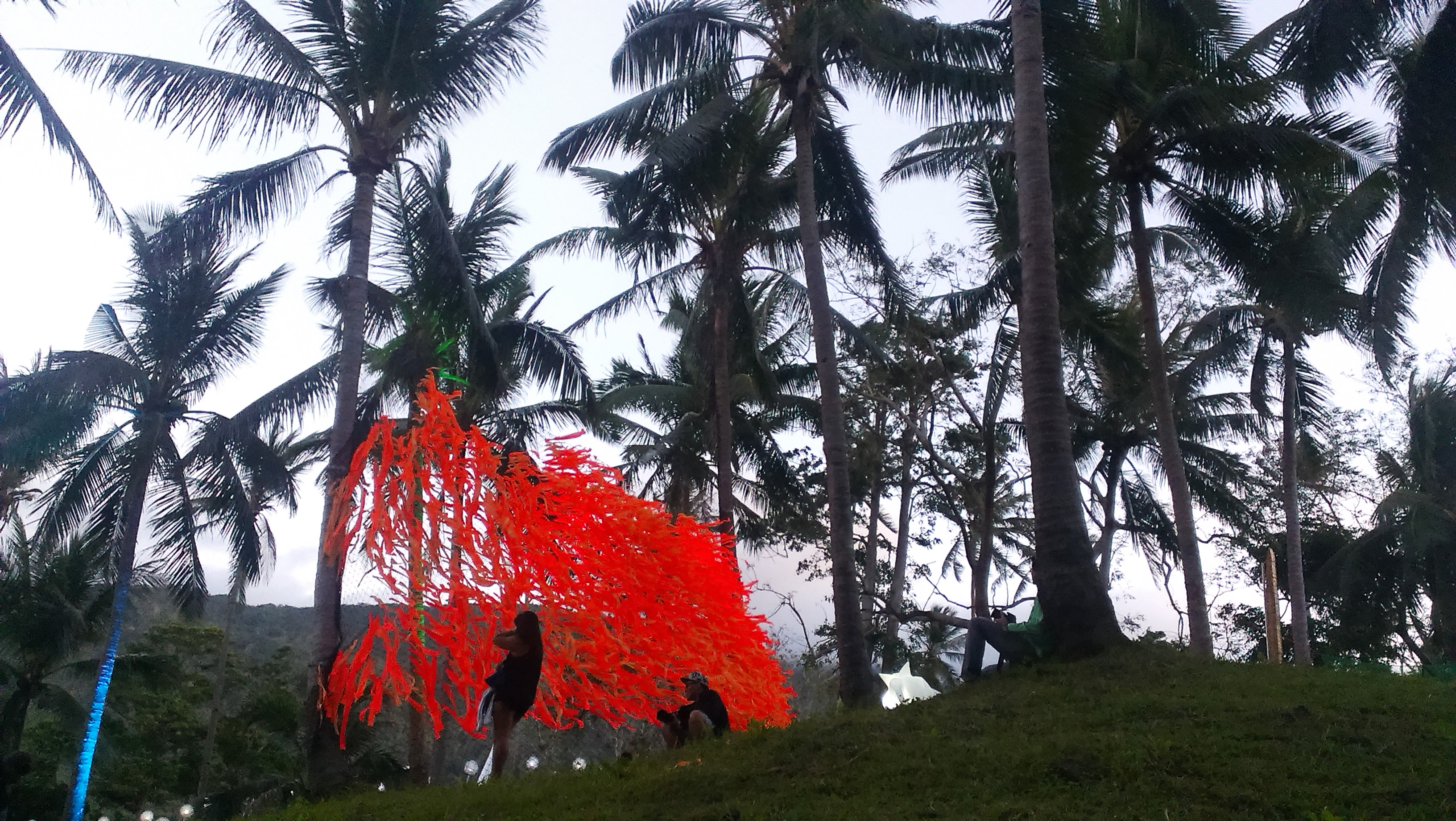 Fire.
Climbing down the steep hills of Malasimbo, this site-specific outdoor installation is one of the first things that one will see: strips of fabric tied to a net, dancing where the wind decides to blow. Providing a contrast that works so well with the calm backdrop. This was part of Malasimbo last year, and I'm glad it stayed.
Most of us visitors traveled from Manila—we walked, rode the bus, took a two-hour boat ride, took the jeepney, and walked some more. When we reached the venue, the place echoed only one thing: sit.
Earth. 
Covered in what looks like mud, the artist offered flowers to the earth. Barefoot with face covered, she placed each flower gently in the pots that she made.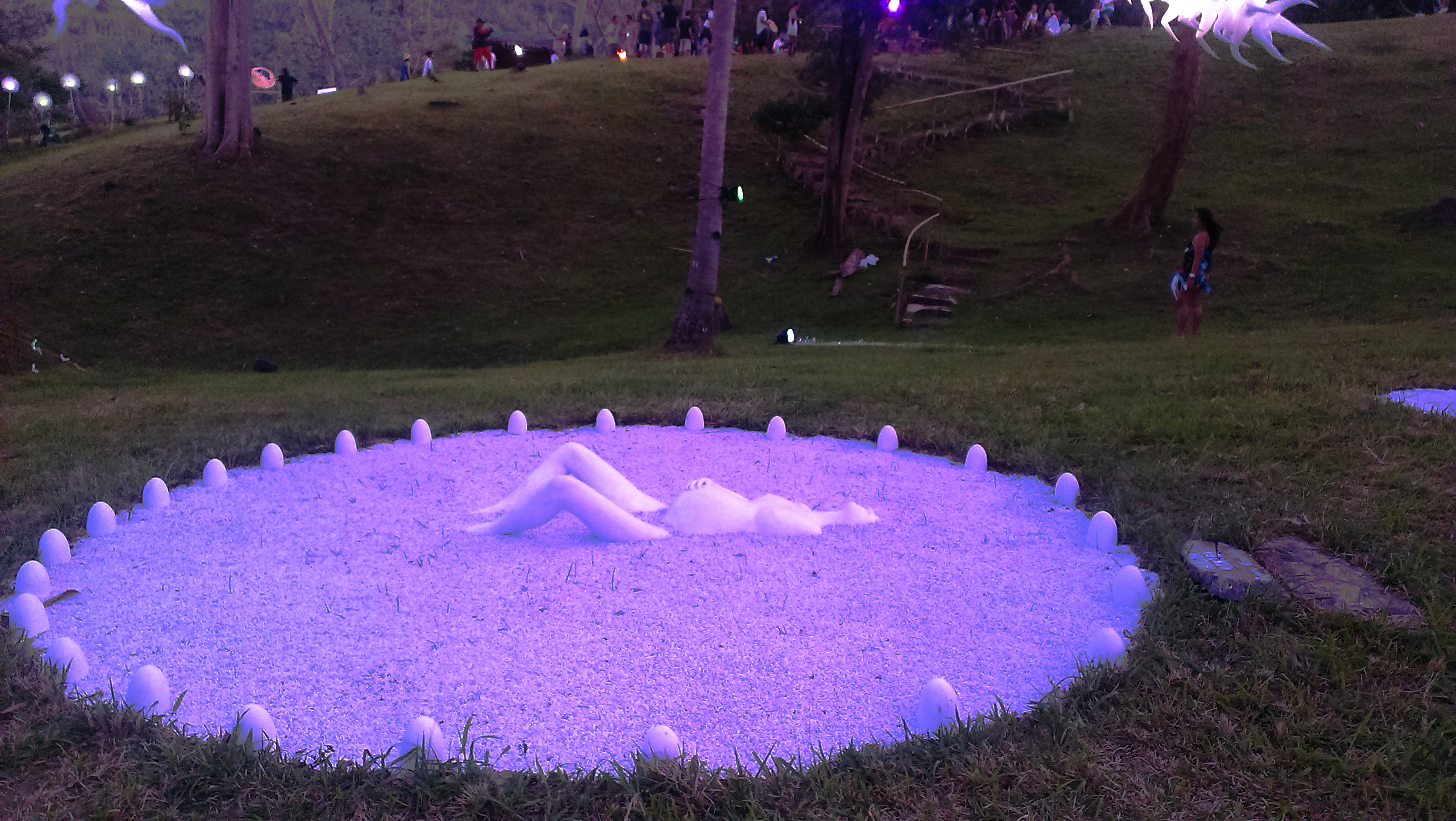 Birth.
Like Navarroza and Quisumbing's installation, sculptor Agnes Arellano's work, which can be translated to "Moon Goddess," was retained in this year's festival. A second year and the sculpted pregnant woman lying in sand continues to provide a combination of calm and intensity, of stillness and motion.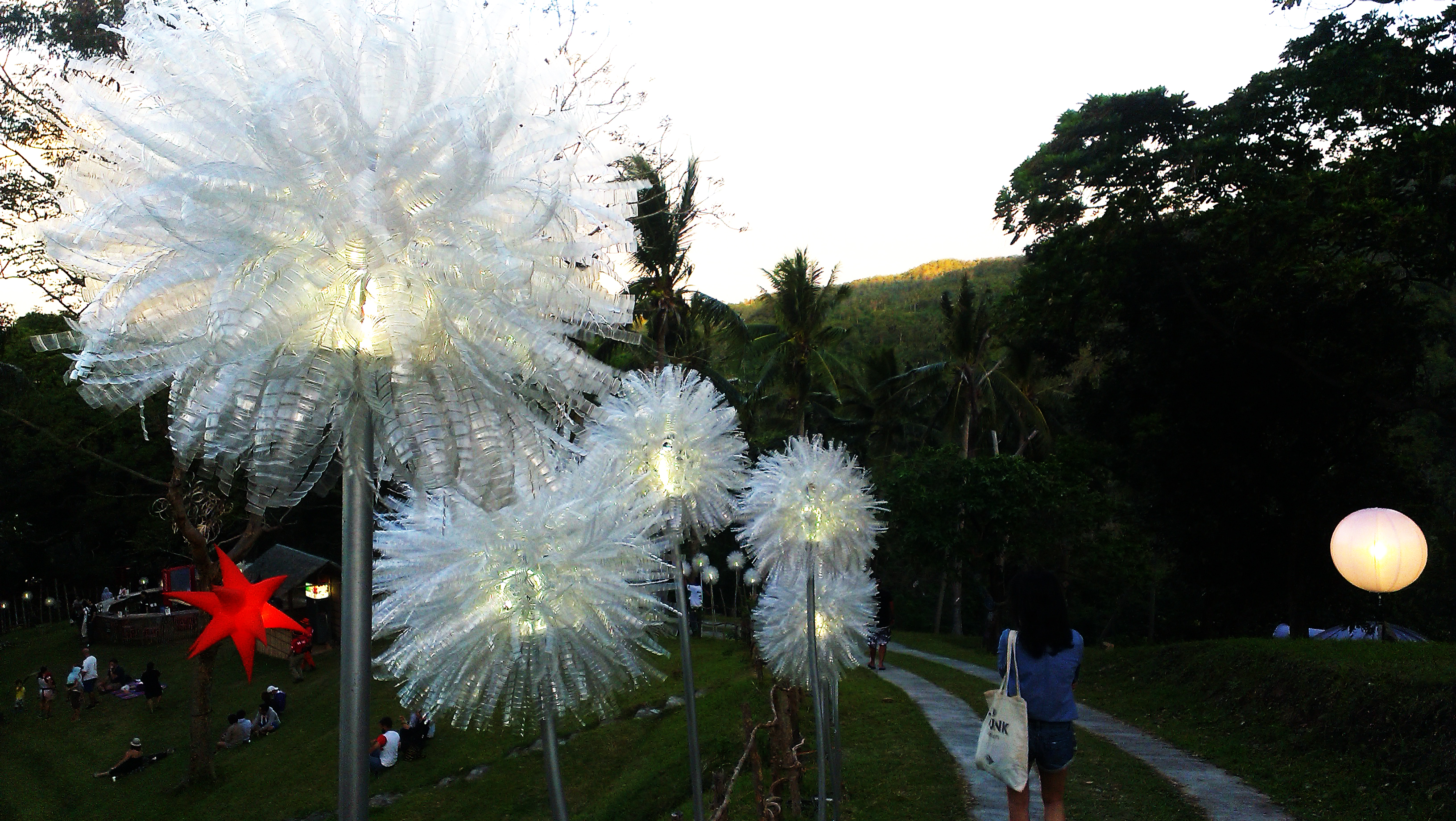 Light.
"The artists are inherently part of the festival soul," said artist and Malasimbo co-founder Olivia D'Aboville at the Malasimbo press conference last month. D'Aboville's "Giant Dandelions"—recycled plastic water bottles and metal stems—literally brightened up the venue with LED light, which shines so gracefully at night.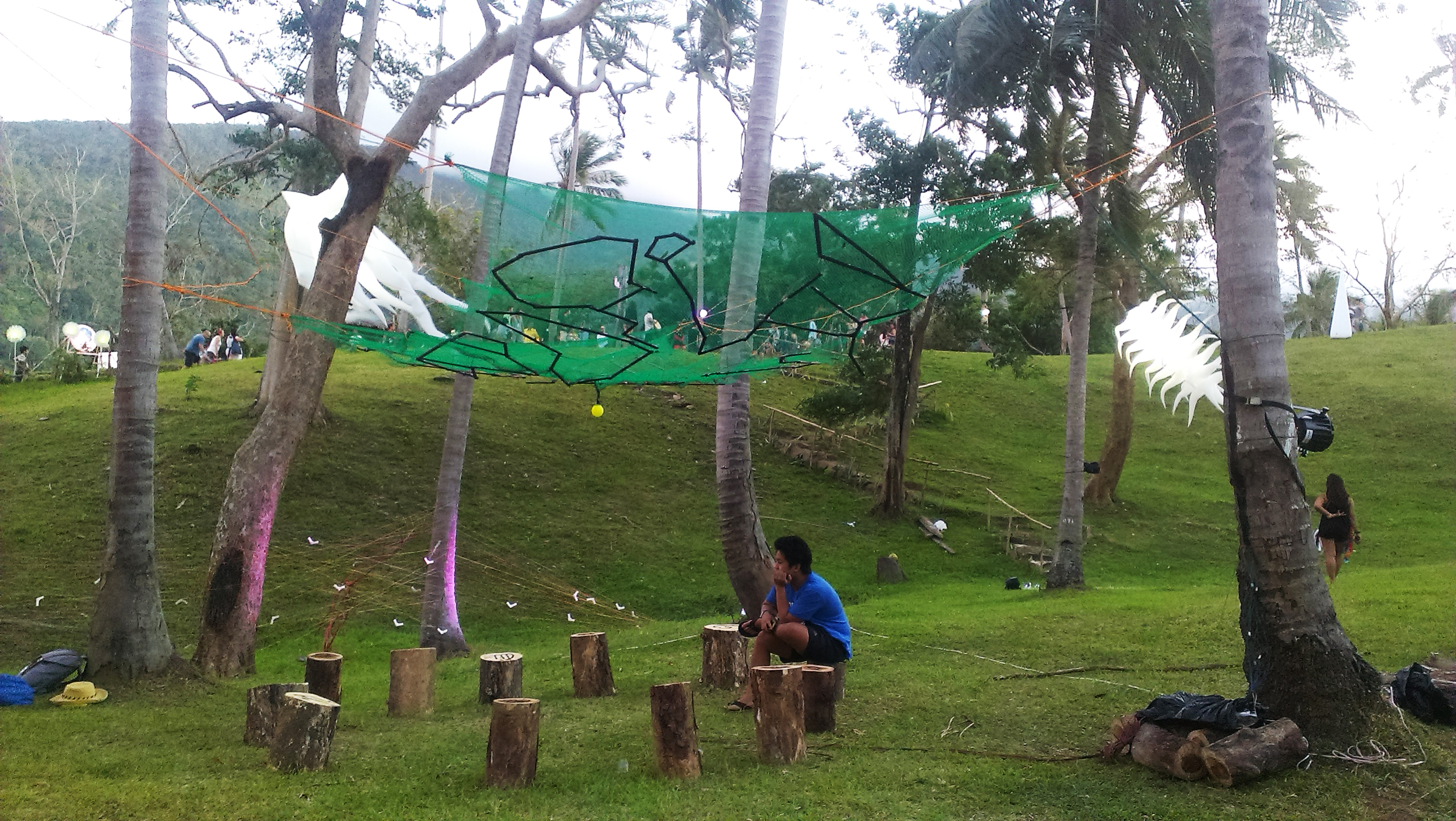 Sky. 
Sit on or beside the zodiac-painted woods to see their corresponding constellations lit by LED. This one was created  by a group called Joint Forces (I see what you did there!): David Cruz, Ian Carlo Jaucian, Patria Regalario, Dino Regalario and Dimitri Roleda.
Iya Regalario also created a solo piece entitled "Si Sanggumay at Ang Alamat ng Punong Pino" (markers and graphite on banyo), which could be seen on the bathroom walls–"para sa mga punong sinamantala ng bagyong tao," she said.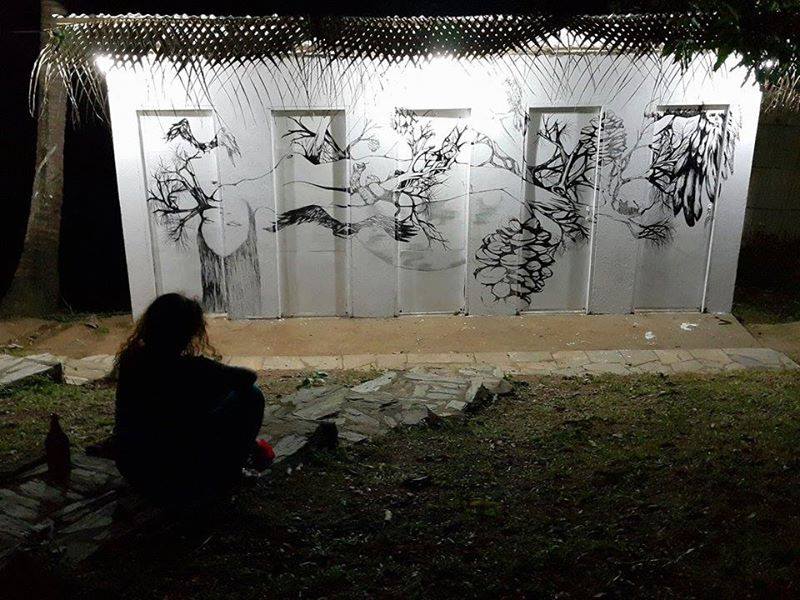 While people whose bladders were full waited, they were given something to think about. I really hope they did.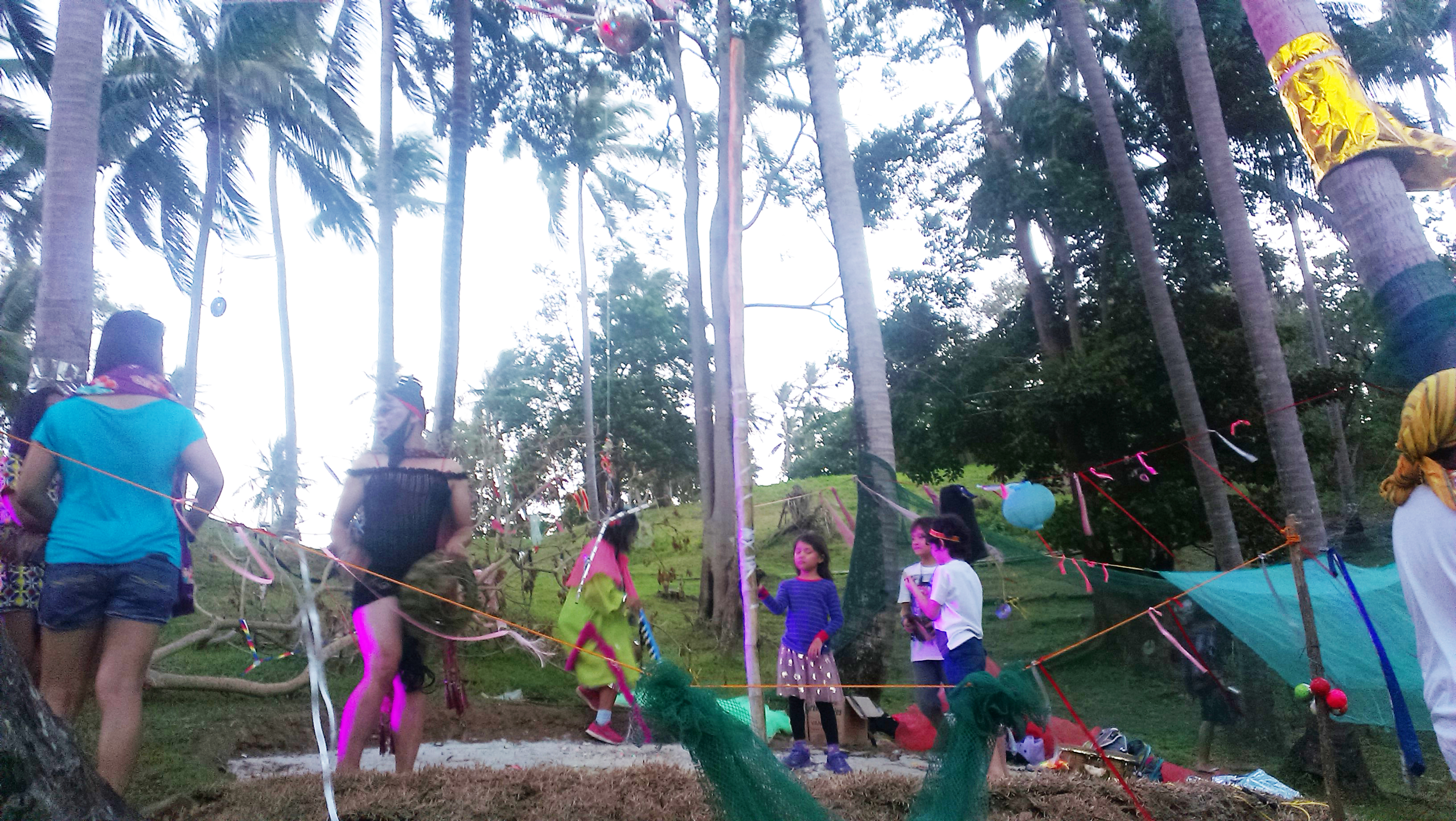 Dance.
There's plenty of space for dancing in Malasimbo, but this installation was especially made for just that: a DIY dance floor. Jeona Zoleta and Catalina Africa created a world of light and color; a space of magic and innocence sending a friendly invitation to play.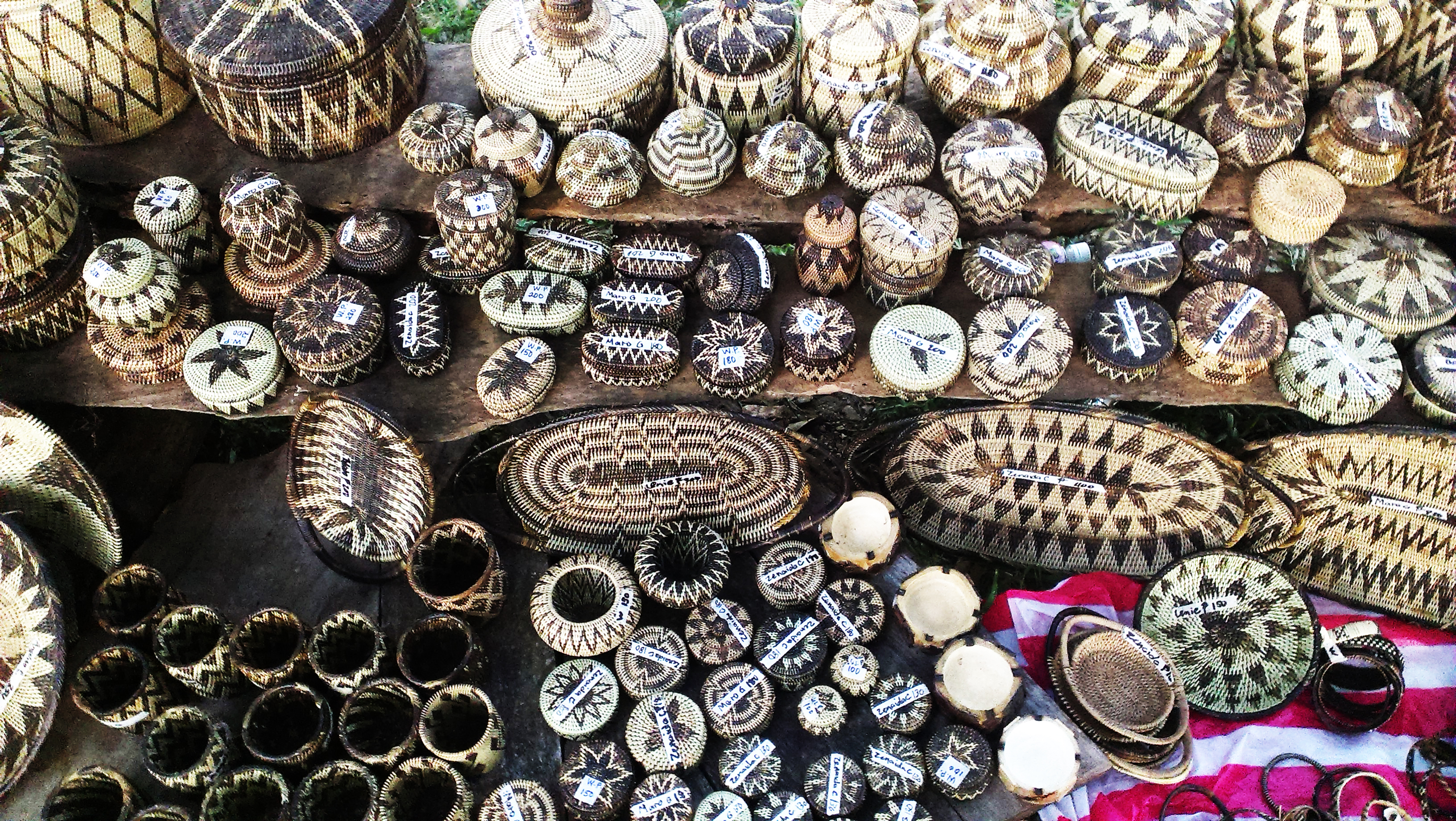 Home.
The venue did not only have replicas of traditional Mangyan houses at the Mangyan Village—it also had spot where people can actually purchase (and learn how to make) the craft the Mangyans value deeply.

Air.
The big picture. The entire place is a work of art for which no exact words exist. The short climb up the steep hill, isn't easy—you could literally hear breaths panting heavy in the final stretch of the walk. We've just left wonderful playground, which we're all pretty sure will be welcome us again next year.