8 Things You Need to Know about the Metro Manila Shake Drill

By now, you've probably seen the viral video of two Metro Manila Development Authority (MMDA) officers dancing to Peaches & Herb's disco anthem, Shake Your Groove Thing. Dubbed as the MMShake Dance Challenge, this 30-second video is to promote the Metro Manila Shake Drill, a metro-wide earthquake drill on June 22. Let's just see it one more time, here it is:
The #MMShakeDrill is now on its second year, following its successful launch last year. The drill promotes a culture of preparedness among Metro Manila residents for a possible 7.2 magnitude movement of the West Valley Fault.
Aside from the MMDA, it is also managed by the Office of Civil Defense (OCD), along with other agencies and stakeholders, and organized by the Metro Manila Disaster Risk Reduction and Management Council (MMDRRMC). So before you plan your day on June 22, here are 8 things you need to remember about this drill.
8. All Metro Manila residents are encouraged to participate.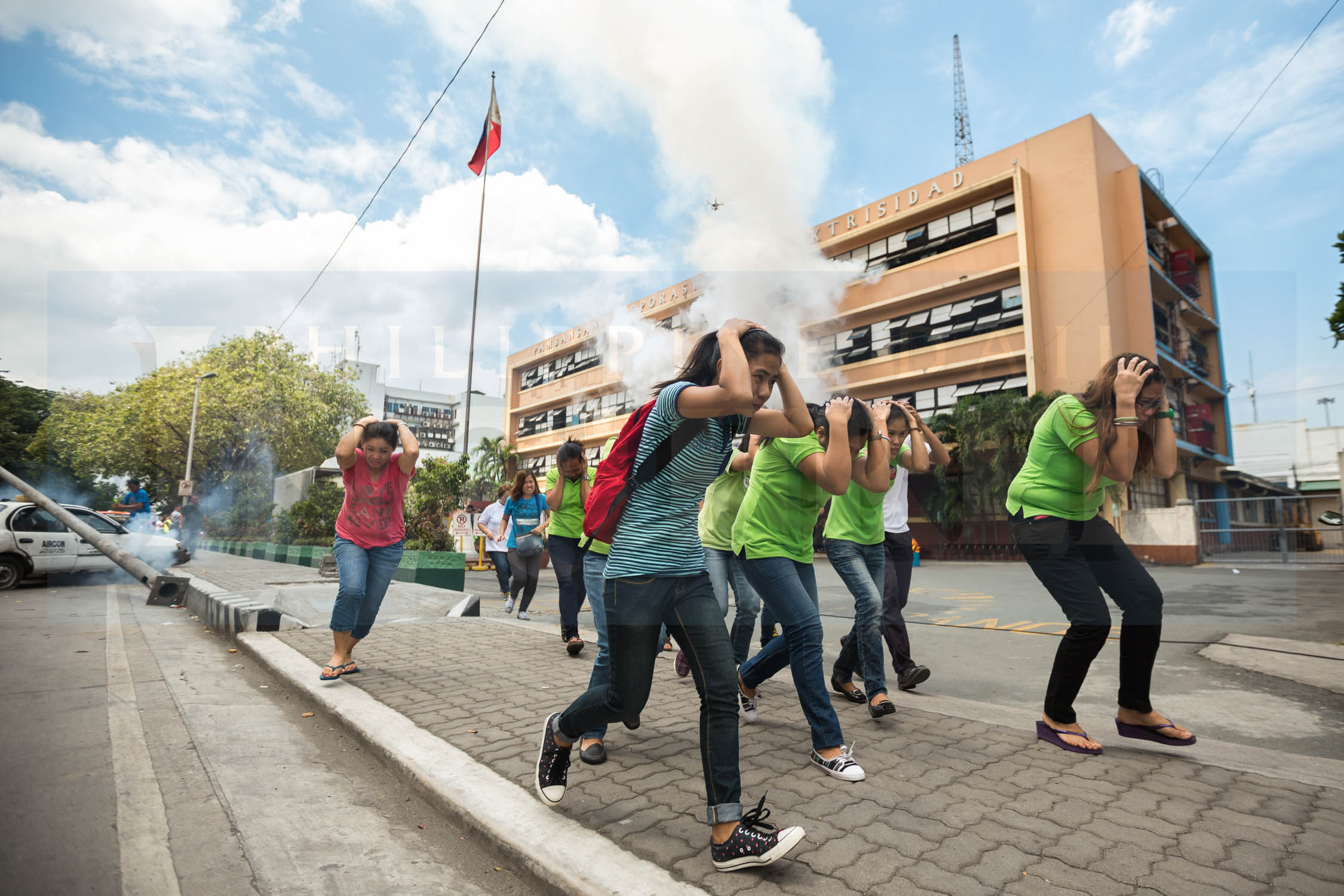 All Metro Manila residents, including the nearby provinces, are expected to participate in the event, whether they are at home, work, school and on the road.
7. The drill will start at 9 in the morning.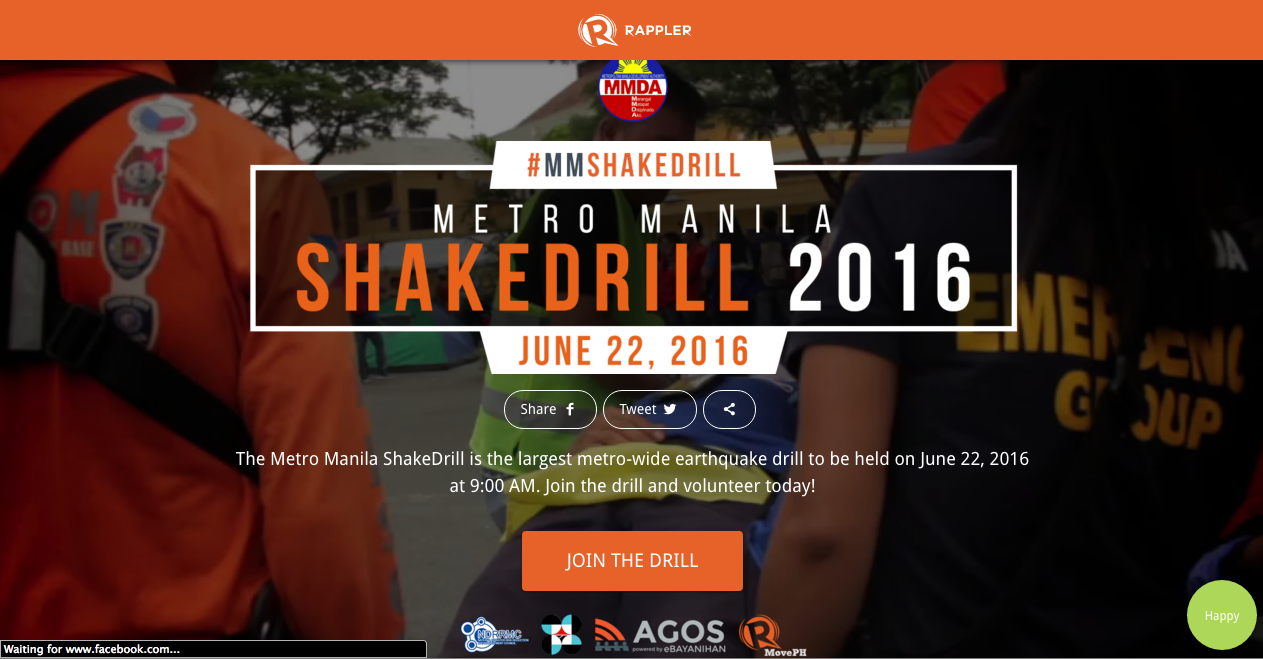 According to the drill's official website, it will be conducted from 9am to 10am. Radio stations will sound the earthquake alert, which will signal the start of the drill. Schools, companies and various institutions are also encouraged to have their own alerts and bells, so find out if your school or office will run the drill.
6. Do the 'duck, cover and hold' maneuver for 45 seconds before escaping the building.
Once the signal starts at 9am, do the traditional duck, cover and hold technique for 45 seconds. After that, leave the building and go to a safe open area.
● If you are at home, perform the duck, cover and hold for 45 seconds but you don't necessarily have to leave the house. However, households and individuals are advised to secure an emergency kit (also called the Life Line Kit) and know the nearest barangay evacuation center in case of a real earthquake.
● If you are on the road, all vehicles are expected to stop for one minute, along with the minute-long flashing of traffic lights. As much as possible, keep away from hazardous structures in case of a real earthquake. However, those vehicles on and below tunnels and flyovers will not have to stop to avoid structural hazard. On June 22, MMDA traffic officers will be holding up EARTHQUAKE DRILL signs, signaling the start of the drill.
5. Public services and telecommunications or power lines will not be disrupted.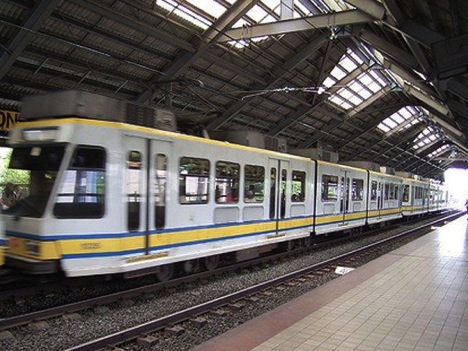 All public services, telecommunications and power lines will be operational on June 22. However, LRT and MRT lines will stop for a minute, and there will be a rescue operation on the LRT line.
4. Some parts of EDSA will be partially closed for 5 hours.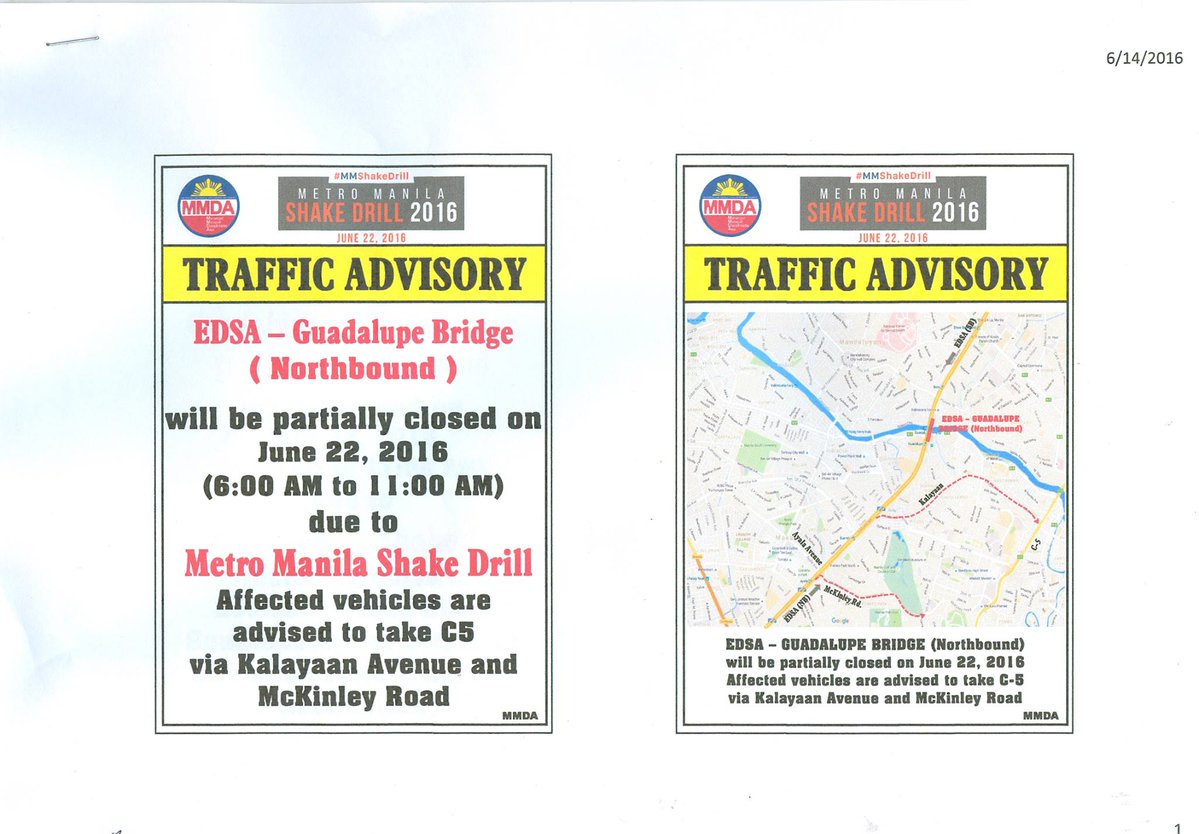 EDSA-Guadalupe Bridge (Northbound) will be partially closed from 6am to 11am. MMDA has advised motorists to take C5 via Kalayaan Avenue and McKinley Road.
3. Four quadrants in Metro Manila will serve as command and control centers.
The MMDRRMC has geographically divided Metro Manila into four quadrants according to a contingency plan called the Oplan Metro Yakal Plus, a detailed design in preparation for a 7.2 magnitude earthquake. The quadrants are labeled as North, East, West and South:
● North: Caloocan, Mandaluyong, Quezon City, San Juan, Valenzuela
● East: Marikina, Pasig
● South: Las Piñas, Makati, Muntinlupa, Parañaque, Pasay, Pateros, Taguig
● West: Manila, Malabon, Navotas
According to MMDA Chairman Carlos, they will be placing 20-foot container vans in all quadrants where command and control centers will be set up to facilitate the deployment of resources and rescue personnel.
The allocations of command center per quadrant are as follows:
● North: Veterans' Memorial Medical Center, Quezon City
● East: LRT-2 train depot, Santolan, Pasig City
● South: Villamor Airbase, Pasay City
● West: Intramuros Golf Course, Manila
The vans will contain medicines, extrication equipment, tents and other materials needed for rescue and emergency response. They will be guarded 24/7 by MMDA personnel. However, Carlos clarifies that these centers are not evacuation centers, as people thought they were during the last drill.
2. The collapsing of Guadalupe Bridge is one of the scenarios that will be simulated on June 22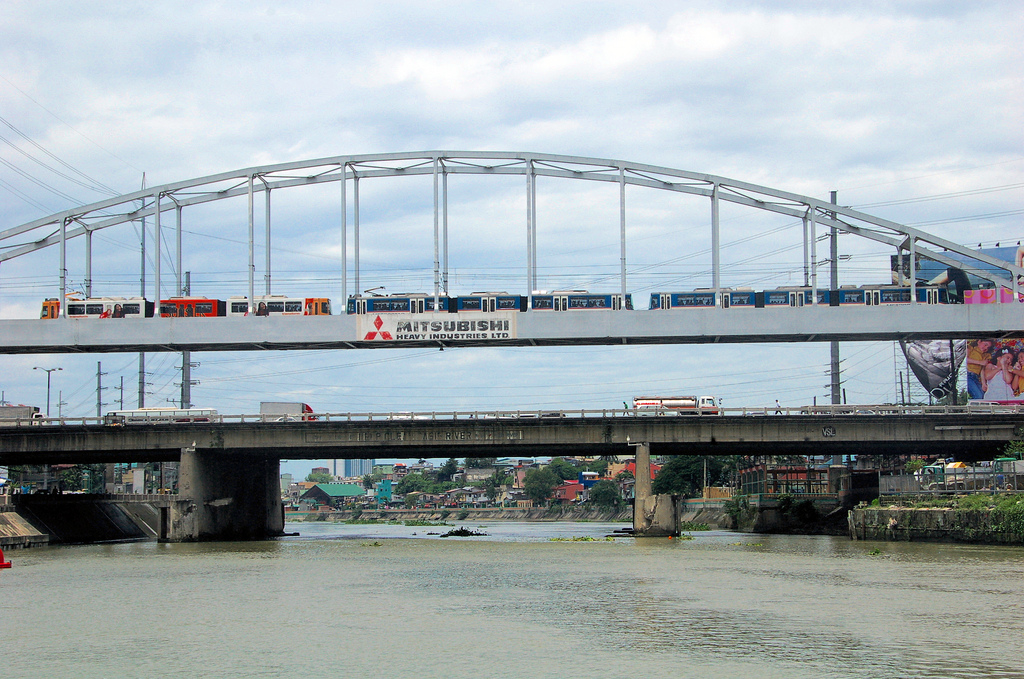 According to The Standard, one of the scenarios to be simulated during the drill is the collapse of Guadalupe Bridge along Edsa in Makati City and the quick arrival of rescuers at the site to save the victims from drowning while others scour the water for survivors.
1. You can be a 'disaster hero' by signing up as a volunteer.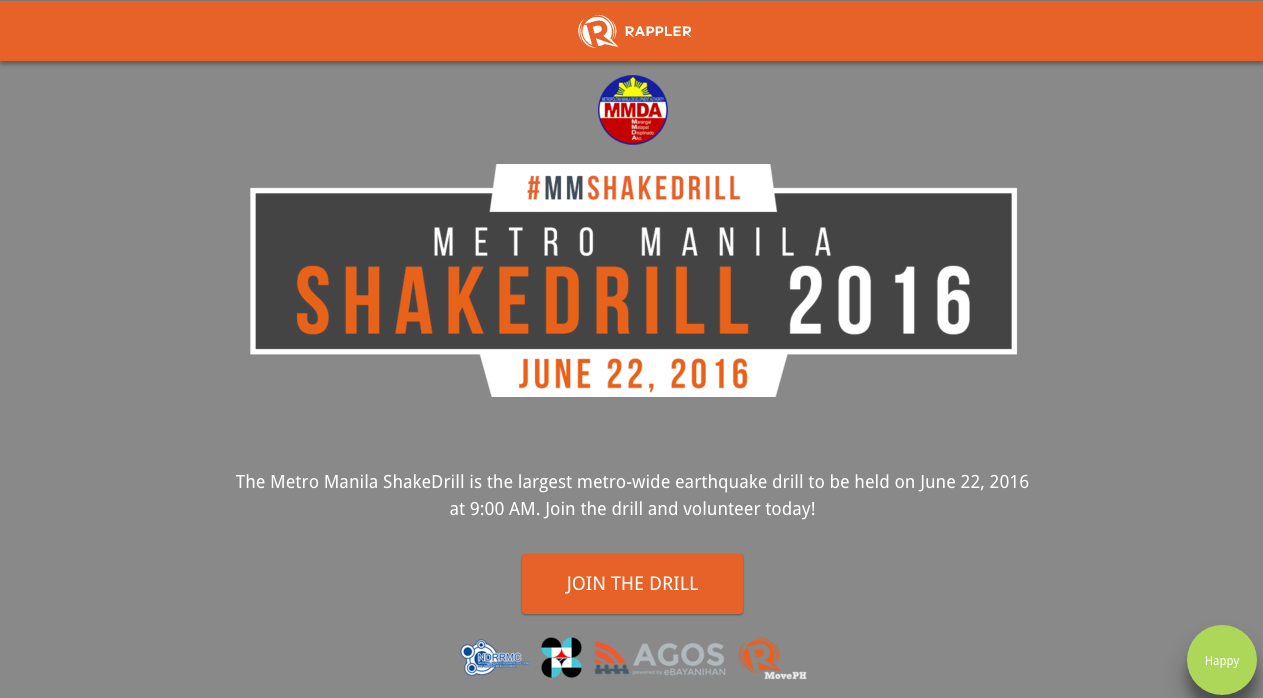 MMDA has launched the official website for the drill last May 30, in front of disaster risk reduction and management officers from the different local governments of Metro Manila. Aside from the basic information and answers to FAQs about the drill, the website also highlights the sign up option for anyone who wants to join the Metro Manila Emergency Volunteer Corps (MMEVC)—a network of volunteers who will be ready to respond in times of disasters.
Started last year by former MMDA Chairman Francis Tolentino, 1,117 people signed up after its launch in 2015, targeting at least 8,000 volunteers.
For more information about the drill, you can visit #MMShakeDrill's official website.
Do you think you're ready for the shake drill? Anything else we need to keep in mind? Sound off in the comments below!