We might not have won the crown at the 70th Miss Universe but at least we're going home with two queens: Beatrice Luigi Gomez and Marian Rivera. Marian was a member of the all-female Miss Universe 2021 selection committee alongside supermodel Adriana Lima and Miss Universe 2016 Iris Mittenaere.
To everyone's delight, it looked like the Darna actress stole the show, for Filipinos at least. Bea made us proud that she made it to the Top 5 and Marian made us prouder because she is the awesome "recording artist and award-winning film and television star in the Philippines" as told by host Steve Harvey. Of course, Pinoy netizens wouldn't skip the chance to celebrate the only way they know how: memes.
Friends with other judges
Queen Marian quickly got to work and made friends, obviously not one to waste time widening her network. She seemed to get pretty close with fellow Miss Universe 2021 judge, Bollywood star Urvashi Rautela. They're seen brushing heads here and the Internet was too tempted to make up scenarios. Rumors say this is what they were looking at: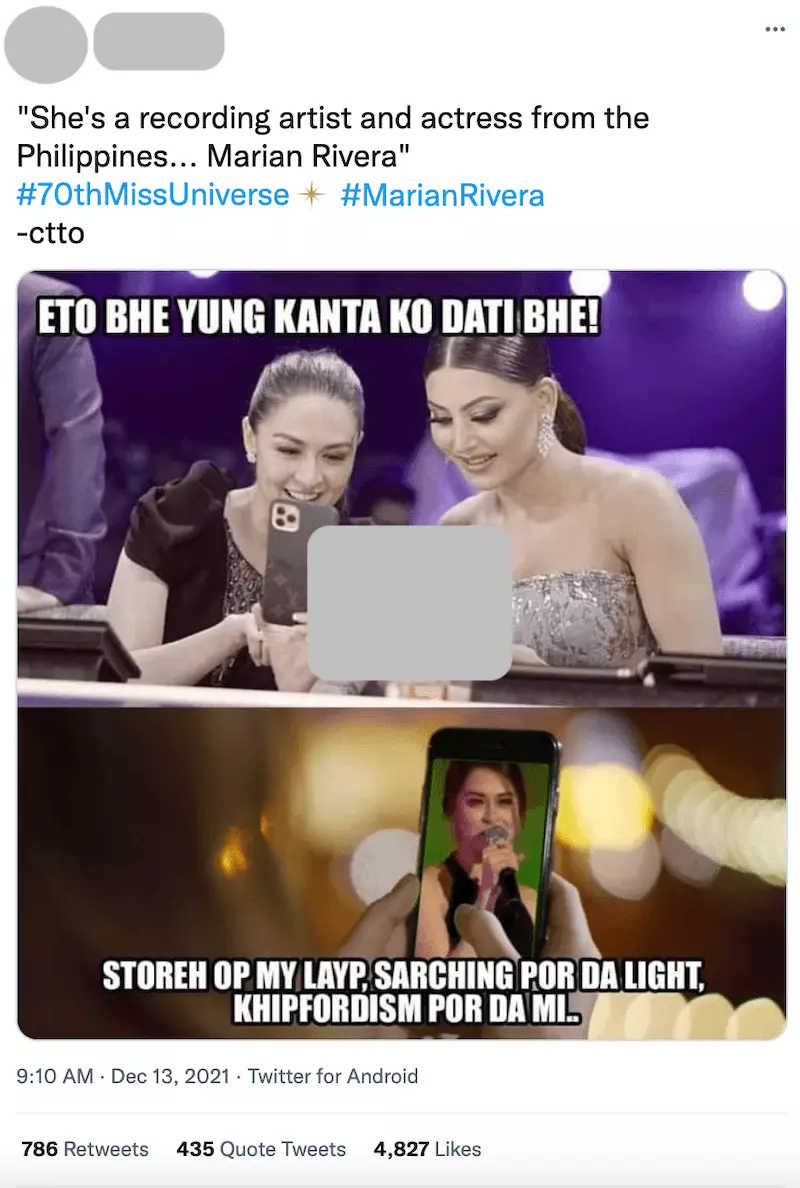 "Cultural exchange"
MARIAN RIVERA IS SO ICONIC AND YOU CAN'T TELL ME OTHERWISE!!! #MissUniverse pic.twitter.com/EQIPYdifv2

— (@lncxmbtzn) December 10, 2021
Over the weekend, Marian even trended online for teaching Urvashi a few dance steps to her song "Sabay Sabay Tayo" before the preliminary night. Some netizens dubbed the hilarious video an important "cultural exchange." Marian, all smiles, seemed like she was having the time of her life.
Marian works hard
It's coronation night and Marian is Bea's solid rock. We just know it.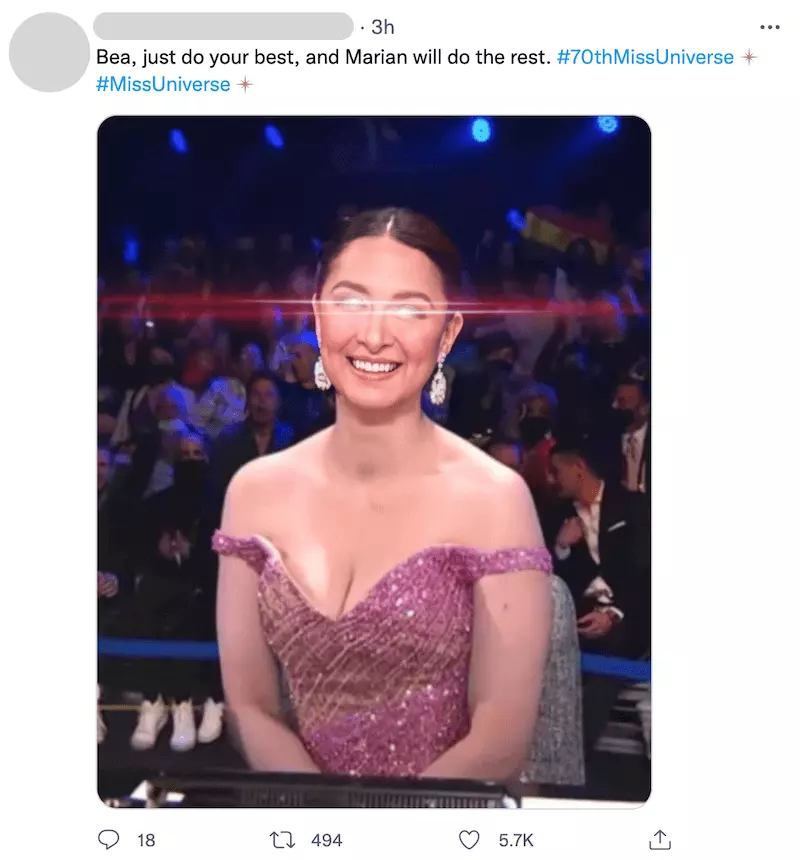 She's so pretty, we trust her with our lives.
How she scores the beauty queens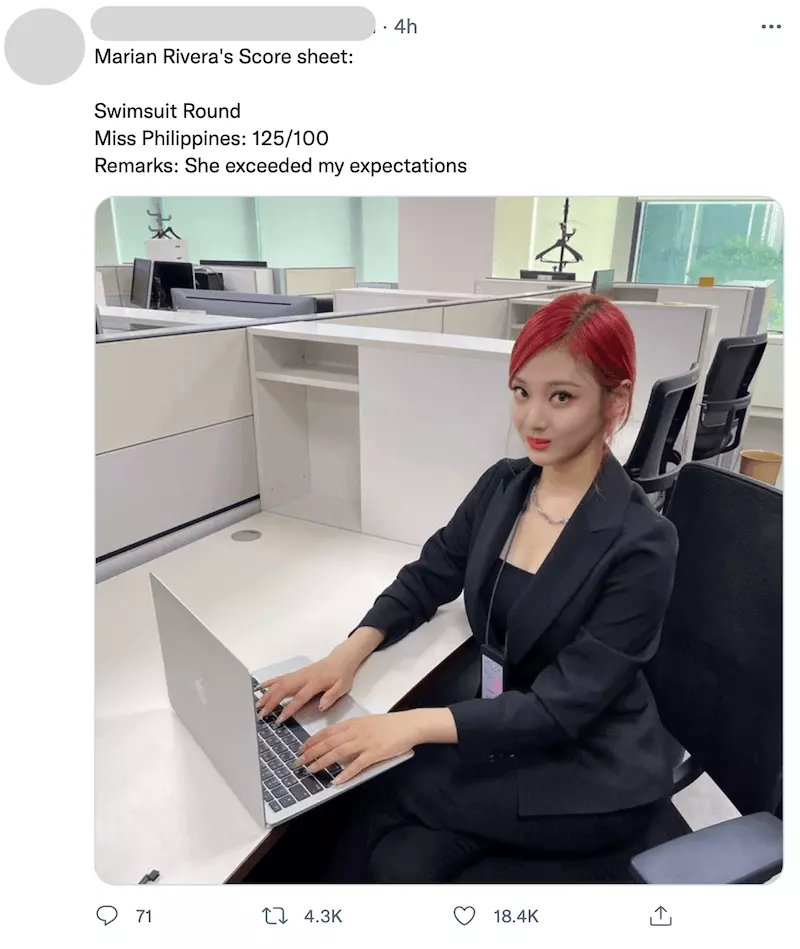 Marian as a prof will never flunk you.

Accurate because she would be /that/ kind.
No bias but Bea is her favorite candidate. Wink wink.
A recording artist
RECORDING ARTIST ATE NYO MARIAN!!! TOP 16 #70thMissUniverse #GoMezUniverse pic.twitter.com/TVbgEtAoaa

— Aries (@ariespaltz) December 13, 2021
Marian being introduced as a recording artist got half of the Philippine population clapping with pride and delight and the other half raising their eyebrows. But in any case, everyone is proud that she looks so beautiful sitting there and representing our country. And if you're wondering if it's true that she's a recording artist, check this out:
As a recording artist #pinoyreaction Marian Rivera pic.twitter.com/himE2qek7X

— Pinoy Reaction (@pinoy_reaction) December 13, 2021
Yup. That's your Kween Marian's 2009 album Retro Crazy. That album gave us the song "Sabay Sabay Tayo," a bop that was playing at every Christmas party that in 2009. A year before, Marian also released Marian Rivera Dance Hits where she wowed everyone with her dancing skills.
In Marian Rivera we trust!!!! Saint Marian, the mother of all recording artists!!!!!!#MissUniverse #70thMissUniverse pic.twitter.com/PxMr6P8ZgZ

— AltKapamilyaChannel (@AltKapamilyaCH) December 13, 2021
You better kneel.
This queen also recorded this…
OMG. Our very own Marian Rivera performing during the #MissUniverse long gown competition! pic.twitter.com/HyJx8gxpgk

— Mac Dionisio (@Benggadora08) December 13, 2021
Marian might have produced albums and CDs but all those songs were blown out of the water by her unforgettable and iconic cover of Rihanna's "Unfaithful." Her rendition made rounds years ago for being, well, unique. Apparently, the Internet made it so it looked like Marian was performing during the Miss Universe long gown competition.
The questions she might've asked

There's no wrong answer (or lyrics).
Because a true queen can balance equations on the spot.
For Marian!
Si Marian ang koronahan. Sya pinakamaganda! Panalo ang Pilipens! #MissUniversePhilippines2021

— jose marie viceral (@vicegandako) December 13, 2021
Marian Rivera was no doubt one highlight of the night (or day, in the Philippines) at the 70th Miss Universe. She reminded everyone once again why she deserved the title "Asia's Primetime Queen." Some day, her children will look up her name on the internet and see the legacy their mother left.
What's the best part of the 70th Miss Universe for you and why is it Marian Rivera?
Check us out on Facebook, Instagram, Twitter, and YouTube, and be the first to know about the latest news and coolest trends!