Xian Gaza has once again caught the attention of the internet when he suddenly dropped a bomb of a blind item in the middle of last night. It got the Mariteses of the internet curious (some unable to sleep) about who exactly he's talking about. Here's what went down:
The blind item post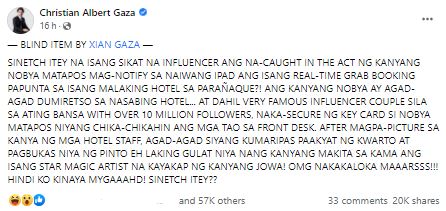 In his post last night, Gaza alleged that a certain famous influencer couple "with over 10 million followers" and a "Star Magic artist" are involved in a cheating controversy. The guy seemed to be heading to a hotel when his girlfriend got a notification about him booking a car rental service on an iPad he left. The girlfriend then headed to the hotel to confirm and allegedly "caught [him] in the act" of cheating with a certain artista.
Gravity



He made a series of posts and comments, joking about gravity (read: grabe 'te), saying how he was so shocked about the discovery that he couldn't even hold onto the escalator.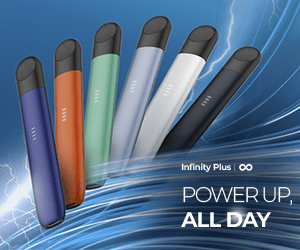 He name-dropped

Two hours after dropping a bomb of a blind item, he said good night to his followers but left a name. Gaza didn't say if this was related to his previous post, but many netizens assumed so. The name-dropped actress has been in a relationship with a fellow actor since earlier this year.
Speculations
Different theories came up. But popular speculation by netizens is that the famous influencer couple in the blind item post is one who recently broke up, while the other party is the name Gaza dropped in his other post.
Netizens couldn't sleep
The Mariteses of the internet couldn't sleep thinking about who's who in Gaza's blind item post. Meanwhile, others woke up to this chismis.
Me not believing Xian Gaza's tea but also thinking who it might be HAHAHAHAHA

— dyne (@bubbliespanatag) November 17, 2021
The marites in me can't sleep when xian gaza is spilling some tea

— alyssa bitol (@imalyssabitol) November 16, 2021
The Marites in me can't sleep when Xian Gaza is spilling some tea. Jusko isplok mo na yan mars so we can have a godnight sleep.

— Miughhh💕 (@MiyaHerrera_) November 16, 2021
Shuta xian gaza ang aga ng chismis🤣

If true yon, super disappointed.
I almost stan barbie imperial and diego as couple kasi they're super cute pa naman. I thought Barbie is not like Heaven and others. Daaaamn

— J✨ (@justjayelle) November 16, 2021
Others say don't believe everything on the internet
A few netizens caution others not to believe everything someone says, especially with no proof as in a blind item such as this. They also caution against Gaza's credibility, given his colorful history.
xian gaza is obviously a problematic man who loves to make women uncomfortable. please refrain believing on his lies lol. idk why everyone still believes than man 😫🤮

— kim jongin 🍑 (@chen_kim1cityx) November 17, 2021
am i the only person who thinks that xian gaza is a creep? why are you giving him the attention

— red (@arckiden) November 17, 2021
Some think it's just a PR move
However, while most are wondering about the who's who, others think that this might just be a way for Gaza to make the name-dropped actress go into the spotlight because of a new project. Some netizens said that Gaza and the actress are "close," so he may be helping her put her name out there. We're not sure if this kind of publicity is helpful though, but maybe Gaza thinks bad publicity is still publicity.
I'm not a fan of Barbie Imperial but I don't think her issue is true. I have seen an interaction of gaza and barbie before on cs of gaza's FB post and I think they're close. I assume this was gaza's way to make barbie name controversial again kasi may bagong movie to si barbie.

— Stream Rose⚘ (@Dorkyungsoo12) November 17, 2021
I Highly doubt this is true. Coz Barbie imperial has a movie with diego and Gaxa also close with Bie. I'd think this is only for promotion of the movie haha. Coz if your going to watch the trailer of DULO the movie is all about a girl who caught his BF with other girl. Haha

— Jona Lea Espanto (@espanto_lea) November 17, 2021
Cliffhanger


Gaza's blind item ended on a cliffhanger. The internet personality said he needed to go because he had a meeting in a few minutes. He didn't say if he would be sharing more details about his blind item post. So for now, Marites netizens are eagerly waiting for his next bomb drop.
Are you a fellow Marites?
Have you been following this blind item issue since it was released? If so, you might just be a certified Marites. If you want to know how much of a Marites you are, take our quiz here:


QUIZ: How Much of a Marites Are You?

QUIZ: How Much of a Marites Are You?
Kyzia Maramara | Oct 22, 2021
What do you think of Gaza's blind item post?