Rawson Marshall Thurber's film, Red Notice, finally landed on Netflix. After months of replaying the trailer and looking forward to this heist film with an A-list cast, we couldn't get any more excited. Red Notice is an enjoyable action-packed flick loaded with gags, plot twists, and even has a weirdly placed Ed Sheeran cameo (seriously, what was that about?). So should you skip or stream it? Here's what the Internet thinks.
The plot
Red Notice 
is about two of the world's best art thieves hunting down million-dollar golden eggs believed to be commissioned by Cleopatra herself. An FBI police agent gets tangled in the mess and is forced to join the robbers to clear his name. The three travel around the world one-upping each other through elaborately choreographed fights, dingy Russian prison cells, dazzling museums, mansions, and everything else in between. All while the Interpol is at their tail. That's quite a breathtaking plot, right?
Starring wisecracking Ryan Reynolds
Tomorrow. Game on. #RedNotice @NetflixFilm pic.twitter.com/btvgRxrzg2

— Ryan Reynolds (@VancityReynolds) November 12, 2021
Reynolds plays Nolan Booth whose personality is almost like his other role, Deadpool. Red Notice could be his own stand-up comedy film if it weren't for the problem of the actual plot they need to follow. Reynold's lines are composed of his typical witty comebacks, mostly at the expense of The Rock's character, coupled with his amusing facial expressions. He's always the cool art thief, never in mortal peril and never getting so much as a small scratch from all that running around the world either.
The Rock in his element
Red Notice is officially on Netflix!

The cinematic spectacle opens with a massive 10 minute action sequence where Dwayne "@TheRock" Johnson chases @VancityReynolds ​up, around, and through a museum in Rome — including some incredible parkour stunts! pic.twitter.com/3vR9F3IZjW

— Netflix (@netflix) November 12, 2021
In his element meaning, Dwayne Johnson once again played the part of a muscular agent throwing bodies everywhere and gallivanting through the world. Just like he did in Jumanji and Jumanji Next Level and Jungle Cruise but in a metropolitan setting this time. In Red Notice, he is Agent John Hartley, tasked to stop Booth. But after another thief, the Bishop, frames him, he joins Booth in an attempt to clear his name.
The bromance between Dwayne Johnson and Ryan Reynolds in the film #RedNotice WAS EVERYTHING pic.twitter.com/pQjcIRbQ7J

— Sunetra🦋 (@Sunetra24) November 12, 2021
Gal Gadot is a classy thief in red
Imma be very honest, the only reason I watched Red notice has to be her 😍#RedNotice pic.twitter.com/f0zl4o1NAn

— Priyansh (@PriyanshPP18) November 12, 2021

Gal Gadot is the Bishop, another intelligent art thief on the lookout for the third Cleopatra golden egg. Unlike Booth and Hartley who seem to get caught all the time, she fashionably evades justice with her skills and pretty face. Gadot does fight sequences dressed in an elegant red dress, she gets caught in a car chase, and constantly reminds us that this woman actually played Wonder Woman.
The best line from the film?
Most of the film's funny lines were delivered by Reynolds, including the most iconic one that had every viewer reeling. It's cool if you don't appreciate the film overall but this one line must've at least made you laugh:
This is the highlight of the movie. 😂 #RedNotice pic.twitter.com/yk0yESFa0r

— 🎭 (@BigHead_et) November 13, 2021
Booth and Hartley spend some time in a Russian prison no thanks to the Bishop. In the particular scene, they're shown planning their escape while doing various tasks in prison, washing dishes in particular. Booth turns to Hartley and demands why he's wearing a hairnet when he's obviously bald. Why indeed? The internet can't recover from the "head net."
AH AND THIS PART T_____T #RedNotice pic.twitter.com/iz6gUCaKrs

— ivy (@kanincat) November 12, 2021
Red Notice (2021) 🎬 pic.twitter.com/9rVCxh0MP7

— Sparrow II (@IsaacSparrowJr) November 14, 2021
This line from Red Notice 😂😂 pic.twitter.com/Jp0StMv1PK

— LADbible (@ladbible) November 15, 2021
Other iconic lines from Red Notice
If you think that bald joke aimed squarely at The Rock is the only banger, there are other amusing one-liners from Red Notice too. Remember when we said Ed Sheeran had a cameo? He also got to say a now-iconic line:
Ed Sheeran's cameo in Red Notice has given us the now-iconic: "Don't you know who I am? I'm Ed Sheeran, bitch!" pic.twitter.com/fCx32jwxya

— Netflix (@netflix) November 14, 2021
An incredibly solid burn, courtesy of Red Notice pic.twitter.com/c2LzzjA9Ry

— Netflix (@netflix) November 14, 2021
🚨This is your notice that RED NOTICE is now on Netflix!🚨

Dwayne Johnson, Ryan Reynolds, and Gal Gadot go toe-to-toe in this unruly heist comedy that's sure to steal your attention. pic.twitter.com/jppy6cJN1A

— NetflixFilm (@NetflixFilm) November 13, 2021
But some weren't impressed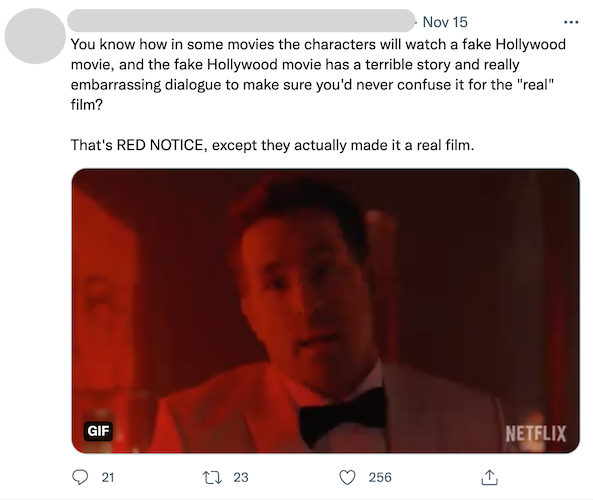 Red Notice has a $200 million budget and that would've been enough to top great heist films like the Ocean's franchise (Ocean's Eleven (2001) had a budget of $85 million). But even though it had the star power, it apparently fell short. Internet critics were quick to voice their opinions.


But what could've they done better? For starters, they could've made Inspector Das (Ritu Arya) into a better policewoman. It mostly felt like she was included in the movie so the criminals would get moving. We know we've seen this before, police scrambling to hunt down the perpetrators, but they were mostly more involved in the chase, not brought to the scene when it was more convenient. Think of  Now You See Me's Inspector Alma Dray (Mélanie Laurent).
There's also the fact that the film lacked guts — literally. There were all these gunshots but none of the main characters got hurt. They were never in any real danger which lessens the overall excitement for the film, TBH.




But still, it got the Biggest Opening Day on Netflix
WOW #RedNotice is @Netflix biggest ever opening day for a film. Congrats to this whole team! Can't wait for Red Notice (Taylor's Version) pic.twitter.com/tyGFqhKWao

— Ryan Reynolds (@VancityReynolds) November 14, 2021
However critics or the general public perceives it, there's no doubt Red Notice opening was a success. It has the biggest opening day in Netflix's film history so far. Reynolds, Johnson, and Gadot took to their respective social media accounts to thank the viewers and the team that made it happen. Say what you want to say about Red Notice but at the end of the day, you watched it too.
So should you still watch it?
While Red Notice is no Money Heist or Ocean's franchise, it still makes for an enjoyable comedy/crime film. It's light, moderately funny, and an okay weekend watch. Catch it on Netflix here.
Check us out on Facebook, Instagram, Twitter, and YouTube, and be the first to know about the latest news and coolest trends!