4. He is secretly introverted.
pano mag kadate ngayon feb 14 by marlou

Posted by Kevin Maglinte on Saturday, January 30, 2016
Don't lie. You liked introverts before you realized this about him.
See how shy he is while mangling Justin Bieber's Love Yourself? That is the mark of an introvert: an artistic soul waiting to unleash itself but left turning unto itself because of the weight of the world. Truly, this young man represents art like never before: contemporary art, that is.
3. Dat face.
https://www.facebook.com/jobe.nkemakolam/videos/1100438706647233/?permPage=1
We mean both of them.
Sometimes, you just have to look at the sheer impact one man can make on you. If he can render you catatonic the way he did with the other guy here, then you know there's something there.
2. He attracts amazing fans.

Preach!
You need to understand that HashT5 was a self-aware social experiment and a reaction against all those talentless pretty boys like 1:43 and Chicser. What if you took away all the looks from the boyband but imbued them with all the talent in the world instead? Would they be just as successful?
Well, they did manage to take away the looks but the rest of that experiment still needs some working on–but you get the picture. Buoyed by the success (and by "success," we mean Fibrosine) of this experiment, Marlou has abandoned HashT5. A crying shame.
1. He can stand the heat, yet left the kitchen.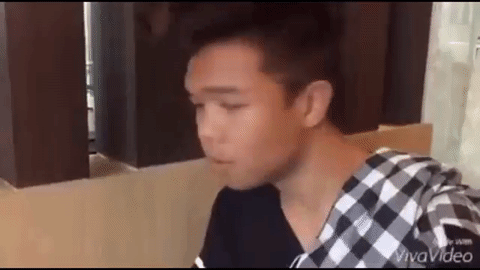 If you're reading this and think this was a pointless waste of time, why did you last this long in the first place?
Real talk: HashT5 as a social experiment is hilarious, but at the same time a validation of the fact that fame as its own goal is a terrible mistake. Sure, we can poke fun at these kids for making fools of themselves all over the internet but the reality is, we created this showbiz atmosphere and in doing so, left out the people who didn't have matinee idol looks and now want in.
And truly, if we can allow an Anne Curtis to pack concerts in Araneta solely because she's hot, should we not cut HashT5 some slack for wanting the same thing despite only having a distinct lack of singing talent in common with Anne?
Well, no. No, we shouldn't cut them some slack. But we should also be consistent about it, and merit substance over style more often than we do the other way 'round.
What are your thoughts on Marlou's departure from the band? Share them, along with your feels, in the Comments Section!