Meet Your Next Favorite Illustrators and Artists
Jul 28, 2018 &nbsp • &nbsp Kyzia Maramara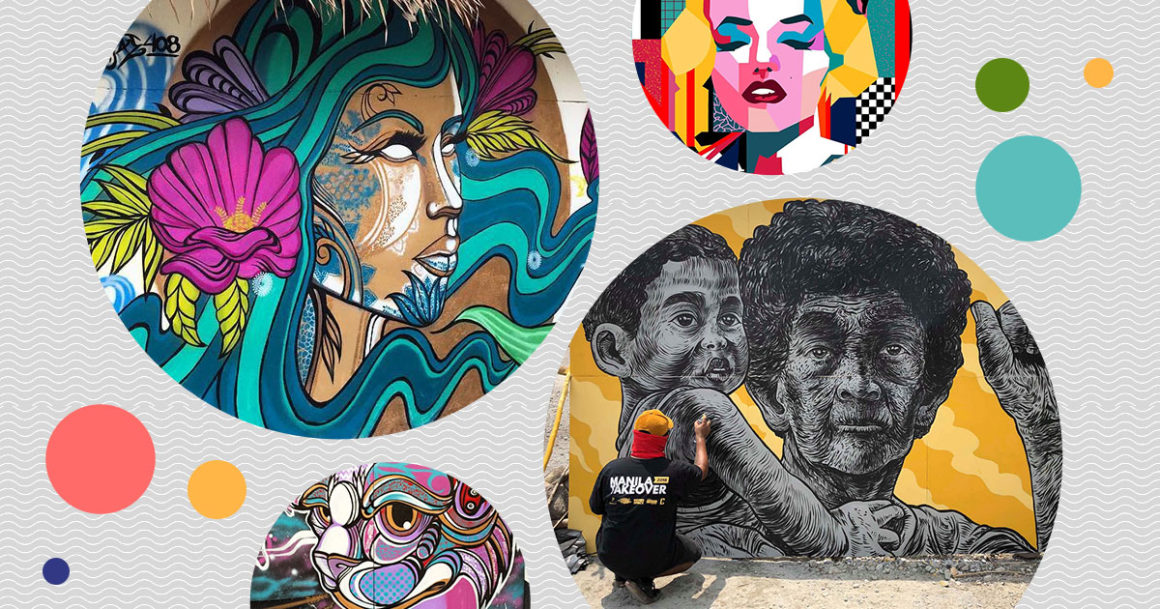 Colors and shapes make sense to some in ways that these won't to others. For these gifted people, they can bend colors and shapes according to their will, make these do whatever they have in mind. And although most of the time we normal people probably don't grasp the entire message the artist want us to understand, we sure as heck admire their artwork. The art culture is alive everywhere; we see it in skate parks, in beautiful graffiti all over the city, in our news feeds and everywhere else. These days, art has just evolved into digital paintings, creative print-designed shirts, and even a face full of makeup.
But traditional art, the kind that involves a paint brush, a canvas, and a creative mind, when married with modernity and fashion, achieve so much more. Meet these 8 artists who have been in the art scene for quite a while and are now endeavoring to add their own creative touch to one of the well-loved clothing brands in the country.
Anina Rubio
Anina Rubio is known for being a calligrapher and a visual artist, as evidenced by her awesome Instagram feed. Her works appeared in a film (Sakaling Hindi Makarating), and she has had partnerships with various local and international brands. She has also made murals all over the city with her trademark design of flowers and plants! If you're interested in learning from her, Anina also frequently does workshops you might want to sign up for.
Lee Caces
Splashes of color, bits of patterns here and there, that's how Lee Caces presents his art. Looking at his works, one might get the feel of an abstract chaotic clarity of sorts. Lee has been pursuing art his whole life, employed as a graphic artist, an illustrator, and even a photographer! His inspiration comes from nature – the sea, the mountains, and a myriad of other outdoor experiences.
Soleil Ignacio
Soleil Ignacio just might be your next fashion and artist icon! Her artworks are sophisticated, chic, and feminine, just the way we all like it. Being a fashion and beauty illustrator, she has collaborated and made art for a local cosmetics brand, a jewelry brand, and even made sleeves for various Toblerone special occasions. Check out her merch here!
Alessandra Lanot
Alessandra Lanot chronicles her artistic journey in her blog LifeAfterBreakfast.ph. She has conducted hundreds of workshops and art classes and mostly teaches adults the basics of watercolor, modern calligraphy, and pattern design – three things she definitely excels at! And to add to her success as an artist, she and her husband also owns and runs two restaurants– PIPINO Veg and Pi Breakfast & Pies.
Archie Oclos
When we say that Arcie Oclos' works will make your jaw drop or at the very least catch your breath, we are not exaggerating. A graduate of Fine Arts in Painting from the University of the Philippines he focuses on spreading social awareness through his superpower of filling the streets with art. His heavily detailed work depicts indigenous people, farmers, the state of today's politics, and many more. Archie provides an artistic voice for the rest of us, away from social media and directly into the streets.
BITTO
BITTO is an illustrator, painter, and muralist who creates various abstract pieces that will make you think: what does he mean by this particular art? Where does he get his inspirations from? And how creative can he get?  You'd be hard-pressed to find him elsewhere but if you want to see his creative genius live, he will be doing a larger-than-life mural incorporating denim at Guess Philippines' art and fashion exhibition on July 28-29 at Whitespace Manila.
Steph Alvarez
An architect, an illustrator, and a painter, Steph Alvarez paints portraits of women through watercolor, acrylic, and pen. She uses a colorful palette ranging from muted hues to vibrant works both of which effectively makes her art look alive. Steph mostly works on portrait commissions and illustrations and holds workshops in between.
Dee Jae Pa'este
Filipino-Polynesian artist Dee Jae Pa'este's art works might seem familiar to you, in fact you might have passed one on the street or at one of your favorite neighborhood restaurants in Makati! His artworks are heavily influenced by tribal patterns, swirls and curves, and faces of women. His art brings streets to life and this to him is his happy contribution to the world.
If you want to see these artists and more showcase their craft live, head on to The Art of Guess at Whitespace Makati on July 28-29, 2018. Artistic displays by various Filipino illustrators, designers, and mural artists tied up with Guess will be auctioned! And did we mention there will also be live performances? Don't miss the most interactive art and fashion exhibit where you'll get a closer look at 10 artist-designed Guess denim jackets, customize a Guess tote bag and more!
Got anything else to add? Share it with us below!