Every two years, Disney fans flock to the D23 Expo to celebrate and share their love for the company's timeless creations. With the Disney umbrella covering more brands than ever before, there's never been a better time to be a fan of the House of Mouse. One of those brands, of course, is Star Wars, and with a purported final chapter to the Skywalker saga that began in 1977's Episode IV: A New Hope set to hit theaters this December, expectations were understandably high.
Thankfully, the Star Wars panels didn't disappoint, with the likes of directors J.J. Abrams (The Force Awakens, Star Trek) and ) and Jon Favreau (Iron Man), actor Ewan McGregor (Trainspotting), and producer Kathleen Kennedy (Indiana Jones) taking to the D23 stage to deliver tantalizing glimpses of the adventures to come.
JET TROOPERS

Every film since the 1977 original has added variations to the Empire's signature stormtroopers, including Shock, Scout, and even Death troopers. Episode IX: The Rise of Skywalker looks to be no different, with Sith Troopers and Jet Troopers being added to the mix. The Sith Troopers had their official unveiling in the days leading up to this year's San Diego Comic Con as exclusive action figures, but the Jet Troopers made their debut as part of the D23 Rise of Skywalker exhibition. We don't know if the addition of a jetpack will improve their aim any, but we can't wait to see these guys flying about on the big screen.
EPISODE IX: THE POSTER

Doing away with the traditional group shot, the Episode IX poster gets right to the point, showing novice Force user Rey (Daisy Ridley, Murder on the Orient Express) squaring off against frustrated Dark Side user Kylo Ren (Adam Driver, BlacKkKlansman). With lightsabers drawn and the two poised to do battle on what looks to be some sort of wreckage, parallels to the infamous duel between Obi-Wan and Anakin are easy to draw, with crashing waves standing in for planet Mustafar's lava.
But that isn't the most startling feature of the poster…
LONG LIVE THE EMPEROR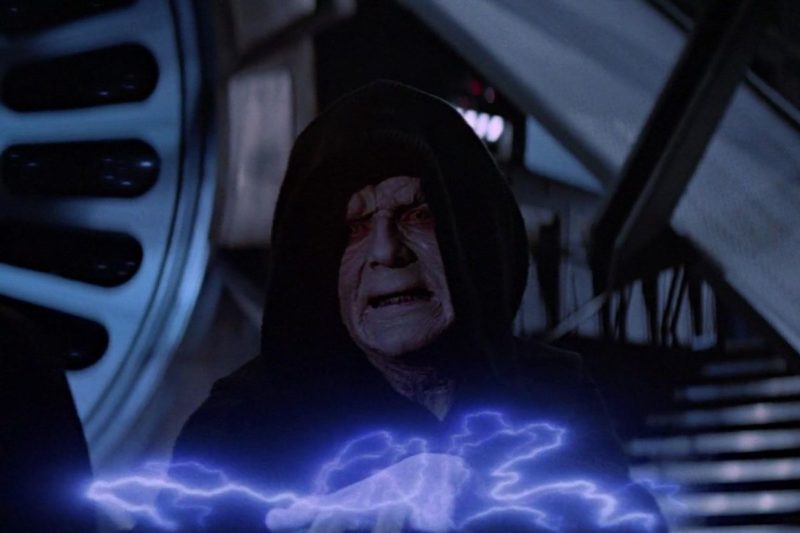 Upon hearing his ominous chuckle in the first teaser trailer, fans were agog at the possibility of Emperor Palpatine/Darth Sidious (Ian McDiarmid, Sleepy Hollow) making an appearance in the final chapter of the Skywalker Saga. With this D23 poster reveal, the dark lord's participation is officially confirmed, his ostensibly deceased visage taking up the majority of the image. Truth be told, we probably shouldn't be surprised, seeing as characters like Obi-Wan and Yoda never let a little thing like dying onscreen slow them down.
KERI RUSSEL AS ZORI BLISS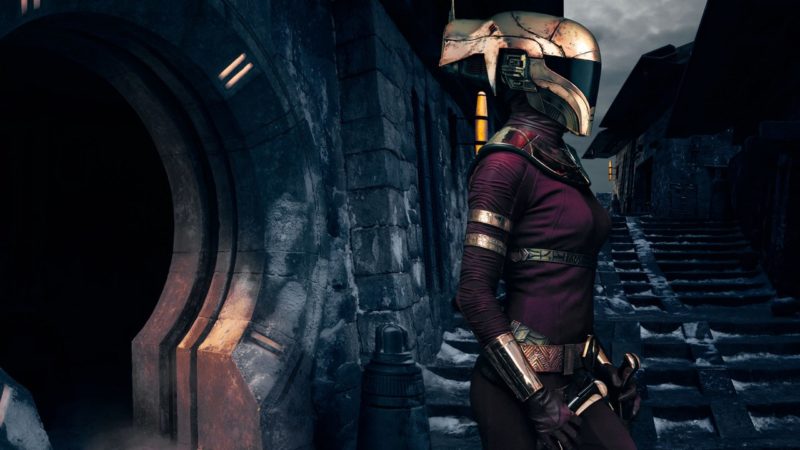 We've known for some time that Keri Russel (TV's The Americans) was part of the Episode IX cast, but now, we actually have details! Russel shared what little she could on her character of Zori Bliss, describing her as, "very cool and a little bit shady…she's kind of a criminal and sort of this old friend of Poe's."
So…does that make her a bounty hunter? A former Imperial agent? Third Skywalker cousin, twice removed? Admittedly, we don't have a lot to go on, but at this point, we'll take what we can get.
A NEW TIMELINE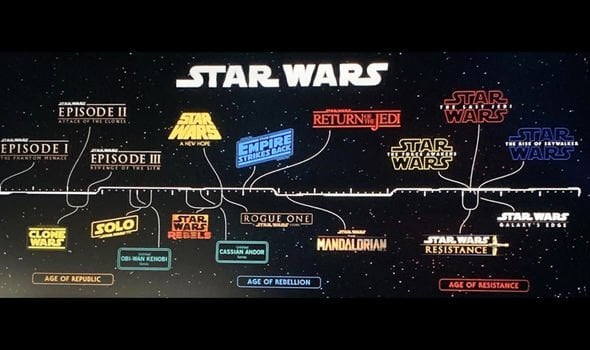 Following Disney's purchase of Star Wars in 2012, it was declared that pretty much anything that wasn't shown onscreen was no longer canon, invalidating the massive Expanded Universe of content that had sprung up over the years of the franchise's existence. From that point on, aside from Episodes I-VI, and a handful of the animated TV shows, only newly-produced novels, comics, and series would count.
Now, to keep things straight, an official timeline was released at D23, broken up into three distinct periods, The Age of Republic (Episodes I-III, the Clone Wars TV series), The Age of Rebellion (Solo, Rogue One, and Episodes IV-VI), and The Age of Resistance (The Mandalorian, Episodes VII-IX).
THE MANDALORIAN
Set between the destruction of the Empire in Episode VI: Return of the Jedi and the rise of the First Order in Episode VII: The Force Awakens, The Mandalorian follows a (thus far) unnamed bounty hunter as he plies his trade in a universe where lawlessness rules. Decked out in traditional Mandalorian battle armor like Boba Fett before him, The Mandalorian arrives, courtesy of Iron Man director Jon Favreau, with a heavy emphasis on practical (as opposed to digital) effects. With Season 2 already being confirmed before the first has even premiered, fans can catch the first-ever live-action Star Wars TV show on Disney+ when it launches on November 12.
THE RETURN OF KENOBI
However divided fans' reactions have been to the prequels, one of the aspects almost universally-beloved is Ewan McGregor's portrayal of Obi-Wan Kenobi. Thus, it was with great fanfare that, after years of rumors, cameos, and hearsay, Kathleen Kennedy brought the Scottish actor out onstage at D23 to confirm what we've all been waiting to hear: Obi-Wan will return, not in a film, as was originally rumored, but a full-blown series, set for release on D23!
We may not have any details on this, but it was confirmed that the series will be set between Episodes III and IV, depicting the Jedi Master's adventures in the years between his pupil's descent into evil, his own eventual life as a "crazy old man" in the desert.
DARK REY
J.J. Abrams bringing along a sneak peak at Episode IX: The Rise of Skywalker was momentous enough on its own, as we haven't seen any new footage from the Star Wars finale since the first teaser trailer back in April, but it was the final moments of the clip he presented that brought the house down. Following the Emperor's ominous intonation that, "Your journey nears its end," viewers were treated to a shot of Rey in full-on Sith mode, complete with double-bladed red lightsaber. Within moments, social media was flooded with comments that basically amounted to, "WAIT. WHAT? WHY? HOW?!"
J.J. better have some pretty good answers, come December! Well. whenever the movie will be shown here.
What are your thoughts on Rey going to the dark side? Tell us below!