Subway Philippines recently released its digital ad promoting its B.M.T. (biggest, meatiest, tastiest) sandwiches with vlogger Kimpoy Feliciano. But instead of having everyone crave their delicious sandwiches, it gave most of the Internet a headache. It even caused Gabriela Women's Party to speak up and point out what they saw was wrong with the ad.
Subway Philippines' ad is under fire
The one-minute ad has since been removed from Subway Philippines' official Facebook page but netizens have managed to circulate a copy online.
It featured Feliciano clarifying that while people peg him for a "playboy," he prefers to be called a "lover boy." He then went on to confess that he is in love with "not one but three" — B, M, and T. Each of these letters represent a woman holding a different kind of Subway sandwich, a not so subtle metaphor that left a bad taste in the mouths of netizens.
The Internet reacts to the 'misogynistic' ad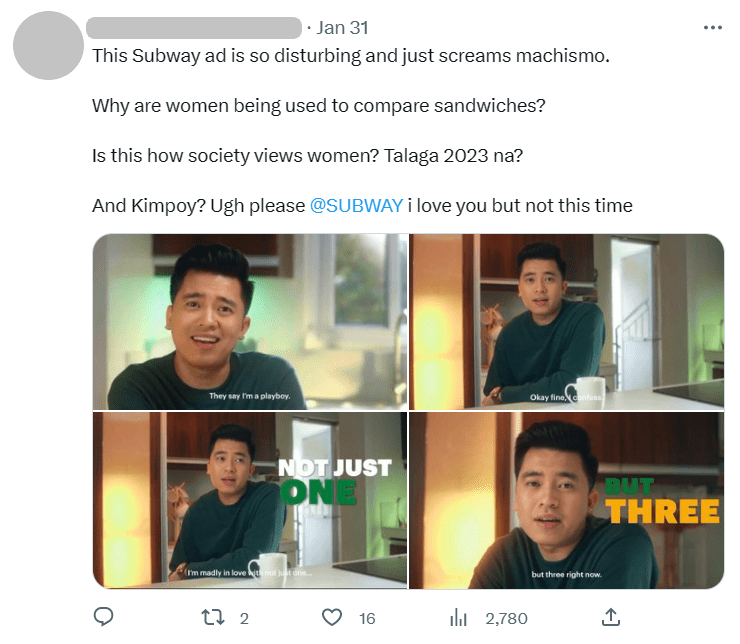 "Hindi ako babae at hindi rin naman ako sandwich but bakit feeling ko ang lakas ng "women as pieces of meat" undertone nitong video?" tweeted one netizen.
"This Subway ad reeks of machismo. Why use women to compare different sandwich options? Ganito pa din ba ang tingin ng ibang lalaki sa mga babae? I like Subway but this isn't clicking for me," tweeted yet another netizen.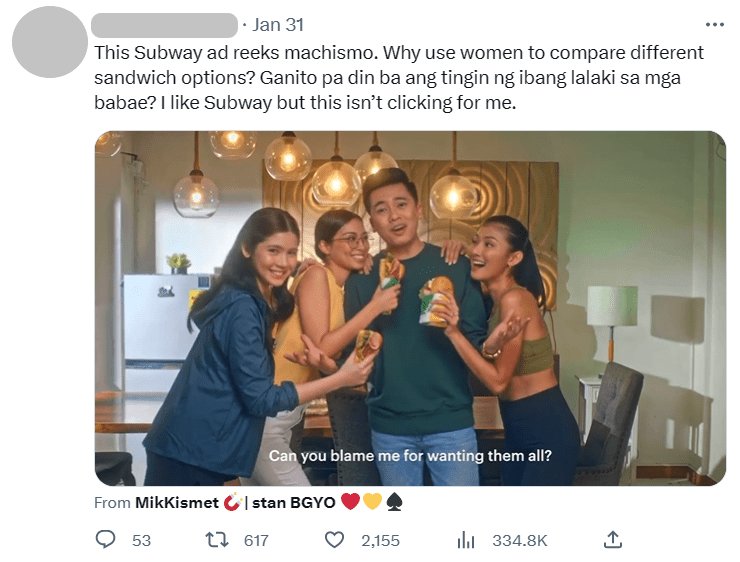 "This Subway ad is so disturbing and just screams machismo. Why are women being used to compare sandwiches? Is this how society views women? Talaga 2023 na?" asked another.
Many expressed disappointment over the underlying message of the ad and demanded Subway Philippines explain or issue an apology.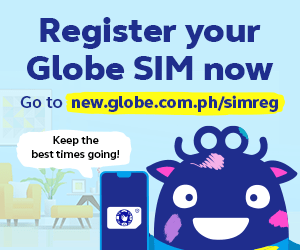 Subway Philippines posts about the ad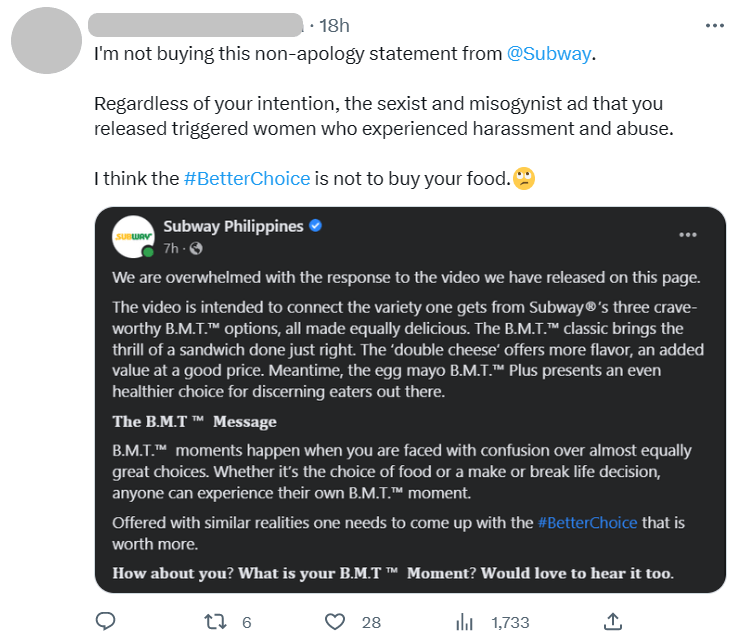 After seeing the ad's backlash, Subway Philippines deleted the video and posted an apology on Facebook. While the latter seems to have also been deleted, netizens were quick to take screenshots as receipts.
"We are overwhelmed with the response to the video we have released on this page. The video is intended to connect the variety one gets from Subway's three crave-worthy B.M.T. options, all made equally delicious," said the statement.
It then went on to describe how B.M.T. options can satisfy the cravings of all sorts of eaters out there. The post also reiterated the "B.M.T. message," encouraging everyone to "experience their own B.M.T. moment."
The Internet was disappointed that it seems to be a non-apology from Subway Philippines. Instead of acknowledging the backlash, all they seemingly did was to further promote their B.M.T. sandwiches.
"I'm not buying this non-apology statement from [Subway Philippines]," wrote one netizen on Twitter. "Regardless of your intention, the sexist and misogynist ad that you released triggered women who experienced harassment and abuse. I think the #BetterChoice is not to buy your food."
Gabriela Women's Party issues its own statement
On the viral Subway ad:

We, in Gabriela Women's Party, are concerned with the underlying message of Subway's newest campaign advertisement which objectifies women. pic.twitter.com/hjrKNEr66U

— Gabriela Partylist (@GabrielaWomenPL) February 1, 2023
On February 1, Gabriela Women's Party, a Filipino political party that advocates for women's issues and represents Filipino women, called out Subway Philippines for the ad that "reeks of sexism and misogyny."
"We, in Gabriela Women's Party, are concerned with the underlying message of Subway's newest campaign advertisement which objectifies women," reads the post.
"We would like to remind Subway that women are not pieces of meat. The advertisement reeks of sexism and misogyny. It is deeply offensive, triggering, and insensitive, especially when many Filipino women continue to experience various forms of sexual violence and abuse," it added.
The post then ended with a reminder for everyone: "This is a stark reminder that, when it comes to the way we portray women in the media, we still have a very long way to go."
What do you think of the Subway Philippines ad? Share your thoughts with us!
Check us out on Facebook, Instagram, Twitter, TikTok, and YouTube, to be the first to know about the latest news and coolest trends!