8 Reasons to Believe in Mocha Uson

By Kel Fabie


Nation, Philippine journalism has come a long way. From Del Superior Govierno to La Solidaridad, The Manila Bulletin to Bagong Tiktik, and now to Mocha Uson Blog, we have evolved to the zenith of journalism—and it is only by her sheer humility that she manages to still say that she is "not a journalist."
Despite her protestations, the burden of a nation—to stay informed and be led away from the darkness of misinformation and the "bias" Yellow media—lays squarely upon her shoulders. She has responded to the challenge with aplomb and grace.
Pictured: aplomb and grace.
Nation, with her relentless support for our president in the face of a "bias" media that champions the Liberal Party so much while nearly everyone from the Liberal Party has already jumped ship, we enter a new era of Citizen Journalism—where everyone is reporting on everything, and your report is as good as mine, no matter how much fact-checking either of us decided to do (or not to do). After all, why let the facts get in the way of an exciting narrative?
To do or not to do—that is no longer the question. Here are 8 reasons I believe in Mocha Uson, and so should you.
8. She is nothing if not consistent.
Mocha Uson epitomizes the empowered woman. It scares the chauvinists to see a lady who doesn't care what men think, and that's why these naysayers want to shut her up and bring her down. Ain't nobody got time for that!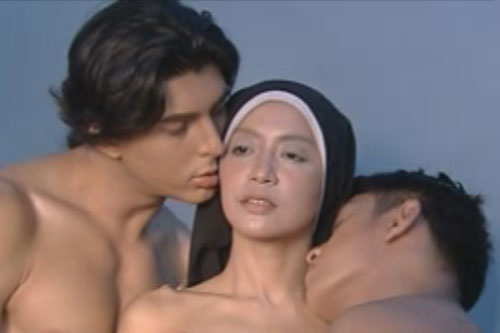 This is not a woman who cares for your norms.
Isn't it amazing that this woman, who is not cowed by the Catholic hierarchy, feels the need to share this, then?
A sign! It must be Jesus. Or Osama. Who knows?
How could we even begin to question a woman who questions religion when she sees fit, then proceeds to invoke it when convenient?
By the way: According to Paul in the Bible, there are 16 qualities for Perfect Love, including how love is patient, love is kind, and that it does not boast. Rody Duterte is the 16th President of the Philippine Republic. Therefore, Duterte is love. Coincidence? I think not.
7. She is the paragon of journalistic integrity.
In an era where media is nothing but "bias," who do we turn to for the truth? Mocha Uson, that's who! She is someone who fights for the truth and makes sure that wherever the mainstream fears to tread, she will.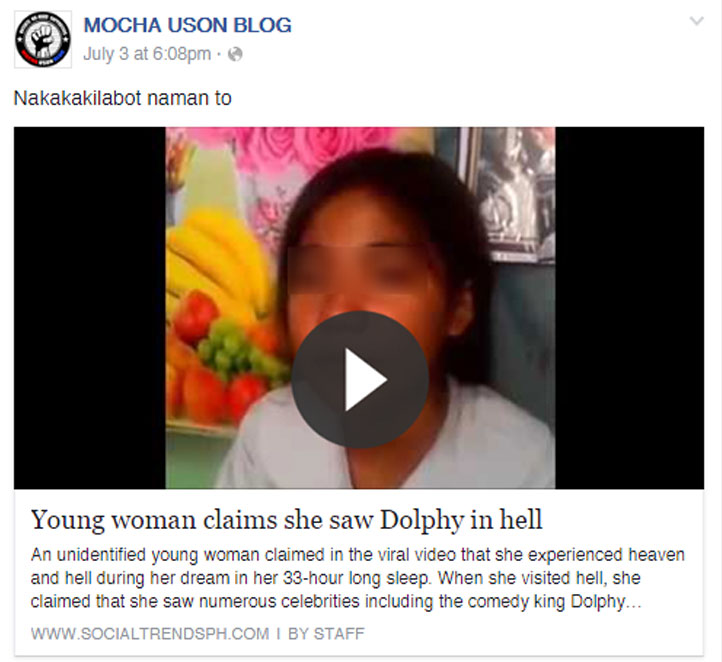 For example, this all-important revelation. Totally legit, you guys!
In fact, Mocha Uson has so become the face of journalistic integrity that this year, UST has suspended its journalism program for incoming freshmen due to having "too few applicants." Surely, they would rather learn at the feet of a true journalist rather than the pretenders over at the UST.
By the way: UST's school color is yellow. Dilaw na naman?!? Coincidence? I think not.
6. She exposes the truth behind the worst of us.
Mocha Uson is a true crusader for truth and justice. That's why she is out to utterly destroy those who seek to deceive us all: magicians.

Look at this charlatan, trying to make an honest living—out of dishonesty.
In Mocha's "Blog," she makes it a point to expose magician secrets, because how dare these people have trade secrets to keep, right? Indeed, the only artists who deserve to have their secrets respected are the Mocha Girls. Anyone else can go suck it.
By the way: The greatest magician of all time, Harry Houdini, has twelve letters in his name. So does Noynoy Aquino. Coincidence? I think not.
5. She knows who is "bias" and who is "not bias."
Admit it, Rappler: whenever you write an article against our current president, you are simply being "bias" and "bayaran." But when you are writing positively about him, which you actually do pretty often, you're just covering up your Duterte hate. How can we tell? Because Mocha can. She sees right through you.

No, we are not going to make that very transparent joke.
By the way: The word "bias" is a word that originated from the French "biais," which means "slant, or slope." The French surrendered to Germany during World War II. Germany was ruled by Hitler. Rappler is very "bias." Therefore, Rappler is Hitler. Coincidence? I think not.