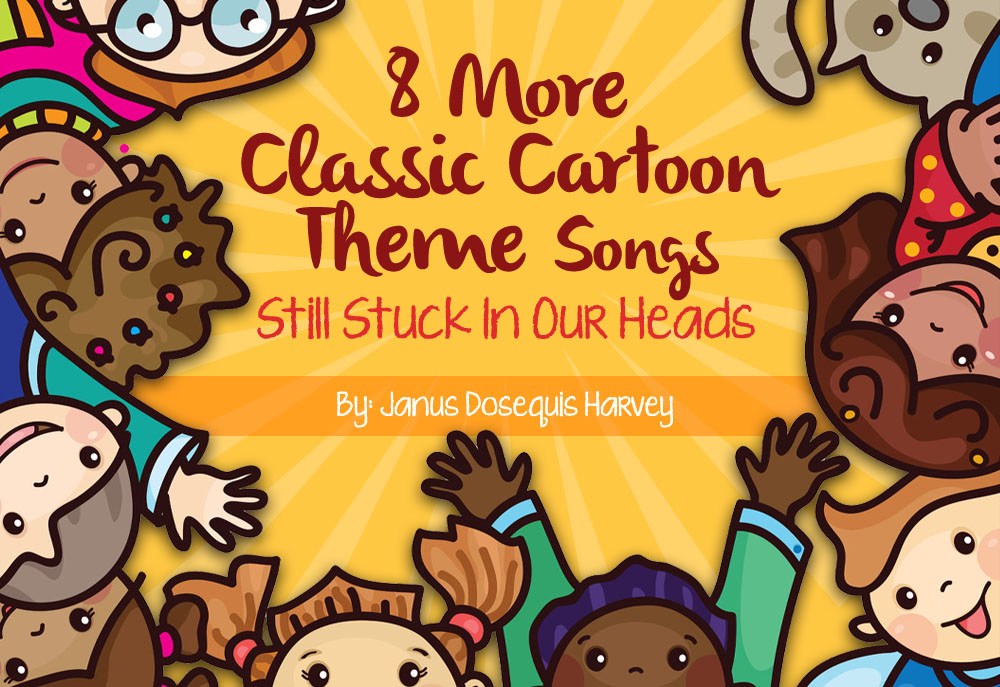 They still don't make cartoon themes like they used to.
While the quality of animation today has certainly gone above and beyond the limitations of the '80s and the '90s, it seems like they still can't create enough theme songs that can rival the catchiness of the cartoons of old. Once again, we will try our best to limit the cartoon themes to only the '80s and the '90s, no matter how much we love the theme song of Daimos.
We've done 8 classic theme songs before. Today, we have another 8 just for you.
[buffer by="10px 15px 10px 15px" id="bar"]8. The Powerpuff Girls[/buffer]
Introduced in 1998, the Powerpuff Girls theme song has all the makings of an earworm-inducer. This is probably one of the most memorable theme songs out there just because it follows the traditional formula of the best cartoon themes: introducing every single member of the team and their schtick in one go. For reference, see Teenage Mutant Ninja Turtles, the.
Most Memorable Lyric: Fighting crime, trying to save the world, here they come just in time, the Powerpuff Girls!
After introducing Blossom as the leader, Bubbles as the perky one, and Buttercup as the toughest, the theme song helpfully reminds us what the Powerpuff Girls are all about.
[buffer by="10px 15px 10px 15px" id="bar"]7. Tiny Toon Adventures[/buffer]
It's not every day that you get a full orchestra to do a cartoon's opening theme, but lo and behold, that's exactly what Babs and Buster Bunny (no relation) managed to get for this one.
Most Memorable Lyric: We're tiny, we're toony, we're all a little loony!
This may have been the "new generation" for Looney Tunes, but the very generous heaping of references and cameos by the classic characters really helped make the whole package go down easier.
[buffer by="10px 15px 10px 15px" id="bar"]6. M.A.S.K.[/buffer]
Not only was the toy line for M.A.S.K. nothing short of great, you also have to give 'em props for their really catchy theme.
Most Memorable Lyric: Masked crusaders, working overtime, fighting crime! Secret raiders, who will neutralize, soon as they arrive!
Our first exposure to the concept of "overtime" was a positive one. Who wouldn't want to work overtime to fight crime, right?
[buffer by="10px 15px 10px 15px" id="bar"]5. Chip 'N Dale Rescue Rangers[/buffer]
Not to be confused with the fine dancers from New York, the Rescue Rangers, along with the Ninja Turtles, made you think how hot ladies in coveralls could actually be.
Most Memorable Lyric: Ch-ch-ch-chip and Dale! Rescue Rangers!
You just can't help but get that chorus stuck in your head, and that's perfectly fine. The Rescue Rangers really got the luck of the draw in the TV theme roulette.
[buffer by="10px 15px 10px 15px" id="bar"]4. Sailor Moon[/buffer]
The Tagalog version will always stand out, and this song definitely deserves to be featured in any countdown of memorable themes for the average Pinoy '90s kid. There's just something about Sailor Moon's music that stands out, and the Tagalog lyrics do so much to enhance it.
Most Memorable Lyric: Sana bawat saglit laging kapiling ka. Pag-ibig ko sana'y madama…
As most of you know by now, Vehnee Saturno wrote the lyrics and the very distinct melody of the song, plus the tolling of the bell at the start really sets the tone for this epic anime series.
[buffer by="10px 15px 10px 15px" id="bar"]3. The Goof Troop[/buffer]
The Goof Troop might not be anyone's favorite cartoon growing up, but it had an opening theme that refuses to go away.
Most Memorable Lyric: We're the Goof Troop, and we'll always be together. We're the Goof Troop, best of friends forever!
See what I mean? These are the kinds of lyrics that insist on staying with you until you're old and gray, even if you have no idea what Goofy's son's name was. It's "Max," by the way. You're welcome.
[buffer by="10px 15px 10px 15px" id="bar"]2. Darkwing Duck[/buffer]
He was the terror that flaps in the night, and there was no beating the sheer recall value of his opening theme. What is it with these ducks and their music, huh?
Most Memorable Lyric: Cloud of smoke and he appears, master of surprise. Who's that cunning mind behind that shadowy disguise?
A distinctly '90s beat coupled with lyrics that explain the plot for the benefit of everyone watching. Really hard to go wrong with a theme song like that.
[buffer by="10px 15px 10px 15px" id="bar"]1. Batman: The Animated Series[/buffer]
Speaking of Darkwing Duck, it should be obvious that one of that guy's inspirations has to be our #1, although in stark contrast to all the other themes here, this Danny Elfman-penned intro has no lyrics whatsoever.
The Animated Series has a theme song straight out of the movies, and it really enhanced the appeal and mystique brought about by Kevin Conroy and his epic voice acting. Batman's opening theme song really set the tone for one of the most remarkable cartoon series of all time.
What childhood cartoon theme songs are still stuck in your head? Share the memories with us in the comments below!