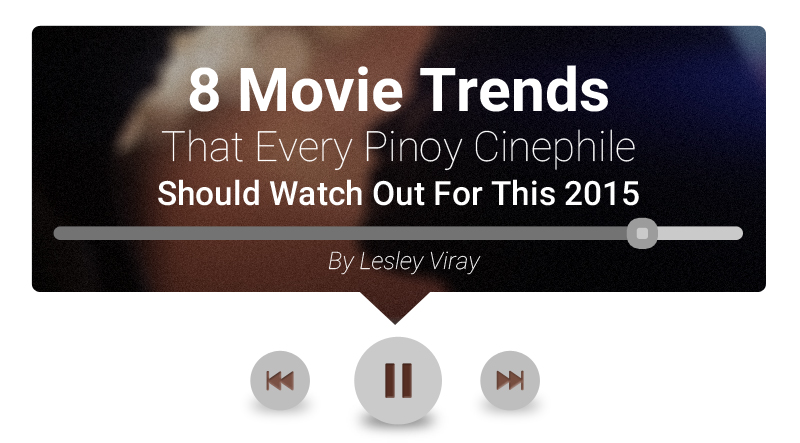 Like a bat out of hell, 2015 is already here and we're halfway through another decade. What could that mean for the movies? Well, perhaps the cinematic nuances of the 2010s are fast materializing, nearing its sum total, hardening into a definable form. Just as the '90s had its signature tenor (quotable slacker protagonists, Die Hard-inspired limited location thrillers, and heaps of Keanu Reeves), this decade will soon have its own cinematic iconography (social media-inspired motion graphics and bleached-out hipster cinematography, so far, right?). It's a strange decade, indeed.

While 2014 brought us the slight return of the Space Opera and the final death throes of those cumbersome 3-D glasses, 2015 looks to show that Philippine cinema and Hollywood have learned some lessons along the way. So Pinoy cinephiles, lift up your eyelids and perk up your ears.
Here are 8 trends you movie brats should watch out for. (Note: I separated them into two categories [Philippine cinema and International Cinema], four items for each.)

8. Books and Movies: The Great New Alliance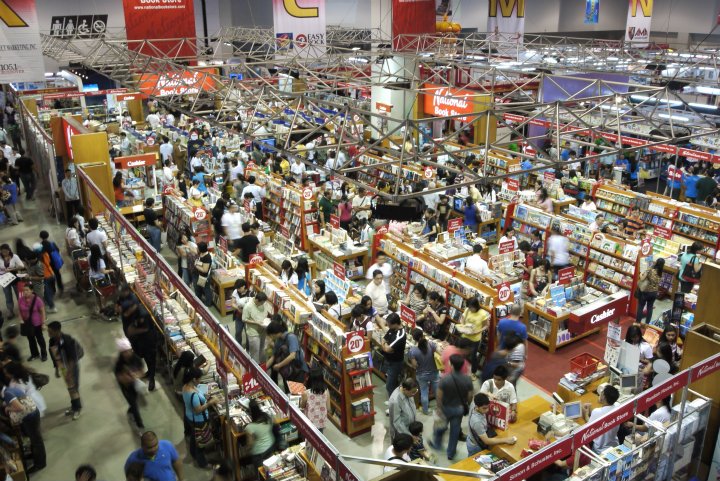 Naysayers be damned. Even though most of us are reading She's Dating A Gangster and are still a few novels shy before graduating to Marcel Proust, hey, at least we're starting somewhere.
Just as America had mined Gone Girl and The Fault in Our Stars, local movie producers are wising up and embracing the cross-platform business model of novels and movies. Viva has acquired Psicom Publishing. The Wattpad app, an online writing platform with crowd-sourced editing capabilities, birthed hits such as Ang Diary Ng Panget and Talk Back And You're Dead. Ramon Bautista's self-help book Bakit Hindi Ka Crush Ng Crush Mo? had been jerry-built into a Star Cinema product to impressive box-office returns.
It's a no-brainer: It seems to me that Filipinos are now having more fun experiencing their narratives twice—on the page, and on the screen. And if there's reading involved, that's always a good thing.
7. A New Power Player: Antoinette Jadaone
Move over, Cathy Garcia-Molina. There's a new babaeng bakla in town and her name is Antoinette Jadaone. A graduate of the UP Film Institute and helmer of the cult indie hit Six Degrees of Separation From Lilia Cuntapay, this young, whip-smart writer-director is the queen-to-be of Star Cinema's commonwealth of romantic comedies. Just for 2014 alone, she has made three films (Beauty In A Bottle, That Thing Called Tadhana and Relaks, It's Just Pag-Ibig), not to mention, reaping a handful of trophies for scripting the MMFF darling pick English Only, Please.
Looks like Star Cinema has found its new crown jewel: One with an intimate knowledge of beki humor and just enough quirk to make their conveyor belt products slightly askew.
6. A Tsunami of Rom-Coms From Star Cinema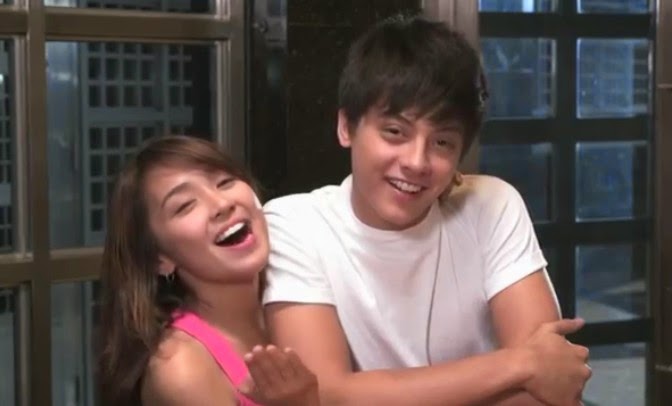 Overtime and Cinemalaya's The Janitor prove otherwise. Horror had its small hurrahs from Dementia and Maria Leonora Teresa, but not enough excitement from mainstream audiences to warrant a solid return. In short, the romantic comedy is still king when it comes to entertaining the Filipino brain. It is the ultimate cure-all for the proletarian. Other genres will call it a day, since they can't hold a candle to those intoxicating ribbons of kilig when Daniel Padilla enters frame.

So yes, expect a surfeit of rom-coms this year and the tried-and-tested tropes that come along: the odd jobs, the comic relief sidekicks, the healthy servings of beki humor, and those overused social media-inspired motion graphics done with After Effects.
5. The Independents Will Smarten Up

Cinemalaya has turned 10 last year, and after so much mudslinging and controversies, audiences have started turning to other festivals for their diet of independent films. Other lesser known festivals have started cropping up, one being QCinema, a project of Quezon City Mayor Herbert Bautista.

And yes, despite the triumphs of filmmakers such as Lav Diaz, Brillante Mendoza and Adolf Alix Jr. in international festivals, it remains a sad fact that not a lot of Filipinos are watching independent films, as Eugene Domingo groused in an a press conference last year.

But independent filmmakers are smart people. Distribution models are being set-up right now by small agencies. Hopefully, these would allow lesser-known Filipino films to be screened through a subscription fee. Only time will tell until we will have our version of Spotify for our very own indie films.

4. The End of The Dark Superhero Movie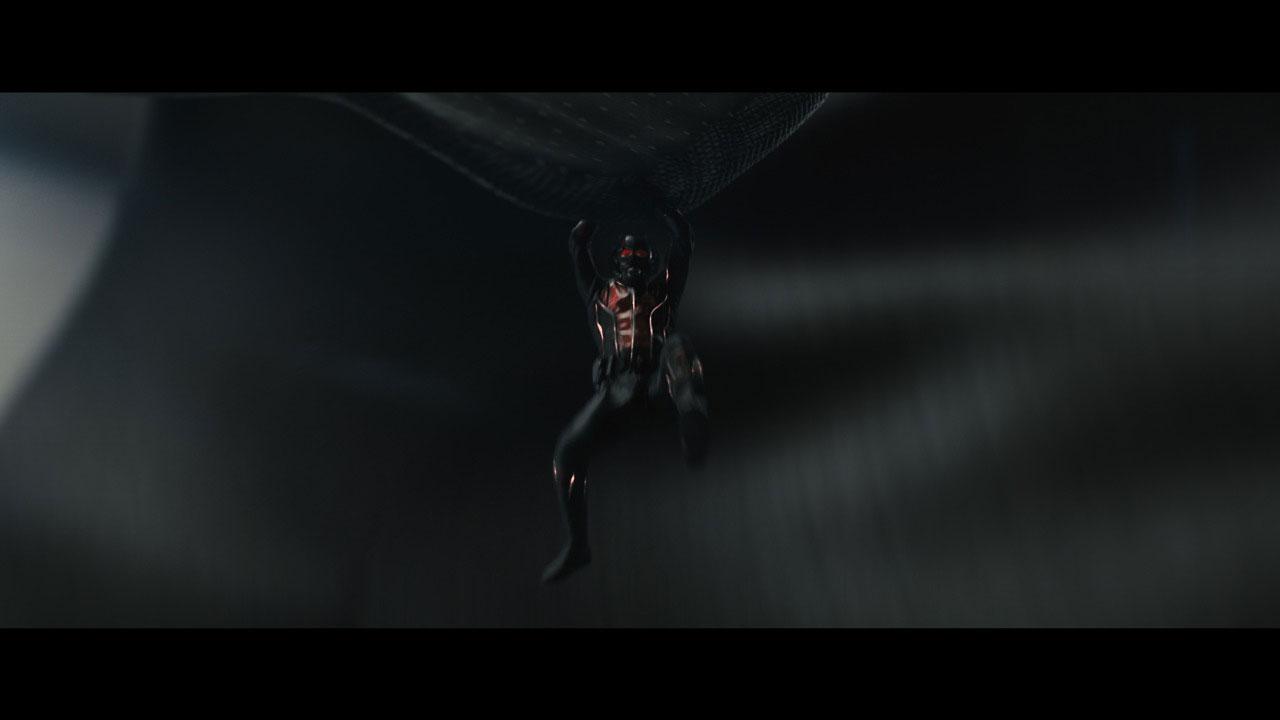 Man of Steel was the death knell for the grim, gritty, and gray superhero movie. It marked the end of the Christopher Nolan era.

With Guardians of the Galaxy being the top-grossing movie of 2014, superheroes will embrace their silliness again and own up to a much brighter color palette. The genre will be less serious fare and will aim for fun aplenty. Hey, it's all just a cycle. Watch out for Marvel's upcoming Ant-Man, to see what I mean.
3. More Marketed-For-Everyone Films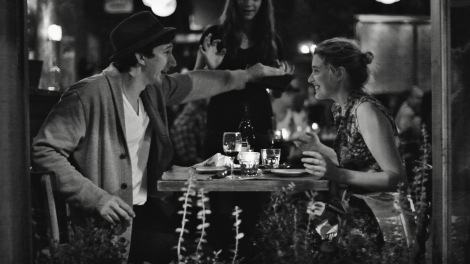 The Hollywood Reporter has stated that more and more movies are reaping its earnings from the international market (that means us, the Philippines, and other Asian and European countries) more than the domestic US market. This could only lead to one thing: Narratives that are primal, all-encompassing, and culturally neutral. Movies that are more sensory than cerebral. What's to be expected? Loud and pyrotechnic spectacles like fairy tale reimaginings, sci-fi actioners, comic book adaptations, vast historical dramas, and hyperactive animated features. Things that thunder inside the multiplex. Things our Asian brains can swallow.

If you're pining for quieter and more intimate fare like a Noah Baumbach movie, it looks like you have to watch them on your laptop.
2. Less Edgier Comedy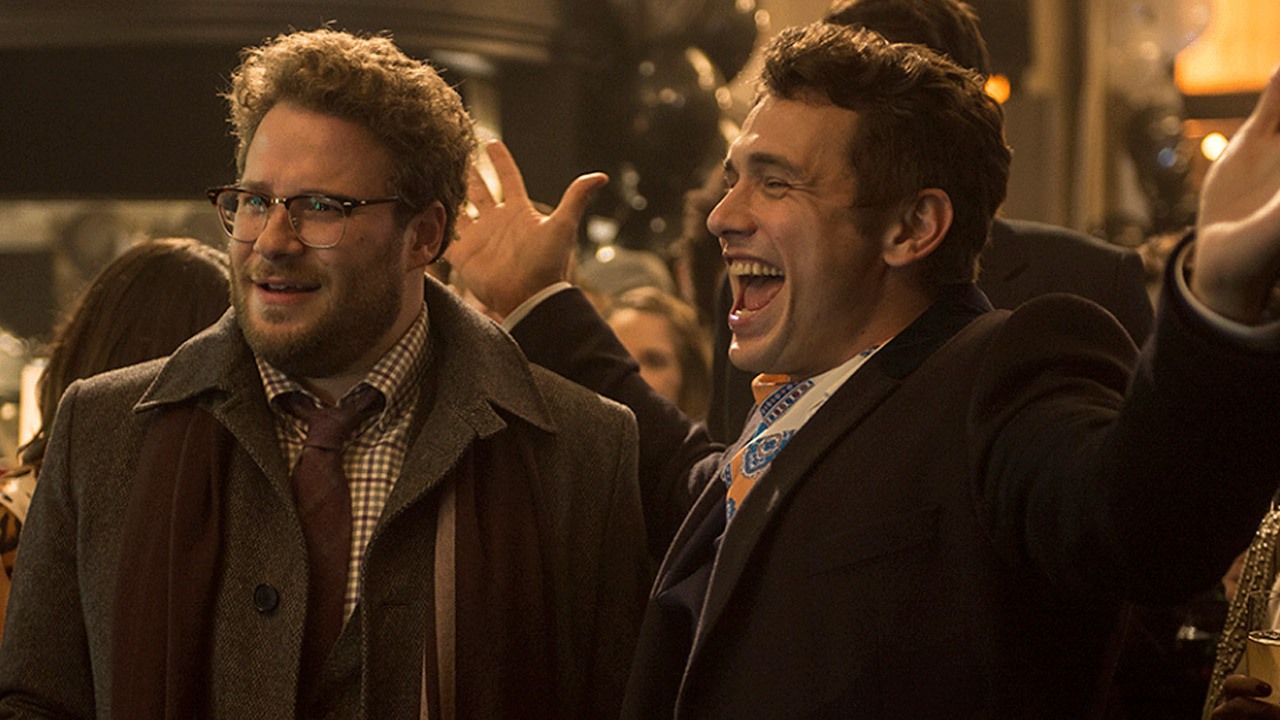 As they say, "There's nothing sacred in comedy." But after the nightmare of the Sony hack that led to the delayed release of the Seth Rogen comedy The Interview, movie moguls everywhere are rubbing their chins and rethinking about how their comedy productions can be retooled for this year.

Edgier and topical comedies may take a backseat; a more wholesome family-friendly approach may be the order of the day, which may be a good thing or a bad thing.
1. More Marvel-Inspired Franchise Models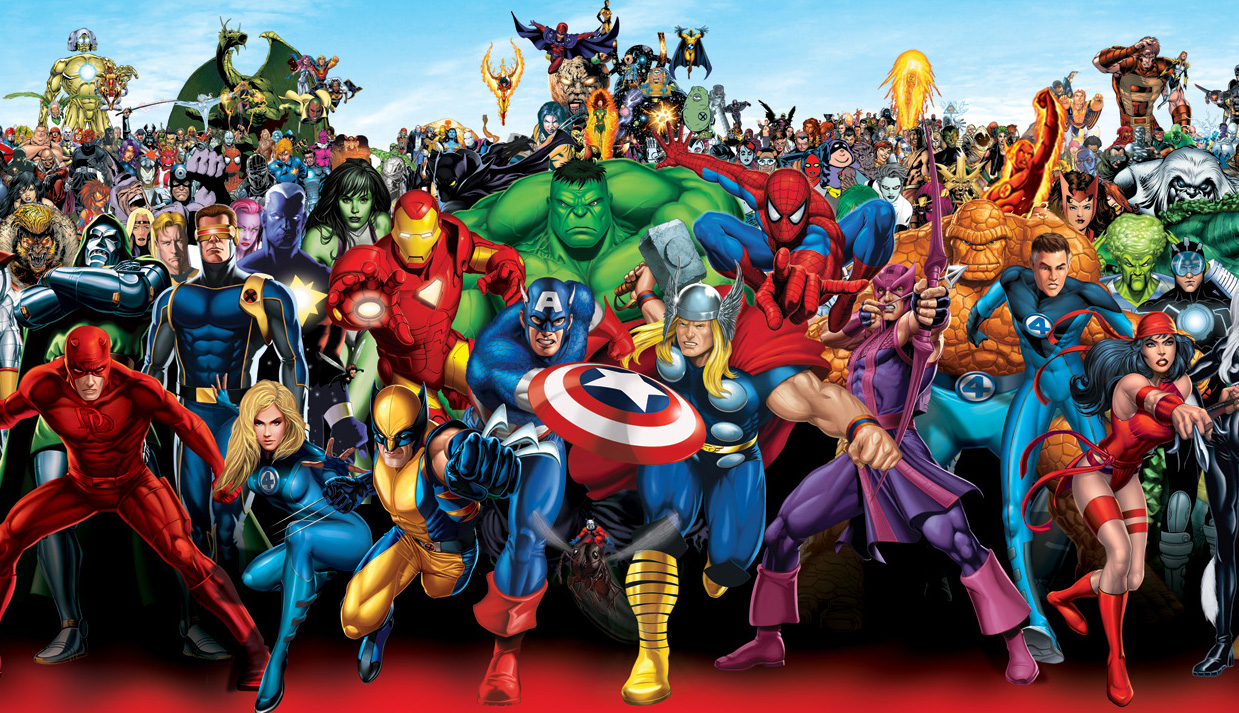 And if it worked for Marvel Studios (as they are fast becoming the most well-known global brand of storytellers) why shouldn't the others play copycat and create their own playpens?
This franchise model–unheard of before in the history of Hollywood—will be studied, dissected, and mined by marketing boffins. And then movie narratives will unspool for a hundred years like a never-ending multi-billion soap opera.
Do you have any movie predictions for the year? Share them in the comments section below!