8 Ironic Instagram Accounts for Your Inner Yuccie
Sep 8, 2015 &nbsp • &nbsp Shen Mascariñas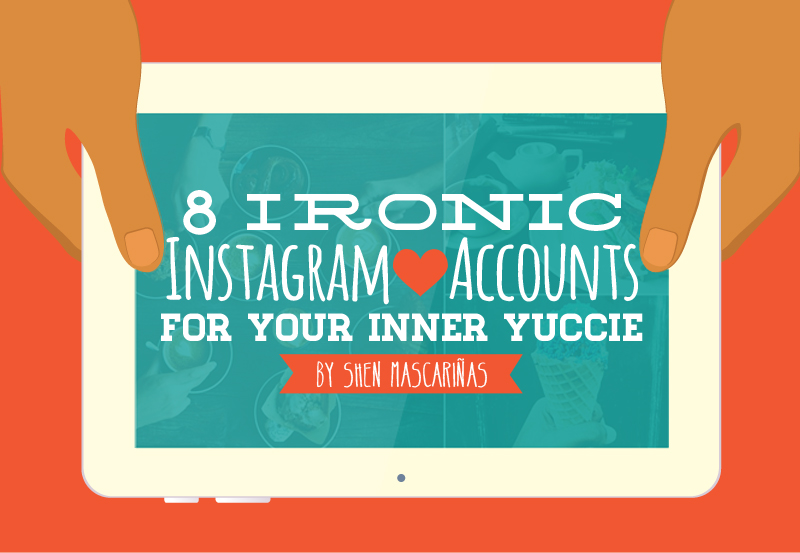 With @SocalityBarbie in the limelight as Instagram's latest sensation, more and more Yuccies (and hipster wanna-be's) are becoming aware of their pretentious predispositions on social media channels. Socality Barbie is an adventurer, coffee drinker and an ambassador for "authentic living." Insta-stalk her flawless feed, and you'll likely find her posts a tad bit too familiar. You'll click "follow" almost at an instant when you see her satiric photos, which are spot on in depicting the ultimate social media cliches.
Fret not, for the possibilities don't end there! There are other entertainingly ironic Instagram accounts that will further indulge the Yuccie in you. Follow these accounts to add something brilliant, hilarious, empowering and emotional to your Instagram feed.
8.  @OFFICIALSEANPENN
For an entertaining collection of rare and hilarious photos of Hollywood stars, you need to follow Official Sean Penn. You'll see your favorite actors in a different light as they're captured in their most candid moments.      
7. @MILLENNIALS_OF_NEWYORK
If you like reading about the stories in Humans of New York, then you'll definitely love its more relatable version. With the same honesty, Millennials of New York is comprised of colorful thoughts from various kinds of people, but all expressed through one millennial voice.
6. @MEGANFEYY
Megan Fey is an American Apparel model that (honestly) cares only about food. The way she breaks the model stereotype is very comforting. She's really funny, passionate about eating and unapologetic as she expresses her millennial thoughts. Oh, and she looks gorgeous even as she makes the silliest faces. Life is unfair that way.    
5. @TAVITULLE
Tavi Gevinson is truly an inspiring millennial. She's the founder of Rookie, an online magazine that empowers girls to be themselves, no matter how weird others perceive that to be. Physically, Tavi is like a modern-day Twiggy. She dresses uniquely and her documented life is the epitome of hipster. Follow this account for a dose of style and substance.
4. @NOCHILL
Everything on this account is just straight up hilarious. It's probably because it uses millennial struggles and uncensored thoughts as material. Some posts are a tad bit too vulgar, so when you come across these, just swiftly scroll through and try not to laugh too hard.    
3. @EMOLABS
In an age where almost everything is digitalized, posts of handwritten notes with backgrounds of beautiful sights are truly refreshing. The handwriting is always natural, unlike what fills social media pages nowadays–calligraphy that most of us can't do. The notes are sometimes beautiful poetry and sometimes blunt statements. Whatever you happen to scroll upon, you'll enjoy the sense of honesty this account evokes.
2. @WANSAPUNATAYM
Everyone loves a good pun. Wansapunataym adds Filipino humor, great typography and very relevant photos to the mix for posts that are sometimes face-palm worthy and most of the time re-gram worthy.    
1. @DAMING HUGOT
This account's description: "Ang taong mahilig lumingon sa nakaraan, maraming paghuhugutan." For posts that totally get what you've gone through, what you're currently dealing with and what no one ever wants to experience (yet still do), follow Daming Hugot.
Got any other favorite Instagram accounts? Share them in the comments for your fellow Yuccies!