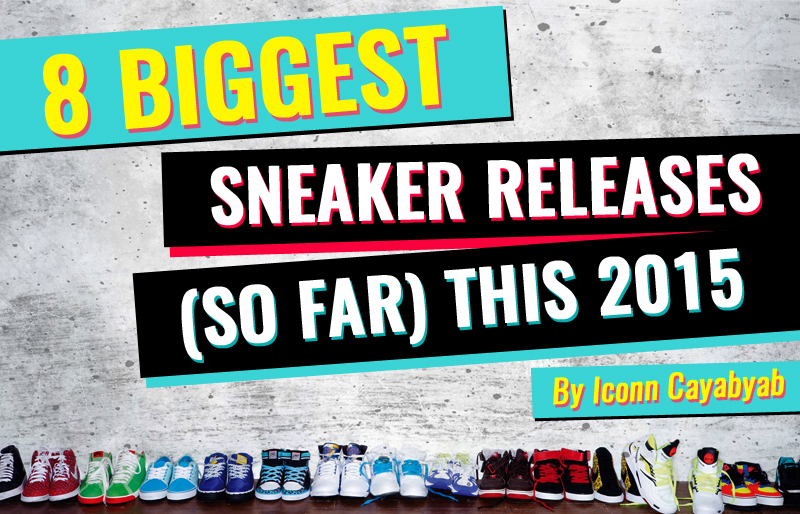 The passion for collecting sneakers will never go away. As we grow older, our sneaker rotation may change due to our ever-changing preferences, but the fire and determination in getting that new release stays the same. You can take away a sneakerhead's collection but you can't take away the collector from a sneakerhead.
During my college days, I wasn't even aware of what the hottest pair of sneakers were in the world. Thanks to a good friend of mine introducing me to the world of sneakers, I finally ditched my daily uniform of shirt, short shorts, and flip-flops. Goodbye Havaianas, hello Nike Dunks. This was the start of my obsession.
As my collection of sneakers increased, I started to purchase sneakers that had its own mission objective. Each new pair had a duty to fulfill in my life. A pair of Vans would be my so-called "beaters" for everyday use. My Nike SB Spiderman would be my "neck breakers," turning heads when I passed the halls. There's the go-to Adidas Adicolor plain white sneaker for special occasions like parties, or just hanging out with a crush at school. Every pair I had served as a support character in my day to day life.
Now here I am, over 40 pairs into my current collection, extending you the same favor that friend offered me years ago. Here are the biggest sneaker releases that have sent shockwaves (so far) this year. Ignore the hype. Kung gusto mo, kunin mo.
LeBron James might have lost another NBA Finals, but his sneaker continues to win the hearts of many, the Filipino people included. As part of the Nike "Rise" collection, the low-cut version of the LeBron 12 sports the Philippine colors, along with the Philippine basketball team's logo mixed with King James' logo at the tongue. The word "MNL" can be found at the back, referencing Manila, which LeBron recently visited.
The classic gets a remake. The Chuck Taylor All-Star II retains the vintage design with new features ranging from the lunarlon sockliner, super soft micro-suede lining, padded non-slip tongue, and premium canvas. While most of us for sure own a pair of Chucks that are beaten and dirty, we are granted with a re-release of an iconic sneaker that's clean and stylish.
Having already released two sneakers with Nike, the sneaker world was stunned when Kanye West signed a deal with Adidas in late 2013. After years of waiting, Kanye finally unveiled the Yeezy Boost 750 at the fashion show igniting the Yeezy Season 1. Simple in its design, Yeezus got the whole world on standby with this pair.
Months after releasing the high-top Yeezy Boost, Kanye turned it up with a low-top version with the "Turtle Dove" and "Pirate Black" colorways. Getting a pair of these Yeezy sneakers will make you feel like you're in the Hunger Games, as it quickly sold out worldwide in a few days. It seems that the Yeezy Season is in full effect as pairs are found on Ebay, sold at $1,000!
Following the success of his latest album To Pimp a Butterfly, Kendrick Lamar joins Reebok in pimping its Ventilator line with a silky smooth colorway accompanied with a message. The words Blue and Red can be found at the back, symbolizing unity between rival gangs, Crips and Bloods. Your vibe can't be killed with this pair.
Chef Curry with the pot, boy! Fresh off of an NBA Championship and being named the Regular Season MVP, Stephen Curry put Under Armour on the map with his first signature shoe. The Curry Ones were so popular that it overshadowed the signature sneaker debuts of fellow NBA Stars John Wall (Adidas J Wall 1), Damian Lillard (Adidas D Lillard 1), and Kyrie Irving (Nike Kyrie 1).
Last year's Supercolor line enjoyed huge success thanks to its wide choice of colors, and now Pharrell Williams (aka Mr. Skateboard P) continues to push the boundaries of the Adidas Superstar with the "Supershell" line. Collaborating with artists around the globe (Todd James, Cass Bird, Mr., Zaha Hadid), Pharrell and co. tweak the Superstars with unique designs by each artist layered with a black or white overall colorway.
I was shocked when my parents bragged that they both had a pair of Adidas Stan Smiths back in their college days. Thankfully Adidas has decided to revive their famed sneaker with a retro release this year, followed by classic and new colorways. No one can beat the white and green colorway, and with that I can finally agree on something with my parents.
What have your favorite sneaker releases been so far this year? Sound off in the comments below!