After coming out with a 7-hour movie and then clearly surviving her death match with Marlene Aguilar so she could teach us her Ultimate Secrets To Success, the fine lady we all know as Mystica proves yet again that she is a gift that keeps on giving, as she came out with her new business endeavor: she now does photo editing, enhancement, and even transformation. And it is glorious.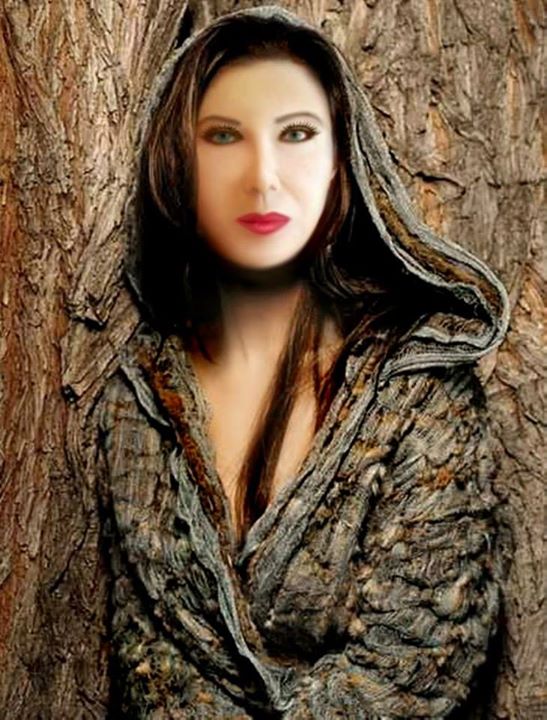 The glory. Mine eyes have seen them.
There's just so much to be in awe about with this one, I don't even know where to begin. I'm not even sure if it's just her mad Photoshop skillz that is wowing me this time, or her eye-catching copy, as she explains her latest business by telling everyone:
"NOT SO PERFECT TO (sic) A SEXY/GLAMOROUS PHOTO? Do you have a photo that needs a professional touch? No problem, (sic) I can fix, adjust, remove blemishes, change skin and filter your images for P200/picture. I can also use your edited photo for another image transformation for an additional of (sic) P100/picture."
Never again shall we have to put up with terrible photos that expose our eyebags or crow's feet or laugh lines for the world to see every single imperfection! Never again shall we worry that we'd look like a blithering idiot for our Facebook profile picture! Mystica is coming to the rescue for all of us who are nowhere nearly as photogenic as we would like, because Mystica feels our pain. She truly is a superstar who has never lost touch with her adoring masses, and knows how to uplift them.
Speaking of uplifting, you know what really needs a makeover? Some old, stuffy works of art that have been lying around for a few centuries or so, just begging for the professional touch that only Mystica could bestow upon them. Here are just 8 of these great works of art that could stand to be given a transformation of epic proportions!
8. Vitruvian Man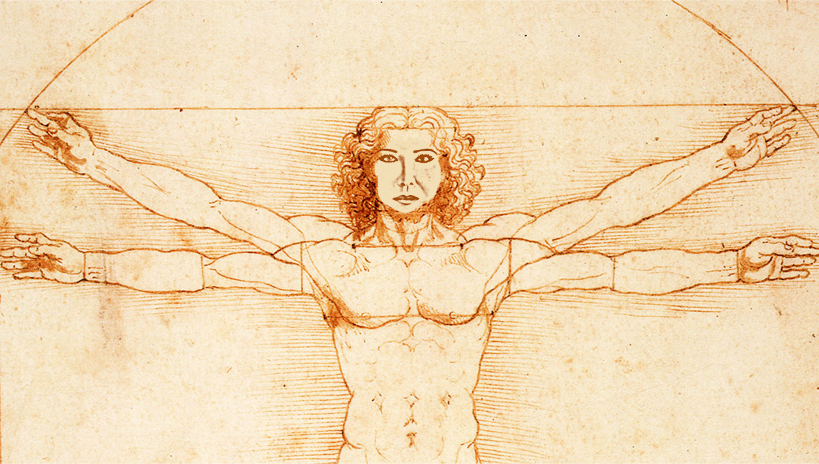 "The Vitruvian Man" is a drawing by the great Renaissance artist and inventor, Leonardo Da Vinci. This drawing was a representation of "the ideal man," with its physical proportions pushed about by the architect Vitruvius in Book III of his treatise "De Architectura."
Unfortunately, it was never truly the "ideal" because at no point did Mystica have a single thing to do with it, rendering it forever mired in mediocrity and imperfection. Until of course she finally deigned to lift up to utter perfection this deeply flawed yet earnest attempt at capturing the paragon of the proportions of an ideal man. Mystica has broken Da Vinci's code in ways that Robert Langdon could only marvel at—and envy.
7. Venus of Milo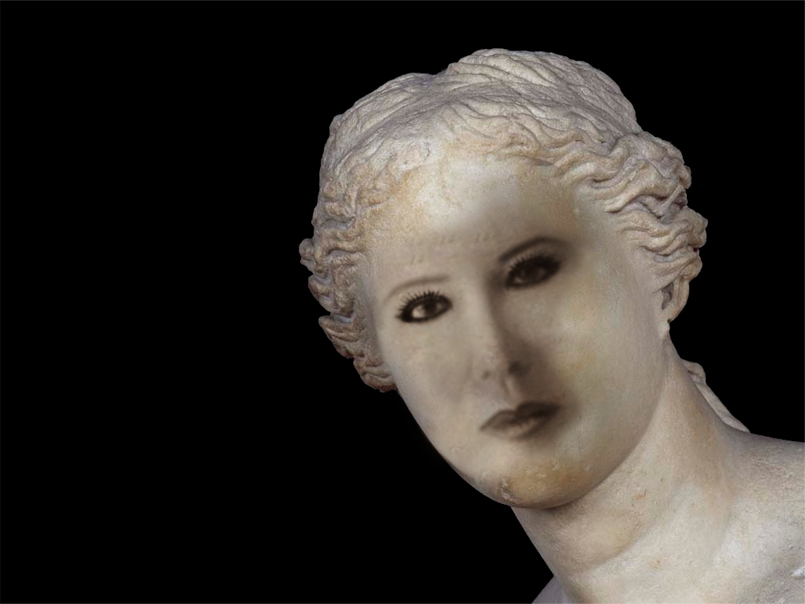 Ah, the "Venus De Milo." This is perhaps the most famous sculpture of the Ancient Greeks, done by the remarkably gifted Alexandros of Antioch. A statue that attempted to embody the goddess of beauty herself: Aphrodite, or Venus, as the Romans referred to her. Obviously, the only reason these people even worshipped Aphrodite was because the true goddess of beauty herself, Mystica, didn't even consort with any of their kind in their time. Yet here she is today, walking amongst us. A goddess among mere mortals. Which is a ridiculous oversight.
After all, if Venus De Milo had guns like Mystica's, there was no way the Greeks could have ever lost their empire to the Romans.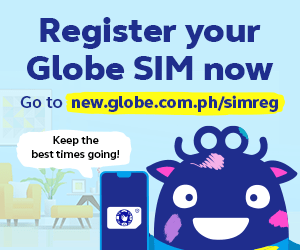 6. The Scream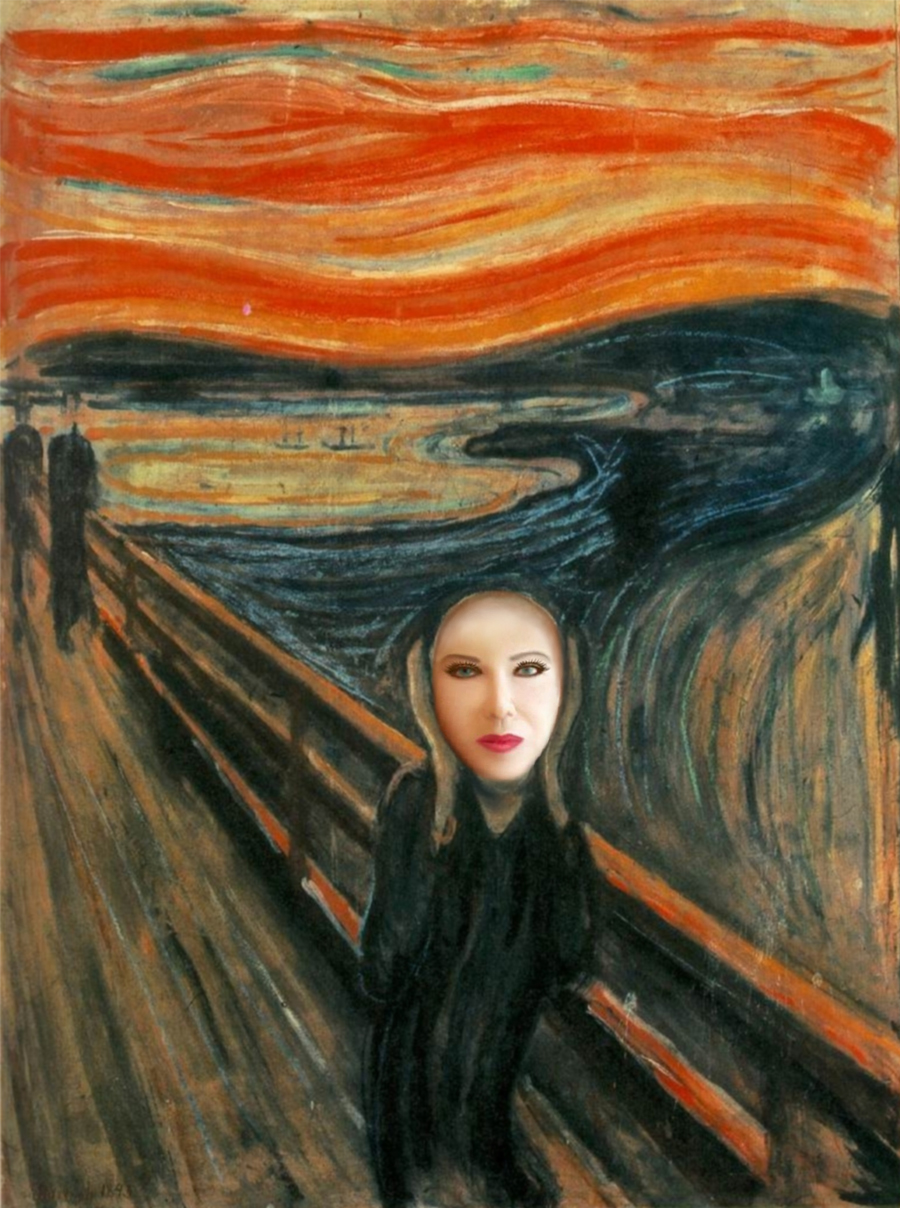 The original work really could use all the help it could get! Edgard Vunch must have been tripping balls when he made this ugly painting we all lovingly refer to as "The Scream."  I know I would scream too, if I looked like that guy. Despite that, this downright repulsive-looking work of art is famous all over the world, and is perhaps one of the few things Norway inexplicably has going for it, because f*ck Norway.
This so-called work of art is so far beneath Mystica that it's a wonder she even bothered, but there you go. All better! Mystica has the same magical touch with Photoshop that Governor ER Ejercito apparently has when he makes his Metro Manila Filmfest posters.
At least, unlike his gubernatorial campaign, nobody would dare accuse him of overspending for *this*.
5. Girl With A Pearl Earring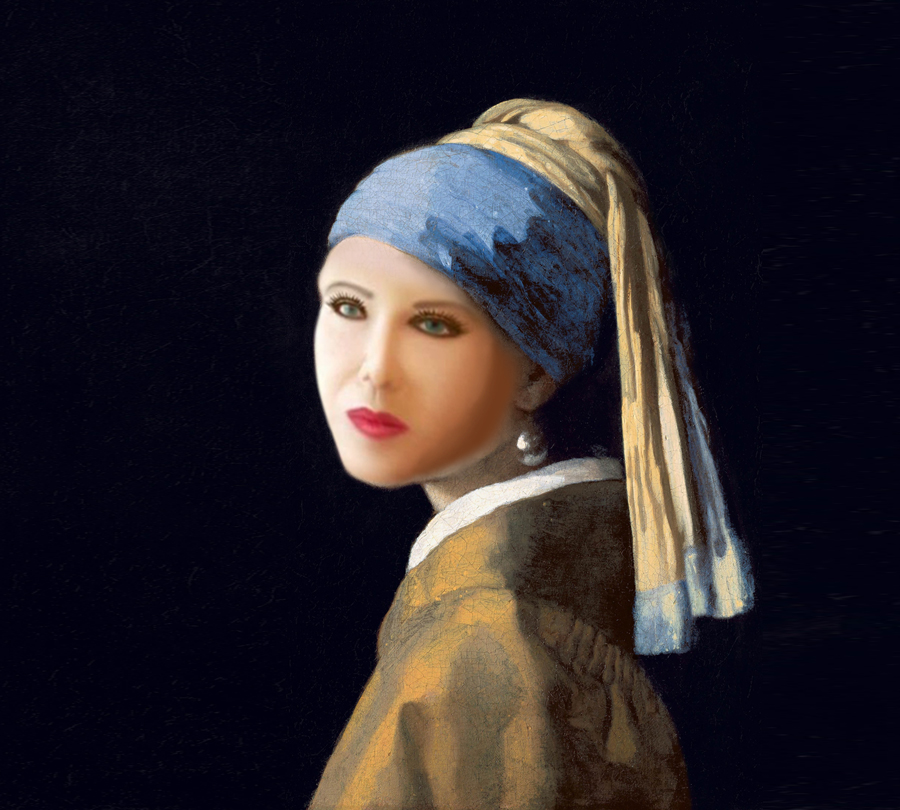 The "Girl With a Pearl Earring" is perhaps the masterpiece of the 17th-century Dutch painter Johannes Vermeer. This oil on canvas is well-renowned, but some detractors actually believe that the alleged "pearl" earring may not even be a pearl earring at all, but made of tin. What a travesty it is, to question the integrity of one of the greatest works of art known to man!
Thankfully, after Mystica works her magic on it, there can be no doubt that the girl with a pearl earring is, without a doubt, wearing a pearl earring. Made of diamond. Because Mystica.
4. American Gothic
Grant Wood struck it big when he painted "American Gothic" in 1930, depicting a farmer and his spinster daughter. Spinster? Spinster?!? Well, duh! One look at the original, and you wouldn't even wonder why she ended up being an old maid! If only Mystica were around in 1930 to spruce her up, then the description for this painting would instead be "a farmer and his insanely hot daughter."
Oh, what could have been.
3. Afghan Girl
Is it a painting? No. Is it a photograph? Yes. But is it a work of art? Absolutely! "Afghan Girl" was the famous portrait taken by National Geographic photographer Steve McCurry in 1984. This iconic image showed a girl who we found out was Sharbat Gula, with her piercing eyes seemingly staring right into your soul. It's haunting and powerful, all at the same time.  Unfortunately, it wasn't striking and piercing enough to haunt you forever.
It is now.
2. Mona Lisa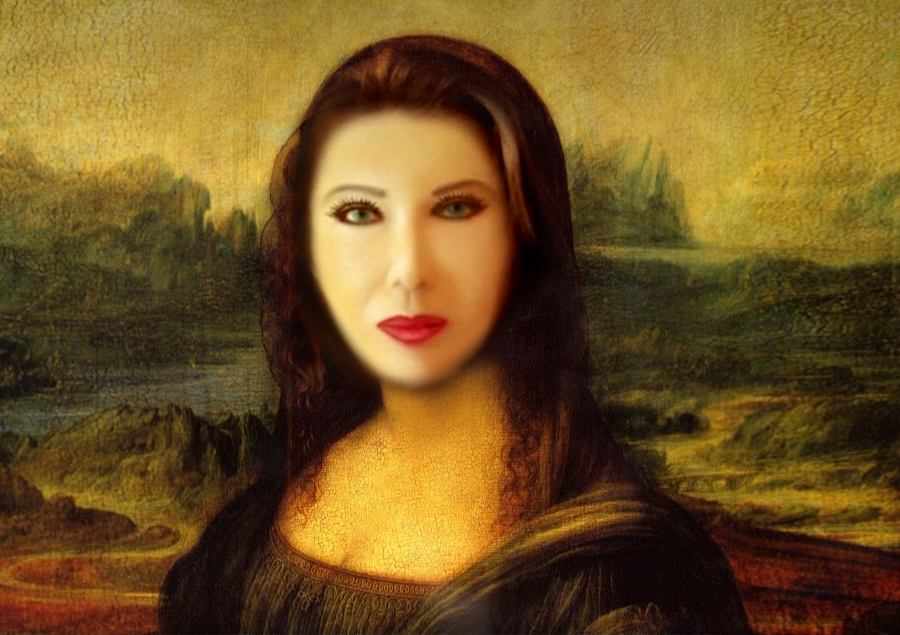 Perhaps the most famous painting of all time, Da Vinci's "Mona Lisa" has been shrouded in mystery for centuries. Was it a painting of Lisa Gherardini?  Was it a self-portrait? What is it about her  smile? These are questions we may never know the answers to, but today, we ask the most obvious question that should have been asked the moment Da Vinci tried to create this magnum opus: why did he not wait to paint Mystica instead of this second-rate, trying hard copycat?
1. Ecce Homo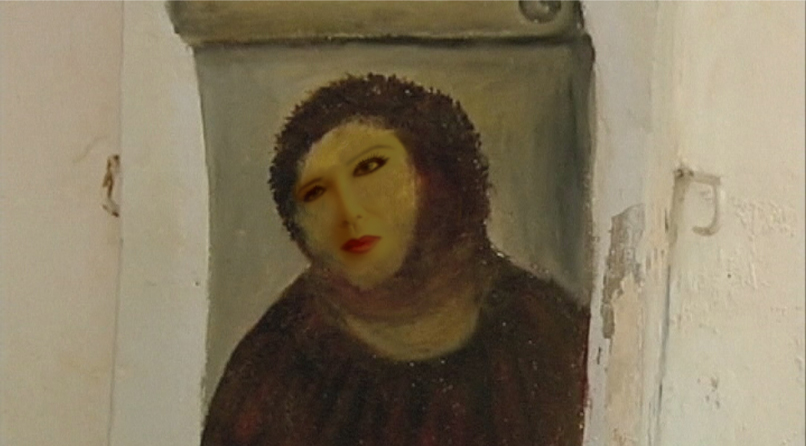 Everyone knows the hilariously tragic story of "Ecce Homo" by now, right?  What started out as a fresco painting of Jesus damaged by the ravages of time was "restored" by a complete amateur in 2012, to eye-gouging results.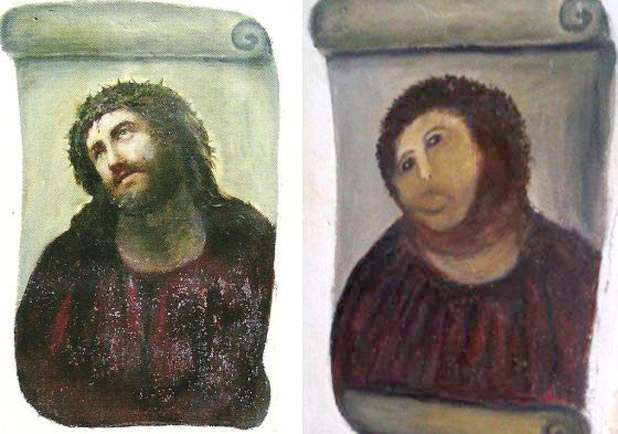 On the left is the Ecce Homo. On the right is clearly no Homo.
So we know that this was all an amateur's fault. You know what the opposite of an amateur is, right? A professional. Which is exactly the kind of touch that Mystica claims to have. This is precisely the kind of mishap Mystica was born to fix!
No problem!
If Mystica can make the greatest works of art known to the world even better with her Photoshop, she can do it for you, too! For only P200/picture, excpect nothing but the professional touch of the Split Queen herself! She can also use your edited photo for another image transformation for an additional P100/picture. Get in touch with her on Facebook today!