8 Things You Should Know
About the NAIA-3 Blackout

By 8List

Last Saturday, Ninoy Aquino International Airport (NAIA) Terminal 3 passengers were met with crushing disappointment. Rather than leaving Manila, they endured a blackout that lasted five hours, leaving them stranded from 8:45 in the evening until 2am the next day—all thanks to a malfunction in the terminal's power facility.
Was it too much for passengers to expect the international airport to have a back-up power system, and for these generators to be able to handle the power failure? The investigation is currently ongoing, but here are 8 things you should know about the blackout.
8. What happened, exactly?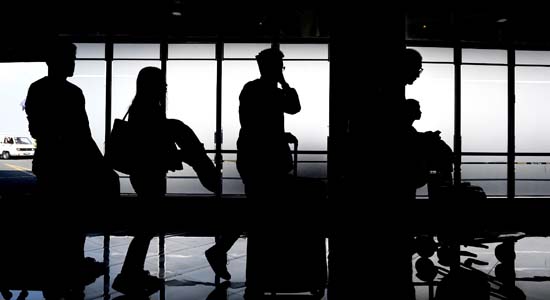 Via bworldonline.com
According to Transportation Secretary Joseph Emilio Abaya, a drained battery caused one of the ten generator sets to fail to transmit power to the airport. "I have to check… Tinitingnan natin if it was fully drained, there was no charging prior to this, it was charged but did not switch…" he said.
NAIA-3 officials, however, stated that a sub-station of the airport's power provider Manila Electric Co. (Meralco) was at fault, causing the five-hour blackout that stranded thousands.
Meralco spokesman Joe Zaldarriaga denied this allegation and said, "As far as Meralco is concerned, the service of Meralco is normal." He admitted that there was indeed a tripping on Meralco's side before the blackout, but it was fixed in "less than a minute." Power supply continued to the airport during the blackout, but it remained disrupted. "It must be the load side of NAIA 3 that has a problem or has trouble," Zalderriaga said. "The power interruption that occurred was apparently due to problems in NAIA's internal electrical facilities," Meralco's announcement on Facebook said.
7. How many were affected?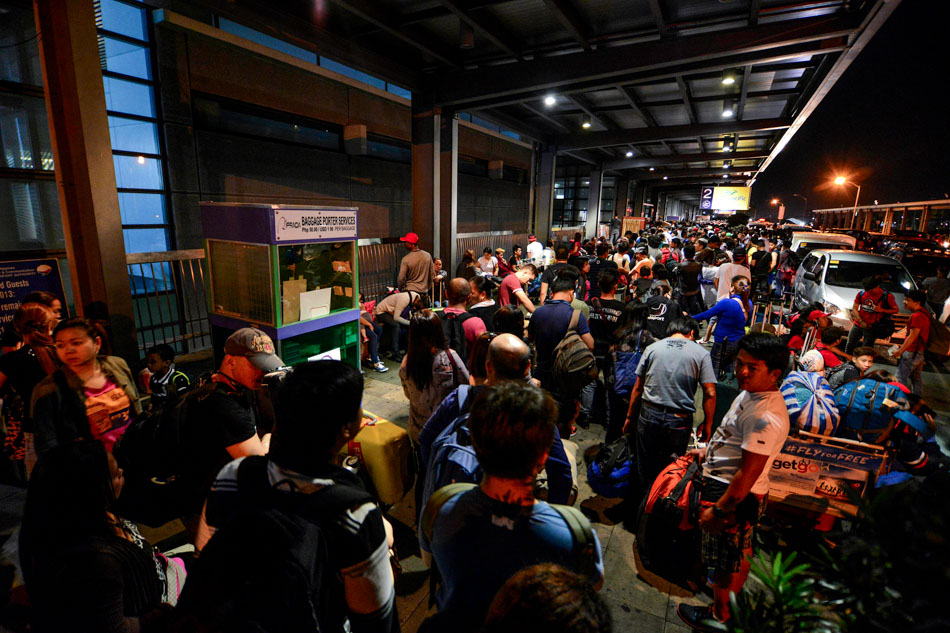 Via news.abs-cbn.com
No carrier was spared. Flag carrier Philippine Airlines said that four flights were cancelled while 62 were delayed, and only 21 made it on time. 78 of Cebu Pacific Air (CEB)'s domestic flights were canceled, affecting almost 14,000 passengers. CEB apologized to their guests and said that "this situation is due to factors beyond the airline's control."
6. Passenger woes
Power's out and the gates are closed in NAIA 3 atm #NAIA3 pic.twitter.com/QX0BGyAd5j

— mia creencia (@miyaburr) April 2, 2016
NAIA-3 blackout strands thousands | https://t.co/ZTTOMSxeAJ pic.twitter.com/dMKsoMgt4H

— The Philippine Star (@PhilippineStar) April 3, 2016
Passengers lounged across the airport terminal as the five-hour blackout dragged on. Some settled into long lines outside the terminal as the entrances remained closed until power came back, while others chose not to push through with their flights.
5. Passenger security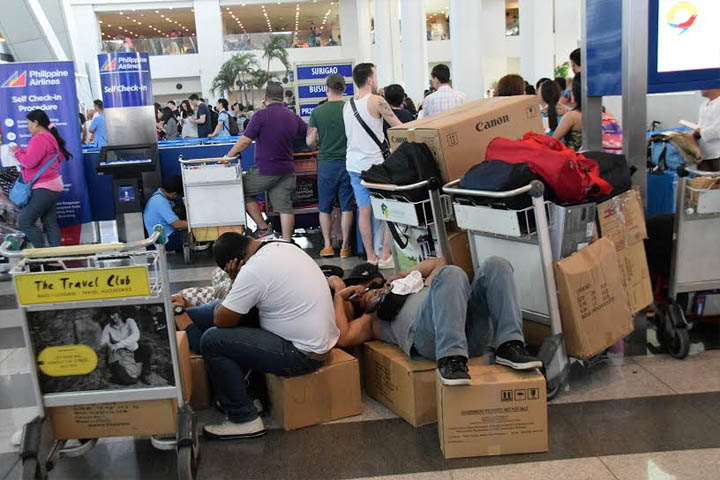 Via mb.com.ph
Civil Aviation Authority of the Philippines spokesman Eric Apolonio assured that standard operating procedures are in place for emergencies such as blackouts, and that these SOPs ensure passenger safety.
"Kapag nagkaroon ng power glitch, automatic po 'yan na advised ang mga airline na umikot, to go on hold muna," he said. Airlines were also immediately informed of the incident, he said, and that no security procedures were violated during the blackout.