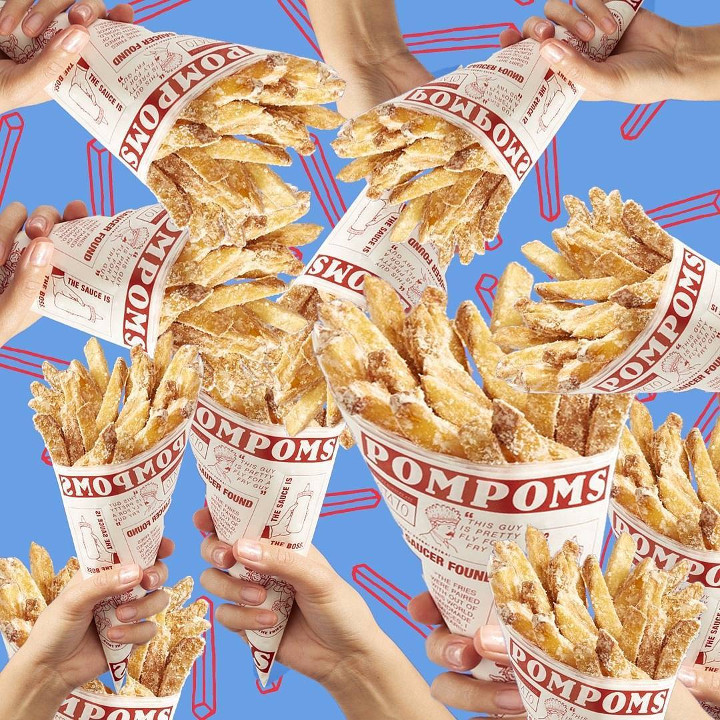 New Robinsons Place Manila Eats
You Should Check Out
By Kyzia Maramara

Gone are the days when the Pedro Gil Wing of Robinsons Manila looked anything less than ordinary with its row of fast food chains. It has now transformed into a hall of food discoveries, cosmetics, and high-end fashion (although they've yet to open a Forever 21 branch there). If you are looking for new places to treat your palette, this mall would be the best place to start in the metro. Why? Check out these new restos!
Pompoms
Ground Floor, Pedro Gil Wing
Cost for two: Php 500
French fries that come in cones with sizes named Smallin', Tallin', and Ballin' should never be refused! This new store will get you cured of your French fry cravings in an instant. Small, brightly lit, and with a retro design, Pompoms spoil their customers with double-fried fries for that extra crisp only they can deliver. Did we mention that this is their first branch and that Erwan Heusaff himself helped develop the concept? That's more than enough reason to give this a try!
Peri Peri
Ground Floor, Pedro Gil Wing
Cost for two: Php 800
Peri Peri opened its 18th branch at Robinsons Manila just before 2017 ended. Peri Peri is also known as African Bird Chili which is the secret to their mouthwatering sauces and flavorful chicken. Aside from their signature chicken, try out their other offers too such as flatbread or pizzas with a special Peri Peri flavor, pasta, and BBQ Back Ribs!
Bad Bird
Ground Floor, Pedro Gil Wing
Cost for two: Php 700
Bad Bird has recently landed at Robinsons Place Manila and is now open for customers who want to experience taking a bite out of their crispy umami fried chicken. Customize the spice level of your dish and choose between a Waffle, Corn & Coleslaw, and Dirty Rice Plate. Now's your chance to discover what people are raving about! Tip: Don't forget to try their Corn on a Stick!
Ta Ke Ho Me
Fourth Floor, Midtown Wing
Cost for two: Php 400
Great affordable sushi is within your reach, in fact it's just at the fourth floor of the Midtown Wing! You can drop by Ta Ke Ho Me Sushi Stand any time of day and for any occasion. Watching a movie? Buy a sushi! Want merienda? You know the answer! You could buy it as a take home surprise for your family or even hoard all to yourself. Whatever your reasons are, there's always a good one to stop by this sushi stand.
Boulangerie 22
Ground Floor, Sta. Monica Wing
Cost for two: Php 300
If you're on the lookout for tasty treats to reward yourself after a rigorous session of shopping, Boulangerie22 will be the only pit stop you'll ever need. Sweet tooths will enjoy the various breads and pastries this store has! Aside from pastries, you could also order their soup, pizzas, and pasta.
Pound by Todd English
Ground Floor, Pedro Gil Wing
Cost for two: Php 800
Burgers take center stage at Pound by Todd English. They take into serious consideration what every burger lover wants by carefully creating the bun and mouthwatering patty to every burger. You could come daily but then we'd have to warn you you might die from the deliciousness of it all!
Pepi Cubano Sandwich
Third Floor, Midtown Wing
Cost for two: Php 400
Pepi Cubano sandwiches are much like delightful subs filled with ham, vegetables, cheese, and anything else you would like to add but flattened with a sandwich press. It certainly doesn't look much but at the first bite we guarantee you change your mind about it.
Mai Wei Fang
Ground Floor, Adriatico Wing
Cost for two: Php 600
If you're in the mood for Chinese food, Mai Wei Fang has got you covered. Their affordable menu includes Chinese fried chicken, Shao Bing Sandwich, and Sheng Jian Bao which is pork dumpling with vinegar sauce. Almost all on the menu is highly recommended but the Sheng Jian Bao will get you ordering another serving that's for sure.
Got anything else to add? Share it with us below!