8 News Quotes from Around the World on Pres. Du30's First 100 Days
By 8List

It's been three months since last week that President Duterte has been in office.
Since then, our latest Social Weather Stations (SWS) survey released on October 5, states that Duterte  garnered a "very good" satisfaction rating for his first three months of service. The same survey shows that the president gained a +64 net satisfaction or "very good" rating in the first quarter, compared to how his predecessor, Benigno S. C. Aquino III, only having a +60 rating (71% satisfied, 11% dissatisfied) in a Sept. 24-27, 2010 survey.
So, since Pinoys have been declared to be statistically satisfied, how does the rest of the world see our new president's work so far?
Here are 8 headlines and quotes from news outlets and agencies around the world to, hopefully, give us some perspective. They pretty much speak for themselves.
8. The National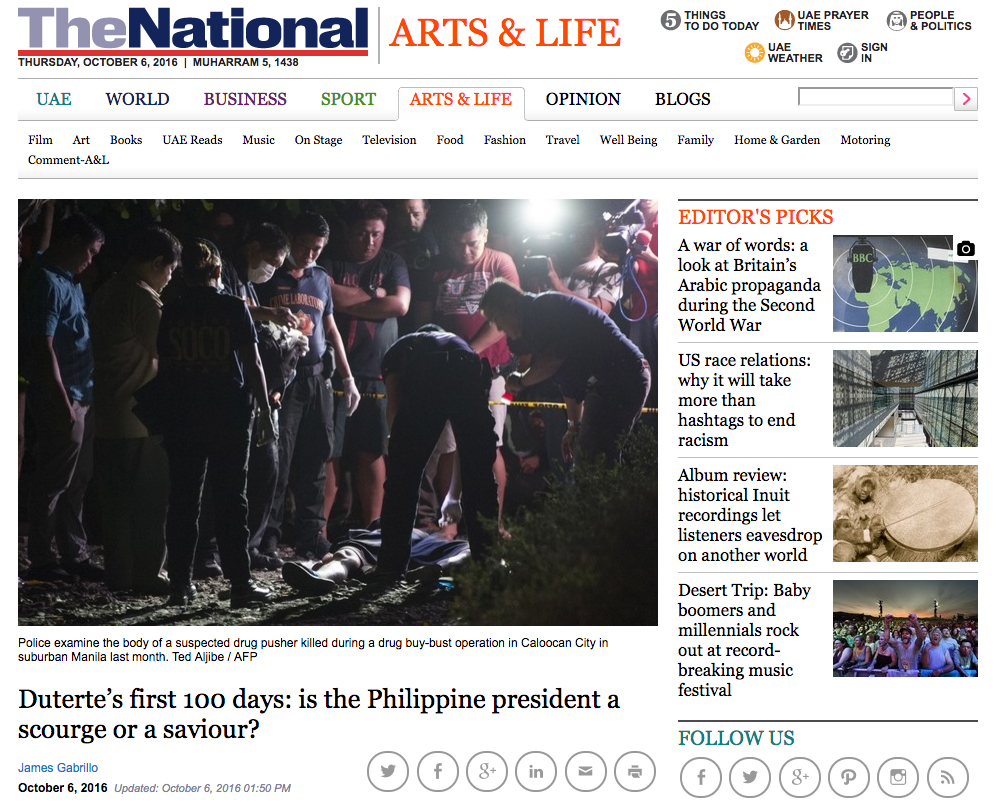 "…Duterte, with his vow to eradicate crime within his first six months in office, remains popular with the public. In the most recent nationwide poll conducted by Pulse Asia Research, his trust rating was an astonishing 91 per cent. His soaring popularity can be attributed to the public's distrust of existing state institutions, such as the judiciary, brought about by disappointment at the failure of previous leaders to eliminate criminality and poverty." ~ James Gabrillo of The National.
7. The Guardian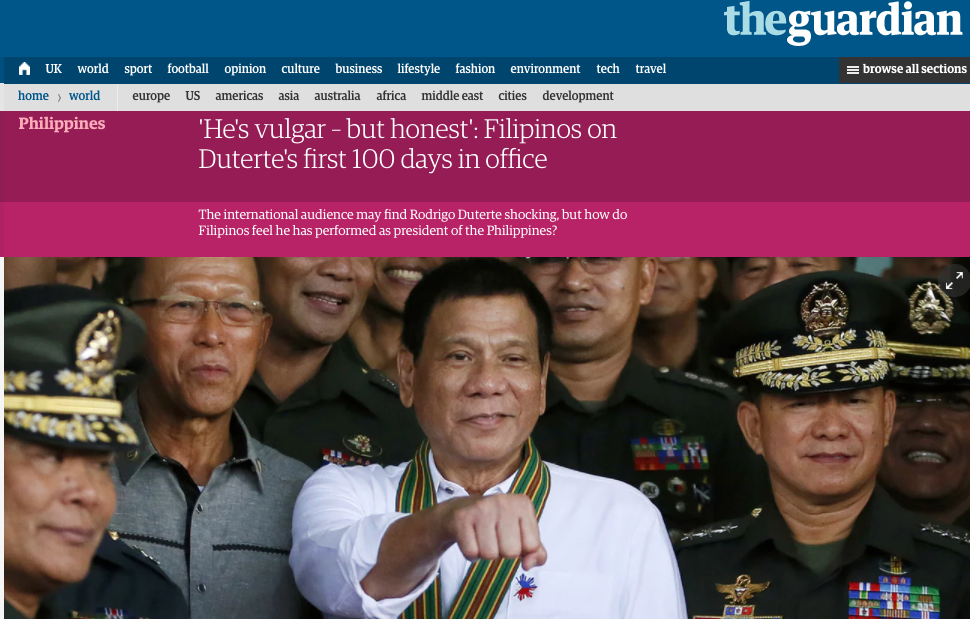 "From the hundreds of responses we received to our callout the main objection against the international media was not criticism for what Duterte has said or done, but the lack of recognition for the positive things his administration has implemented."  ~ Rachel Obordo of The Guardian.
6. The Huffington Post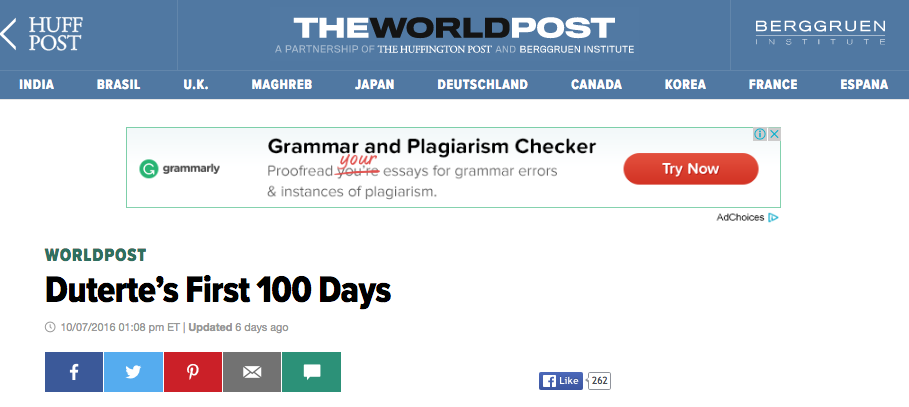 "If we were to sum up Duterte's first 100 days in a few words, it would be 'strong political will'. That has also translated into the similarly predictable rise of extra-legal killings and perceived human rights abuses, that have characterized Duterte's aggressive anti-drug campaign and which thus far has resulted in the deaths of more than 3,000 people in just three months. The absence of due process and any concern for human rights have become Duterte's trademark….
"If we were to characterize Duterte's approach to international relations in a few words, they would be 'what on earth is he doing'? Politically, Duterte's presidency has thus far been an unmitigated disaster." ~ Daniel Wagner and Edsel Tupaz of The Huffington Post.
5. Daily Mail Online
"The Philippines president's war against drugs has reached new macabre heights with the death toll surging above 3,700 and he is now sensationally halting the nation's military alliance with the US after 65 years." ~ Riley Morgan of Daily Mail (Australia)